NBA Trade Rumors: James Harden and Ben Simmons Scenarios, Hawks Indecision, More Deadline Intel
Credit:
Nathaniel S. Butler/NBAE via Getty Images. Pictured: James Harden #13 of the Brooklyn Nets.
The NBA trade deadline season kicked into high gear Friday with the Los Angeles Clippers and Portland Trail Blazers completing a significant trade and potential league-altering rumblings involving Ben Simmons and the Brooklyn Nets.
Here's the latest on that situation and much more from sources around the league.
The Saga of James Harden and the Philadelphia 76ers
Philadelphia 76ers team president Daryl Morey said he needed a superstar to come available to consider moving Ben Simmons. Morey seems to have gotten his wish with multiple reports that Harden is open to leaving the Nets.
Sources: The Philadelphia 76ers are expected to pursue Brooklyn's James Harden ahead of NBA trade deadline Thursday – and the Nets are now open to discussing a deal.

Details on @TheAthletic: https://t.co/asdsGS0Sht

— Shams Charania (@ShamsCharania) February 4, 2022
While Harden has thrown hints that he's not crazy about Irving's part-time status, a source with knowledge of Harden's thinking said he's frustrated in general with his Nets tenure. He came to Brooklyn expecting to be part of a three-headed monster, yet has played a similar role to what was required of him in Houston: having to be the guy.
–Via The Athletic's Alex Schiffer
As I outlined last week, Harden's ties go beyond just Morey to CEO Tad Brown with Philadelphia. If Harden doesn't want to have to be the guy, the Sixers fit nicely as a contending team with an MVP candidate in Joel Embiid. Harden gets shots, assists, the ball in his hands, and a No. 1 guy lean on.
If you're wondering how all this accelerated so quickly, bear in mind that Harden is known as conflict-averse among executives. He never openly clashed with Dwight Howard, and Howard was later gone. He never openly clashed with Chris Paul, then Paul was traded for Russell Westbrook.
And so here we are again.
The Sixers' NBA title odds moved after the reports surfaced:
Aside from the title odds shifting, our picks experts are sure to change the way they make their over/under choices surrounding the Sixers and Nets.
If you want to know what a post-trade Sixers would look like, let's start with this:
The early indication is that the Sixers are balking at including (Tyrese) Maxey in any deal for Harden, an understandable position to hold in the circumstances. In most possible scenarios, I think that will continue to be true, and I think the Sixers will undoubtedly be better for it if they hold the line and keep this kid in the mix. Just never say never on this one — Embiid is the only untouchable the Sixers have, and if Maxey is their path to a title-winning deal, you can bet they'll think long and hard about it.
–Via Kyle Neubeck of The Philly Voice
The contracts are close, within $2.5 million of being eligible. So as the Athletic's John Hollinger notes, the Sixers could send Furkan Korkmaz to Brooklyn with Simmons and take back Paul Millsap who wanted a different/bigger role this season.
One executive I asked about the situation, who is not involved in talks, brought up an interesting point: "What does Brooklyn want? They're not going to pivot towards a rebuild with Kyrie and KD there, or half there in Kyrie's case."
If the Sixers are able to get Harden and don't have to give up Maxey, they should pull even with the Bucks for the conference title odds. I keep expecting the Nets' odds to slip — Kevin Durant is out, their defense is bad, Irving hasn't been great, Harden is disgruntled — but they are still favorites to win the conference at most books.
A Harden-Embiid combo isn't what I would call ideal — Harden works best with a rim-rolling athletic leaper — but it doesn't matter much. They'll run pick-and-roll and Embiid will pop to short-range. If you switch on them, Embiid will post the little guy who switches onto him into oblivion, and Embiid has made real strides in handling double teams this season.
The Sixers have not had great shooting this season. They're 23rd in 3-pointers made per 100 possessions, 12th in 3-point percentage, and 25th in catch-and-shoot opportunities per game.
However, Harden helps with spacing off the dribble, and if teams collapse, they would still have Seth Curry. There's also a chance they move Tobias Harris as part of a larger deal or in a separate one.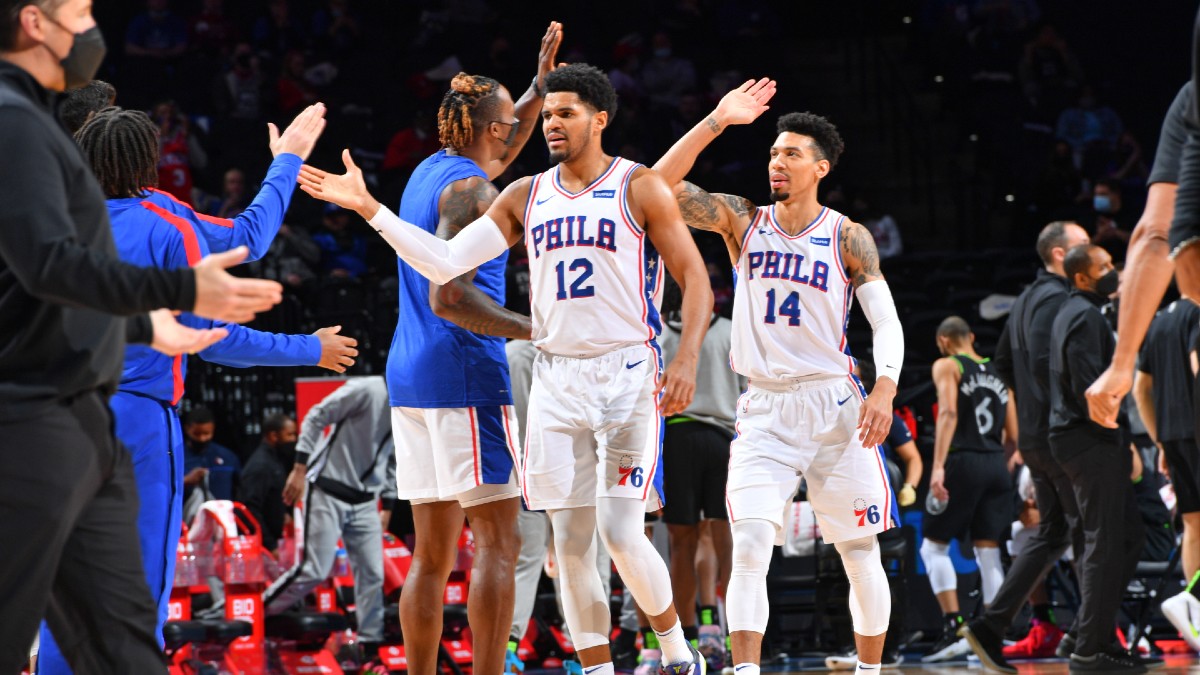 If we look at the breadcrumbs, we have an established relationship between the Sixers and Harden (which is sure to spark a collusion inquiry, but that's a problem for later), the Nets facing diminished leverage by multiple reports and a willingness to deal, two contracts that match close enough, and an established history going back to pre-season that Harden will not re-sign this summer.
Maybe the Nets hold out and try and make a run this year, hoping that the ban on non-vaccinated players gets Irving in Barclays by April and Durant gets and stays healthy.
There's a lot of movement in a short time towards this deal, however, and those deals often move in that direction.
A significant lingering question: Do the Nets want Simmons? If they don't, there's an opportunity here to involve a third team. A third team that had been in pursuit of Simmons (the Hawks, Kings, and Wolves being foremost) can return multiple contending pieces and draft picks to Brooklyn. The Nets likely aren't going to look for the kind of megastar return that the Sixers have demanded for Simmons.
Two more things on the teams interested in Simmons:
The Wolves have had the same offer on the table for Simmons for months, which involved salary filler and significant draft assets. The reason this might be notable? The Nets gave up a ton of draft assets to get Harden in the first place, and such a move might replenish those coffers to let the Nets take a crack at another disgruntled superstar down the line.
The Toronto Raptors were being floated (again) as a potential suitor for Simmons, but the Raptors have made sure it's known in league circles that they did not offer Pascal Siakam and OG Anunoby for Simmons. A Raptors deal for Simmons appears like an extremely remote possibility at this point.
---
Kings Headed for Rebuild?
I reported in January that executives were still skeptical that the Sacramento Kings would make a move based on their history. That skepticism is still in place, but there's enough smoke here to flesh out their situation.
"They're looking at (major changes), but not exactly jumping at it," one source said.
The Kings had talks with the Sixers for Ben Simmons, but the asking price was both De'Aaron Fox and Tyrese Haliburton — no surprise given Philly's consistent asking price for Simmons  being astronomical — but eventually reports surfaced the Kings were taking both off the board.
What's baffling is how many other players are still on roster.
Harrison Barnes' contract ends in the summer of 2023 and goes back down to $18 million next season from $20 million this year. That's about the perfect contract for a wing who can defend at shoot at his level.
Harrison Barnes has been all the way checked out for like two months. How he escapes the criticism for that I do not know but mad respect for doing so.

— Aaron Bruski (@aaronbruski) February 3, 2022
Barnes may be checked out but he's still shooting 40% from behind the arc for the season. One league source whose team had inquired about Barnes said he was the value get on the market.
"If you're not looking for some sort of star, like (Domantas) Sabonis, Barnes may be as good as you can get for impact," the source said.
The Trail Blazers and Kings held talks bout disgruntled young forward Marvin Bagley. Given the multi-season tension with Bagley, he's another player whom it's surprising hasn't been dealt.
About half the league is shopping for centers, so don't be surprised if there's traction on a deal for Alex Len with two years and less than $8 million total on his deal. The Kings have taken calls for Richaun Holmes, whose longer contract isn't as attractive, but the asking price remains high.
There have been multiple reports about interest from the New Orleans Pelicans towards Barnes with a framework including Josh Hart thought to be in play.
Multiple league insiders have noted that Brandon Ingram shares a strong relationship and affinity for Kings coach Alvin Gentry from his time in New Orleans, though multiple sources stressed that Ingram has not and most likely will not provide the Pelicans with a trade request. The idea of a trade involving Ingram to Sacramento should be viewed with as much skepticism as you can reasonably muster given the two franchises involved.
Will Sacramento pull the plug with the team 15 games under .500 and three back from the play-in in the loss column? The logical signs point to yes, and there's more confidence in general manager Monte McNair to make the necessary moves than his predecessors.
But until something happens, this text from an assistant GM sums up the question of what Sacramento will do: " Kings. 🤷‍♂️"
---
DeJa Vu in Atlanta 
This is eerily reminiscent of last season. The Atlanta Hawks were 26-24 through 50 games last season, and are 24-26 now.
There were rampant rumors about potential trades from the team, especially for John Collins. They were 14-20 on Feb. 28, then rattled off an eight-game win streak before the week of the deadline, and instead, they held onto their pieces, rallied around then-interim coach Nate McMillan, and made the Eastern Conference Finals. Then they extended Collins on a massive new deal.
Now here we are again.
The Hawks have now won eight of their last nine games with constant rumors about Collins but no substantive talks. There is a growing sense that the Hawks are going to stand pat through the deadline with Collins again.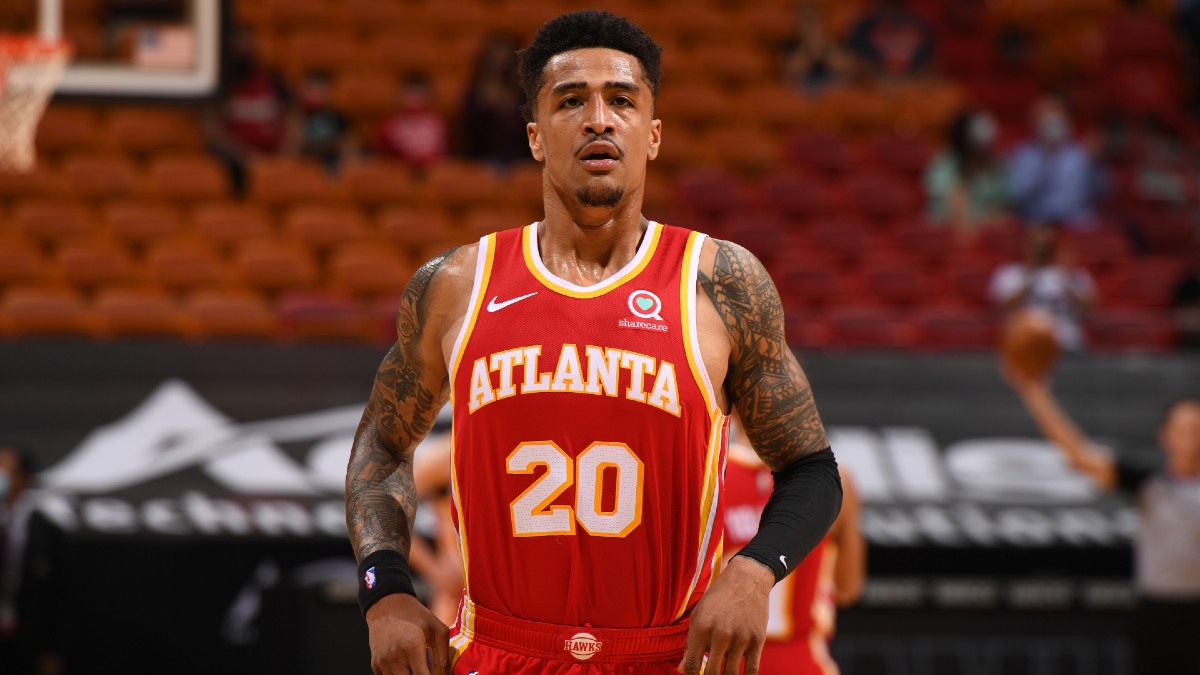 There was some talk about a potential deal with the Sixers involving Collins, but one source familiar with talks said that he felt those conversations were dormant, at least for now.
Dallas has had a renewed interest in Collins in recent weeks, but after chasing Collins for over a year with no significant additions, it doesn't appear they have the assets necessary for a move.
One potential hangup for the Hawks: Clint Capela now seems expendable with the emergence of Onyeka Okongwu, but Capela can't be traded after signing his extension last summer.
Keep an eye out for Lou Williams, though. Williams is a $5 million expiring veteran scorer. Those tend to be the kind of pieces teams come looking for as the deadline gets closer and bigger deals fall through.
---
Trail Blazers Could Make More Moves
Portland effectively bailed on their season Friday, trading Norman Powell and Robert Covington, two players they had given up first round picks to acquire, for a salary dump and a second rounder from the Clippers. Rookie Keon Johnson has some potential and Justise Winslow was having a good month, but this was bout the money.
The move puts the Blazers out of the luxury tax, breaking their cycle risk for the repeater of three or more years in a row. It opens up long-term possibilities in free agency, but Portland has never been overly successful in the open market as a small market and Damian Lillard's questionable future won't improve that.
So now the question becomes whether they'll find somewhere to ship Bledsoe for any return or if they'll buy him out. Two sources noted in conversation Friday that Bledsoe is a Klutch Sports client.
The other question is about CJ McCollum and Jusuf Nurkic. There have been discussions on both players and still an expectation that eventually McCollum will be moved. A likely scenario is the market freeing up after Simmons and/or Harden get settled.
---
More Chatter From Around the NBA
Small-ball has defined so much of the past half-decade, which is why it's interesting that backup center has been the most commonly discussed position from so many teams in recent days. The Phoenix Suns have taken calls from the Denver Nuggets, Detroit Pistons, Washington Wizards, San Antonio Spurs, and Toronto Raptors for young backup Jalen Smith. The Pistons' offer includes Rodney McGruder who was first included in a failed trade for Denver's Bol Bol (now with Boston).
The Boston Celtics' priority, according to multiple sources, is to clear salary to save on the luxury tax. There are two offers on the table for Dennis Schröder according to multiple sources, one from the Milwaukee Bucks and another from the Chicago Bulls. The other option is the annual Marcus Smart discussion that never leads to anything. They've looked at trading smart a dozen times in recent years and it never materializes. They can't quit Marcus Smart. But for posterity:
The Dallas Mavericks were shopping for a center for much of the season, but have shifted in recent days to pursuing a power forward. Kristaps Porzingis' revival this season has made Dallas focus on a stretch four to play next to Porzingis. They've re-entered the talks for Collins and have made calls about Siakam. However, two outside executives said they doubted Dallas would be able to make any significant addition at the deadline."They just don't have the assets," one executive remarked. (Bear in mind that all executives are competitors with one another, even if those spoken with had no vested interest in Dallas' situation.)
One other thing on the Mavericks. Similar to Collins with Atlanta last season, the Mavericks looked at the market for Jalen Brunson as he was the best option for an upgrade. However, Dallas' mindset has changed and they are expected not to trade Brunson and instead to commit to an extension in the offseason.
The Houston Rockets have told teams they have two different offers of a first-round pick for Eric Gordon. The issue is finding a team that won't send back significant salary as Houston doesn't want anything major on the books. Houston is also looking for a pick in the teens instead of a late first-rounder for Gordon.
The Utah Jazz had kicked the tires on Covington before the Clippers traded for him. Utah was trying to use Joe Ingles before his injury to trade for Harrison Barnes or Jerami Grant; it's unclear if Ingles' injury changes that equation.
Jonas Valanciunas is considered "off limits" by the Pelicans.
Denver is described right now as "passive" in talks. They typically cool down the week before the deadline and then increase their interest in days leading up to it, but they're shorter on assets than they'd like to be as they try and boost what is likely the league's worst bench.
Five days to go …
How would you rate this article?
This site contains commercial content. We may be compensated for the links provided on this page. The content on this page is for informational purposes only. Action Network makes no representation or warranty as to the accuracy of the information given or the outcome of any game or event.