Nuggets vs. Spurs Game 3 Betting Preview: Gregg Popovich Dominates as a Home Playoff Favorite
Credit:
Isaiah J. Downing-USA TODAY Sports. Pictured: San Antonio Spurs head coach Gregg Popovich talks with guard Derrick White (4).
Game 3 Betting Odds: Denver Nuggets vs. San Antonio Spurs
Spread: Spurs -3.5
Over/Under: 210.5
Time: 9 p.m. ET
TV Channel: NBA TV
Series Score: Tied 1-1
---
>> All odds as of Wednesday evening. Download The Action Network App to get real-time odds and live win probabilities on your bets.
---
It took some late-game heroics from Jamal Murray, but the Nuggets were able to squeak out a much-needed in victory in Game 2 to even the series. Is it the Spurs' turn to rebound at home? Our analysts answer.
Trends to Know
Since 2005, the Spurs are 22-15-2 (59.5%) ATS when playing at home in the playoffs after a straight-up loss. If you take the Warriors out of the mix in this trend, San Antonio is 20-12-2 (62.5%) ATS in this spot, covering the spread by 3.0 points per game. — Evan Abrams
A handy Spurs playoff betting flow chart: Are they favored? Yes: They're 70-50-4 (58.3%) ATS when laying points in the postseason since 2005. Are they favored at home? Yes: Gregg Popovich's team has been the most profitable since 2005 as a home favorite, going 55-33-3 (62.5%) ATS.
A $100 bettor would have returned a profit of $1,904 wagering on the Spurs as home chalk. — John Ewing
---
Locky: How I'm Betting This Game
This number opened at San Antonio -2 and quickly moved in the Spurs' favor. Why? Well, in addition to the Spurs/Popovich trends above, the Nuggets are one of the most polarizing home/road teams in the league this season.
At home for most of the year, they were exemplary. But their Net Rating drops an absolutely staggering 13.2 (!!!) points when moving to the road, per Cleaning the Glass. Considering San Antonio was able to dictate pace in Denver for all of Game 1 and most of Game 2 — and Denver was fortunate to even get a game — I have no confidence in the Nuggets as the series changes venues.
Jamal Murray was exceptional when it mattered in Game 2 (finally), but I think the inexperienced Nuggets, already unreliable, become even more unreliable in a road environment.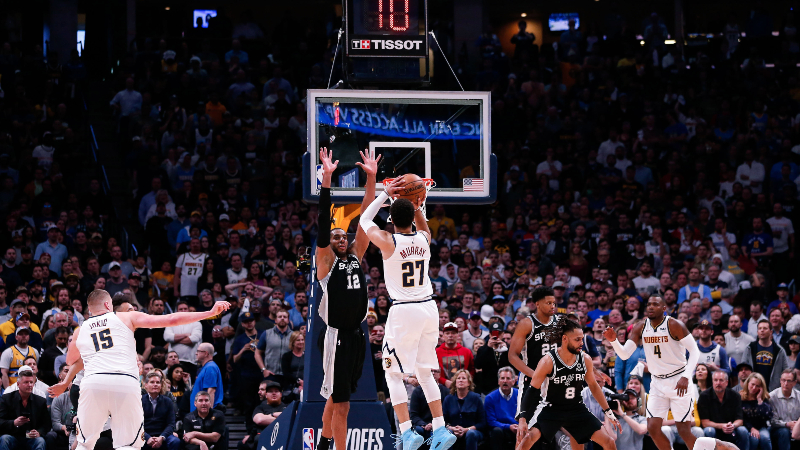 Making matters worse, if Will Barton continues to struggle, I think Mike Malone has a big problem on his hands because he can't really bench Barton this early, right? Even if Malik Beasley makes a lot more sense?
There are way too many questions here with Denver, so I'm on the Spurs and I think -4.5 is where I'd stop being interested. We aren't there yet. — Ken Barkley
---
Mears: How I'm Handicapping This Game
What a weird, weird series. The Spurs were en route to another road win in Game 2 before the Nuggets came storming back, mostly thanks to some late-game heroics by point guard Jamal Murray. He went Steph-like:
Burying shots to get the win — and, more importantly, the unexpected Denver cover.
All in all, he went 8-of-9 for 21 points in the fourth quarter, willing his squad to a victory.
That was fun, but let's not lose sight of how much this series has been a slog. The Spurs remain super weird: In Game 2, they took just 18 three-pointers, and only four of those were from the corner. A whopping 41 of their shots were mid-rangers.
That was a reason I was down on them in this series coming in: They just don't play modern, optimized basketball. You can rely on inefficient looks only so much.
Really, it comes down to whether these shots go in:
Or ones like these:
They did in Game 1, and they won. They didn't as much in Game 2, and they lost.
To be fair, they've been great all season hitting mid-rangers, ranking second to only the Warriors in that regard. Perhaps that comes back around in Game 3 at home. Either way, a ton of slow possessions ending with mid-rangers isn't conducive to a ton of scoring, even if they are moderately efficient at them.
Further, the Nuggets, as Locky mentioned, have stark home/road splits, both in terms of ATS and over/under record. They were the most profitable road team to the under this season, and the Spurs were 23-18 to the under at home. This over/under opened a little higher than Game 2 after going over; I'll zig zag and take the under. – Bryan Mears
---
Moore: Why I'm Betting the Spurs
This series is essentially all about the Nuggets' shooting. They're getting whatever they want on the offensive end; they just can't make shots at a reasonable level… or at least they couldn't until the late third quarter of Game 2, when they proceeded to go bonkers. Jamal Murray hit tough contested stuff, to be sure — the kind of performance playoff legends are born from. However, the Nuggets consistently generated good looks and just finally started to knock them down.
The issue, of course, is now they're on the road, where role players shoot worse. What's interesting –with the caveat that regular-season matchups are often flawed samples for the playoffs — is that Denver shot really well on the road vs. San Antonio this season.
Six rotation Nuggets shot 38% or better from 3-point range in the AT&T Center this season, including Nikola Jokic going 3-for-3 and Gary Harris and Monte Morris both shooting 50% from deep. That gives me pause; if the Nuggets carry their offensive flow from Game 2, this series turns around in a hurry.
However… the thing that hurt them in those regular-season matchups was defense. San Antonio averaged a 109.7 Offensive Rating vs. Denver at home. The Nuggets defense was actually stifling in Games 1 and 2. They made DeMar DeRozan and LaMarcus Aldridge work for their buckets, and eventually the mid-range monsters reverted back to what all mid-range monsters are: ineffective in the face of efficient offense.
That said, with the above-mentioned role-players-at-home issue, we're likely to get a better performance from the Spurs shooters, particularly nonsense gunners like Marco Belinelli and savvy weapons like Davis Bertans and Patty Mills. Those players all struggled in Denver.
The Nuggets were rattled in Game 1 when they missed shots and were panicking in Game 2 before Michael Malone gave an emotional and effective timeout speech in the third quarter. This is the young kids' first playoff road game, and they are not prepared for how the Dungeon feels in the playoffs.
It's loud, it's angry and the building is designed so it feels like the fans are right on top of you. Given Ewing's numbers on Pop's teams at home, and the fact that Popovich is 6-1 ATS in Game 3s after a loss, even if I think Denver is the better team and should win the series, I have to take the smarter play and go with San Antonio -3.5. – Matt Moore
---
Editor's note: The opinions on this game are from the individual writers and are based on their research, analysis and perspective. They are independent of, and may not always match with, the algorithm-driven Best Bets from Sports Insights.
How would you rate this article?