Nuggets vs. Spurs Game 4 Betting Preview: Which Denver Team Shows Up?
Credit:
Soobum Im-USA TODAY Sports. Pictured: Denver Nuggets power forward Paul Millsap (4), San Antonio Spurs small forward Rudy Gay (22).
Game 4 Betting Odds: Denver Nuggets at San Antonio Spurs
Spread: Spurs -3.5
Over/Under: 208
Time: 5:30 p.m. ET
TV Channel: TNT
Series Score: Spurs Lead 2-1
---
>> All odds as of 9 a.m. ET. Download The Action Network App to get real-time odds and live win probabilities on your bets.
---
The San Antonio Spurs have the series lead and the playoff experience on their side against the Nuggets. Can Denver get hot in Game 4 to even things up? Our analysts discuss.
Betting Trends to Know
Bettors moved the Spurs-Nuggets Game 3 over/under from 212 to 208 but were displeased to see the teams combine for 226 points, easily going over the total. The outcome was disappointing for gamblers, but that hasn't stopped them from jumping on the under once again in Game 4.
The total has decreased from 211 to 208. Should you follow the line movement and bet the under? Yes. In high-total playoff games, it has been profitable to bet the under when the line has decreased at least a point. — John Ewing
Everyone keeps alluding to the fact that this season's version of the Spurs are not the same team we're used to seeing in the playoffs. Well, in Game 3, everything seemed just fine and San Antonio kept this trend rolling: Under Gregg Popovich, the Spurs are 81-49-3 ATS (62.3%) as a home favorite in the playoffs. — Evan Abrams
Popovich is one of the best playoff coaches in NBA history, and that does not change when you take into consideration the point spread. His teams dominate as a favorite, and he continues to prove people wrong as the lower seed this season.
That said, after the Spurs held their ground in Game 3 at home, Game 4 may be a little more difficult with Denver trying to bounce back. In Popovich's coaching career, he is just 22-31 straight-up and 19-32-2 against-the-spread (ATS) in Game 4s. He's 15-22 SU (40.5%) and 10-26-1 ATS (27.8%) since the beginning of the 2004 playoffs, the year after his second title in 2003. — Abrams
Popovich's ATS record based on the series game number…
Games 1-2: 41-31 ATS (56.9%)
Game 3: 22-14 ATS (61.1%)
Game 4: 9-25-1 ATS (26.5%)
Game 5-7: 29-18-1 ATS (61.7%) — Abrams
Locky: My Thoughts on Saturday's Game
This is one of the series I've been basically dead-on with an approach. We had San Antonio in Game 3, and that was wonderful.
The approach here is no different: I like San Antonio again at this number. For the Nuggets (and this is no secret), the really significant themes that have been with them all season are really showing themselves here: poor play away from home and the complete lack of a reliable second star next to Nikola Jokic.
Jamal Murray went back to being invisible in Game 3 after briefly surfacing for part of Game 2, to the surprise of no one who's watched Murray all season.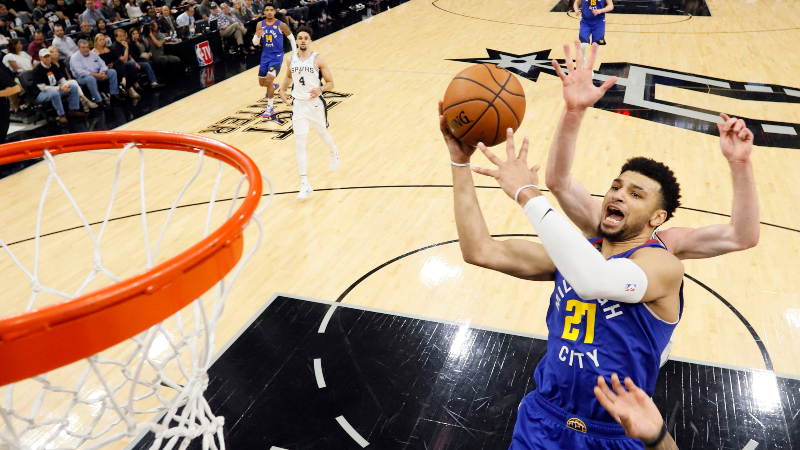 Will Barton played a very quiet 20 minutes, going 2-for-6 with a -23 plus-minus; he probably shouldn't be playing any more in this series (but he will). Sometimes the playoffs are really a mirror, and they can show you the absolute worst parts of yourself on a national stage.
The Nuggets have had these issues all year, but they've been so fun at home and occasionally dynamic to watch, so we kind of ignored them. They're going to go back home down 3-1 in all likelihood, because I see no reason the Denver we've watched all year is going to magically transform against an extremely well-coached team playing at home in San Antonio.
Denver's apparently still getting credit in the market, possibly because in a 2-7 matchup in which the Nuggets were the pre-series favorite, the market is reluctant to change its stance. But the metrics entering the series gave Denver only a very slight advantage, and most of that was rooted in its play at home. So, for the second straight game, -3.5 is a great number to bet the Spurs. — Ken Barkley
---
Mears: How I'm Handicapping Tonight's Game
If you're going to allow Derrick White to go 15-of-21 for 36 points in 33 minutes, you're probably not going to win the game. The Spurs actually had a poor shooting game from the mid-range for once in Game 3, and it didn't matter. They made up for it with transition opportunities and White absolutely torched the Nuggets on defense.
The Nuggets weren't even that inefficient themselves: They posted a 110.1 Offensive Rating, which is fine, and they largely shot the ball well. In fact, they shot 80.0% at the rim (93rd percentile) and 48.0% from beyond the arc (90th percentile). They hit 47.6% of their non-corner-3s, and they still lost the game.
The defense was just atrocious: Among White's 21 shots, 12 of them were within five feet of the rim. It was a layup clinic, which is embarrassing for a playoff game. The Spurs are shooting 65.6% at the rim in the series, and if you let them do that instead of settle for long 2s, you're in trouble.
Maybe this is just the learning curve for the young Nuggets. Jamal Murray went off in Game 2, but he was nonexistent in Game 3, scoring just six points on six attempts in 31 minutes of action. In Game 1, it was Nikola Jokic who disappeared, scoring 10 points on nine attempts. If those players aren't going to lead the offense like they have all year, this series will end soon.
I still don't have a good feel for this series, mostly because the Nuggets are just playing differently than they have in the regular season. The Spurs should get some credit for that, but the Nuggets obviously have a higher ceiling they just haven't been able to hit. Again, maybe they're too young for the moment; Jokic has been in a funk for a bit now.
As such, this series is a stay away for me. Spurs -3.5 is probably the sharp side of the bet, but I don't feel strongly about it given the season-long data. — Bryan Mears
---
Moore: Why I'm Betting the Nuggets
It's simply difficult for me to envision the Nuggets having four consecutive games where they are this bad offensively. The Spurs defense is good-not-great; the Nuggets offense has struggled for a while, but its problems have been outlier-bad.
In Game 3, it was the defense that tore the Nuggets to pieces, and that wasn't surprising. Jamal Murray has quietly been vulnerable all year, and in his first playoff series, the Spurs have targeted his lack of attention to detail.
Derrick White wants to do one thing: drive to his right. He does not want to take the jumper. Murray closed out too hard constantly and did so giving up White's right. It was pitiful. It's also correctable. I don't know what to do about Will Barton, who seems legitimately broken on offense.
What I do know is that the Nuggets lost Game 1 in their first playoff appearance in a game in which they shot an outlier low percentage; that wasn't surprising at all and I kind of expected it. Then they lost Game 3, which was an obvious one to lose; it was their first road playoff game with this group.
But the Nuggets are a better team than San Antonio. If they lose this series, it'll be about experience and personnel matchups that Gregg Popovich has exploited. I have to believe that the talent will at least get two off San Antonio, so I'll grab the Nuggets at +145. I don't love it, but Saturday is largely my 'empty the clip' day.
Don't be surprised if there are lineup changes or at least substitution pattern changes to get more minutes for Malik Beasley and Monte Morris in this game, which would help Denver out a ton. – Matt Moore
---
Editor's note: The opinions on this game are from the individual writers and are based on their research, analysis and perspective. They are independent of, and may not always match with, the algorithm-driven Best Bets from Sports Insights.
How would you rate this article?