Moore: Thunder Better Off After Trading Away Carmelo Anthony
Credit:
Russ Isabella-USA TODAY Sports. Pictured: Oklahoma City Thunder forward Carmelo Anthony
OKC Thunder GM Sam Presti managed to find a taker for Carmelo Anthony, sending him to the Atlanta Hawks.
The Thunder received Dennis Schröder and Timothé Luwawu-Cabarrot in return and have gotten better despite losing a the big name.
I've learned in 10 years covering the NBA that if everything seems quiet in Oklahoma City, that's usually when general manager Sam Presti strikes.
So while everyone was expecting the Thunder to simply waive Carmelo Anthony and be set for the season, I was waiting on something more. There were rumblings (and that's all they ever are with OKC, rumblings) that the Thunder had something cooking. Credit Mitch Lawrence for getting out ahead of it, which is difficult to do with most of OKC's moves. Presti typically strikes out of the darkness.
Sign up for The Action Network's daily newsletter to the best sports betting content delivered into your inbox each morning.
The news came down on Thursday from multiple outlets: Anthony — or at least his rights — are going to Atlanta, where he'll be immediately bought out. Justin Anderson goes to the Hawks along with a lottery-protected Thunder pick. Dennis Schröder and Timothé Luwawu-Cabarrot go to OKC. Per ESPN, the Thunder will save roughly $62 million in the deal. If they had just waived Melo, it would have been $107 million.
Basically, Thunder owner Clay Bennett agreed to save less money to win more, taking on a rotation player in Schröder instead of just dumping Melo and being cap-strapped anyway.
Schröder's not the best fit. Raymond Felton is both a better fit and lower maintenance. Schröder's locker-room reputation has never been sterling. But Felton is 34, and Schröder is younger, more athletic and a little more dynamic. He's also basically a no-cost addition. They would have either had the dead Melo money on their books for a higher tax bill or Schröder. Considering the Thunder's desperate need at guard when Andre Roberson went down, these moves make a lot of sense.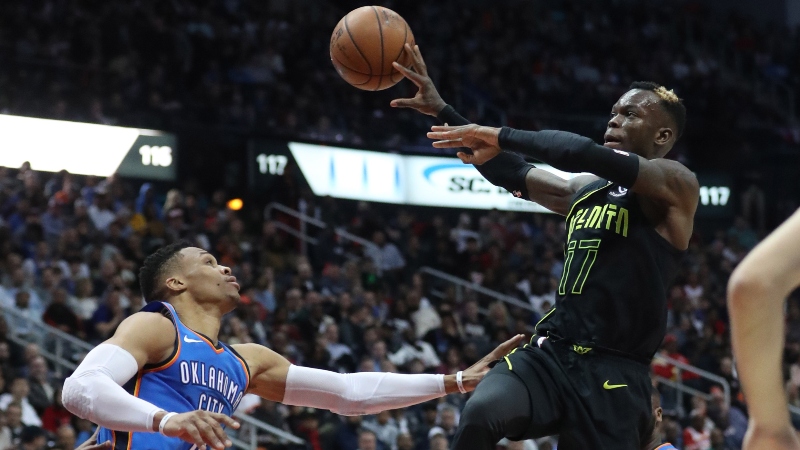 Credit: Jason Getz-USA TODAY Sports. Pictured: Dennis Schroder (17).
Terrance Ferguson and Alex Abrines both failed to capitalize on the opportunity. Playing Schröder as a combo guard with Russell Westbrook won't work well; neither is an excellent shooter, and Schröder is worse than Westbrook in that regard (Schröder ranked in the 20th percentile on catch-and-shoot plays last season, hitting fewer than 30% from 3-point range — yikes). Cabarrot wasn't knockdown, either. Shooting will still be at a premium for this OKC team.
However, OKC has built itself as a defense-first team, and that's what the Thunder added. Schröder's defensive metrics were poor last season, but he's pesky on bench units surrounded by good defenders. Cabarrot has length, even if he's a fringe player.
The Thunder also received a $10 million traded player exception, which could be helpful at the deadline if they want to add a rotation player, preferably someone who can actually put the little round thing through the orange circle with the net. There are options there.
This isn't a home run for Presti — his home run this summer was getting Paul George on a four-year deal. This move does, however, solve the Melo issue. It also gets something in return, provides for more future options and shows that for whatever resistance Bennett has shown in the past to spending, he's willing to put the money up to win now. That's no small thing in a market such as OKC, and Presti is working to make the most of it.
The Anthony trade is addition by subtraction. Schröder's bar for effective contribution is low, and TLC's is almost non-existent. The Thunder made their lives a little better without giving up anything major. Even if a small one, it's another win for one of the best front offices in the league. Melo was a risk worth taking. Getting anything back after its failure is turning failed risk into benefit.