Moore: Thunder's Playoffs Ceiling Relies on Jerami Grant and Terrance Ferguson
Credit:
Photo credit: Troy Taormina-USA TODAY Sports. Pictured: Jerami Grant, Terrance Ferguson and Russell Westbrook
For years, the Oklahoma City Thunder have struggled to find the star role-player to pair with their superstars like Russell Westbrook, Kevin Durant and now Paul George.
Matt Moore argues they potentially have that now in the combination of Jerami Grant and Terrance Ferguson, and that gives them a higher ceiling in the upcoming NBA Playoffs.
The same story has been true for the Thunder for years — since, honestly, James Harden's trade. That subject will always remain a sore point in Oklahoma City, from what it meant for breaking up three future MVPs to the way the story has been revisioned in years since.
But beyond the takes and diatribes, a hidden impact of Harden's departure remained: the Thunder need one more guy.
They don't need a Harden, though, sure, it would change things. What they've needed was a shooter.
I mean, take a look at this list of made 3-pointers since 2013:
Anthony Morrow! Paul George third in two seasons! Kevin Martin! Andre Roberson, a career 26% three-point shooter ([), who hasn't played in over a year, is 18th!
Historically in the playoffs with Westbrook and Durant, teams sent swarms at them and no one could make them pay from range; the problems only accelerated when Durant left. Paul George wasn't full settled in last year — and struggled in the playoffs to boot — but there were also no perimeter salves to help get the Thunder out of a tight offensive spot vs. Utah.
The Thunder need that third guy. They may have found him.
And his names are Jerami Grant and Terrance Ferguson.
The problem for the Thunder has been finding someone who could keep up with their defensive identity, who could run with Russell Westbrook on the break, who didn't need the ball and who hit something, anything from deep if the defense didn't account for them or chose to ignore them.
That may be a bit much for Grant or Ferguson to shoulder night-in-and-night-out the rest of the way, but with their powers combined, it just might be enough to shift the tides.
Let's start with Grant.
---
JERAMI OH MY
Grant's not saying he thought he'd be a 3-point shooter coming into the league… but he's not not saying that, either.
"I just envisioned being my best self," Grant told The Action Network last month. "I eventually thought I'd get everything together, work on everything to be complete."
Grant is a product of the Process in Philadelphia, drafted 39th in 2014. He won 28 games total his first two seasons combined with the Sixers while they tanked to become the powerhouse they are today.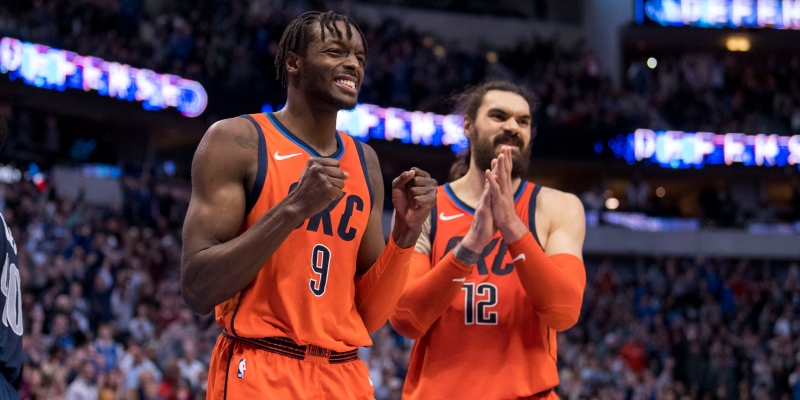 The Thunder won their 28th game this season back in late January. It should not go unnoticed how many former Process players have drifted through OKC. Timothe Luwawu-Cabarrot was only recently traded before the deadline. Hollis Thompson and K.J. McDaniels both roam for the Thunder's G-League affiliate.
Grant fit the mold of what the Thunder wanted: a versatile forward who could defend and run the floor. The Thunder defense is leveraged on its athleticism and length, and Grant was a huge boon to it.
What's been notable this season, though, is how much his skills have developed. Grant's shooting 37% from 3-point range this year, shooting better than 34% every month once October passed.
That floor-spacing is crucial. Notably, Grant's weaponry at the top of the key and in the corners matters: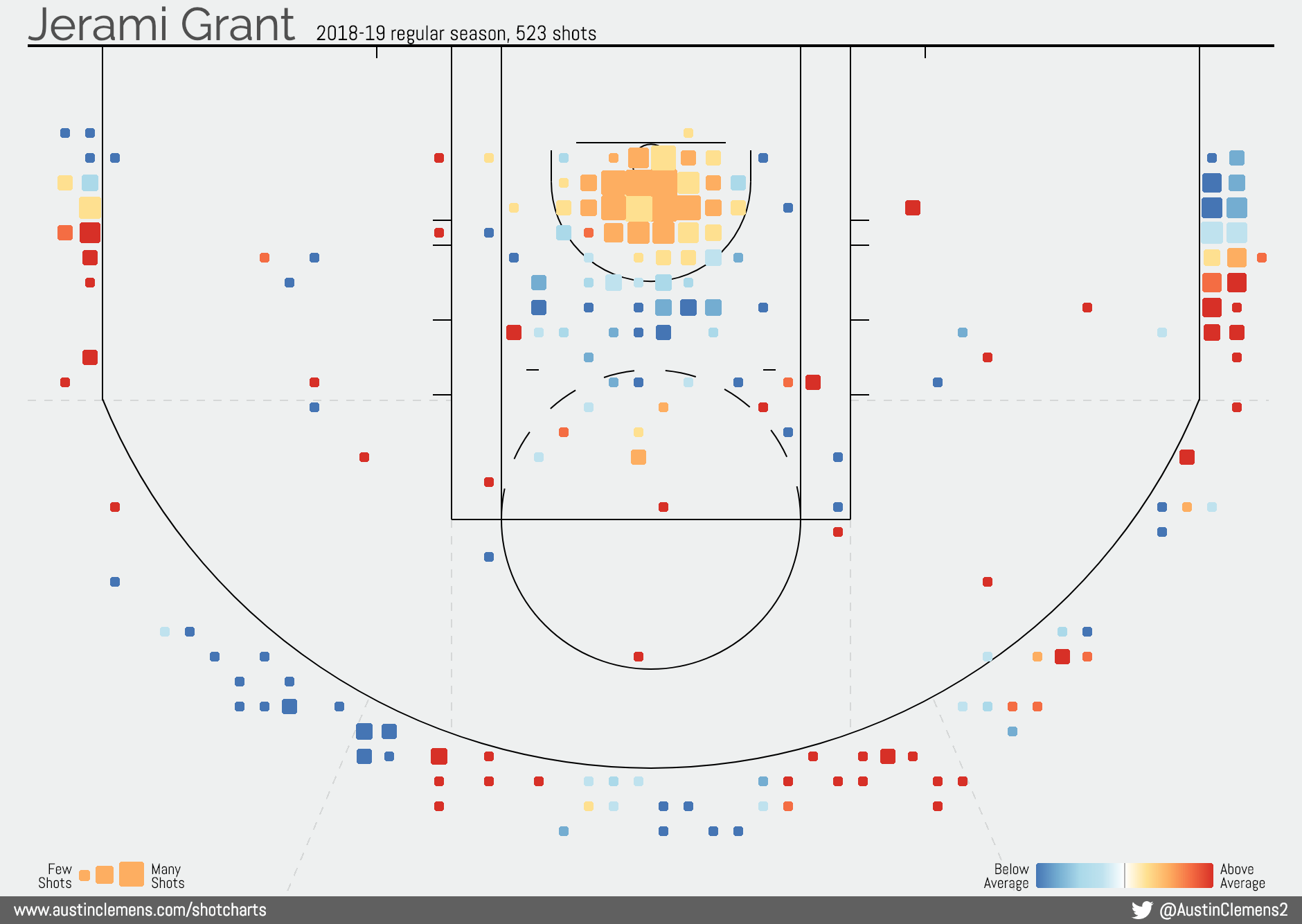 The reason these shots are so pivotal is that they're so open.
Of Grant's 155 catch-and-shoot opportunities this season, 107 of them are classified as "unguarded" by Synergy Sports. Despite being a low-usage player, that number ranks 30th in the league.
When you have Russell Westbrook in the pick-and-roll along with Steven Adams and Paul George, the defense is going to help down in most cases.
If you know how to find Westbrook's sweet spots for passing (notice that Grant is hotter a little higher up in the corner and colder a little deeper, which in part is due to how Westbrook passes), you're going to have great looks, like this huge one vs. the Celtics:
That's a crucial clutch-time shot. And not only is Grant ready to make that shot — but Westbrook is willing and ready this season to trust him with that shot. That's big time.
Same deal here, where Grant's man has to help down to contain Adams, who makes a great pass to the corner:
But Grant's not just a 3-and-D guy, either. He's 88th percentile this season in overall halfcourt offense, he's 63rd percentile as the roll man in the pick-and-roll and he has a post game.
He's also adding new stuff, like this face-up fadeaway vs. P.J. Tucker to tie the game vs. Houston on the road with 5:43 to go.
These developments are not minor.
These are the little things that take a guy from being "a good player who can do some things" to "that guy the opposing team's fans just moan about for years after a playoff series because they never saw him coming."
It's the ability to not just be one thing but to be several — to not be a liability on either end of the floor and instead be a real difference-maker.
Watch this pass vs. Milwaukee. He slips the screen and Westbrook makes a great read when the defender falls down. Grant turns back up while heading down hill, makes the grab, gets caught in a tough position vs. a super-long defender and delivers a two-hand overhead pass to the corner for a crucial, high-quality 3-pointer.
That's one that will make the most skeptical observer raise their eyebrows. That's a big-time play for a player who isn't reliant on sheer athleticism or natural ability. You have to make that play happen.
That's the kind of player who can swing a series when you have two superstars on your team.
Of note, Grant has the third-best on/off point differential in the Thunder rotation, behind only Paul George and Steven Adams.
But what about the guy who nailed that shot above, Terrance Ferguson?
---
TERRANCE MUSIC
Terrance Ferguson won the job almost by default. The Thunder have been cycling through 2-guard options for years, and last season they were forced to try and choose between Ferguson, Alex Abrines and Josh Huestis once Andre Roberson went down.
Ferguson struggled to begin this season as well, hitting just 12 of his first 42 three-pointers.
"It was more confidence," Ferguson said. "My teammates had the confidence in me, but I didn't really have it in myself. But once the season got going, I stopped thinking so much, and I just started playing basketball. That's what got me to this level, was not thinking and playing basketball."
In November, Ferguson normalized to 33%. Then in December, 37%. In January? — 48% from 3-point range.
I was curious about what having a reliable, above-40% shooter would do for the Thunder, so I charted Ferguson's 3-point percentage against the Thunder's Offensive Rating month by month. Take a look: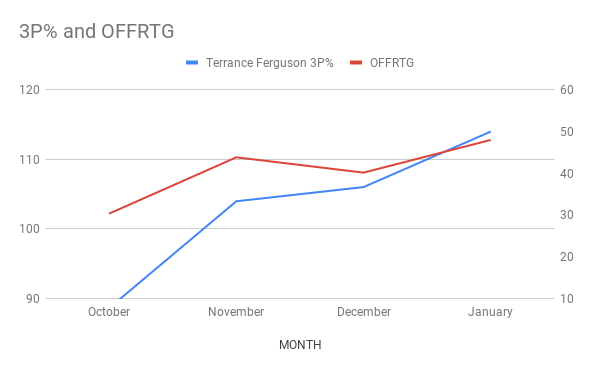 It's a pretty big impact.
Thunder Offensive Rating rank before December 1: 17th
Thunder Offensive Rating rank since December 1: 10th
Ferguson can be that floor-spacing 2-guard who can hit those open 3s, run the floor and knock down open shots. As with Grant, a high percentage of Ferguson's catch-and-shoot opportunities are unguarded (70-of-127 for 55% of the total).
The Thunder want to get out with their long, fast, athletic players and attack the rim in transition, with Westbrook as the maniacal basketball Mad Max at the helm of the vehicle.
But defenses know to stack the paint in anticipation against him. What Ferguson gives is the ability to space the floor in transition, spotting up for 3. He has the highest effective field goal percentage in transition of any Thunder wing.
Having that weapon opens up things for the Thunder wings in transition, even in a year in which Westbrook's individual offense is pitiful (he's 10th percentile in transition points per possession this season).
---
THE GUY IS THESE GUYS
OKC has a Big 3.
Steven Adams is good and efficient enough to be considered at that level. But the Thunder need that shooter to keep defenses honest. In the Western Conference playoffs, when there's a liability on either end, that player is singled out and attacked mercilessly.
Carmelo Anthony was that player defensively last year. Andre Roberson, who may or may not return this season (OKC expects him back at some point, but it might be really close to the end of the season) was often that player offensively, wholly ignored due to his inability to space the floor.
Ferguson knows he's the "last guy they have to worry about" and says he likes it that way. He fills in the gaps, takes and makes big shots, and the Thunder keep winning.
They're not giving up anything defensively with Grant or Ferguson on the floor. Grant can legitimately turn a game with his combination of skills; Ferguson can make defenses pay for trying to send help at their superstars.
If this keeps up, if this is who the Thunder are, they've found the guy that, like the rug in The Big Lebowski, brings the room together (hopefully sans micturition).
The Thunder aren't the Warriors, bursting at the seams with impossible loads of talent, but they play together, they play tough and each guy knows their role. With this offensive capability simmering in the background, the odds of OKC making a serious ruckus in the West go up every minute.
How would you rate this article?
This site contains commercial content. We may be compensated for the links provided on this page. The content on this page is for informational purposes only. Action Network makes no representation or warranty as to the accuracy of the information given or the outcome of any game or event.