Moore: The Short and Long-Term Value of the Pelicans After Trading Anthony Davis
Credit:
Derick E. Hingle-USA TODAY Sports. Pictured: Merchandise in the New Orleans Pelicans team store featuring forward Anthony Davis' jersey.
The Pelicans, long reluctant to let go of their prized franchise player Anthony Davis, finally relented and traded him to the Lakers.
In return, the have three talented young players to play alongside the No. 1 and No. 4 picks in this year's NBA draft.
Matt Moore looks at the distant and not so distant future of the franchise.
It's finally over. Anthony Davis is headed to Los Angeles and the Pelicans' next era with Zion Williamson is set to begin.
Sources confirmed to the Action Network what ESPN's Adrian Wojnarowski first reported on Saturday (and was confirmed by multiple outlets), that the Lakers were trading Lonzo Ball, Brandon Ingram, Josh Hart, and three first-rounders, along with a swap in 2023 to the Pelicans for the All-Star forward-center.
We broke down what this means for the Lakers and their title odds, but what about the Pelicans?
This trade was not what I would describe as a steal. There were a lot of tweets pouring down the timeline Saturday night that Pelicans general manager David Griffin "fleeced" the Lakers.
The Pelicans will get the following picks from the Lakers, league sources tell ESPN:

No. 4 pick in 2019
Top-8 protected in 2021, becomes unprotected in '22
Unprotected swap in '23
Unprotected first in '24
Unprotected swap in '25

Tremendous haul for David Griffin & the Pelicans.

— Tim Bontemps (@TimBontemps) June 16, 2019
That is not entirely accurate. He had to trade his best player, a perennial All-Star, a franchise cornerstone (likely a future likely Hall-of-Famer if he ever wins anything), and in return he landed a point guard who can't shoot (even free throws), a 2-guard who doesn't shoot 3's, and Josh Hart (who's solid).
If the Lakers are able to secure a third star at some point, they can viably hold on to decent draft position over the next five years, limiting the value of the two picks and swap in 2023.
However, short and long-term, I'm buying the Pelicans stock.
Short-Term Stock
PointsBet has the Pelicans' over/under win total set at 31.5. It's too early before free agency and the draft to get a sense of whether that has value, but my early leans are on the over.
First, Williamson isn't every other No. 1 pick. He's considered the best prospect since … Davis, and maybe even back to LeBron James (Side note: I look forward to the Lakers trading for him, too, in eight years).
So let's judge him based on that precedent. The 2003-2004 Cavaliers in LeBron's rookie season won 35 games. The 2013 Hornets (now Pelicans) won just 27, but that was against a season win total over/under of 26.5, hitting the over.
Note: We don't have data on the 2003 Cavaliers, (win total odds history came courtesy of SportsOddsHistory.com), but the over has gone 8-5 for teams with the No. 1 pick since 2006-2007 (though there's a lot of context needed in there).
Second, the Pelicans do have a roster of actual NBA players, this isn't a rebuilding squad. Jrue Holiday should remain in New Orleans by all accounts and is an All-Star-level talent. They'll have the option to re-sign some useful free agents like Darius Miller, Elfrid Payton, and Jahlil Okafor.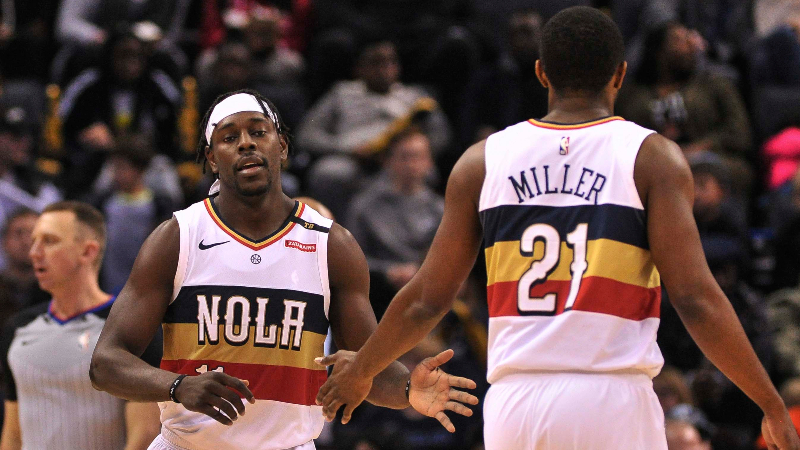 There's also the options they have in the short term. There were immediate rumblings that the Pelicans could look to deal the No. 4 pick. A potential deal of, say, the No. 4 and another of their many future picks (one of their own or the Lakers') or the young assets they just acquired could be moved for an upgrade.
Williamson gives you the option of pursuing win-now moves as long as you have an eye on the future. The Lakers' draft picks they hauled in give them such an advantage.
Then there are the Laker kids.
I'm not high on Ball; I wasn't high on him at UCLA, I'm not high on him now. He's a non-shooting point guard who shoots less than 50% from the free throw line, and his defensive numbers have never matched his reputation. I'm also not high on Ingram, a 2-guard who doesn't shoot many 3's (and at a 33% clip when he does shoot them) with a makes-KD-look-chunky frame.
However, the ideal version of the Pelicans locking down opposing teams by blitzing with Holiday, Ball, and Williamson, and the rookie catching transition lobs in Alvin Gentry's up-tempo offense? That's pretty good.
The ideal version of Ingram, pushing the ball and drawing fouls in transition (his one offensive elite strength) and hitting short-range pull-ups in pick and roll with Williamson? That's pretty good.
Hart fits seamlessly; I'm expecting the Holiday-Hart-Williamson lineups to be among the team's best next season.
The Pelicans play in the West, which is overall is brutal, but they also play in the Southwest Division, which isn't. Memphis is rebuilding, the Mavericks are rebuilding, and the Spurs should be improved with Dejounte Murray back, but aren't expected to make any big moves this summer. It's really just the Rockets as a super-power.
Long-Term Stock
There are two key elements here related to LeBron. James' contract is up in the summer of 2022.
If the Lakers sign another max superstar and get Davis on a full max deal next summer, that carries him through 2025. Conceivably the Lakers could transition from the Lebron Era to the Davis Era without missing a beat and maintain their picks in the high 20's until they've conveyed all four pick opportunities (the three firsts and the swap in 2023).
There's also clearly the possibility LeBron plays until he's 40 and re-signs with the Lakers in doing so after this deal is up.
However, if Davis signs a 2 + 1 next summer, having an opt-out when LeBron's deal is up, this could be a short-term arrangement. If the Lakers win a title or titles and go their separate ways, or if the grand experiment doesn't work (like many super teams before), then those picks all of a sudden become incredibly valuable.
This is the big key, and it's related to the final pick. The Pelicans put a protection on the pick that says they have the right to defer from the 2024 first-rounder to 2025. If the Lakers are dominant through 2024, but Davis (and the potential max cohort) depart in 2024 (using an opt-out in the final year of Davis' five-year max next summer), then that 2025 pick is suddenly pure gold. That may become the most valuable of the deal.
There's also the trade value of these picks. You can package together any combination of the Pelicans' future picks and their assets to get upgrades, as the Zion era progresses.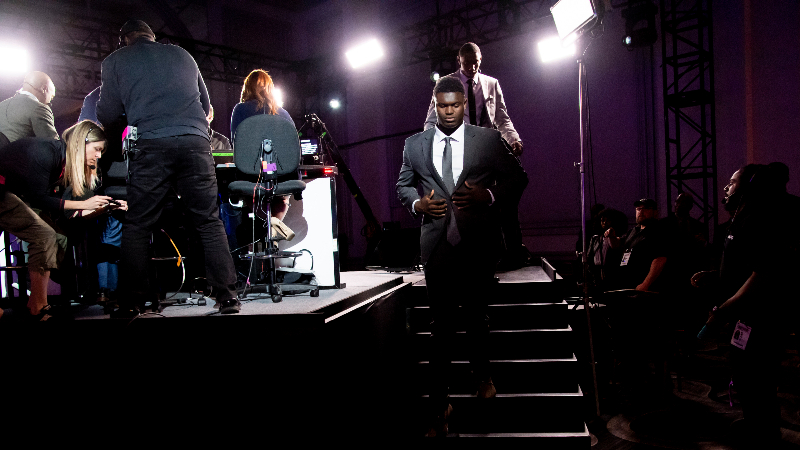 That's key in all this: Zion. Without the Pelicans' winning the lottery, this deal looks much worse even if it's in the end fair value. The Pelicans' future is terrible without the lottery win. Everything about this deal looks better through the lens of "putting top-level talent around Zion Williamson."
But they did win the lottery, they do have their guy, and this deal sets them up to build short and long-term around him over the next decade. They'll be reaping the benefits of this trade for seven years at least. Not bad, given their compromised leverage, and a good sign for giving them the most options.
That was the crucial mistake Dell Demps did in pursuing an aggressive approach in building around Davis: he couldn't give himself outs if those moves didn't pan out. Griffin can take swings big and small, with outs to help if he misses.
Buy Pelicans stock, short and long-term.
How would you rate this article?