Saturday's Best NBA Player Props: Betting Andre Drummond Points, More
Credit:
Rick Scuteri-USA TODAY Sports. Pictured: Andre Drummond
Saturday's NBA slate features nine games and four valuable player props.
This piece will focus on Pistons center Andre Drummond, Bulls forward Jabari Parker, Hornets guard Nicolas Batum and Heat forward Rodney McGruder.
Prop bets can be a great way to get action on a game. Bookmakers don't have to worry about taking a lot of action on them, so there isn't as great an incentive to post a competitive line.
As a result, props can be some of the most exploitable bets on the board.
These props can become downright unfair when you combine them with the FantasyLabs Player Prop tool.
Saturday's best NBA props focus on four of the slate's nine games:
Detroit Pistons vs. Boston Celtics: 7 p.m. ET
Atlanta Hawks vs. Chicago Bulls: 7:30 p.m. ET
Philadelphia 76ers vs. Charlotte Hornets: 7:30 p.m. ET
Miami Heat vs. Portland Trail Blazers: 8 p.m. ET
Let's dive right in.
Pistons C Andre Drummond
The Pick: Over 16 points (-114)
Drummond struggled in two of his first four matchups to start the season, but had valid excuses for both: One was against Joel Embiid, who is one of the best defenders at the center position, and the other was the result of foul trouble.
He's crushed when he's managed to stay on the court in good matchups, scoring at least 24 points in both games, so this line is probably lower than it should be.
I think this line should be a minimum of 18 points, which is why it has a Bet Quality of 10 in the FantasyLabs Player Prop tool. That said, the Celtics are a difficult matchup, so I wouldn't play this prop at greater than -140.
Bulls F Jabari Parker
The Pick: Over 17.5 points (-114)
I won on a similar Parker prop Friday by the slimmest of margins, so I'm doubling down again Saturday. The Bulls are decimated by injuries at the moment, with Kris Dunn, Bobby Portis, and Lauri Markkanen all out for the foreseeable future.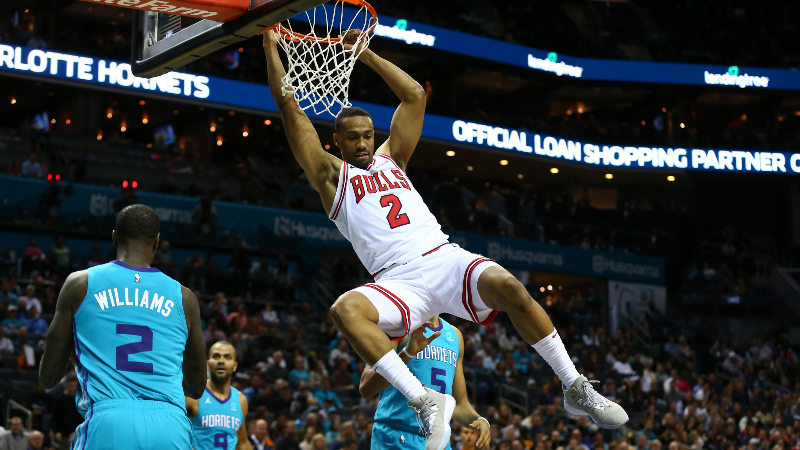 Parker should be one of the primary beneficiaries in their stead, and he posted a usage rate of 31.8% in his most recent contest. His overall scoring numbers were kept down because of reduced minutes in a blowout, which gives us the opportunity to take advantage of this prop again.
Parker is going to get up shots when he's on the floor and should see at least 30 minutes if the game stays competitive. I like this prop up to -160.
Hornets SG Nicolas Batum
The Pick: Under five assists (-114)
Batum hasn't had more than five assists in a game this season, so this line feels a bit high. The Hornets also have a difficult matchup vs. the Philadelphia 76ers, who allowed the third-fewest points per 100 possessions last season.
Charlotte is implied for just 111.5 points, which represents a significant decrease when compared to its season average (116.0).
This line doesn't make a ton of sense to me, but this prop stops looking like a value around -150.
Heat SG/SF Rodney McGruder
The Pick: Under 13.5 points (-105)
McGruder has averaged 16.5 points per game through his first four games of the season, but his playing time is about to take a serious hit.
Justise Winslow and Wayne Ellington are expected to make their season debuts against the Portland Trail Blazers, and McGruder seems the most likely candidate to cede some of his minutes.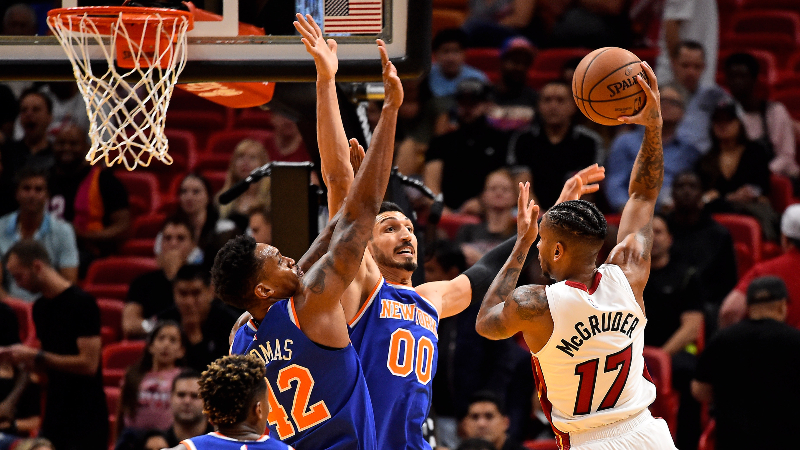 McGruder is averaging 34.5 minutes per game this season, but is currently projected for just 27.5 in our FantasyLabs NBA Models. He's shooting an unbelievable 55.0% from the field and 57.1% from 3-point range, so he's due for some regression in that department, as well.
This is the highest-rated prop of the day in the FantasyLabs Player Props tool, as they're projecting him for just 6.0 points. I would play this prop all the way to -180.