Moore: Ranking Every NBA Season Win Total Bet for the 2018-19 Season
Credit:
USA TODAY Sports. Pictured: LeBron James, Stephen Curry and Giannis Antetokounmpo
Looking to bet on 2018-19 NBA season win totals? You've come to the right place.
Action Network NBA guru Matt Moore makes his over/under picks for all 30 teams below and gives his confidence in each selection.
The NBA is back. It's been a long, boring offseason … just kidding.
With free agency, superstar trades and general pettiness, the offseason winds up being just as — if not way more — entertaining than the regular season.
But basketball is back — training camps officially opened Monday, and preseason begins Friday. Which means betting on basketball is back.
And as we all know, the most fun way to look ahead to the season is to examine the win totals.
I've picked all 30 win totals and ranked them in terms of confidence (starting with the ones I'm least confident in and ending with my favorites).
I evaluated historical data, rosters, performance last season both in actual wins and Pythagorean expected wins based on statistical performance, and all the other factors I could.
There are a lot of win totals I'm terrified of. There are some I'm interested in.
There are 30 I'm fascinated by.
Basketball's back. Let's dive in.
All odds via Westgate Las Vegas SuperBook.
Go directly to your team: ATL | BOS | BKN | CHA | CHI | CLE | DAL | DEN | DET | GSW | HOU | IND | LAC | LAL | MEM | MIA | MIL | MIN | NOP | NYK | OKC | ORL | PHI | PHX | POR | SAC | SAS | TOR | UTA | WAS
NO SIR, NOT TODAY, SATAN
30. Houston Rockets
The pick: Under 56 wins
Confidence: 0 out of 10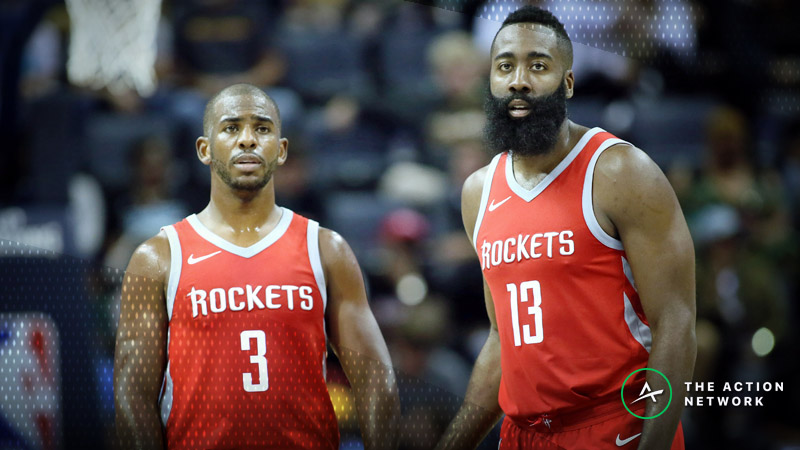 The case for the under: It's not just the loss of that defensive personnel, it's the disruption of chemistry, continuity and the additions (Carmelo Anthony and Michael Carter-Williams whoo boy is that a duo of names) that may act as negatives.
The continuity factor looms largest. Last season's Rockets team was a genuinely great team, it had a special combination. The Rockets disrupted that, in pursuit of taking longer shots at finding a formula to get past Golden State.
That approach may prove prescient, but it also opens up a wider range of outcomes. Had Houston returned the same core, 60 wins would seem a near-lock; that's how incredible last season's team was.
But you need defenders who can cover for James Harden. Going back and watching the instances where Houston struggled, it was often when teammates were unaware of lapses by Harden, who remains a solid-on-ball defender.
The replacements for Trevor Ariza and Luc Mbah a Moute will only exacerbate those issues. The Rockets also lost defensive coordinator Jeff Bdzelik, who retired this week. That's a huge blow to a team that needs to be middle of the pack defensively to get where it wants to go.
Finally, teams that know how good they are tend to prove it one year and then take their foot off the gas the next. Houston knows it has a formula to challenge Golden State if executed properly. Will the Rockets have the energy to push for homecourt again? The variance means this is too close for comfort.
The case for the over: This was a lot easier at the open of 54.5. The argument comes down to this very simple formula: Chris Paul plus James Harden plus Clint Capela plus Mike D'Antoni equals 57 wins … Read more here
29. Los Angeles Lakers
The pick: Under 48.5 wins
Confidence: 1 out of 10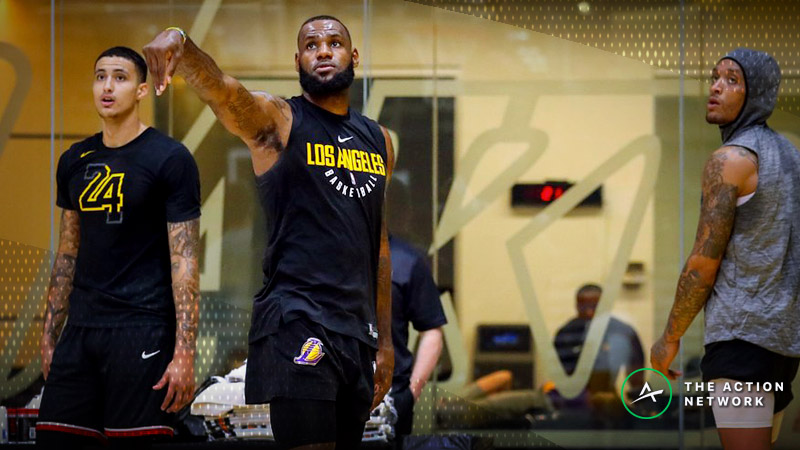 The case for the under: Beyond the Island of Misfit Toys they picked up in the offseason and the general good-not-great perspective on the kiddos, there's a looming factor here for the under: the schedule.
As outlined here, the Lakers have the second-most games with rest disadvantage, the third-least with rest advantage, and eight of their initial 11 games are vs. playoff teams from last season. Throw in the difficult nature of the West, and it sure seems like the lean goes for the under.
I don't know if I can bet against LeBron in a non-Warriors environment. Can you?
The case for the over: I went deep on the difficulty with this number here, but the over's case is pretty simple … Read more here
28. Philadelphia 76ers
The pick: Under 54.5
Confidence: 2 out of 10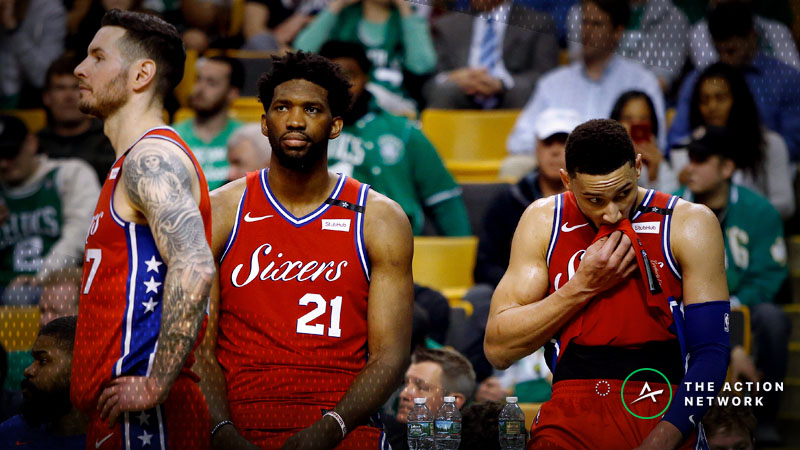 The case for the under: The Sixers rode a 16-game winning streak to finish third last in the East last season, buoyed by unsustainable shooting from Ersan Ilyasova and Marco Belinelli, both of whom were unlikely candidates to spark such a surge and both of whom have left the Sixers in free agency.
If we balance out that winning streak a bit, even having the Sixers finish 12-4, that tracks them back to 48 wins. Internal improvement probably gets them back to 52-53, but under the 54.5 even in an optimistic result.
The Embiid factor makes this incredibly difficult. The Sixers were 40-22 when Embiid played more than 10 minutes last season. That's a 52-win pace, which is right where they finished.
So even if you think Embiid is healthy all season, they'd have to match that mark, and then exceed it by three wins to hit the over.
Could internal improvement do that?
Could the team being better when Embiid doesn't play if he does miss time provide that?
The case for the over: They won 52 games last season and the young guys will be better. That's about it … Read more here
27. Denver Nuggets
The pick: Over 47.5
Confidence: 2 out of 10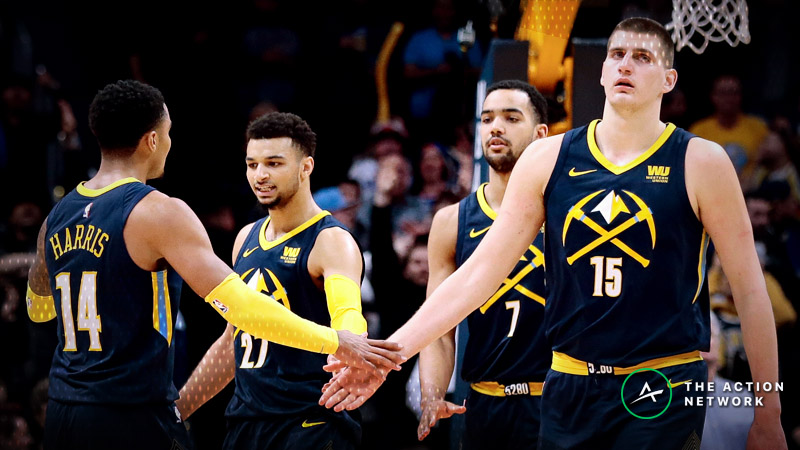 The case for the over: This team cooks offensively. Truly great offensive teams have a slightly better chance at making the playoffs with a bad defense than the reverse.
The Nuggets won 46 games last season with Paul Millsap missing 44 games. More than half the season, without their All-Star defensive bedrock, is a pretty simple explanation for the Nuggets missing the playoffs last season.
Denver's biggest issue last season was bridging the first and second quarters when its bench units came in, specifically due to a lack of competent point guard play.
The Nuggets not only removed one of the most negative players in plus-minus impact last year (Emmanuel Mudiay), but this offseason they added Isaiah Thomas as the backup. Thomas' instant offense should help them maintain leads.
Denver wound up losing a lot of games to bad teams, something prototypical of a young team. With more continuity, maturity and consistency, the Nuggets will prove more resistant to those losses.
Carving off even three of their 10 losses to teams under .500 would go a long way. Denver has too much talent if things don't go haywire (which we'll get to in a minute) not to win 45 games at a minimum.
The number is high, but well within reach for what Denver's talent and previous results would indicate. The Nuggets have one of the highest ceilings in the West — win-total-pick-wise — this season.
The case for the under: Unfortunately, they also have one of the lowest floors … Read more here
HARD PASS, THANKS
26. Charlotte Hornets
The pick: Over 35.5
Confidence: 3 out of 10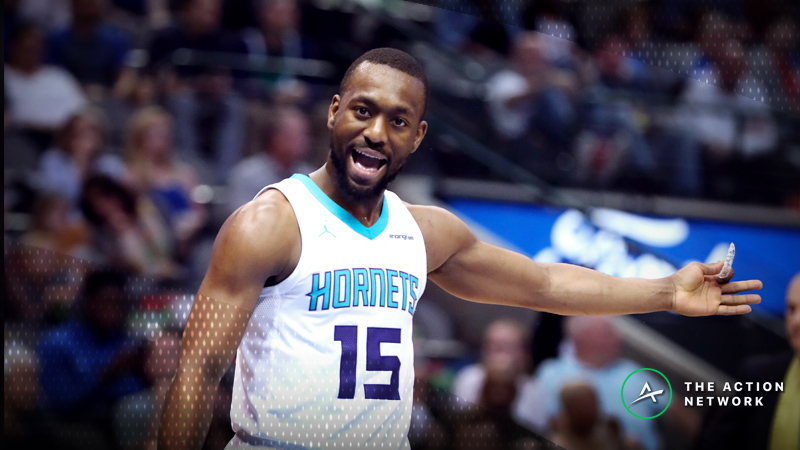 The case for the over: I will go to my grave saying this team should have been better the past two seasons. The Hornets, since the start of the 2016-17 season, have gone 1-14 in games decided by three points or fewer. That is unbelievable.
As a result, their Pythagorean expected win total was at 42 last season. Forty-two! Against an actual result of 36! That's literally the difference between making the playoffs and probably being a little rowdy in Round 1, and missing the playoffs and the front office and coaching staff getting replaced.
You can talk about executing in the clutch, but at some point, this goes beyond execution. The Phoenix Suns were 6-5 last season in games decided by three points or fewer. The Knicks in 2016-17 were 7-10. To go 1-14? That's cosmic interference.
The Hornets have a real star in Kemba Walker, they have defenders and bigs, and shooters. This team shouldn't be great… but it should be around .500, which is well over the total mark.
And yet.
The case for the under: Too much instability. The Hornets took the call when it came to Kemba Walker trade rumors last season … Read more here
25. Toronto Raptors 
The pick: Under 55.5
Confidence: 3 out of 10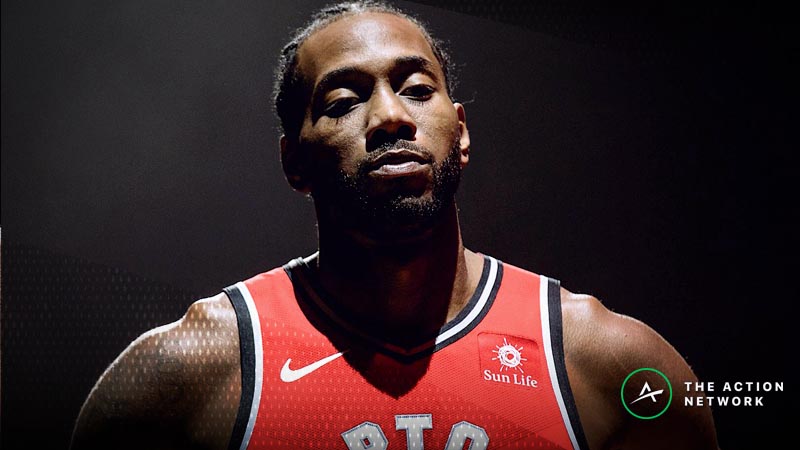 The case for the under: Who the hell knows?! How do you feel confident Kawhi Leonard commits emotionally to this team, shows up and does his job when he bailed on San Antonio?
If you believe all of last season's absence for Leonard was about injury, how do you feel he's healthy now with how nebulous the process was?
How does Kyle Lowry, never known to be the most happy-go-lucky dude, react to the team trading his best friend with whom he has had the most success league-wide after telling him they were not going to trade him?
Will Lowry and Leonard mesh?
Can Nick Nurse manage that combination of personalities?
Will the bench unit repeat last season's performance when it carried the starters to start the year?
Will this team have the same injury luck it enjoyed last season?
If Leonard doesn't embrace Toronto, will the Raptors be forced to deal him at the deadline for very little?
There are so many warning signs here. If you accept the "ifs" of Leonard, the chemistry, and the bench, then sure, the Raptors hit the over. But it takes one fracture, one fissure, one divide, and the whole thing falls apart. Hey, at least, either way, they are (nearly) guaranteed not to lose to LeBron in the playoffs.
The case for the over: They've won more than 55 games in two out of the past three seasons, and they added a major upgrade … Read more here
24. Miami Heat 
The pick: Under 41.5
Confidence: 3 out of 10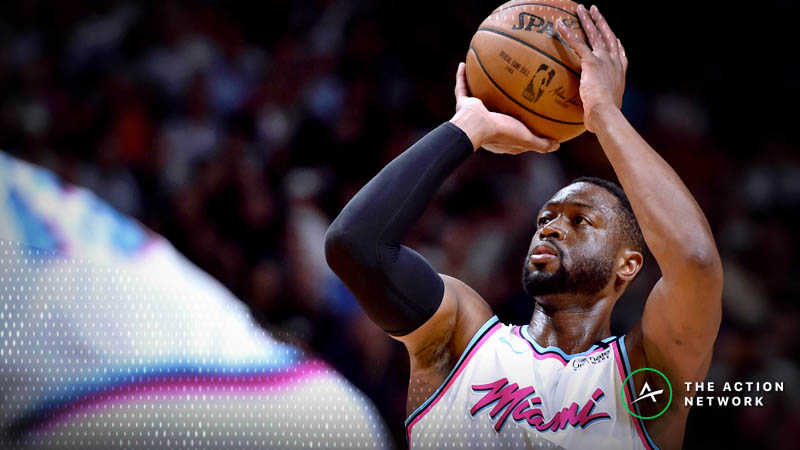 The case for the under: Stagnation is simmering here. They have multiple guys on big contracts who aren't producing and are facing larger reductions in role. Dwyane Wade is back, which I love as a Wade mark, but I also know what the on/off splits say about Wade, and it's not good. It's distracting when every night is part of the retirement tour. It's hard to focus through all that.
At some point this team is going to have to address its future — which means Goran Dragic, Hassan Whiteside, Tyler Johnson — and the Heat's other movable deals could all be on the table. Those changes could destabilize things enough to land them below .500.
The case for the over: They have finished with 41 or fewer wins just three times in the past 15 years … Read more here
I'M LISTENING… BUT I'M READY TO HANG UP QUICKLY
23. Indiana Pacers
The pick: Over 48 wins
Confidence: 3 out of 10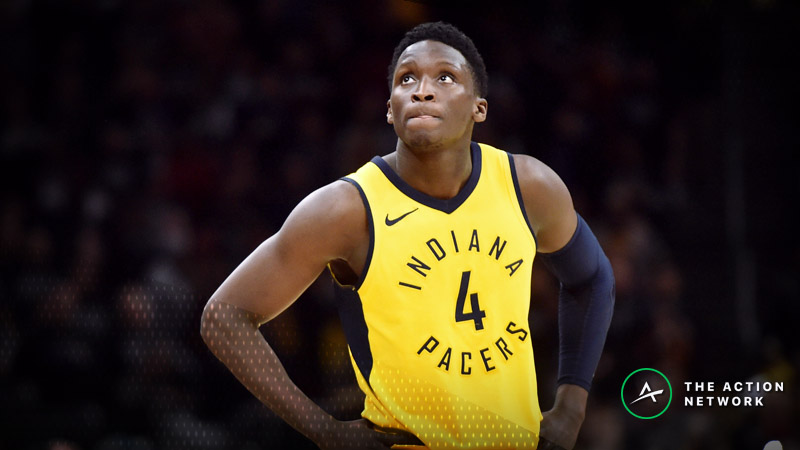 The case for the over: Indiana was the most surprising team from last season. It managed a difficult schedule with an impressive net point differential. The Pacers' SRS (simple rating system evaluating performance vs. schedule) by Basketball-Reference was significantly better than the Cavs', which isn't saying much but still. 
The Pacers added Tyreke Evans, Kyle O'Quinn and Doug McDermott, so a versatile complementary playmaker (if he commits to passing) and finisher who can surprisingly shoot and defend, O'Quinn's defense and screens, and McDermott's elite shooting. Indiana added serious impact players without losing anyone of major consequence, and oh, yeah, Victor Oladipo and Domantas Sabonis will only be better.
The Pacers won 48 games last season. What evidence is there that this team is worse than it was last season? The Pacers are balanced, the division is softer without LeBron and the East as a whole is soft.
If you want to look for an under-the-radar team with real possibility of making a surprising jump, the Pacers are an excellent candidate.
The case for the under: They won 48 games last season, sure … Read more here
22. Golden State Warriors
The pick: Under 62.5 wins
Confidence: 3 out of 10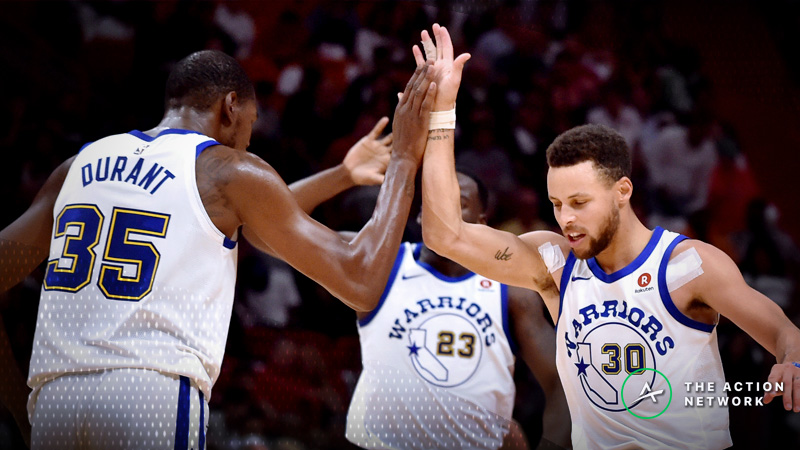 The case for the under: The Warriors don't want to. They don't care. It's just not useful to them to burn that energy going for wins they don't need. They didn't have homecourt last playoffs, didn't matter. They had injuries last season, didn't matter. The Warriors have no real incentive for avoiding bad losses or pushing for good wins.
Even their usual penchant for punishing would-be contenders fell by the wayside last season with losses to Oklahoma City and Houston. The passion just isn't there anymore. Counting on this team to basically half-ass its way to winning 77% of its games is too much to ask.
The case for the over: The Warriors are the best team on the planet, and they added DeMarcus Cousins … Read more here
21. New Orleans Pelicans
The pick: Under 46 wins
Confidence: 3 out of 10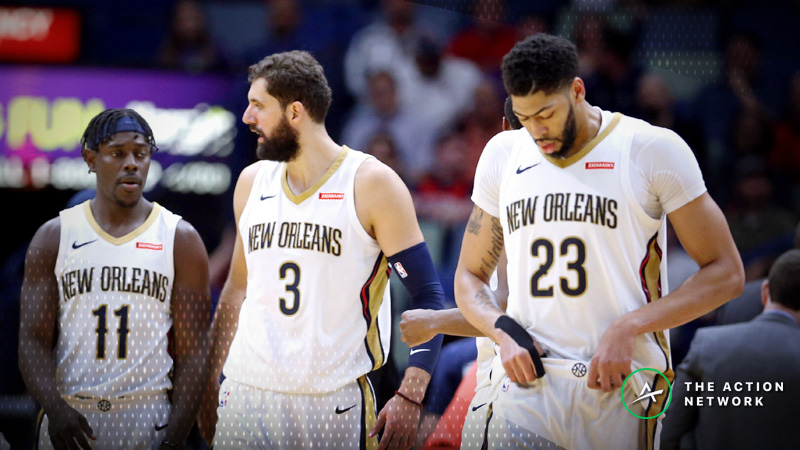 The case for the under: That's just a lot of wins. Jrue Holiday's been fully healthy for almost three full seasons, but his leg injury was bad enough for long enough to always be something in the background. Anthony Davis played in back to back 70-plus games for the first time in his career, but any fantasy player will tell you how common "Anthony Davis left the game and is questionable to return" was.
The Pelicans were also up and down all season defensively. Their shooters are not elite, ranking 17th in spot-up offensively per Synergy Sports, and the additions of Julius Randle and Elfrid Payton won't help matters. The Pelicans are good, but needing a 47 for the over assumes a lot of things go their way in a brutal conference.
The case for the over: New Orleans seems to have really found itself. Assistant coach Chris Finch helped take the offense to a new level, and … Read more here
CONVINCE ME.
20. Utah Jazz 
The pick: Over 49.5
Confidence: 4 out of 10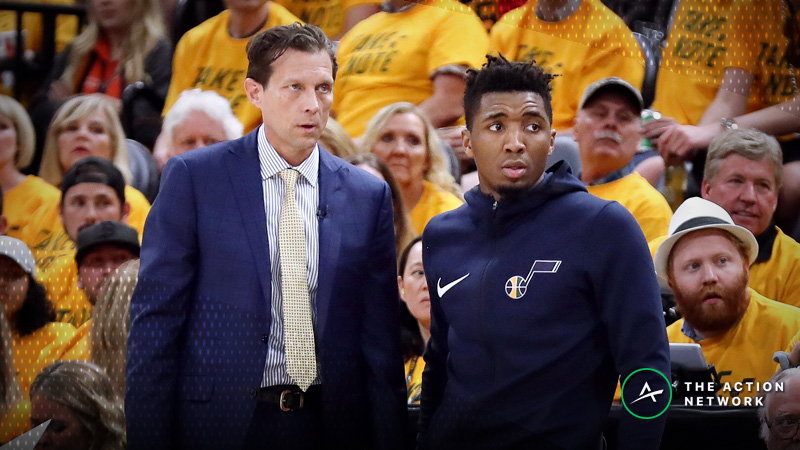 The case for the over: This number absolutely stunned me. Their expected (Pythagorean) win total last season was 55. FIFTY-FIVE! That's a seven-win differential for a team I held on for a long time last season as thinking wasn't that good. The metrics absolutely adored the Jazz, and for good reason.
They sport what is probably anecdotally if not empirically the best defense in the league, with certainly the best rim protector in Rudy Gobert and the best phalanx of supporting wing defenders. They have one of the best spot-up weapons in the league with Joe Ingles (no, really), great passers, and Ricky Rubio shot decently well (35% from deep, 42% on jumpers off the pick and roll).
But the big X-Factor is Donovan Mitchell, who is the kind of talent who swings the fortune of franchises. He is able to take games over and confound schemes against him. He delivers time and time again, and there are no apparent holes in his game; his defense is even solid-to-good. If Mitchell improves, at all, that provides insurance against a lot of things that can go wrong.
They have great coaching, they have great players, they have a balanced schedule rest-wise. This could be the second-best team in the West and it wouldn't surprise me.
The case for the under: That number is just so, so high. To lock in a 50-plus win season when they didn't get there last year … Read more here
19. Portland Trail Blazers
The pick: Over 41.5
Confidence: 4 out of 10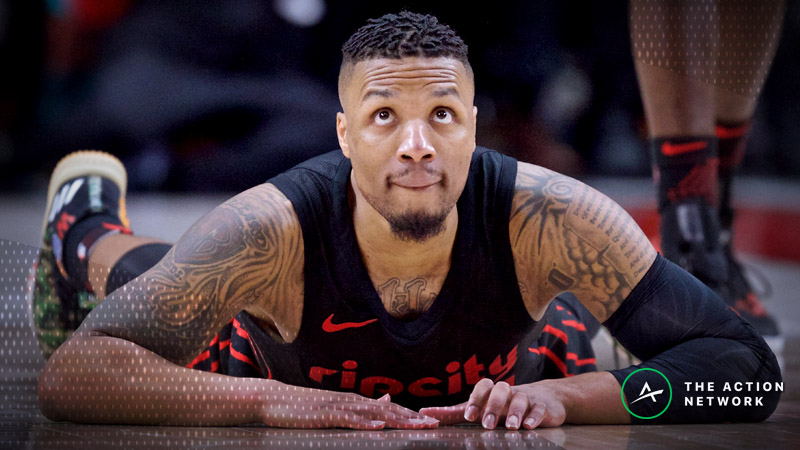 The case for the over: Over the past five seasons, Portland has finished with fewer than 42 wins only once, in 2016-17. Last season, the Blazers finished with the third-best record in the Western Conference, at 49 wins, and their expected win total was right at 49 as well. No chicanery there.
They have a top-15 player in the league in Damian Lillard, who has flirted with MVP contender status the past few years. CJ McCollum is a dynamite second option. Their young guys are better than advertised. They have continuity and consistency with the coaching staff under Terry Stotts, and some of the big contracts are expiring, which opens up the chance for an in-season addition.
Portland has hit the over in four of the past five seasons, again outside of that 2016-17 setback. But even that season shows a good reason to pick the over.
The Blazers were wallowing that season, floundering. Major changes seemed to be coming, when suddenly, they caught a soft spot in the schedule and burst off on a winning streak that helped them get back to .500. This seems to happen like clockwork.
The Blazers look like a "meh" team for three months, and we write them off and then they catch a bunch of teams that are injured or on back-to-backs or whatever, go on a sustained winning streak and ride that to the playoffs.
The case for the under: I smell a trap … Read more here
18. Los Angeles Clippers
The pick: Over 36.5
Confidence: 4 out of 10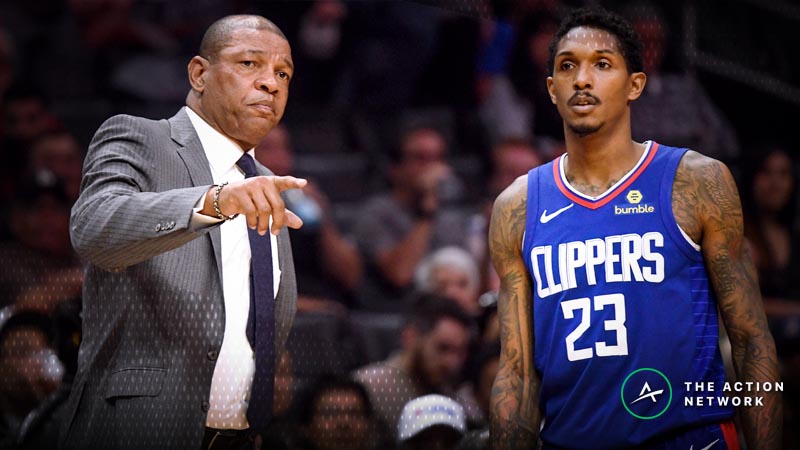 The case for the over: Well, for starters, the Clippers are among Jimmy Butler's preferred destinations. The addition of a multi-time All-Star to that core likely lifts them to at least .500. The Clippers were at a 41-win expected pace last season vs. their actual output of 42, so pretty close.
To justify a drop to 36.5, you need to believe that the Blake Griffin trade netted them a negative net outcome and that DeAndre Jordan, who signed with the Mavericks, is worth 5.5 wins. That seems like a lot.
The Clippers have roles filled, even if they're low on stars. They have a table-setting point guard in Milos Teodosic, scorers in Lou Williams and Tobias Harris, defenders/shooters in Wes Johnson and Avery Bradley, and capable bigs such as Marcin Gortat and Montrezl Harrell.
The Clippers hung around last season for a long time, and it seems unlikely, even barring a Butler trade, that they'll pull the plug if things get tough. They'll scrap.
The case for the under: Well, for starters, the Clippers have hit their under the past five seasons … Read more here
17. Washington Wizards 
The pick: Over 44.5 wins
Confidence level: 4 out of 10
The case for the over: I can sense you doing this all the way through the internet:
Just hear me out. The Wizards are frustrating, annoying, and put the cart lightyears before the horse. They talk a big game and then yutz around the regular season.
I get it. They've gone over only once in the past four seasons despite continuity and talent. Their upward trajectory stalled out, and now they're back in the atmosphere (with drops of Jupiter in their hair).
But they won 43 games last season, same as their expected mark, with John Wall playing 41 games. "Ah!" you cry, "But they were considerably better without him!" Well, they were for a while.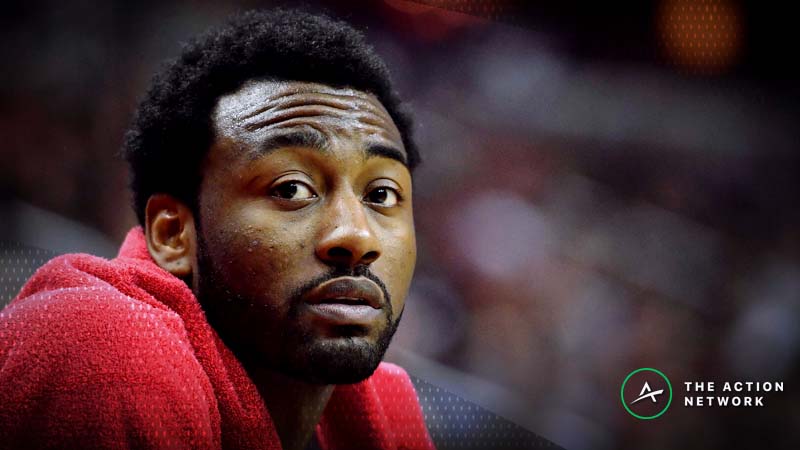 And then they wound up going 20-21 without Wall in all last season. That's not significantly worse than going 22-19 with him, but it's reason to pump the brakes on that idea. When Wall and Beal are healthy, they will go over 45 wins.
The Wizards are frustrating because they never live up to their potential. But they don't crash and burn, either. They can continue to Wizard hard and still roll to 45 wins, easily. This is a talented team with two All-Stars whose ceiling remains high even if they never get there.
The case for the under: What if a middling low-40s record just is their ceiling at this point? … Read more here
GETTING A LITTLE EXCITED
16. Milwaukee Bucks
The pick: Over 47.5 wins
Confidence level: 5 out of 10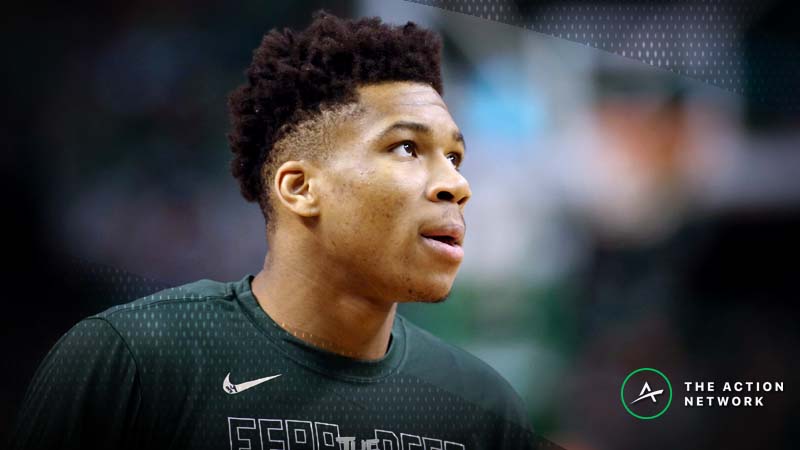 The case for the over: In short: the only thing really wrong with this team last season was coaching, and the Bucks got a great regular-season coach. Mike Budenholzer will get this team to defend, which was its biggest issue last season.
From 2014 when Budenholzer was hired until last season when the Hawks out and out tanked, Atlanta had a top-15 defense every single season — and often a top-five defense.
Milwaukee has the best player in the Eastern Conference in Giannis Antetokounmpo, and every year when we think he's reached a plateau, he pushes just a little bit further.
Antetokounmpo has increased his averages in points, rebounds and field-goal percentage every season. As he starts to enter his prime, that alone can be enough for huge gains.
Malcolm Brogdon getting back healthy after missing of last season due to injury will make a difference, especially with the bench units. The Bucks upgraded their frontcourt with Brook Lopez and Ilyasova this summer, bigs who can help defend and space the floor from the perimeter.
This premise hinges on the idea there's a great team hidden inside one that underperformed due to coaching last season, first with Jason Kidd and then with Joe Prunty, who was trying to cobble together the job as an interim.
Note: I think Prunty managed the job adequately in a tough situation, even if he wasn't some sort of revelation.
If you look at a team with better coaching to make the most of its talent, and a team that has the best player in the East, 50 wins seems like a very attainable goal in a conference without LeBron.
The case for the under: What will the Bucks be great at? We're unsure … Read more here
15. Oklahoma City Thunder
The pick: Over 50 wins
Confidence: 5 out of 10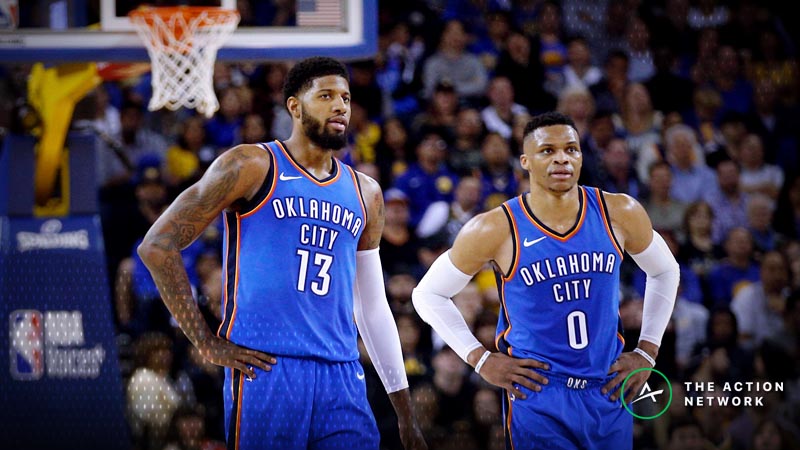 The case for the over: There are very few takes I have more belief in than this: the Thunder were way better than their record last season. Integrating two new stars with Paul George and Carmelo Anthony, OKC worked backward.
The Thunder's first priority was to establish an identity as a tough defensive-minded team. They did that; they were absolute bullies defensively. The thought was that they would figure out the offense as the season went along. On a normal trajectory, that might have happened.
Instead, before December arrived, they opened 2-9 in games within five points in the final five minutes. It was a cavalcade of disasters. Buzzer-beater losses to Minnesota that hurt their division record. A dispiriting loss to the Nuggets on the road. All types of games in which they played well, had a lead and then fell apart.
Some of this, sure, was trying to figure out the pieces. But a lot of it, having watched those games, really was just that they lost coin-flip games and games where they were the better team that night. It happens in an NBA season, and when the balance tips, it's devastating.
OKC finished with 48 wins vs. an expected Pythagorean total of 52, which would have put them third in the West. If that happens, the Thunder likely beat a Pelicans team they matched up better with, avoid the Jazz and get the Warriors matchup they honestly wanted in Round 2.
Now, they have lost an overall net negative in Carmelo Anthony. They didn't gain much, but it does mean they're not handcuffed to rotations with him, or forced to play certain players to accommodate him.
Westbrook and George had good chemistry last season, and that only stands to improve. They will have a top-10 defense again, because that's what happens with this Thunder team when Steven Adams is your center and Billy Donovan is your coach.
The Thunder should have been better last season. They will advance to at least where they should be even if they don't improve upon that performance, and that's enough to get them solidly in 50-plus wins territory.
The case for the under: Westbrook had arthroscopic knee surgery in the offseason … Read more here
14. Sacramento Kings
The pick: Under 25.5 wins
Confidence: 5 out of 10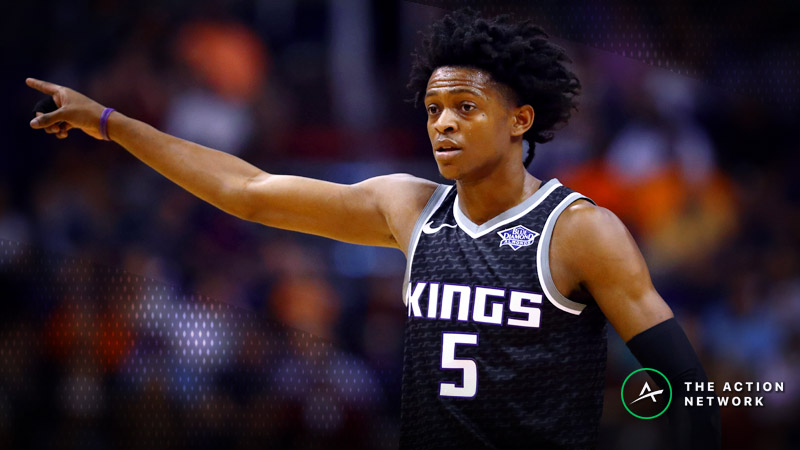 The case for the under: I mean, this team is that bad. It traded valuable veteran Garrett Temple. Outside of Marvin Bagley and De'Aaron Fox, who's the team's best player? Bogdan Bogdanovic is really good but not a star.
The Kings are just not loaded with top-end talent. They play in the same division as the Warriors and LeBron now, with the Clippers as a playoff hopeful.
They've also gone under six years in a row. Their Pythagorean win total was actually just 20, so even the moderately not-horrible record had some smoke and mirrors. This team is bad, and if you're going to go a route, believing in the Kings shocking the world doesn't seem sound.
The case for the over: They won 27 last season, and a young team should improve as Fox grows … Read more here
13. Minnesota Timberwolves
The pick: Under 44.5*
Confidence: 5 out of 10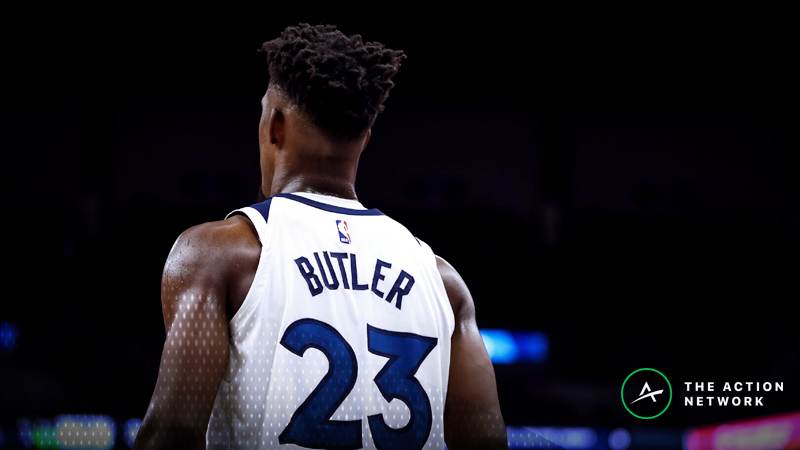 I'm not going to bother with the over/under discussion here, because the Jimmy Butler situation renders any of this moot. The number's off the table at most books anyway at the time of writing.
I'm including it here, at this position, because whenever the number is posted again, the under isn't a bad look, no matter what the new total is. Either Butler's gone, the team's in disarray and there's a chance it all falls completely apart, or Butler stays, the team is in chaos and struggles.
Regardless, you can't reasonably put an investment in either way until the situation is resolved.
Read more on Butler and the Timberwolves here.
12. Memphis Grizzlies
The pick: Over 32.5
Confidence: 5 out of 10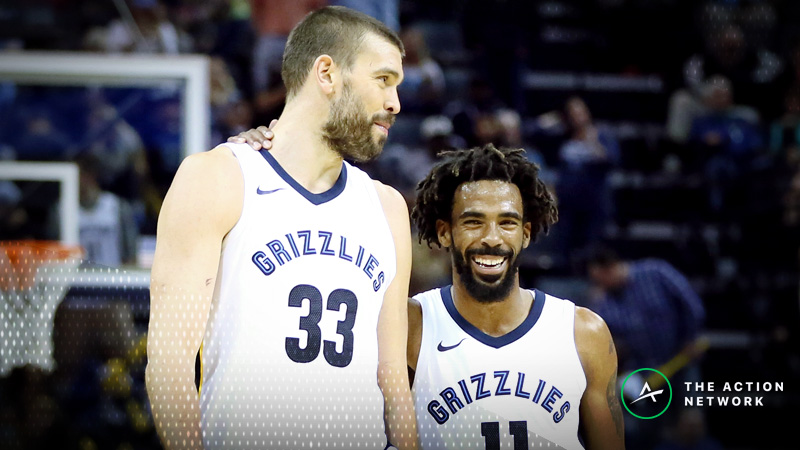 The case for the over: Talking to Grizzlies folks over the summer, there's some confidence from a pretty rational group.
Mike Conley is expected to be available by the start of the season. Marc Gasol was supportive of the hire of J.B. Bickerstaff, which helps his situation.
The team added Kyle Anderson and Temple, two high-IQ complementary players, and cut down on the number of athletic players with lower court awareness.
Dillon Brooks was quietly really good in his rookie season, and Wayne Selden should be healthy this time around.
With Conley, this team knocked off Golden State and Houston, and looked like it was making another playoff run. Conley's injury is worth concern, but that number is also just pitifully low.
The Grizzlies tanked about as hard as any team in the league, including Phoenix, to try to get a transcendent talent. Jaren Jackson Jr. looked phenomenal on both ends in Summer League, and if he adds shooting and rim protection, it bolsters Memphis' needs in both areas.
They'll try to win this season, and while there are playoff hopefuls in the division, there are also vulnerable teams.
The case for the under: Well, they won 22 games last season, so this would be an 11-win improvement … Read more here
NOW WE'RE TALKING
11. Orlando Magic
The pick: Under thirt…. wait, is that really the number? Seriously? 31?
Confidence: 6 out of 10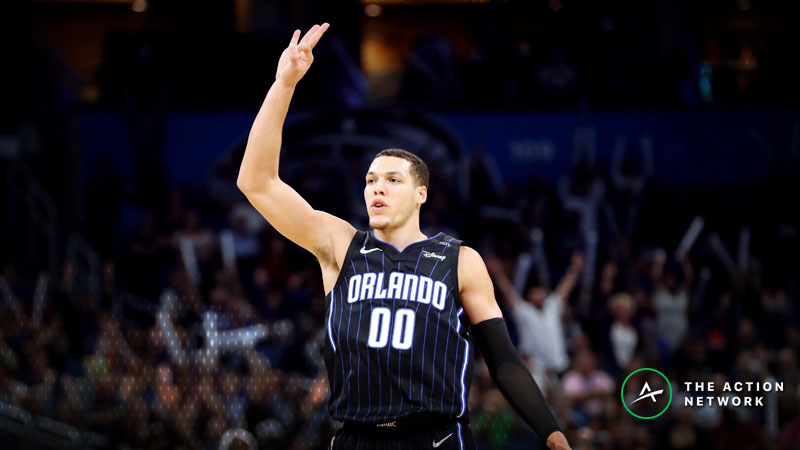 The case for the under: Well, the answer to that question is "the roster, mostly." Orlando is in its second iteration of a rebuild.
The Magic actually put together a really nice young core: Victor Oladipo, Aaron Gordon, Tobias Harris, Elfrid Payton. But then, ownership and upper management got antsy.
They thought the rebuild was stalling because it hadn't taken off like the Thunder or Warriors had. So they bailed and decided to pursue free agency, trading Harris for nothing and clearing the decks.
The result was … Bismack Biyombo? And Evan Fournier and Terrence Ross on long-term deals? Never try to skip steps unless you're the Lakers. It won't work out well.
All of those nice stats I shared about D.J. Augustin? Yeah, the Magic still got outscored with him on the floor, and he was 74th among guards in Value Over Replacement Player last season.
They're young, they have dead money on the books they can't trade, and they have no dynamic playmaker to pull the room together like a nice rug.
Thirty wins in the NBA is the bar for "You weren't a playoff team but you weren't a speed bump, either." This team sure looks like a big gray mound in the middle of the road.
The case for the over: Big, boomin' behemoths and a change of pace … Read more here
10. Chicago Bulls
The pick: Under 30
Confidence: 7 out of 10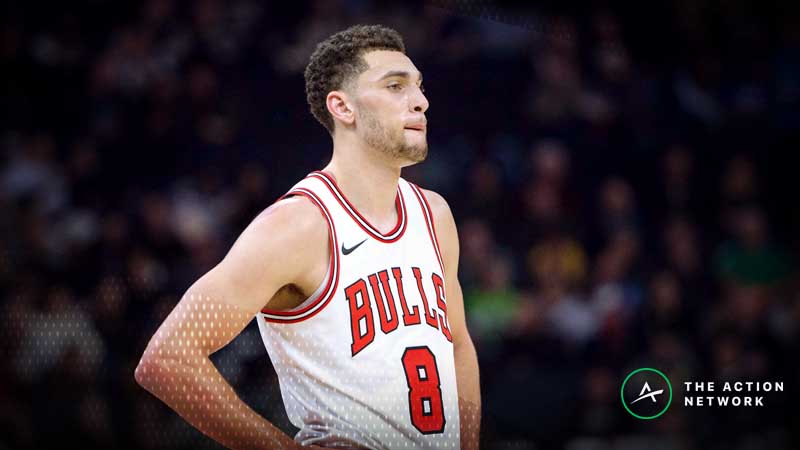 The case for the under: This team will be bottom-five defensively. The odds of the Bulls having a defensive rating north of 110 (110.8 last season) are high.
The average number of wins for teams with a 110 defensive rating or worse over the past 10 years is 28. That includes quite a few teams with offenses that were better than what Chicago will have.
The Bulls ranked bottom five in both offense and defense. They don't spot up well. They don't create in the pick and roll well. They score in volume without efficiency.
Not only can they not defend as a unit, but their best players are all disasters on that end. Jabari Parker out and out said, "They don't pay players to play defense."
Zach LaVine is legitimately awful. Lauri Markkanen was surprisingly good last season, but is still limited. Their bigs have poor instincts and bad decision-making. Their guards are pylons.
They're also still in a tough division. Milwaukee, Detroit, Cleveland and Indiana are all serious playoff hopefuls. And if things go south, who's to say Chicago won't start looking to tank again at the All-Star Break?
The case for the over: I… Well, they… hang on, I'll get this. I know I can … Read more here
9. Atlanta Hawks
The pick: Under 24
Confidence level: 8 out of 10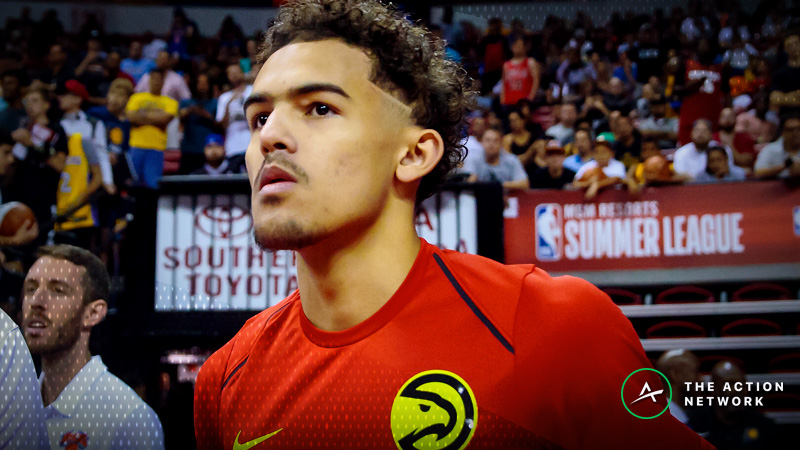 The case for the under: Someone's got to be terrible, and the Hawks have the furthest to go. They don't have a franchise-defining star yet, pending Trae Young's performance. They have a rookie head coach, and that could be good or bad, but it's at least an unknown.
Atlanta also traded its third overall pick, which could have been Luka Doncic, for Young and a future first, which signals their pursuit of asset acquisition. The same can be said for their rent-a-space with Carmelo Anthony.
You don't do those things and then try to win games if you're way under .500 at the All-Star break. You tank. And beyond that? There's a gap in teams trying to tank this season, as opposed to 2017-18. That puts Atlanta in the driver's seat for a sub-20-win performance.
The case for the over: That number is pitifully low, the lowest on the board, lower than the total for the Kings … Read more here
I WOULD LIKE TO SUBSCRIBE TO THIS BET'S NEWSLETTER
8. Phoenix Suns
The pick: Under 29 wins
Confidence level: 8 out of 10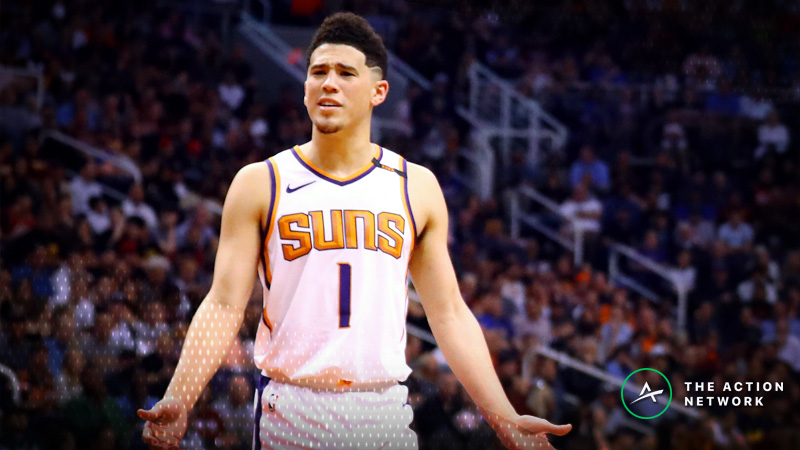 The case for the under: Well, for starters, you have shooters and big men and cutters and no one to bring it together. They are almost entirely without a point guard.
In the modern NBA you don't need a pure point; Nikola Jokic is point-center for Denver, and Draymond Green is way more point guard for the Warriors than Steph Curry is.
What you absolutely do need is someone to set the table, and the Suns appear to be throwing a big bucket of talent on the table and then trying to move stuff around to where it should go.
They're young, so they're going to be bad defensively. This team was at 16 Pythagorean wins last year. A fourteen-win jump is astronomical. Now, much of that was the prolific tank job, sure.
However, young teams are typically inefficient on both sides, and Phoenix is super young. Even veteran assets such as Trevor Ariza and Troy Daniels could be buyout candidates after the deadline, opening up the chance for another tank job, especially if DeAndre Ayton doesn't look dominant.
A number in the mid-20s would make me pump-fake, again, I like this core a lot. But at 29?
The case for the over: This young core is good. Legitimately good. Devin Booker is coming back healthy and … Read more here
7. Cleveland Cavaliers
The pick: Over 30.5
Confidence level: 8 out of 10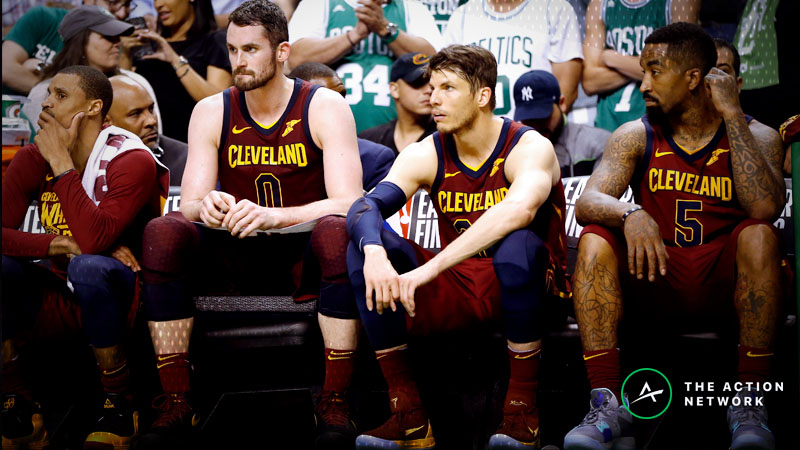 The case for the over: Put some respect on these guys' names! Kevin Love? All-Star, before and after going to Cleveland.
George Hill? A capable veteran who has won everywhere he's gone except for Sacramento because it's the Kings.
Cedi Osman? Showed flashes, should have played more last season.
Tristan Thompson? Coming off a great playoff run and might be healthy enough and clear-headed enough to make an impact.
Rodney Hood was buried after refusing to go in during a playoff run, but he's young, and there's reason to believe he'll grow from it. Collin Sexton looked great in Summer League. Kyle Korver and Channing Frye are still great shooters who provide locker-room leadership.
Losing LeBron takes a lot of the pressure off. The Cavs have a structure that works, continuity and a reason to prove to people they can still win without the King.
The Cavs are going to be awful defensively, but they will still be able to put up points. They'll also take advantage of the bad teams to get easy wins.
The Cavs won't have a great season; they're largely irrelevant. However, a 30.5-wins mark is flat-out insulting to how good the leftovers of this team are. A coasting, no-defensive-effort regular-season LeBron isn't worth 20 wins.
The case for the under: LeBron left. There's a hangover effect from that. Ask the Heat, who … Read more here
6. San Antonio Spurs
The pick: Over 44.5
Confidence: 8 out of 10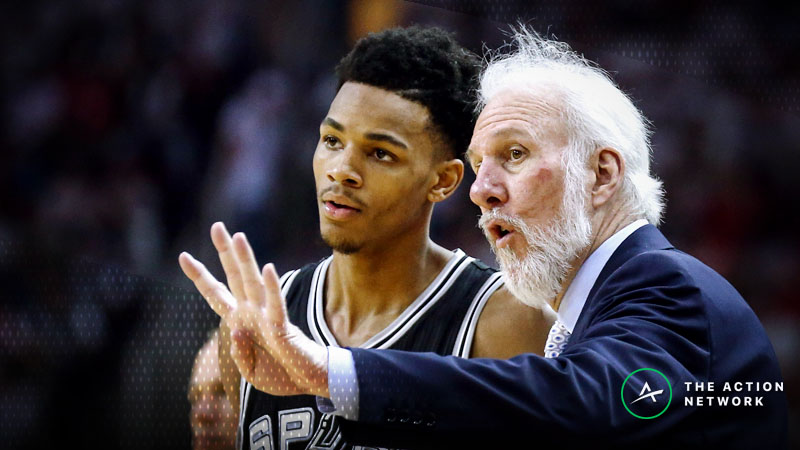 The case for the over: This is not rocket science. When the Spurs tanked to get Tim Duncan in 1997 they won 20 games. Aside from the David-Robinson-injury season and the 1999 lockout, the Spurs have won 45 games or more in every season since 1989. I was turning 7 years old the last time the Spurs won fewer than 45 games. They still have two All-Stars in LaMarcus Aldridge and DeMar DeRozan.
More importantly, the Spurs have figured out how to effectively game the system of the regular season. Winning regular-season games is about:
1. Talent
2. System
3. Consistency
If you play consistently, you will beat the bad teams, and guess what?
Over the past 10 full seasons, the Spurs are an absolutely astonishing 303-51 against teams that finish under .500. That's an 86% win rate. They are good for a minimum of 25 wins at worst, which gets them halfway to the over.
This isn't about this team; I don't think this season's Spurs team is very good relative to standards. It's about how Gregg Popovich knows how to game the regular season.
The case for the under: The Spurs won 47 games last season with Kawhi Leonard barely being in the state of Texas … Read more here
THE NEW YORK TIER
5. Brooklyn Nets
The pick: Over 32
Confidence: 8 out of 10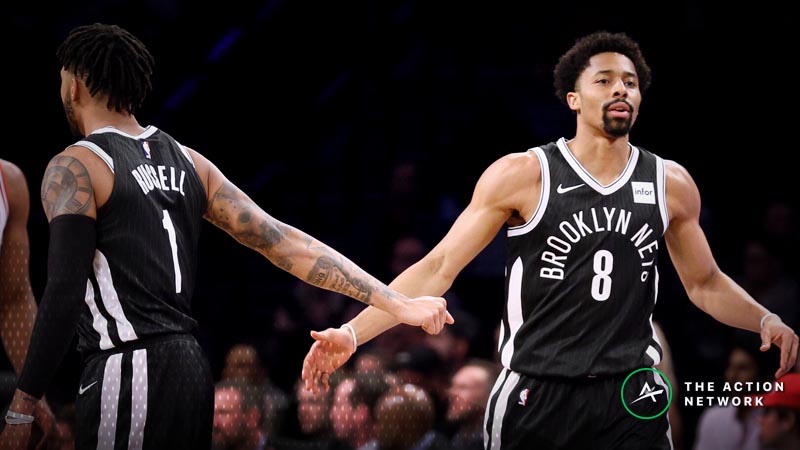 The case for the over: The Nets play the right way. Not gonna lie, getting pretty excited about this Nets team. OK. Some numbers:
The Nets' Pythagorean expected win total last season was 30, just three off the over.
They had the 11th-best halfcourt offense per possession last season, according to Synergy Sports.
Their big weakness offensively? Transition, where they ranked dead last, shooting just 47%. That's an incredibly easy area to fix.
They were soft in rebounding, 19th in opponent offensive rebound rate, 24th in their own offensive rebound rate. They specifically added Ed Davis and Kenneth Faried, two terrific rebounders.
Did I mention above how important spot-up shooting is? The Nets ranked third in that category, with three key players (DeMarre Carroll, Joe Harris and Allen Crabbe) in the top 59th percentile or better.
They Nets are still going to take L's; they play in the toughest division in the East. But they went 16-16 vs. teams under .500 last season with a worse team.
With Brooklyn's internal improvement and quality coaching from Kenny Atkinson, there's a good reason to buy into the Nets sneaking into the playoff conversation toward the bottom and landing in the mid-30s in win total.
The case for the under: Two things to consider here: One, the Nets are the team most likely to tank next season … Read more here
4. New York Knicks
The pick: Under 29
Confidence level: 9 out of 10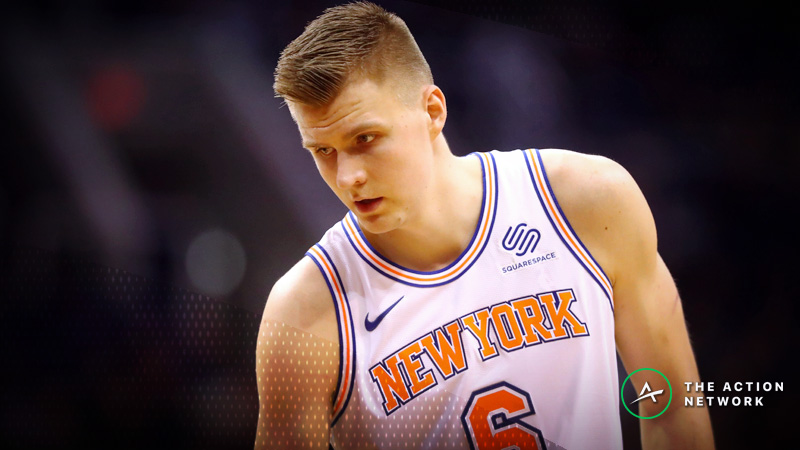 The case for the under: Let's start with history this time. Over the past 10 years, the Knicks have hit the under on their win total future seven times, according to Sports Odds History.
The exceptions were 2016 when they got a nice early bump to slide three games over their win total of 29, the infamous 2012-13 season which I will forever refer to as smoke and mirrors for a variety of reasons and the 2010-11 season when they had Amar'e Stoudemire, Mike D'Antoni and a really fun team, then traded for Melo.
Now? Kristaps Porzingis is recovering from a torn ACL. There's a strong likelihood he isn't back before the start of 2019, and after that, the Knicks have publicly stressed they're going to be patient with his recovery, which means nights off, no back to backs and a possible minute restriction. All of those things are devastating to a team with this little talent.
Their point guards have very little to offer offensively, their bigs outside of Porzingis have nothing to offer defensively. They lost four of their top 10 players in win shares to free agency and/or trades. The Knicks have done a great job of trying to become not-the-Knicks. But there's still enough Knicks in this Knicks team to believe they'll still Knicks hard.
The case for the over: They're a little sneaky. Their point guards are big and athletic … Read more here
THE BIG THREE
3. Detroit Pistons
The pick: Over 38
Confidence: 9 out of 10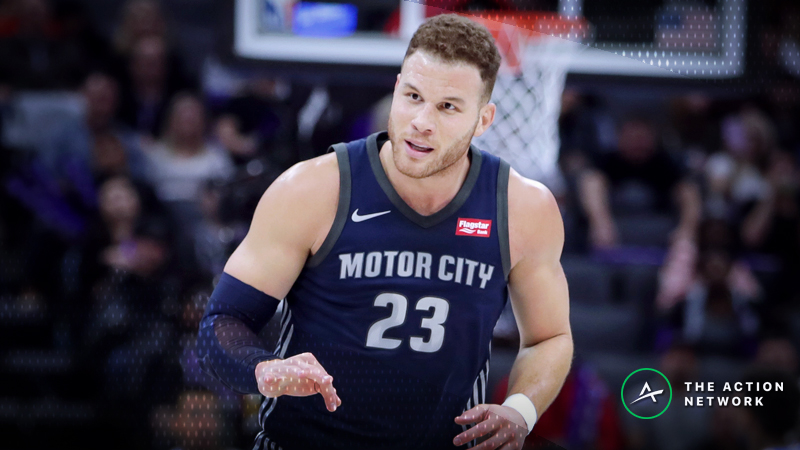 The case for the over: Detroit is among a gaggle of teams in the East hovering just below .500, and considering that range is about where the No. 8 (and maybe No. 7) seed will finish at in many projections, at first glance, this seems like a pretty tight number.
On first glance, it was a stay-away. The more I looked at it, though, I started to really buy into Detroit going over.
Stan Van Gundy is a good coach, but never really figured it out in Detroit, for a number of reasons. He's replaced by a separation of management and coaching, with Ed Stefanski running basketball operations and Dwane Casey now running the show. Casey's playoff flameouts led to his departure in Toronto, but only after five straight seasons finishing at least seven games above .500.
Detroit's expected win total last year was 41, two games better than its actual finish at 39, which is still above their over/under. The Pistons' post-All-Star performance is cause for some concern at a .441-win percentage pace, to be sure, but given the instability of the roster and the lack of a general direction, it's not altogether surprising.
The biggest reason to buy in is their offensive style, though. The Pistons finished 19th in Offensive Rating last season.
However, they were the second-best team league-wide in spot-up points per 100 possessions, and generated the 16th most per game, while playing at the 22nd-ranked pace. Their pick-and-roll numbers were mediocre, but Reggie Jackson, Detroit's starting point guard, was 83rd percentile in that capacity.
The Raptors under Casey finished top-five in each of the last four seasons in that capacity. To be sure, Kyle Lowry and DeMar DeRozan had the most to do with that, but it remains a compelling reason to believe in the offense.
Detroit's floor for this season, even with a reasonable amount of expected injury time for Blake Griffin and Jackson is probably within two to three wins of 38. Their ceiling is considerably higher, making the Pistons one of my stronger picks for the over this year.
The case for the under: They finished only a game over this total last season. Blake Griffin is never healthy and … Read more here
2. Dallas Mavericks
The pick: Over 34.5
Confidence: 10 out of 10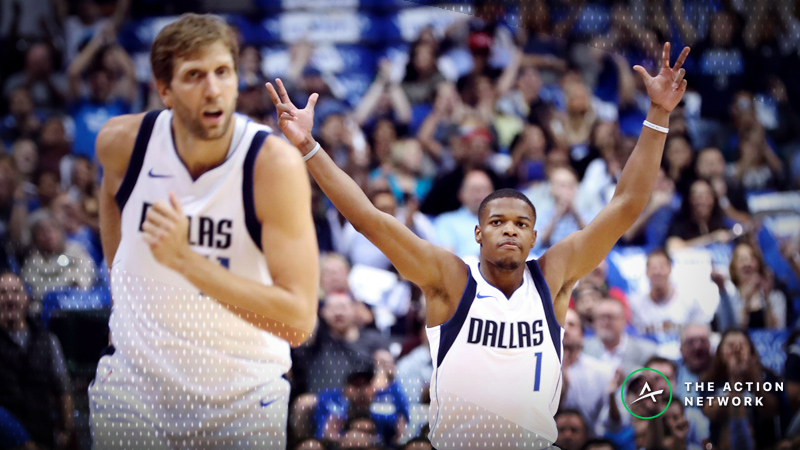 The case for the over: Let's start with just the numbers.
Last season, with a pretty wretched team with a rookie point guard and very little in the way of versatile talent, the Mavericks finished with an expected win total of 31 against their actual total of 24. It was a pretty strong indicator that this team was considerably better than its final record.
Now let's add in Doncic who is a divisive rookie, but whose greatest asset is his ability to influence the game in multiple ways, bolstering both the Mavericks' strength (shooting) and weaknesses (pick and roll offense, defense).
Add Jordan, a legit rim protector and finisher for Dennis Smith Jr. and Doncic in the pick and roll, and internal progression from Smith. Add all those up and you need to clear only 3.5 wins over Dallas' expected win total to hit the over here.
That's the key: the Mavericks were better than their record last season, which is why their over/under total jumps 11 games off last season's finish.
The Mavericks played 50 clutch-time games last season and won only 12. you should be able to trip and stumble your way into at least 30% win rate in clutch time, which often comes down to simple luck.
Dallas was also actively tanking the second half of last season, something the Mavs will not do again after landing Doncic. With Dallas having a win total below 35, good veteran talent and great coaching from the often-forgotten Rick Carlisle, this one projects as one of the strongest over values.
The case for the under: Their role players are unexceptional and their stars are young. That's a tough combination … Read more here
1. Boston Celtics
The pick: Over 59
Confidence: 10 out of 10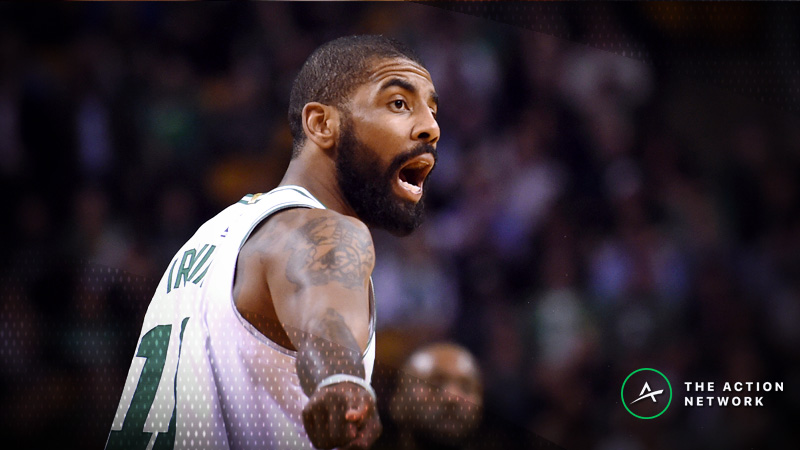 The case for the over: That is a super-high number, and I am still charging in fearlessly toward that over. The Celtics had an expected win total last season of 53, finished two better than that thanks to some clutch heroics and did so with Kyrie Irving out half the season and Gordon Hayward out for all of it. Those two players directly impact Boston's weak point last season: its 18th-ranked offense.
Getting back those two directly influences and improves the Celtics' win total, by however many victories you would estimate them at.
Take their expected win total of 53, say Irving playing out the season at full health is good for two more, then say Hayward, given his playmaking, shooting, driving and defense, is worth at the very least two more and you're at 57.
Internal improvement by Jayson Tatum and Jaylen Brown, no weird Marcus Smart injuries and an Eastern Conference with cupcakes readily available night-to-night for nom-nom-nom-ing.
The Celtics have gone 59-14 vs. teams under .500 the last two seasons. Brad Stevens has the greatest impact of any coach, according to analysis by The Action Network's Bryan Mears.
Add all this up and even with an average-to-slightly-above-average injury rate, finding more than 22 losses for this team given its schedule is difficult.
The case for the under: The only way to really buy in on this, even at 59, is injury. Irving has missed 21% of all available games the past four seasons … Read more here
How would you rate this article?