NBA Win Total Odds & Pick: How to Bet the New-Look Toronto Raptors
Credit:
Mark Blinch/Getty Images. Pictured: Scottie Barnes
The Toronto Raptors have potential to be in the mix in the East with an over/under of 35.5 wins.
Matt Moore analyzes their win total odds below.
Check out this post for updated season win totals and this post for my other 29 season win total picks.
Raptors Win Total Odds
The Case for the Over
Institutional memory, an adjustment from last season, and potential trades.
The Raptors retain what many would call "much of the championship core." OG Anunoby, Fred VanVleet, and Pascal Siakam are all still on the roster. Those are all quality players. Scottie Barnes projects well as a rookie.
Gary Trent Jr. is a good rotation piece. Precious Achiuwa and Malachi Flynn both showed real promise last year. The roster isn't bereft of talent.
Most notably, you have to throw out last season. No other team faced what the Raptors did last year. They played in Tampa, Florida, which you may note is, in fact, not Toronto nor Canada.
They had the opposite of homecourt advantage, even as the city embraced them to the degree it could during the global pandemic. Their schedules were a mess, their home lives were a mess, they had their COVID outbreak (note to the NBA, the next time a global pandemic occurs, maybe providing a haven for a team in FLORIDA is not the move), and in a sport where rhythm and comfort are central to success, they had little to none.
If the Celtics had the year from hell, the Raptors had the year from Lethe, the river of forgetfulness where memory fades. No one will remember last year's Raptors season beyond "oh yeah, they played in Tampa because of COVID."
The Raptors' offseason signals have been confusing. There's talk of looking to the future for a path back to contention but also building now. That part's important, however. There's no sign, right now, from the Raptors that Masai Ujiri intends to embark on an actual rebuilding effort that would entail tanking.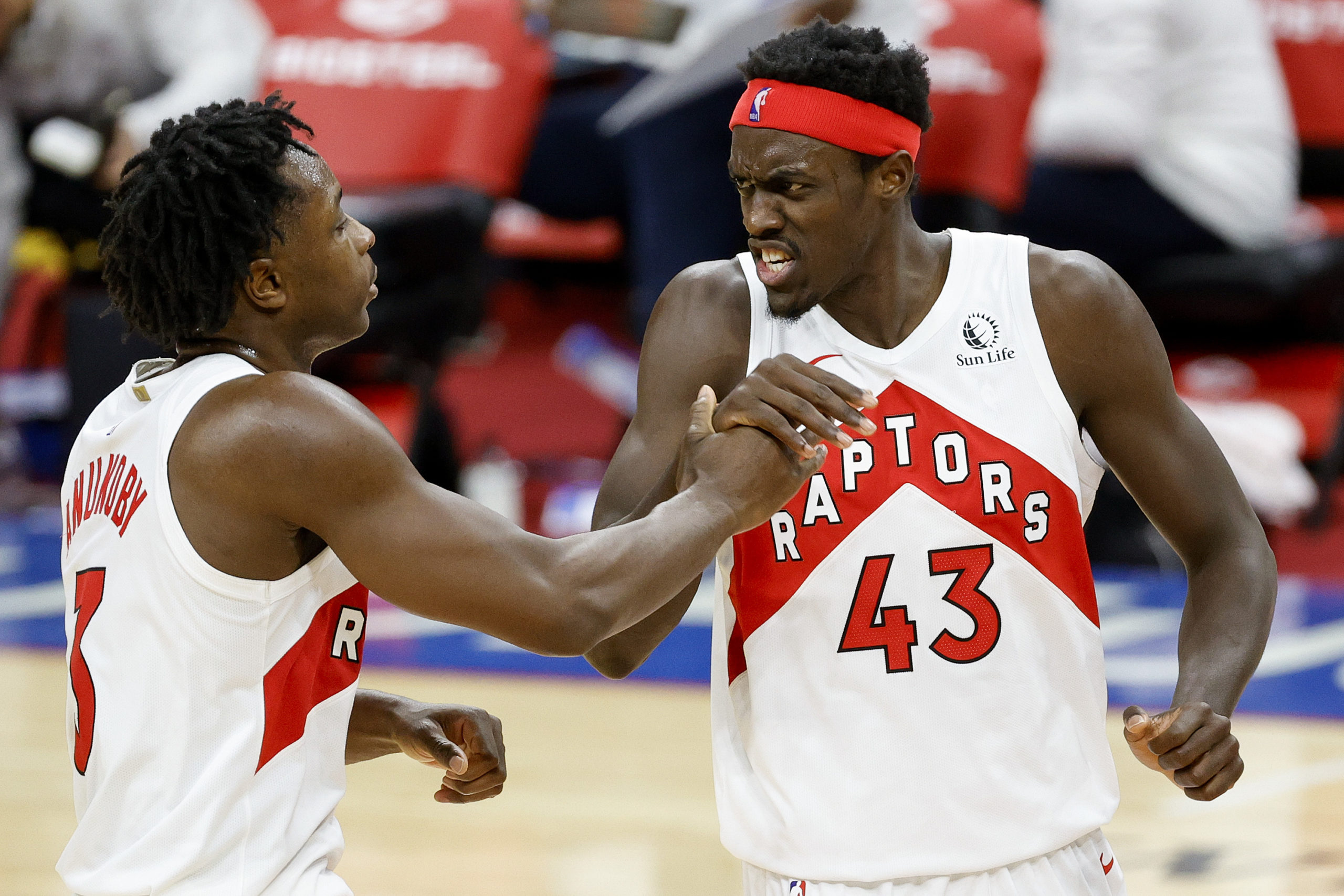 The Raptors may very well go half-measures and be again in contention for a play-in spot late in the season, which would put them over on this total by a few games. Maybe Anunoby and Siakam take a leap with more responsibility, and they're a playoff team.
Toronto is still coached by arguably the best in the business in Nick Nurse. On Feb. 21, the Raptors were 16-15 before the wheels fell off. They didn't face plant out of the gate, a sign that the season's circumstances played a role.
Toronto was 15-18 vs. teams under .500, and that's after a late-season tank job. They went an abysmal 12-27 vs. teams over .500.
Toronto won at a 31-wins-per-82 pace last season, so we're just talking a five-game bump playing at home with less chaos. They finished with a Pythagorean expectation of 33, 6 wins higher than their actual. Their win total did not reflect the quality of the team last season, and that was after a strategic late-season tank.
The Case for the Under
Oh, boy, the list here is long.
Let's start with the roster. Kyle Lowry is gone. His on-court production quietly slid last year, but he was so crucial in late-game situations and intangibles. Lowry was the team's leader, the championship veteran voice, the All-Star, the franchise guy and he's no longer there. That's just not a gap that can be easily filled by VanVleet or Siakam, despite their talent.
Don't expect Goran Dragic to be on the team long; his desire for a buyout was made clear, and ultimately the odds are that situation ends with him out of Toronto one way or another.
The bench last season for Toronto was a nightmare as the Raptors' development well seemed to run dry. Chris Boucher had moments but routinely fell out of the rotation. Stanley Johnson played the seventh-most minutes for Toronto last season … he's still a free agent. All in all, the players who played the third, sixth, seventh, eighth, and ninth most minutes for Toronto last season are gone.
Siakam has clashed with Nurse at times, and it's an open secret in the league that Toronto has shopped him any number of ways. On top of that, Siakam had shoulder surgery in June and will miss the start of the season. That's significant.
The Raptors were involved in talks for Ben Simmons. Still, any trade would require most of the good veterans on the team, leaving Simmons on a rebuilding project with likely just one of Anunoby, VanVleet, or Siakam remaining on the team. A trade remains unlikely given those parameters.
It is unavoidable to talk about the COVID impact here as well. The US is in the throes of the Delta variant wave, and Canada has been running a few months behind US trends throughout the pandemic.
The Raptors announced fans would have to provide proof of vaccination at games, but if there's a surge, fans could be barred for some time again; safe to say Canada has been more aggressive about their approach on these things than some US states (like, you know, the one that the Raptors played in last season).
The Raptors weren't awful on either end last season; they finished 15th in offense and 16th in defense. This, after they essentially punted on the second half of the season even after electing not to trade Kyle Lowry, is promising.
But ultimately, their goals are simply not the same as they have been. Will Ujiri be satisfied with a play-in appearance? This team lacks the talent to make a run to 45 wins and a top-six seed in an improved conference. If they reach midseason and are in the quagmire of the teams stuck in purgatory, he's more likely to move towards another tank job to improve draft stock.
The range of outcomes leans heavily towards the downside. VanVleet, Siakam, and Anunoby are just good enough to put them in a position where they have to make a call to either shut them down or trade them.
Raptors Win Total Bet
The under feels treacherous, but the move. You're betting against Nick Nurse and Masai Ujiri, but they can't magically create a different roster. The promising pieces are all still very young, and the good players are more valuable as trade pieces.
This is the type of team I worry about overcorrecting on. I took the over last year, assuming their organizational strength and roster would help them sustain, but circumstances were too much. If they ran back the same team from last year? I'm probably hammering the over. But the roster is nothing like it was.
I want to wait until preseason to see what they look like. If a player like Flynn or Trent Jr. seems like they're making the leap, I'll re-evaluate. But right now, I'm planning to bet the over unless something in preseason persuades me the other way.
How would you rate this article?
This site contains commercial content. We may be compensated for the links provided on this page. The content on this page is for informational purposes only. Action Network makes no representation or warranty as to the accuracy of the information given or the outcome of any game or event.