NBA Finals Game 5 Betting Guide: Will We Get Warriors Third-Quarter Magic?
Credit:
Kirby Lee-USA TODAY Sports. Pictured: Kevin Durant and Stephen Curry
Warriors at Raptors Game 5 NBA Finals Betting Odds
Spread: Pick'em
Over/Under: 215
Time: 9 p.m. ET
TV Channel: ABC
Series Score: Raptors Lead 3-1
---
>> All odds as of 5:30 p.m. ET. Download The Action Network App to get real-time odds and live win probabilities on your bets.
---
Kevin Durant finally got a practice in Sunday and went through shootaround Monday. He's expected to play in tonight's Game 5.
The line has been moving toward Golden State as a result. Should bettors follow that movement or bet on the hot Raptors to close out their first title?
Betting Trends to Know
Did you know? The Warriors are 1-5 straight up and 2-4 against the spread (ATS) vs. the Raptors this season. In Game 4 at Oracle Arena, Golden State won the first quarter and first half for the first time in its six meetings with the Raptors this season. — Evan Abrams
The Warriors have an uphill battle ahead of them heading into Game 5, down 3-1 in the series. Since 2005, teams entering Game 5 of a series on at least a two-game losing streak are 3-17 straight up and 10-10 ATS, although part of the superior ATS record is due to an average spread of 8.3 points per game. –– Abrams
In Game 4 in Oracle Arena, the Warriors barely covered the first-half spread after losing Game 3. Can they repeat that performance in Game 5, on the road? Under Steve Kerr, the Warriors are 10-1-1 (90.9%) against the first-half spread and 11-1 straight up on the first-half moneyline in the playoffs after losing their previous game. — Abrams
In the Warriors' 19 total playoff series under Steve Kerr, they have played 10 Game 6s and 7s. Golden State is 8-2 straight-up and ATS in those games, winning by eight points per game. With a minimum of five games coached in Games 6 or 7 since 2005, no coach has a betterATS win rate than Steve Kerr at 80%.
In Games 1-5 of a playoff series, however, the Warriors are 48-44-1 (52.2%) ATS, covering by under one point per game. — Abrams
The Warriors have played 26 total games under coach Steve Kerr in the NBA Finals over five seasons. Golden State is 8-9 straight up and ATS in the Finals when Kevin Durant doesn't play and 8-1 SU and 6-3 ATS when he does. — Abrams
The Warriors shot 8-of-27 (29.6%) from 3-point range in their Game 4 loss at home to the Raptors — their second-lowest 3-point percentage in a game in the 2019 playoffs (24.2% vs. Rockets).
Under Kerr, the Warriors are 11-2 (84.6%) straight-up and 7-6 ATS in the playoffs after shooting under 30% from 3-point range. Since the 2016 playoffs, the Warriors are 10-0 straight-up in this spot, beating their opponents by 15.3 points per game, including 4-0 on the road, winning by 19.3 points per game. — Abrams
Locky: How I'm Betting Game 5
I don't know if I've ever seen a practice cause as much commotion as the one involving Durant on Sunday. Here is what I would say about that: It is not a piece of news that would cause me to run out and bet the Warriors in Game 5. We have no idea what condition Durant will be in, and if you haven't noticed, Toronto's defense has been absolutely tenacious in this series.
Practicing against some of the weaker Golden State bench players isn't going to prepare you for Kawhi Leonard or really anyone meaningful. The "what if" scenario with Durant can't possibly be quantified, but if people want to get out in front of a larger line move (if Durant is announced as playing), they can take that risk and buy that position.
Another point I would add is that the Raptors have shown an ability in these playoffs to ratchet up their defensive intensity noticeably in each round of the playoffs. They are absolutely a team that's gotten better later in series; Milwaukee can tell you all about it.
Even if Durant plays and is 60-70%, the Raptors have such good awareness of all the other players on the court now and their capabilities. It's really on Durant to be special, and that's not something that can be relied on currently.
I am absolutely passing this game with the Durant uncertainty, but if he is ruled out and the line immediately snaps back to the 3.5 range it was before, I would absolutely bet Toronto at that number. The version of Golden State we saw at Oracle is not winning this game without Durant. — Ken Barkley
---
Mears: My Thoughts on Game 5
I'll say this right away: The Warriors are not out of this series. There's so much recency bias within an NBA series; just look at the Conference Finals for an example. The Raptors lost both of the first two games, and tons of people counted them out. Since then, they've won seven of their last eight games and are now just one win away from a title.
The same thing could happen with the Warriors, who are wounded but still incredibly talented. This game is close to a coin flip with Durant playing, and even if he's limited or leaves the game early, they can still pull out a win in Game 5.
Still, it's hard to place a bet on these Warriors. I thought ESPN's Zach Lowe summed it up perfectly, talking about that play at the end when Steph Curry — ever the gambler — went for a low-success steal on a Kawhi Leonard drive. The result was a Danny Green wide-open 3, and Lowe said this:
A team that does that is desperate. A team that does that is out of answers. It has lost itself.
It's been a weird series. You almost wonder if the Warriors were hoping that the split in Game 2 was good enough — after all, Durant was expected to be back and at, or near full strength.
But he didn't come back, and it feels like they never got comfortable. Part of that is playing with units they haven't played with before; part of it is literally not knowing who they'll have from game-to-game.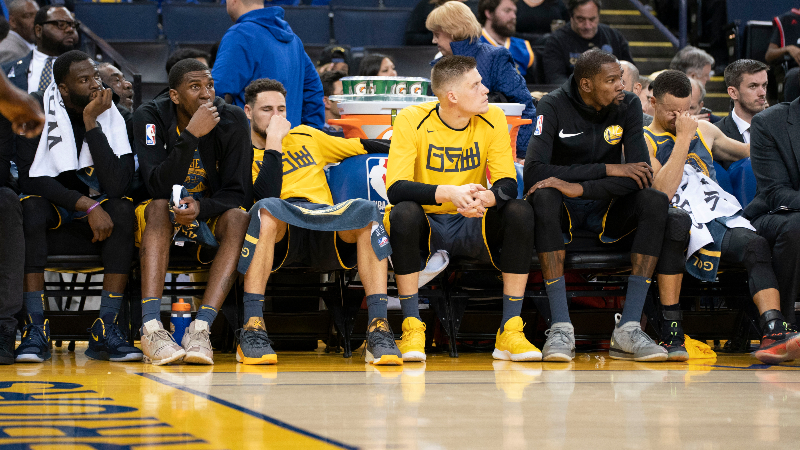 So what does that mean for Game 5? My current favorite bet is with the Warriors on the third-quarter spread.
The bench for the Warriors has just been so bad. In the Finals, Shaun Livingston has a -22.0 Net Rating. Quinn Cook is at -18.4. Bell is at -10.2. Cousins has been getting relentlessly attacked on defense. Alfonzo McKinnie has a true-shooting percentage of 39.8%. It's ugly.
And regardless of whether KD goes for 40 — his points prop is 23.5, so probably not — him being on the floor is almost certainly better than those other players.
The Warriors will likely start the Hamptons 5, and I want to get exposure to that lineup within the betting market. I don't know how much Durant will play altogether, which is why it's risky to bet the full-game spread, but I know he'll play with the starters and help them.
That gives us a couple shots, notably the first and third quarters. I'd rather take a shot on the third, as Durant hasn't played in a month. It might take a couple minutes for the Warriors to play cohesively again, and those minutes might be enough for the Raps to get out to a lead. But in the third, they'll have a half under their belt, and I think the Warriors' Third Quarter of Death could make another appearance after getting dominated in Game 4. — Bryan Mears
---
Wob: My Favorite Bet Tonight
For me, it's not a matter of if Kevin Durant is 100% or not. Only one person knows how heathy he is, and that's him. Let's say for hypothetical sake that he's 75%. Whatever. I don't care if he's wearing pajamas and hobbling around on crutches; his mere presence on the court demands a defender's respect.
We have just watched the Raptors treat Jordan Bell and Jonas Jerebko like Sidney Deane did to Billy Hoyle in the first 15 minutes of "White Men Can't Jump." For an entire series.
That is now gone, and the immediate repercussions are going to be what the Warriors so desperately need against a Harrasic Park defense that feels like it has eight guys on the court at all times with fishing nets for arms and hands: Space. With Durant on the floor, the Raptors can't cheat — Steph can run around without the entire country of Canada inside his shirt like he's been doing for years. That facet alone is why KD is so important.
Furthermore, Durant returning means DeMarcus Cousins gets bumped out of either the main rotation and/or starting five. Any variation of less Boogie is a positive for the Warriors, as he is borderline unplayable right now; when he's been on the court with Durant this series, the team's Net Rating is negative double digits.
And then there's the angle there is no statistics for, just physical evidence: The weight of the entire continent is on the Raptors' shoulders to close this out before it gets back to Oracle. Playing at home in this situation almost adds more pressure than on the road.
I don't have any experience playing in the NBA to prove this hypothesis — it's just an opinion after speaking with so many plugged-in people who DO have it. I can't help but remember what happened in Oklahoma City in 2016. Game 6, down 3-2, facing a double-digit deficit late, the Warriors harvested the souls of the entire city and audience rooting against them.
They have been in this foxhole before, and if anyone knows the secret of using nervous energy against their opponents, it's these basketball zombies.
Expect to witness the firepower of this fully armed and operational battlestation. – Rob Perez (@WorldWideWob)
Wob's excerpt is from our Staff Favorite Bets for Game 5 and Beyond file. To see the other bets, click here.
---
Editor's note: The opinions on this game are from the individual writers and are based on their research, analysis and perspective. They are independent of, and may not always match with, the algorithm-driven Best Bets from Sports Insights.
How would you rate this article?