Moore: 15 Initial Thoughts On the Warriors-Raptors NBA Finals
Credit:
USA TODAY Sports. Pictured: Golden State Warriors guard Stephen Curry (30), Toronto Raptors forward Kawhi Leonard (2), Warriors guard Kevin Durant (35).
The 2019 NBA Finals starts on Thursday, but there are a ton of questions around what to expect ahead of Game 1.
Will we see Kevin Durant or DeMarcus Cousins? Can we expect the same dominance from Kawhi Leonard? Who's the favorite for MVP?
Matt Moore gives his early impressions on Warriors-Raptors.
It took four years, but we've got a new NBA Finals participant! No more watching LeBron James try to push the rock up the hill!
The Raptors advance to the Finals in a feel-good moment that made everyone's heartstrings swell — unless you had Bucks futures at 15-1 from the preseason, and then you want to die a little inside.
But nonetheless, we've got Raptors-Warriors. Here are my initial thoughts on the matchup, the lines and a prediction.
1) The Game 1 Nerves Will Be Real … for the Raptors
Fun fact: The Warriors — these awesome, unstoppable, world-bending Warriors — were down 10 after the first quarter of Game 1 of the Finals. They trailed at the half.
They spoke afterward about the nerves — easier to admit because they won the game after Kyrie Irving left with injury — and were honest about it. It's not like the first round or the Semifinals or the Conference Finals. You're in there, and there's a different buzz. And then this promo video comes on with all the legends of former years — many players you looked up to growing up — and you realize you're on the court in the NBA Finals.
And you tighten up.
I'm going to be all over the Warriors in the first quarter of Game 1. The Raptors are coming off their biggest emotional high, and even with a full five days to prepare, they are going to get caught by the moment.
It's not just Kyle Lowry and guys like Fred VanVleet or Pascal Siakam. This is the first Finals appearance for Marc Gasol and just the second for Serge Ibaka. Danny Green and Kawhi Leonard have been to two, but for the rest this is a huge moment on literally the biggest basketball stage.
---
2) Here's the Impact of KD Being Out
Guarding Leonard is the big deal, just right up front. Klay Thompson and Andre Iguodala now get that assignment, and they're both going to be battling foul trouble as a result. Iguodala has the smarts and Thompson the quickness to give him problems, but it will also drain them on the offensive end.
Kevin Durant's absence also makes life harder for Stephen Curry. Leonard is able to switch onto Curry or go over the screen to contest him from behind.
Siakam exacerbates this: If Siakam is guarding Draymond Green and Green goes to screen for Curry, Siakam can step up to contest Curry coming off the screen while Leonard recovers. The Raptors' weakside contain and rim protection with Gasol is good enough to help vs. the Green short roll.
(This will be a pressure point, though; we'll get to that later.)
The result of this will be more turnovers as Curry struggles against the handful of defenders who can truly pressure his handle. Leonard might be the best in the league at it.
There will be more pressure on Thompson to knock down shots vs. Danny Green (or, I guess, the new Splash Brother VanVleet) in these situations, or to create his own shot, which is a struggle for him.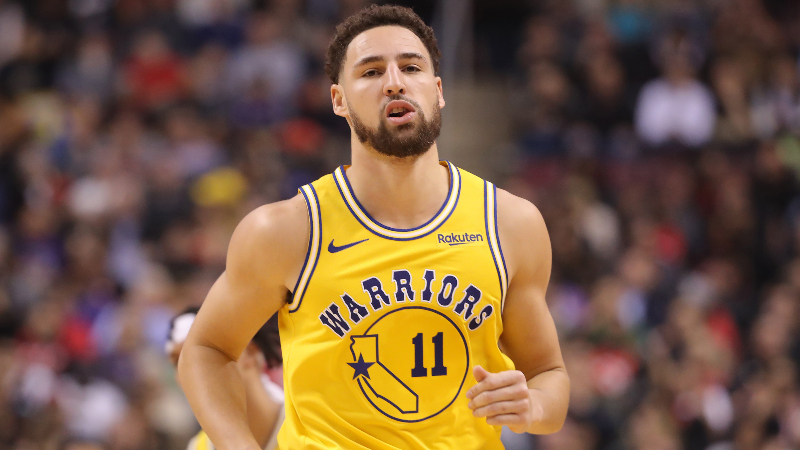 The over seems like it might be most impacted by Durant's absence. The Warriors are more tempo-oriented, more 3-point heavy and more defensively compromised without Durant. The Warriors will still score, but they will also likely surrender more points off turnovers and offensive rebounds.
The Warriors don't have a lot of wing options to begin with, and Durant's absence really hurts vs. a team that has shown it's willing to throw out Gasol, Siakam and Ibaka together and  space the floor.
I don't believe the Warriors need Durant to win this series. But him being out will make it harder and will make an already-weak Warriors defense more vulnerable.
---
3) Here's What Happens When Durant Comes Back
All that gets fixed.
OK, that's an exaggeration. But with Durant, let's say that Leonard does take it to him defensively. You can still just use him as a decoy and get action going to the other side with Curry putting Gasol in the pick-and-roll or target VanVleet trying to catch him or Thompson coming off screens. It removes the pressure Leonard applies.
Let's say Siakam takes Durant. Siakam can't crowd him; he'll draw the fouls Giannis Antetokounmpo couldn't or get to the rim. He can't lay off; Durant will tear him to pieces in 1-on-1 shooting.
And there is, at the end of all creation, the Curry-Durant pick-and-roll, which they can turn to if needed and create impossible decisions for the Raptors defense, which had a game plan that was easy to formulate but hard to execute vs. the Bucks.
The Warriors are a whole other issue. And that's before we talk about when Durant's defending Leonard.
Durant has the length to contest his pull-up jumpers and the speed to hang with him on the perimeter. He can contest at the rim to help on drives and help navigate switches; there are times when Curry will get switched on someone he can't handle and Durant literally blows up the coverage to get Curry onto someone else.
Leonard will still get his, but even just denying a number of scoring opportunities and forcing him to reset the offense is a win for Golden State.
Durant's rim protection is also huge, particularly with Siakam's athleticism. Durant's coverage of Siakam might be even more important than trying to slow down Leonard, who's unstoppable.
---
4) The Kawhi Leonard Issue
The Sixers tried to stay home on shooters and let Leonard get his. He beat them.
The Bucks sold out to stop Leonard and make the other Raptors beat them. They did. Especially VanVleet. He beat them a lot.
The Warriors will likely work to keep Leonard from his spots.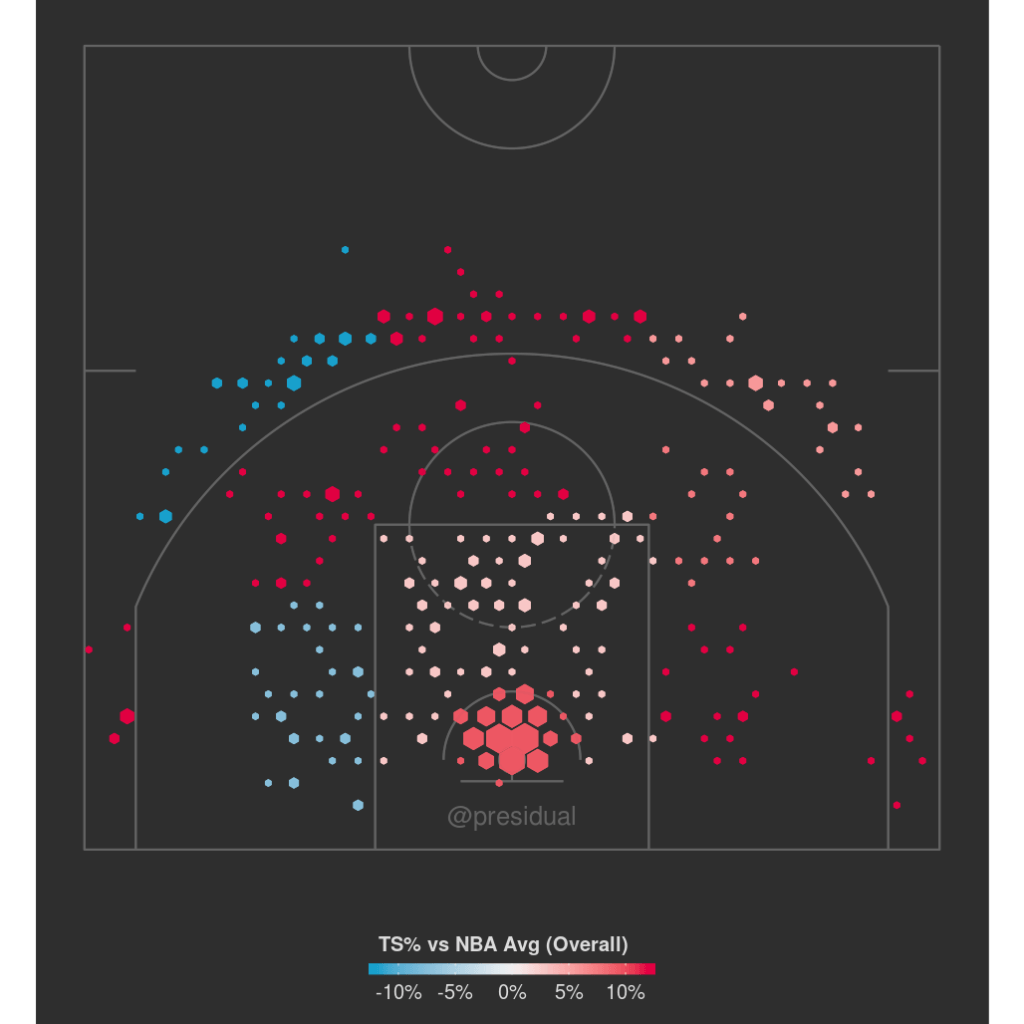 They'll try and force him deeper toward the baseline on right side drives. They'll try and keep him from getting to his left.
But ultimately, Leonard will have his say in this series. The key will be if the Raptors can win their minutes in any section. The Bucks and Raptors played to a draw in the minutes Leonard played on-court against Antetokounmpo.
They trailed for most of the series until Game 6, boosted by the final five minutes. The Raptors will need to get Leonard in against the second unit of the Warriors the way they did vs. the Bucks.
Unfortunately, Steve Kerr won't play five-man bench units the way Mike Budenholzer did. But without Durant, there will be rotations with Thompson as the only starter.
Leonard will likely face tougher passing angles on the perimeter but will have to keep trusting teammates. When he's passing, the Raptors offense is more dangerous. Of course, that relies on players who shot well above their ceilings vs. Milwaukee to keep it up. We'll see.
---
5) Pressure Point: Marc Gasol
Like it was with the Bucks, the Warriors will make Gasol prove he can hit those shots. Inside, Kevon Looney will have a hard time, and Gasol's viability will be tested when the Warriors go small with Green at center. Gasol can hedge on Curry on ball screens, but the issue will be either on switches or if he's in help coverage when Curry relocates.
Gasol's mobility was never really tested vs. the Sixers or Bucks because of how they approached covering Antetokounmpo and the difficulty Brook Lopez had with consistent minutes.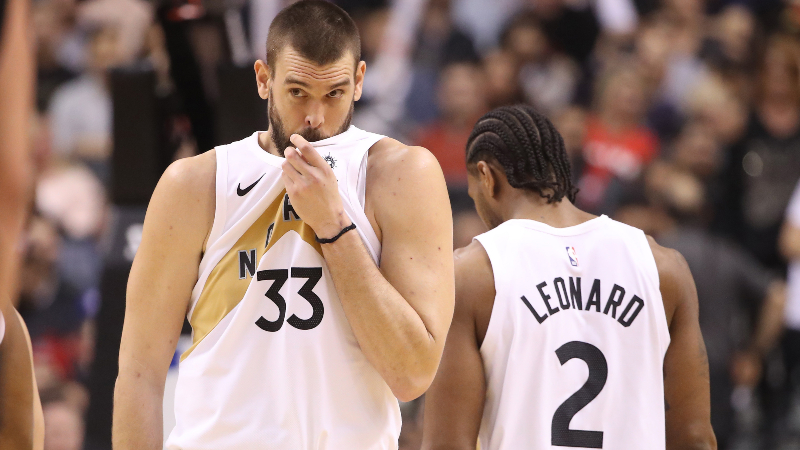 It will be more difficult in this series. When Curry passes out of the blitz to Green on the short roll, Gasol has to be able to disrupt the lob to Looney, which could prove difficult.
Gasol and Lowry are the two weaker points in the starting units and may be why the Warriors' first- and third-quarter lines continue to be profitable.
---
6) A Selective Pace Issue
The Raptors had a fascinating series vs. Milwaukee in terms of pace. They pushed the ball consistently on Bucks turnovers and misses, but then their halfcourt defense was able to slow the game down. The pace was much slower overall for Milwaukee than at any point in the season.
Without Durant, the Raptors will try and do the same to the Warriors. Golden State is masterful at getting the ball and pushing pace, but Milwaukee might have been the best team in the league at that.
That said, the over at 215 for Game 1 seems to have value initially. The Warriors just manage to score so consistently no matter the coverage, and they have so many weapons even without Durant.
When Durant returns, the under likely has more value, and this turns more into a slugfest. But given both teams' tendencies to push pace against mistakes by the opponent, and the increased likelihood of mistakes from both teams in this series, the over seems like an early play.
---
7) There's Some Value on Toronto
The Warriors are underdogs in Game 1. They're -310 for the series and +240 in six games. I don't blame you if you're bullish on the Warriors: They are the two-time defending champions and the Raptors needed seven games to get past the Sixers, followed by a weird, close series with Milwaukee.
However, at +250, there's some value on Toronto, for reasons explained above and below. A more accurate line is probably Warriors -200/Raptors +180.
I just personally wouldn't want to bet against the Warriors after everything they've overcome and how consistently they've always found a way to get it done.
8) Finals MVP
A brief initial ranking:
Durant (+1600): He's won two in a row, is the best player on Earth and the Warriors have to break their offense to try and get him the ball. It's gamed pretty well for him.
Curry (-167): He's due, and if Durant misses three games, that's probably enough if the Warriors win for him to get it.
Leonard (+260): Obvious. If you like the Raptors in the series, you should get in on this bet as well.
Green (+750): If Durant doesn't play until Game 4 and the "Steph never wins" conversation comes up and Green plays awesome, I would be very amused if somehow every Warrior except Curry wins one.
Thompson (+2000): See above.
Lowry (+5000): What an incredible story that would be, huh?
VanVleet: I'm kidding. Or am I?
Iguodala: If he won one for locking down LeBron, can he get one for locking down Leonard?
Siakam (+5000): It would take an absurd scoring performance from him, but given his playmaking, it's not out of the question.
Gasol: Someone had to be 10th.
---
9) Golden State's Dirty Little Secret
The Warriors' Defensive Rating vs. the Western Conference by season:
2015: 99.4
2016: 104.0
2017: 101.6
2018: 101.0
2019: 110.2
I have to keep hammering this home: This is the most vulnerable defensively the Warriors have ever been. They always seem to rise to the moment, but they absolutely beat the Clippers, Houston and Portland with offense, while giving up high efficiency marks.
This is a problem vs. a Raptors team with perimeter weapons, inside scorers, length and athleticism. The Warriors put up big numbers as well, but the Raptors will be able to score more easily in this series than they did vs. the Sixers or Milwaukee.
The over has to be the play going in, even with the knowledge that both teams have the ability to step up when needed.
---
10) Pressure Point: Danny Green
Green shot abysmally in the ECF and had to be benched for long stretches. But he's a key player in this series. He's been on this stage before. He has the length to deter shots from Thompson and is one of the best in the league at chasing through screens.
He's also capable of getting as hot as he was cold in the ECF. If VanVleet returns to his human form, then they're going to need Green to knock down shots, because the Warriors are going to load up and pack the paint to try and shut down Leonard at mid-range and Siakam at the rim.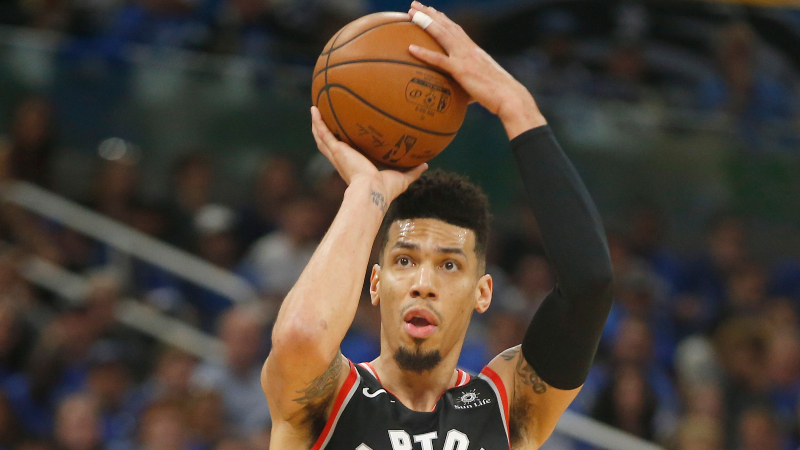 If Green struggles again, the Raptors offense may start looking like it did vs. the Sixers.
---
11) Pressure Point: Pascal Siakam
Siakam ran hot and cold in the ECF thanks to an injury he's still nursing. He needs to be a game-changer in this series. In particular, he's crucial if the Raptors want to employ the strategy that OKC used in 2016 — trying to push the ball in transition using athleticism.
Siakam averaged 19.5 points on 65% shooting in the regular season vs. Golden State. If he can hit his corner 3s, it spaces the floor. His shot-blocking will be handy vs. the lob for Looney. He will have to play a lot of 5 in this series. Siakam needs to be a plus for the Raptors to win.
---
12) Anticipating Blowouts
These two teams are pretty evenly matched (even with an exaggerated series price).
There's a temptation to believe every game will be close, but in reality, Finals series between evenly-matched teams often wind up with a series of blowouts before things tighten later in the series.
If you're in on the Raptors to win one of the first two games, they probably win by a lot. Golden State Game 3 is a key opportunity to bet on a huge win margin for the Warriors.
Don't get caught in "these two teams are too close to blow one another out." That's never how it works.
---
13) Pressure Point: Kevon Looney
With Durant out, there's a lot of pressure on Looney to make plays at the rim and to try and combat Siakam's athleticism. Looney needs to help hurt the Raptors on offensive rebounds.
Gasol's not the spring chicken he once was, and Looney can win that matchup in frustrating fashion for Raptors fans. But when he's matched up with Gasol, he also has to be able to help down and contest on 3s, as Gasol continues to show at least a vague willingness to shoot from deep.
---
14) The DeMarcus Cousins Dilemma
The Warriors aren't better with DeMarcus Cousins. They're not. He's coming off not only the Achilles, but his latest quad injury. He's a defensive liability due to his lack of mobility. His bully-ball approach won't work vs. Gasol, and he'll struggle to guard Gasol in space.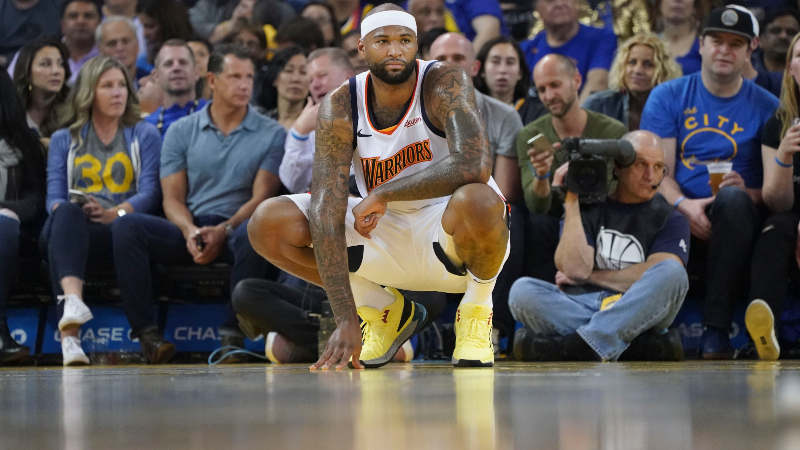 But he's DeMarcus Cousins. And they will want to get him involved. If the Raptors go small, he can punish them, especially if the Raptors decide to switch. He's a great passer, so he can find cutters to exploit the smaller Raptors guards.
There's some value, but things are either going to go really well when he plays … or really bad.
---
15) Warriors in 6
After looking at everything initially, I believe that the Raptors have a lot of individual matchup advantages but that they will collectively struggle.
We've kind of seen this play out in the East. Against the Sixers, they had so many individual matchup advantages, yet the Sixers took them to seven games. Against the Bucks, they were in a hole against the Bucks in 1-on-1 situations, but their collective made them better.
I think the Warriors take Games 1 and 4, putting it 2-2 after four games. I think they steal a close one against the Raptors in Game 5, similar to how the Raptors stole Game 5 vs. the Bucks, and then close it out in Oracle to say goodbye to an iconic building.
Warriors in 6, and bet the under on VanVleet made 3s.
How would you rate this article?