NBA Finals Game 3 Odds & Cheat Sheet: Raptors vs. Warriors Picks, Klay's Injury, More
Credit:
Cary Edmondson-USA TODAY Sports. Pictured: Golden State Warriors guard Klay Thompson (11) at Oracle Arena.
NBA Finals Game 3 Odds: Raptors vs. Warriors
---
The Warriors stole Game 2 of the NBA Finals in dramatic fashion and opened as sizable favorites in Game 3 at Oracle Arena.
Below we've compiled everything you need to know to get ready to bet Game 3.
---
I think there is potentially a ton of value in watching the game early and trying to get live bets in.
Live lines are almost always computer-generated; how else could they update every few seconds? That means that it's likely accounting for game flow solely and not anything a viewer can pick up on the court. And that means bettors could potentially have an edge if the Warriors come out and Klay immediately looks like he's not 100 percent. — Bryan Mears
Read more from our betting experts on what you can expect in Game 3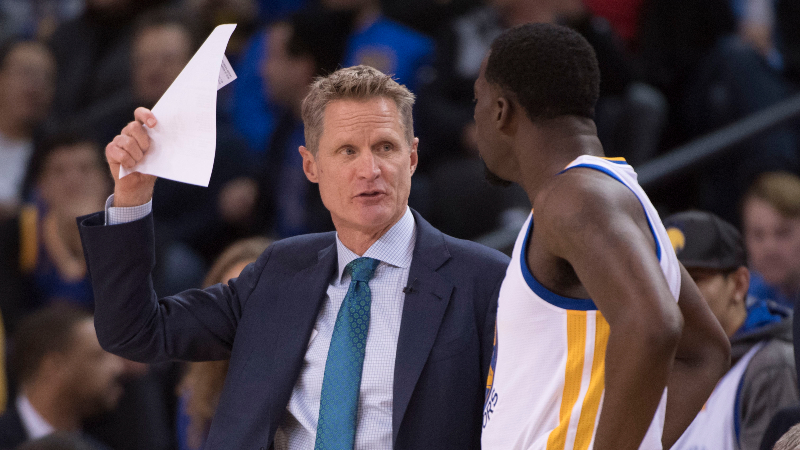 The Warriors opened as 5- or 5.5-point favorites for Game 3 of the NBA Finals, depending on the sportsbook.
And ever since the line opened late on Sunday night, the public has been all over the Raptors for the first time in the NBA Finals:
That means, for the first time in more than 14 months, the Warriors are in jeopardy of closing with fewer than 40% of the betting tickets.
Under Steve Kerr, Golden State has received fewer than 40% of tickets just nine times — and only four of those came when Steph Curry was playing. In those four games, the Warriors are 4-0 straight up and against the spread, beating their opponents by 20.3 points per game.
More importantly, two of those four games came in the playoffs for the Warriors. — Evan Abrams
Read more on the Warriors-Raptors Game 3 betting market here
More Warriors-Raptors Game 3 Analysis
---
Projecting an optimistic outlook regarding Klay's status also doesn't stop our models from pegging DeMarcus Cousins as the top value on the slate. Raptors coach Nick Nurse has been hesitant to deploy small-ball lineups with Pascal Siakam at the 5 and both Marc Gasol and Serge Ibaka off the floor, which minimizes Cousins' defensive limitations to some extent.
That may change with Kevon Looney out, but either way Cousins will likely be relied upon heavily for offense when he's out there. He hung a 10/11/6 line on Toronto in Game 2, and another double-double is likely in the cards.
Our projections have Boogie at 28 minutes for Game 3. Cousins's DraftKings salary hovered in the $8,000-$10,000 range for most of the season; $7,200 is a massive discount.
Save for Kawhi, we have every Raptor projected for a negative Plus/Minus. Among the team's mid-tier salary options, the player closest to the green is Marc Gasol.
Masai Ujiri's pivotal midseason acquisition has been a boom-or-bust play in this series, turning in a 20-point, seven-rebound performance in Game 1 but registering just 6 and 6 in Game 2.
Gasol's inconsistency shows up in a major way in his home/road splits. — Chris Raybon
Read more analysis from the Game 3 daily fantasy breakdown here
More NBA Finals DFS Content
OAKLAND — It's too soon.
We're just two games into the NBA Finals, with the series tied 1-1. We've barely started. There hasn't been a signature game by any of the stars beyond Pascal Siakam. The Finals MVP is up in the air, which is why Steph Curry remains the favorite by a thin margin at -125 odds ($125 wager would profit $100).
Narratives are forming, however, and after consulting with media and league sources, that's shifting the momentum. So instead of just trying to narrow down who is the MVP, let's also focus on who isn't.
Or, another way of putting it: Who's put themselves behind the most?
Kyle Lowry was the easy and obvious answer. He's averaging just 10 points on 30% shooting overall and 33% from 3-point range. He hasn't made a big impact in other areas on offense — just 3.5 rebounds and 5.5 assists — and the Warriors attacked him defensively in Game 2. Overall, the Raptors have been outscored by 6 points with Lowry on the floor.
Marc Gasol was another answer. But surprisingly, several of those polled suggested Kawhi Leonard. — Matt Moore
Read more about the 2019 NBA Finals MVP race here
More NBA Finals Futures Analysis 
---
The Golden State Warriors are perhaps the most publicly-bet team in sports. That probably comes at no surprise given they're the winners of three of the last four NBA championships and have a whole starting five full of All-Stars.
In the last three seasons — the Kevin Durant Golden State Era — the Warriors have nearly double the amount of games compared to any other team in which they've received at least 70% of the spread bets (via Bet Labs):
In those games, the public has not fared well on the Warriors. When they've received at least 70% public support, they've gone just 60-73-3 (45.1%) against the spread (ATS), losing $1,597 for a $100 bettor — the worst mark of any team.
Likewise, sharp bettors and those fading the Warriors have done well, especially in Oracle, where the Dubs have gone 17-26-2 ATS as a heavy public team over the last three years.
That has not changed in the NBA Finals through two games. Despite Kevin Durant being out, the Warriors closed with 66% of the spread bets in Game 1 and a whopping 71% in Game 2.
What has been incredibly interesting, though, is how the betting market has shifted despite that public support. — Bryan Mears
Check out more 2019 NBA Finals betting trends here
More NBA Finals Betting Trends
---
No one knows how the NBA Finals will or won't affect Kevin Durant's free agency decision. League executives commonly remarked when queried on how they think it impacts things that it's a stupid question to begin with because it reflects the very thing Kevin Durant has railed on so many times: no one is inside his head.
However, Durant's decision is so spectacularly impactful on the league, it could shape so many things, that it's only natural given everything that has gone on with him and the Warriors to wonder how the Finals will shape it.
Durant has been the best player in the playoffs at one point and then saw his team win six straight without him. He has fought with Draymond Green, made up, railed at the media, responded more on social media, opened his own media offices in New York and been linked to a half dozen teams. But how do the Finals factor in?
Let's look at the possibilities and then try and figure out, at least from the outside, what the decision looks like, with the understanding that Durant's going to do what Durant's going to do. — Matt Moore
Read more about Durant's impending free agency decision here
More Warriors-Raptors Coverage
How would you rate this article?