Moore: What's at Stake in Warriors vs. Rockets Rematch
Credit:
Kyle Terada-USA TODAY Sports. Pictured: Houston Rockets guard James Harden (13) stares down Golden State Warriors forward Draymond Green (23).
There is something drastically different about this year's Golden State Warriors as they get set tot face the Houston Rockets in Round 2.
The Warriors' path to success is based solely on whether they believe they can flip the switch vs. their rival.
Matt Moore discusses the implications of this series for both teams.
Here we go again.
Rockets. Warriors. Western Conference semi-finals.
Let me give you some background, here, having covered last year's Western Conference Finals and taken in as much as I can about these two teams.
The Warriors are within sight of the end of their project. They know things won't be the same after this summer. They've been a machine with a lot of combustible, moving parts and over their dominant, unforgettable run, they've managed to funnel those combustible parts into an engine that has created arguably the best team of all time.
It's always been within one straw of going the other way, though. The chemistry between Draymond Green and Kevin Durant, parking lot phone call or not, has always been fraught.
The other Warriors are perfectly built to accommodate Green: Stephen Curry is pleasant and positive, Klay Thompson is apathetic and bemused, Andre Iguodala and Shaun Livingston are cerebral enough to know you take the bad with the good. Durant, however, is a different deal.
The Warriors enter this series about as close to the end as a team can get. There's a general consensus that Durant is gone this summer no matter what. That's consistently created tension between Durant and Green. The two settled their early season confrontation, but over time, in NBA history these situations always lead to more pressure and higher temperatures.
In many ways, the Warriors are reminiscent of where the Beatles were when they recorded "Let It Be."
They still work together, despite their annoyance with one another, and they're still categorically the most successful and arguably best band ever, but the spark is gone. It's a job.
Now, that can change if Durant leaves and Curry, Thompson, and Green are reinvigorated by a renewed sense of purpose. But for now, the team has the vibe of a group of individuals struggling with the diminishing returns of exhausting, dominant winning.
You win your first title, it's the best moment of your life. You win the second title, and you overcame the doubters.
Now? It's just about proving you can still do something you know you can.
The Warriors were challenged by the Clippers, and that's fed the belief that "they're awake now." This has happened about 10 times this season. They lose to some team they shouldn't lose to (or a team they should) and then rebound, and every scribe hustles to say "this team is locked in, now."
Don't buy it.
Part of that is built on attitude. Thompson admitted they were looking ahead to the Rockets in their Game 5 loss to Clippers. Green, however, is saying the same things he always says. "They wanted us, now they get us." And yet, in all honesty, there still isn't a strong sense the Warriors fear or respect the Rockets at a high level.
That may seem crazy given how last year's series went, but I always turn to Green's comments when I think about this, as he's the locker room's emotional leader. Green made the same comments he makes about every opponent: they're a great team.
The implication is that the Warriors have played a lot of great teams, and all those great teams have been forced to bend the knee.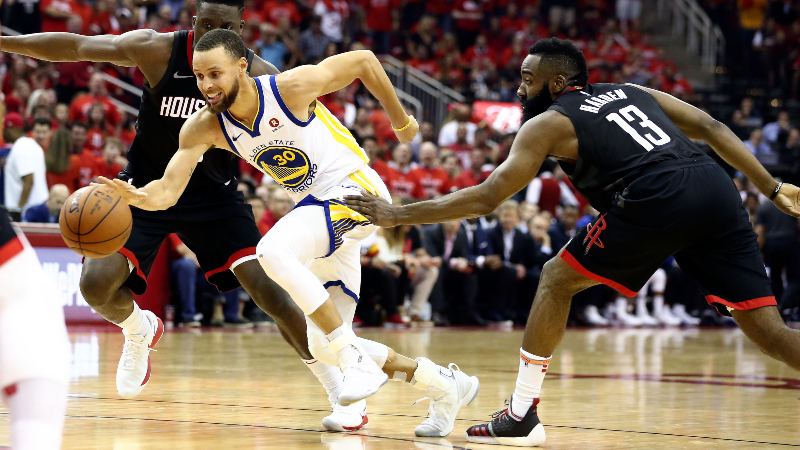 Steve Kerr respects and appropriately fears the Rockets. Curry seems to as well. The rest? They appear to be taking the same attitude of "I'll believe they can beat us when they beat us." Bear in mind the Warriors still felt Iguodala's injury was the only reason last year's series went long.
It's possible the Warriors really have flipped the switch. After all, Kevin Durant went for 50 in a close-out game and the Rockets' entire strategy is to make Durant beat them in isolation while limiting the Warrior-ness of the Warriors (ball movement, screens, cuts etc).
If Durant just obliterates them, it's like Game 1 of last year's series, a Warriors win in Houston.
However, it's also possible everything's catching up at the right time for Houston. Diminished returns for winning. A pitiful bench. A declining Iguodala and Livingston. Signs of wear and tear on Green (although he was fantastic at times vs. the Clippers). The tension and stress of Durant's free agency along with Thompson's contract and Green headed into a contract year next year.
And all of that is on top of a defense that has been way more vulnerable than most realize. Everyone operates on the function that the Warriors will try when it matters and beat everyone.
That's a pretty good set of assumptions … until it isn't.
The Warriors may cruise to a win over the Rockets in five games, but I promise you this: every series the odds of the Warriors not being able to find what they need increases, and when Golden State's run is over, it won't be a gradual decline. It will just end.
Houston's Variance Play
Imagine we assign a 1-10 value to a team's performance in any given game. The Rockets were able to drag the Warriors last year into consistent 4-6 scores, which is how they built a 3-2 lead. They operated at a steady 6-8, and Golden State was running at a 4-6 with Game 1 being closer to a 9.
However, the issue was that Houston's roster was assembled with the assumption that they wouldn't drop below a 6. Their floor was high, their ceiling was lower, say an 8.
But when Chris Paul went down, not only did the Warriors put up a 9-10 performance, the floor dropped out for Houston. Missing 25 3-pointers for a 3-point shooting team showed the floor was lower than expected.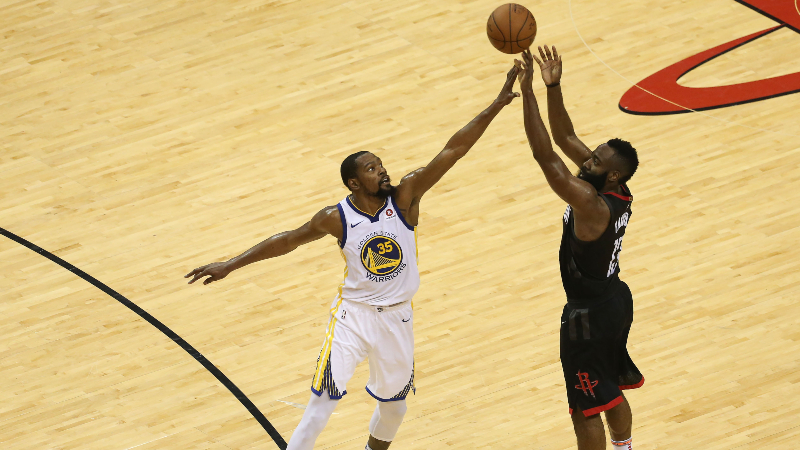 So instead, the Rockets went into this season with a risky plan: greater variance, higher ceilings. Carmelo Anthony, Michael Carter-Williams, and James Ennis were all part of this plan. The idea was that the floor for their team might be low and it might look awful at times, but the ceiling was better than what Trevor Ariza and Luc Mbah a Moute provided.
And that didn't work. At all. All three flamed out.
But Daryl Morey, ever the laboratory scientist, did not settle. They picked up Danuel House, Gary Clark, Austin Rivers, Kenneth Faried and Iman Shumpert. They reconfigured around more athletic, more versatile players with higher ceilings and lower floors.
The worst versions of Rivers, Faried, and House are unplayable in a series with the Warriors. They are mistake-prone and vulnerable to certain manipulations by the offense. The best versions have more ability to score off the dribble if the 3-pointers are cold. They have more athleticism for big plays.
What's most important for this plan to work is they need someone to establish that high floor. That's going to have to be James Harden. P.J Tucker, Eric Gordon, and Paul can all back them up.
But Harden, who has a complicated playoff performance past and is coming off a pretty rough one against a great Utah defense, must carry them. You can't go all year with Harden being the engine and the driving force behind your success and then hope the other guys carry you.
The Warriors know this, and it's clearly part of the reason they remain skeptical in Houston. They don't believe Harden can beat them on his own with this iso-ball strategy. The others can try and find that wavelength to carry them past, but if the baseline isn't already in place from Harden, it's moot.
There are reliable weapons: Clint Capela on the lob, Tucker in the corner, CP3 on the wing. But for this plan to work, for the Rockets to be the team that takes down Golden State, general malaise and all, Harden has to be the best player in the series.
There's no other way.
How would you rate this article?