Why OKC Is Still Struggling to Find Itself Without Andre Roberson
Credit:
Nov 5, 2017; Portland, OR, USA; Portland Trail Blazers guard Damian Lillard (0) dribbles the ball down court against Oklahoma City Thunder guard Andre Roberson (21) at Moda Center. Mandatory Credit: Joseph Weiser-USA TODAY Sports
Sign up for The Action Network's daily newsletter to have the best sports betting insight and analysis delivered to your inbox.
Andre Roberson is more important to Oklahoma City than Carmelo Anthony.
The above sentence is at once controversial to many casual fans around the sports world, and not at all controversial to Oklahoma City fans or anyone who follows the league closely. When Roberson went down in late January with a ruptured patellar tendon, there was plenty of debate about just how much it would hurt the Thunder. After all, Roberson shot 22% from 3-point range, and guys who can't shoot don't matter in the NBA anymore, right?
Well, let me tell you this, with Oklahoma City tied in the loss column with the Clippers for ninth in the West, just two games back of third in the loss column from Portland, facing either a sweet 3-spot landing, a host of unpleasant first-round matchups or the haunting specter of missing the playoffs entirely in a season built to convince Paul George to stay in free agency: Andre Roberson matters an awful lot.
THE BAD NEWS
For starters, there's this: Oklahoma City's starters (Russell Westbrook, George, Anthony, Steven Adams) are +14.8 this season per 100 possessions in net rating with Roberson on the floor. They are +1.8 without him. It is a devastating differential.
The Thunder were fifth in defensive rating (points allowed per 100 possessions) going into the game Roberson was injured. Since then? They rank 17th.
Yeah, but what about the offense?
Good question: Before Roberson's injury, Oklahoma City had the ninth-best offense in the league, despite a horrible start to the season. Since then? OKC's offense ranks 17th.
That's not to say Roberson was a great offensive player. But it's pretty clear that OKC could compensate for Roberson's offensive limitations in a way it cannot compensate for losing his defensive presence.
The reality is that every team has a weaker component on the floor. The Warriors have Zaza Pachulia, but they manage to get him buckets based on the attention the other players receive. The Raptors find gaps and windows for all their guys. One thing you saw a lot when Roberson was healthy: Teams tried to hide their defensive weak link on him, like Ish Smith here. But Roberson's athleticism is what got teams in trouble.
Now, Roberson still wasn't efficient offensively, and maybe that would have bit them in a playoff series against Golden State if the Warriors had given him the Tony Allen treatment and just not guarded him at all, loading up the paint vs. Westbrook drives and helping over on George coming off screens.
Getting there, though, is the first step, and the Thunder badly miss Roberson in that pursuit. Here's what the Thunder's shot chart looks like with the starters with Roberson: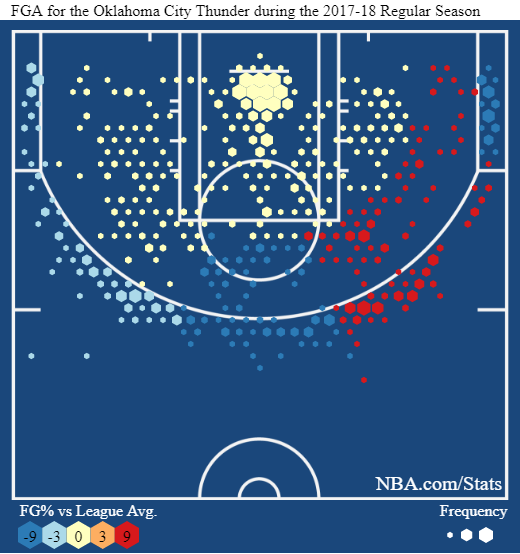 Here's the core four (Westbrook, Adams, George and Melo) with Terrence Ferguson, who has gotten the most minutes as a replacement: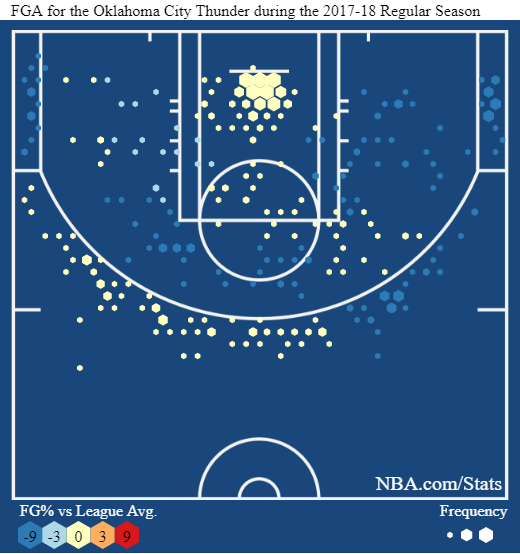 So … that's not good. OKC's offense just hasn't functioned as well. The important thing to take away here is that sometimes it's not about the logical conclusions based on skill sets. It's about chemistry, basketball IQ, experience and comfort level.
Now, there is an option that's working: OKC's offense cooks at a 113 offensive rating with Alex Abrines on the floor: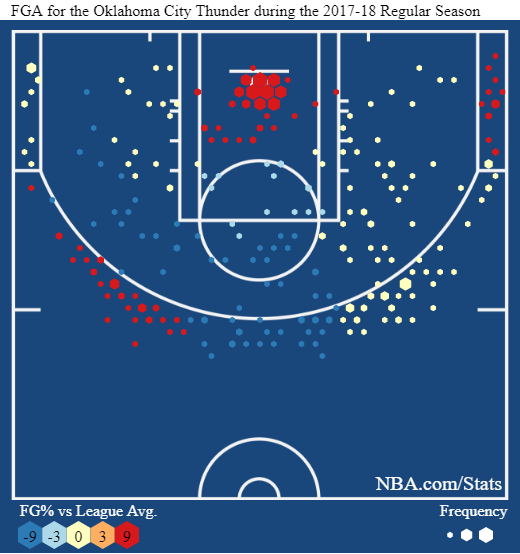 The problem? OKC's defense struggles with that lineup.
Notably, the Thunder's lineups with Abrines and without Melo have crushed. This is a bit of a theme. Anthony's struggles haven't been deep enough to warrant huge examination, he's just been quietly "meh."
His isolation numbers are still good, and he's been good in catch-and-shoot situations (52.7 effective field goal percentage). And he's been good driving the ball, but only when pulling up. Anthony is shooting just 53% (35th percentile) around the basket on non-post-ups this season. Defensively, he's given better effort than he did in New York, but that's not saying much.
Melo hasn't been a problem for the Thunder; he just hasn't been much of a solution, either.
THE HOUSE THAT ANDRE HELPED BUILD
The overall elements remain facts: With Roberson, the Thunder had balance, they had defense, they had scoring, they had advantages; without Roberson, a lot of what they built their season on fell apart.
Some of this gets into deeper discussions of roster construction. We tend to look at teams as collections of talent with a little bit of fit thrown in. However, the way teams come to life in a season is more complex. Good teams are built around sustainable core principles. For the Thunder, those are a bullying, physical defense, an offense built around Westbrook's singular athleticism and relentless aggression, Adams' ability to set devastating screens and control the paint, and athletic weapons around them.
Roberson was essential to that first tenet. He was as much of a load-bearing wall for the Thunder's defensive identity as Adams is. There's no real way to replace that. Even if the Thunder had spent too much in trade to get Avery Bradley, he doesn't have the size to replace Roberson. Courtney Lee would have been close, but not quite.
Driving opponents to spots, forcing errant passes, all the little things Roberson did, they're just nearly impossible to replace on account of his combination of size and skill.
THE PATH FORWARD
The Thunder have the third-toughest schedule remaining, which isn't promising for their hopes of staving off disaster. However, it should also be noted that OKC is 19-17 against teams with a .500-or-better record this season, which is the fourth-best mark among West playoff teams behind Minnesota, Golden State and Houston. The Thunder's issues have been with teams under .500, going 18-11.
Of course, much of that was with Roberson. As a sign of their inconsistency, the Thunder have gone 5-11 against the spread since Roberson's injury, and the over/under is an even 8-8. They are very much playing to the level of their opponent, and doing so without any consistent identity offensively or defensively.
This doesn't mean they're sunk. They have more lineup options to explore, and with a magic number for a playoff spot of 17, they're still in a good position. (Owning the tiebreaker over the Clippers helps.)
The Thunder aren't doomed, but there's a very real lesson to take from their struggles without Roberson.  Sometimes, it's not the best player, or even the stars who are essential to how a team plays; it's the guys who provide versatility, who cover mistakes, who create matchup advantages without surrendering anything.
Oklahoma City spent the first two months of the season losing close games and trying to figure itself out. Now it's March, and the Thunder have 40 days to figure out who they are, and how they can make a run without Roberson. It's been a month, and they still don't have those answers. A lot is riding on the next seven weeks for OKC.
The Thunder knew going in there would be challenges. But as is usually the case, it's everything they didn't expect that has made the mountain much tougher to climb.
How would you rate this article?
This site contains commercial content. We may be compensated for the links provided on this page. The content on this page is for informational purposes only. Action Network makes no representation or warranty as to the accuracy of the information given or the outcome of any game or event.