The 10 Coaching Trends You Need to Know Before Betting the Tourney
Credit:
Krzyzewksi: © Rob Kinnan-USA TODAY Sports Miller: © Casey Sapio-USA TODAY Sports Self: © Jay Biggerstaff-USA TODAY Sports Roy: © Randy Sartin-USA TODAY Sports
The 2018 NCAA Tournament field is absolutely loaded. When I say loaded, I don't mean with freshman talent, blue bloods or Cinderella stories — even though that may all be true. I mean it's loaded with serious tournament coaching experience. Among all active head coaches, the top seven in career tournament appearances, games played and wins are all in this year's dance.
Coaching is considered such a large part of every single NCAA Tournament game, and how some of these coaches have fared on the biggest stage — in the oddest of circumstances — can be the difference between covering the number and getting moosed.
Here are 10 NCAA Tournament coaching trends that pinpoint specific matchups, highlight particular coaches and exploit valuable information to utilize throughout the tourney.
From Coach K to Roy Williams to Bill Self … all the faces of March are here.
---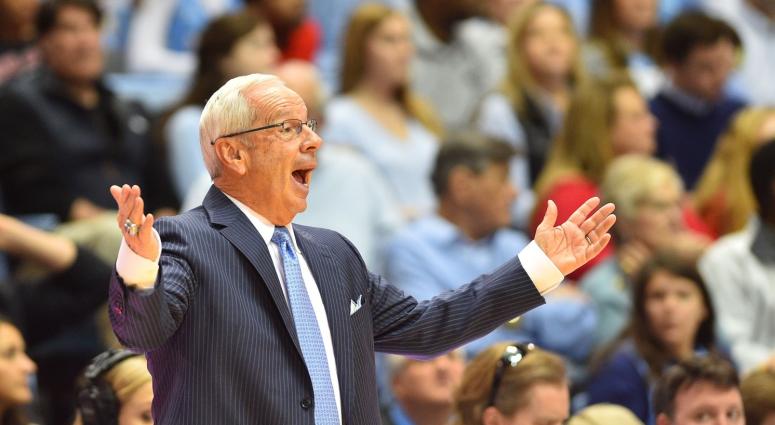 Sweet Home Carolina
Trend: In his career as coach of North Carolina, Roy Williams is 16-0 straight-up and 12-3-1 (80%) against the spread when his team plays an NCAA Tournament game inside the state of North Carolina.
Game: #15 Lipscomb vs. #2 North Carolina (-19.5)
16-0 straight-up is begging Lipscomb, but more likely Providence or Texas A&M, to give the Tar Heels some sort of pressure in their home state. North Carolina is winning each of those contests by an average of 20.9 PPG and is covering the spread by an average of 5.4 PPG. The Tar Heels have not lost a game straight-up inside the state of North Carolina since getting clipped 72-71 in the Round of 32 by Ivy League power Penn in 1979, a game coached by Dean Smith. Fun fact: Penn went on to play in the Final Four that year, losing to Michigan State, which subsequently played in the title game against Indiana State, and birthed the rivalry that was Magic Johnson vs. Larry Bird.
---
Shock Me Once…
Trend: Under Gregg Marshall, Wichita State is 6-1-1 ATS (85.7%) when receiving fewer than 50% of betting tickets in the NCAA Tournament.
Game: #13 Marshall vs. #4 Wichita State (-11.5)
At the time of this writing, Wichita State was receiving fewer than 35% of the total spread bets against Marshall (check out live numbers here). This will be the first time in eight NCAA tourney games the Shockers will be favored by more than just a single point, which is the reason they are covering the spread by 7.4 PPG over that stretch. However, over that same span, the Shockers are 3-5 ATS when receiving the majority of the betting tickets in the tourney, failing to cover four of their past five in that spot.
---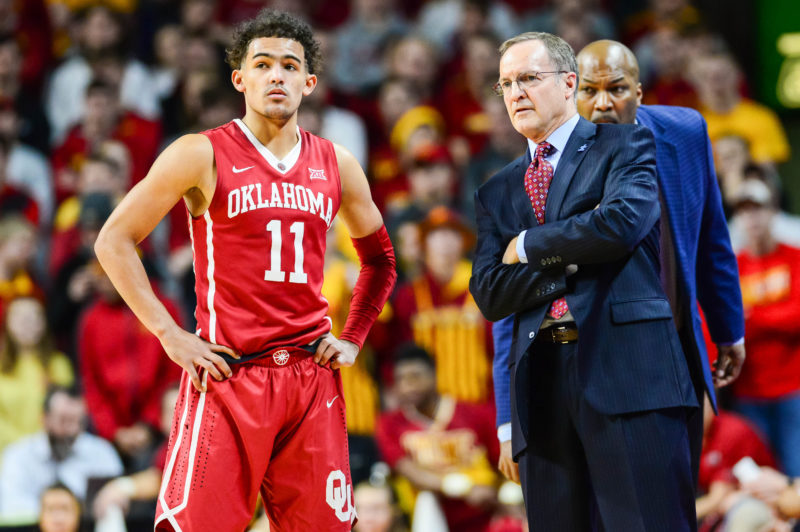 Early Boomer
Trend: Oklahoma coach Lon Kruger has failed to cover his past six games as a coach in the first round and is 1-8 ATS in his past nine games on the first weekend of the tourney.
Game: #10 Oklahoma vs. #7 Rhode Island (-2)
One of my favorite coaching resumes in NCAA Tournament history: Kruger has coached five different schools to at least the Round of 32 in his career (Kansas State, Florida, Illinois, UNLV and Oklahoma), but recently he has struggled in the early rounds. Since the 2015 NCAA Tournament, Kruger and the Sooners are 1-3 ATS in this spot. They've won all four games straight-up, something that may be a factor this year with Oklahoma seeded 10th and in a tight point spread contest.
---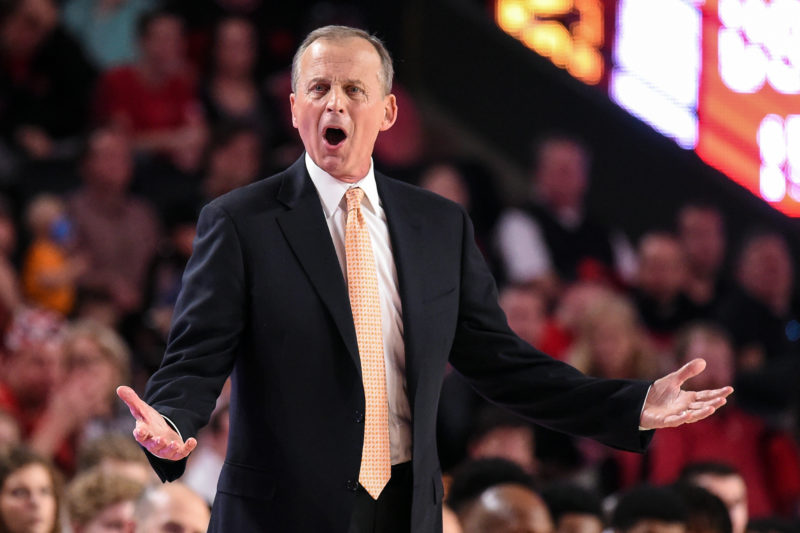 3,282 Cover-Less Days
Trend: Tennessee coach Rick Barnes is in his first season in Knoxville, but while at Texas, he lost his last seven games against the spread in the NCAA Tournament dating back to the 2009 Round of 32 against Duke. When Tennessee plays on Thursday, it'll mark 3,282 days since Barnes' last cover in the Big Dance.
Game: # 14 Wright State vs. #3 Tennessee (-12.5)
During the seven-game ATS losing streak, Barnes and the Longhorns were 2-5 straight-up, including 2-3 SU as a favorite. One caveat: None of those Texas teams was a top-3 seed. The last time Barnes was a top-3 seed in the NCAA Tournament was back in 2008, when he led D.J. Augustin and Texas to the Elite 8. Since March 22, 2009 (the day after Barnes' last ATS tournament win), no coach has more ATS tourney losses without a win than Barnes.
---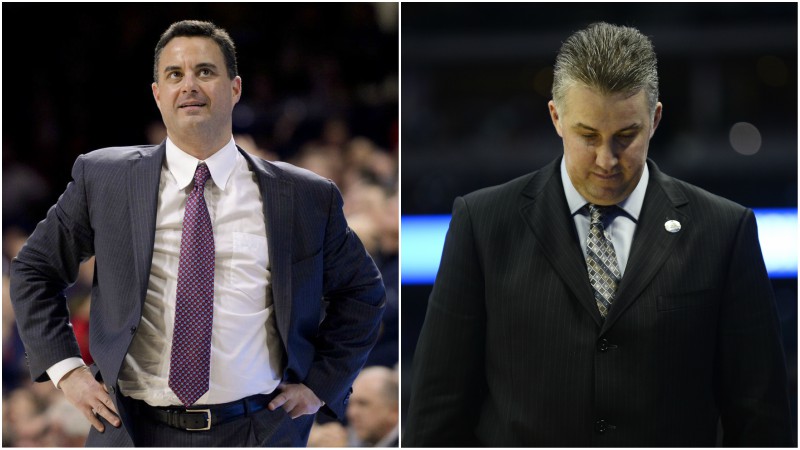 Money in the Tournament
Trend: In 2005, now-Arizona coach Sean Miller made his first NCAA Tournament appearance  in his second season with Xavier, and Matt Painter became the head coach at Purdue. Since that year, no two head coaches have been more profitable against the spread in the first two rounds of the tournament (play-in not included) than Miller and Painter.
Game: #13 Buffalo vs. #4 Arizona (-8.5)
Game: #15 Cal State Fullerton vs. #2 Purdue (-20.5)
Miller is 12-4-2 ATS (75%) in the first two rounds of the tournament, but most of his early round success came with Xavier. With the Musketeers, Miller was 6-0-1 ATS in the first two rounds, while he is 6-4-1 ATS with Arizona, sneaking out a small profit for bettors.
Painter is 12-4 ATS (75%) in the first two rounds, including 7-2 ATS in the first round. Purdue's 2-seed this year is the highest ever for Painter, who is 5-1 ATS in the early rounds of the tournament when his team is a top-4 seed.
---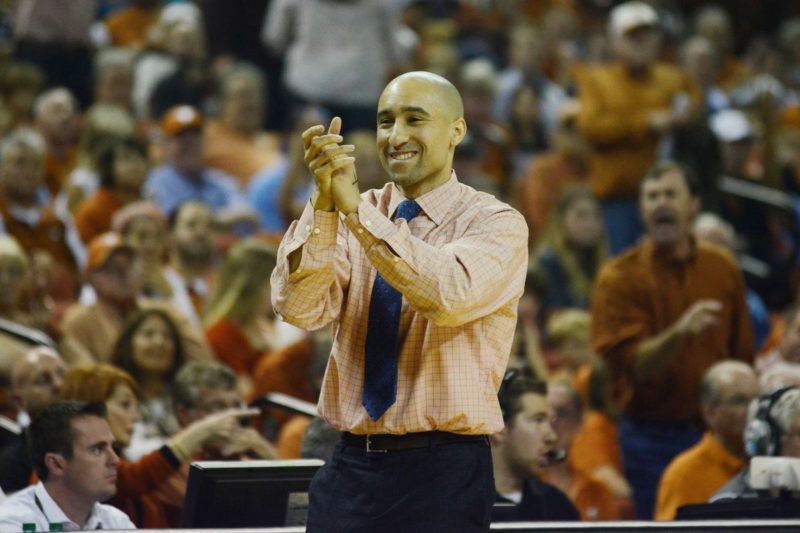 Shaka and Awe
Trend: For just the third time in the past 20 years, Texas is a double-digit seed in the NCAA Tournament. Good thing the Horns brought in Shaka Smart. In his career in the tourney with VCU, Smart was 7-1 ATS (87.5%) as a double-digit seed.
Game: #10 Texas vs. #7 Nevada (-1)
In all eight games as a double-digit seed, Smart was listed as an underdog. He's covering the spread by 13 points per game largely because of that 2011 magical run to the Final Four with the Rams. Smart has coached 13 total games in the NCAA Tournament; in the eight in which he was listed as the higher seed, his record is 6-2 SU and ATS.
---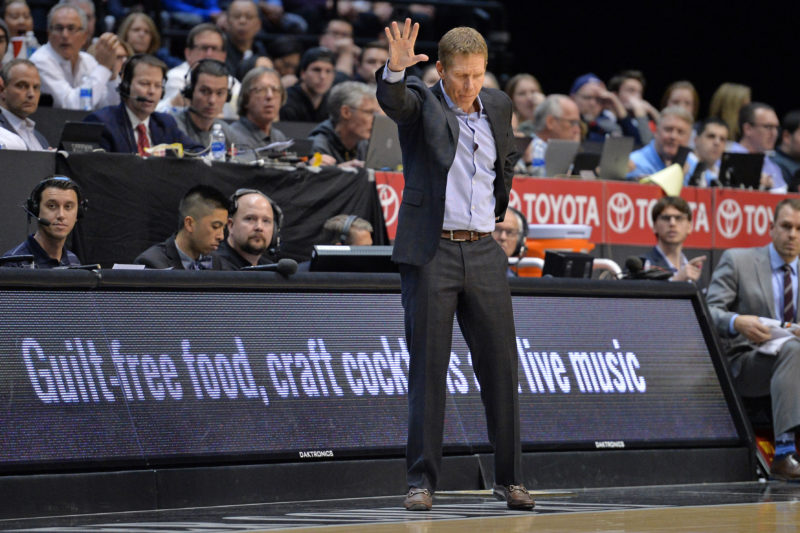 A Few Major Issues
Trend: Mark Few and Gonzaga have lost 11 consecutive games against the spread in the NCAA Tournament against opponents from outside the power conferences (ACC, Big East, Big 12, Big Ten, Pac-12, SEC).
Game: #13 UNC Greensboro vs. #4 Gonzaga (-12.5)
Few hasn't covered the spread in the tournament against an opponent outside the power conferences since the Bulldogs' first-round win over Valparaiso in the 2004 Big Dance. Over this 11-game stretch, Gonzaga is failing to cover the spread by 9.6 PPG, is 7-4 straight-up and has only a +1.1 PPG differential.
Since the 2004 tournament, Few has faced a power conference opponent in 23 games and Gonzaga is 12-10-1 ATS (54.5%). If Few and the Bulldogs fail to cover against UNC Greensboro, it would mark the second time a Southern Conference team covered against Gonzaga during the streak (Davidson, 2008).
---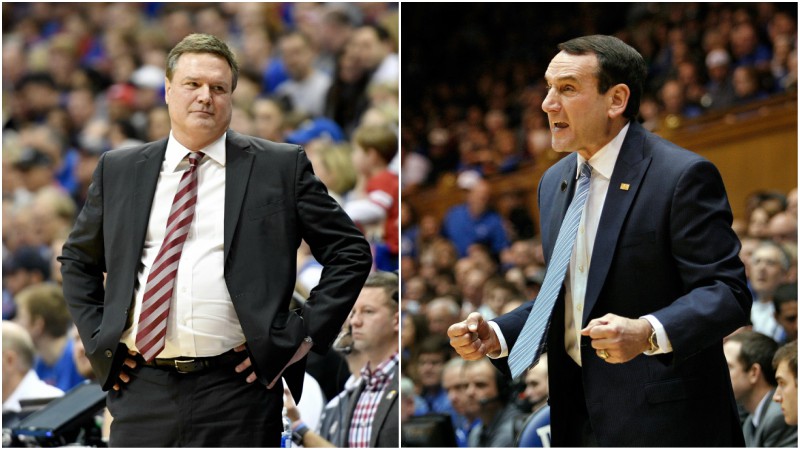 Self-Aware
Trend: Since the 2004 NCAA Tournament, Bill Self's first with Kansas, only three coaches have multiple losses in the first two rounds (play-in games not included) as a double-digit favorite: John Thompson III (Georgetown), Mike Krzyzewski (Duke) and Self (Kansas).
Game: #16 Pennsylvania vs. #1 Kansas (-13.5)
Game: #15 Iona vs. #2 Duke (-20.5)
Self's tournament defeats in this spot came by a combined three points, while Krzyzewski's were a little more forgiving, as his Blue Devils lost by a combined 12 points. Lately for Self, early tournament games haven't been an issue. Kansas is 5-1 ATS in the first two rounds since the 2015 tournament, with the only slip-up in the Round of 32 to Wichita State.
(Side note: Since 2004, only one conference has defeated three different teams as a double-digit underdog in this situation: Conference USA. This year C-USA's representative is conference tourney winner Marshall, a 13-seed facing Wichita State.)
---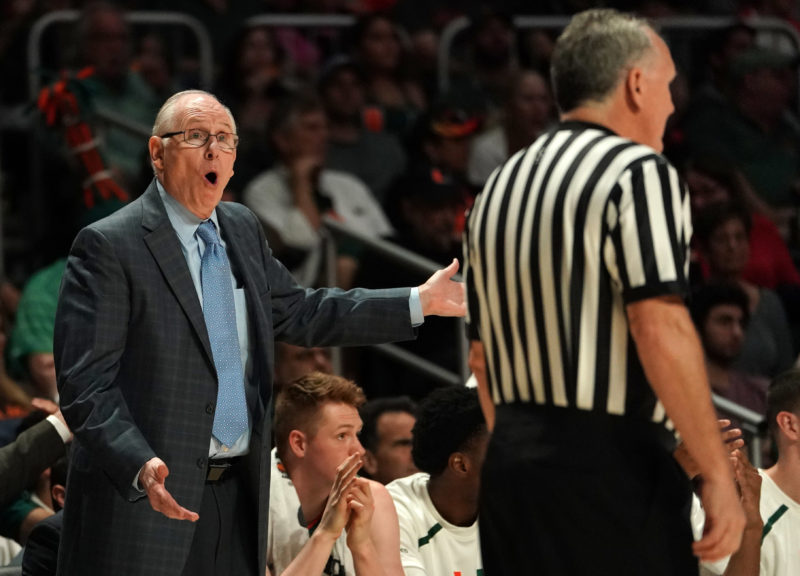 Late Arrival
Trend: Dating back to his first season at George Mason in 2010-11, current Miami Hurricanes coach Jim Larranaga is the least profitable coach in the country against the first-half spread, when the game is played in the "postseason."
Game: #11 Loyola-Chicago vs. #6 Miami-FL (-2)
First Half: Loyola-Chicago (-1)
The term "postseason" refers to the NCAA Tournament, NIT, CBI, CIT and all conference tournament games. Hurricanes coach Jim Larranaga is 6-24-2 (20%) against the first-half spread, including 2-7 in the NCAA Tournament and 1-6 in the NIT. In all 32 postseason games, Larranaga's team is failing to cover the first half spread by 4.3 PPG, and his team's performance during that half has a large impact on the end result.
When Larranaga's team covers or pushes the first-half spread, it is 7-1 straight-up over the full game, when it fails to cover the first half, the record falls to 12-12 straight-up. 
---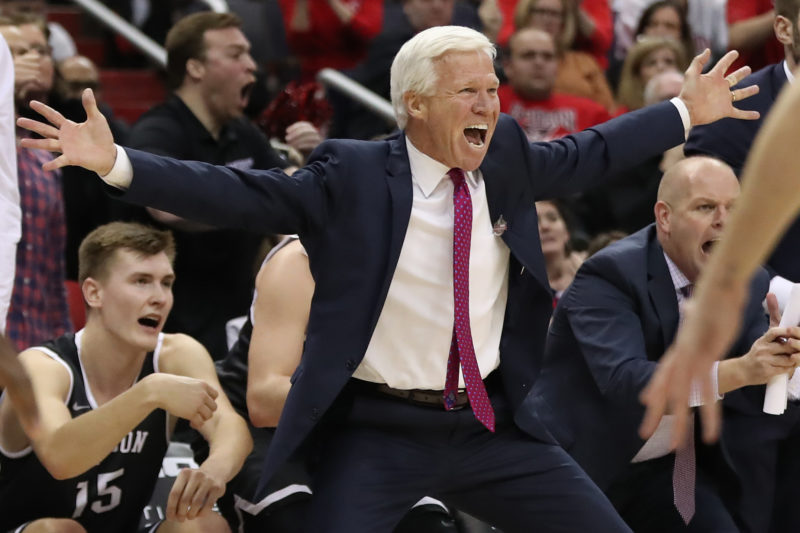 Through The Gauntlet
Trend: Since 2006, Davidson head coach Bob McKillop is 6-3 ATS in the NCAA Tournament with the Wildcats. Nothing super noteworthy … until you take a look at the coaches McKillop has had the privilege of facing in that span. Wow!
Game: #12 Davidson vs. #5 Kentucky (-5)
2015: Fran McCaffery (Iowa)
2013: Buzz Williams (Marquette)
2012: Rick Pitino (Louisville)
2008: Bill Self (Kansas), Bo Ryan (Wisconsin), John Thompson III (Georgetown), Mark Few (Gonzaga)
2007: Gary Williams (Maryland)
2006: Thad Matta (Ohio State)
The trend continues again this year with Kentucky's John Calipari on deck.
Top photo: Duke Coach Mike Krzyzewski, Arizona Coach Sean Miller, Kansas coach Bill Self, North Carolina coach Roy Williams. Credit for all photos USA TODAY Sports 
How would you rate this article?