NCAA Tournament Betting Mega-Guide: Full Breakdowns, Odds, Picks for All 4 Friday Games
Credit:
Jeremy Brevard-USA TODAY Sports. Pictured: Zion Williamson
We've compiled all four betting guides for Friday's NCAA Tournament games below. Let's get to it!
#2 Michigan State vs. #3 LSU NCAA Tournament Betting Odds
Spread: Michigan State -6
Over/Under: 148
Location: Washington D.C.
Date: Friday, March 29
Time: 7:09 p.m. ET
TV: CBS
---
>> All odds as of Thursday night. Download The Action Network App to get real-time odds and live win probabilities on your bets.
---
This will be the first time Michigan State and LSU have met since 1979.
Magic Johnson led the Spartans to the national title that year, beating a Dale Brown-led LSU team in the Sweet 16. But there's a bit of a coaching difference in the 2019 version, with the esteemed Tom Izzo taking on interim coach Tony Benford.
LSU (19-14-1 against the spread) — which did not cover against Yale or Maryland — has a physical brand of play that relies on offensive rebounds and steals. Michigan State (25-11 ATS), meanwhile, leads the nation in assists per field goal made and has a top-10 rating in adjusted efficiency on both sides of the ball.
Will Michigan State's Depth Be a Factor?
While the coaching advantage sways heavily in favor of Michigan State, there is a discrepancy on the number of players getting minutes.
LSU relies on a deep rotation, with at least 12 minutes of play from eight different players in the Maryland game. Michigan State has a rotation of only six players, with Xavier Tillman and Nick Ward at center accounting for more than 50% of the playing time with starters Cassius Winston, Matt McQuaid, Aaron Henry and Kenny Goins.
The loss of Kyle Ahrens to injury has left the Spartans short on bench minutes.
Havoc Is Key for LSU
The knock on the Big Ten is the number of athletic teams to challenge Michigan State. The Spartans are one of the best teams in the country in plenty of advanced statistics. They're also a top 25 team in free throws, 3-point percentage, offensive rebounds and 2-point defense and blocks.
On paper, the Spartans have a massive advantage in all areas except one: Turnovers.
Minnesota was able to generate 26 points off 22 turnovers against Michigan State in the Round of 32. And LSU ranks sixth in steal percentage, which could be troublesome for a Michigan State team that ranks 207th in turnover percentage. The Spartans also do not create any havoc on the other side of the ball, with a rank of 344th in opponent turnovers.
If LSU wins this game, expect the Tigers to take advantage of turnovers and a shallow depth chart against Michigan State.
LSU Is Getting How Many Points?
The last time LSU lost by more than six points? Nov. 25, also known as the Sunday of Thanksgiving week.
Even in losses to Houston, Florida, Florida State and Arkansas, the Tigers were able to keep it close. And while Michigan State is the more talented team, the Spartans have yet to face anything in the havoc department like LSU.
The amount of points is begging for action on LSU. I'll be betting the Tigers to get 20-plus turnovers and a cover.
THE PICK: LSU +6
Our Projected Odds: Michigan State vs. LSU
These ratings were built by Sean Koerner, our Director of Predictive Analytics, a former oddsmaker and FantasyPros' most accurate in-season fantasy football ranker from 2015-2017.
Spread: Michigan State -5.5
Total: 147.5
Proj Score: Michigan State 76.5 | LSU 71
Win Probability: Michigan State 70% | LSU 30%
#1 North Carolina vs. #5 Auburn
Spread: North Carolina -5
Over/Under: 164.5
Location: Kansas City, Mo.
Date: Friday, March 29
Time: 7:29 p.m. ET
TV: TBS
Rarely in college basketball, where gambling is so taboo and point-shaving has been a problem historically, does a coach discuss sides and totals. But Bruce Pearl did just that, joking (or not?) in an interview on ESPN, saying that people should take the over when his Auburn Tigers play North Carolina in the Sweet 16.
The steam on the total may be completely independent of that story, but the fact remains the over has gone up from 160 to 164.5, whether motivated in any way by Pearl or not.
With everyone in the game and out of it expecting a specific type of style, where does value lie? Is there any on the total at all? Let's take a look.
North Carolina's Major Advantage Is…
The Tar Heels will have one incredible offensive advantage in this game. It's the same advantage they had against Washington, but exists here in a different fashion: offensive rebounding. The metrics basically screamed at us that this would be problematic for the Huskies because of their zone, and it was. North Carolina had 15 offensive rebounds, and out-rebounded Washington 48-24.
Auburn doesn't play exclusively zone like Washington, but it still ranks 334th in offensive rebounding percentage allowed, and it's because it plays basically zero size. When Austin Wiley plays, he's the one big body the Tigers have, but he also doesn't play very much.
Rather, Auburn is willing to sacrifice that aspect of its play in order to run and spread out the opposing team at the other end. But Carolina should have an absolute field day on the glass here. The statistic will be eye-popping at the end of the game. There's almost no way it's not.
Carolina's offense isn't predicated on the 3-point shot (usually because the Heels getting so many wide-open 2s), but they make a high percentage (and have one extremely elite shooter). That's something both of Auburn's opponents couldn't say coming into their games.
Kansas barely took any 3s all season, and New Mexico State barely made any, despite taking a ton. This will be a new problem for Auburn, and UNC's 3-point shot keeping the Tigers' defense honest and spread out across the court will be valuable because the Tar Heels have such an advantage inside it's almost comical.
One thing Carolina has to watch out for is turnovers.
Against Iona, the Heels were just straight-up sloppy for parts of the game, possibly because of the total talent mismatch they had. Against Washington (and the zone), they had 15 turnovers, and it was really the only thing they didn't do well.
Auburn doesn't force turnovers in the same way Washington does, but the Tigers are prolific at it, and it helps generate their offense. This hasn't been an issue for North Carolina in general this year, but in the tournament so far, it has been.
When Auburn Has the Ball
OK, so Auburn is gonna have a really hard time stopping a lot of things Carolina does, but what about the other way?
Well, the Tigers are sacrificing certain skills at the defensive end to thrive here. They have won twice essentially because of tempo and shot-making. They've attempted 62 three-pointers, and 57 two-pointers. They start four players who can score from outside, and put an athletic rim-runner in Anfernee McLemore roaming the paint.
Against Kansas, they could not miss. Against New Mexico State, they were a little shakier and almost (read: probably should have) lost.
But Auburn can do some things here. First off, Carolina can catch teams off guard because of its desire to push the ball off makes or misses (or turnovers, or stoppages, or concession-stand sales). The "secondary break" can really tear apart unprepared opponents.
But the Tigers should love the pace of this game, and I would imagine are perfectly happy to run up and down, jacking a ton of 3s and trying to beat Carolina down the court the other way. When Bruce Pearl says to take the over, it's probably because he understand his team wants to play as fast as Carolina does, which almost no one wants to do, ever.
The Heels' 3-point defensive numbers may look OK, but they were No. 9 in ACC play in 3-point field goal percentage allowed (despite being top-100 overall). Iona hit everything against them in the first half last weekend. That's a bit concerning when you're about to face a team that may shoot 40 threes in this game.
Naturally, when one team is committed to shooting from the outside that much, it definitely provides some volatility in the range of scores this game can provide. It's why underdogs that possess that skill are capable of upsetting a better team in the tournament.
The Heels' one significant advantage defensively is that they don't allow offensive rebounds, but I honestly think you'll see Auburn just abandon the glass altogether in the half-court, take 3s and sprint back on defense whether they go in or not. Why even crash in a game like this?
The Pick
After all of that, you may be salivating to bet the over,  but if Auburn isn't making 3's, this becomes a blowout REALLY fast, and then Carolina will be more than content to grind the pace down in the second half when it is up substantially. You need such a specific set of conditions (and continual pace) for a total in this range to hit in a tournament game, where so much is at stake and teams can micro-manage periods of the game even more.
There are so many forced stoppages in these games, and so much strategy given to clock-running in the final 10 minutes of the second half, that there are just a ton of natural impediments to a track meet. That's before I even mention that this is a new arena for both teams, and may take some getting used to. Can the over happen? Sure. Is it a lock, as Bruce Pearl may have you believe? Doubtful, so I won't be betting it.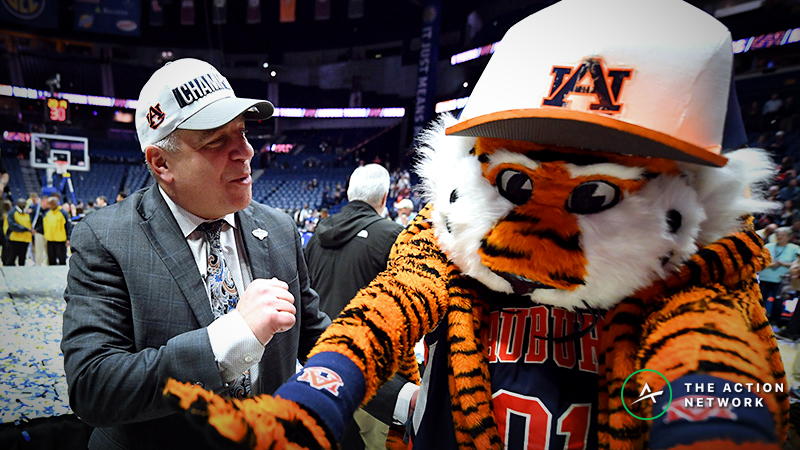 As for the side, we can so easily fall victim to the last time we saw a team, and with Auburn, the lambasting of Kansas makes the Tigers seem like a desirable option. But this was a team that probably should have lost to New Mexico State, and completely folded down the stretch just a week ago. Whatever comfort level they had shooting with the back-drop in Salt Lake City may not carry over to Kansas City as well, and they are more reliant on the 3 than any team in the country.
I like Carolina in this game at -5, and think the staggering number of possessions in this game will give the Heels ample opportunity to pull away.
If they are able to get back on defense against the Tigers, they should be able to guard enough — they do, after all, have a huge defensive efficiency advantage in the game.
I make it UNC -7, as well, but I totally recognize that with a team like Auburn, its shooting profile can turn any single game on it's head.
Ken's Pick: UNC -5
Our Projected Odds: North Carolina vs. Auburn
These ratings were built by Sean Koerner, our Director of Predictive Analytics, a former oddsmaker and FantasyPros' most accurate in-season fantasy football ranker from 2015-2017.
Spread: North Carolina -4.5
Total: 159.5
Proj Score: North Carolina 82 | Auburn 77.5
Win Probability: North Carolina 66% | Auburn 34%
#1 Duke vs. #4 Virginia Tech
Spread: Duke -7
Over/Under: 143.5
Location: Washington D.C.
Date: Friday, March 29
Time: 9:39 p.m. ET
TV: CBS
All eyes will be on the nation's capital late Friday night when No. 1 overall seed Duke (-7) takes on Virginia Tech with an Elite Eight trip on the line. I personally think there is value on both the side and total in this game.
Let's take a closer look at the game's the most important matchup — as well as a few other ancillary factors. I will also explain how I came up with my line, which is extremely dependent on how much you think Zion Williamson and Justin Robinson are worth to the spread. I will then close with my pick for both the side and total.
Critical Matchup in Duke-Virginia Tech
Normally, after the No. 1 overall seed survives a scare in the second round like Duke just did last weekend, I'd look to back said team in the market where I might get some value in a bounce-back scenario.
However, that's not the case here since this is such an ideal matchup for Virginia Tech. It's no longer a secret that the key to beating Duke is to force them to shoot the 3 — by far its biggest weakness.
In fact, the Blue Devils entered the 2019 NCAA Tournament as the worst 3P shooting team in the entire field at 30.2% (see table below). And their current 30.7% clip from beyond the arc ranks 329th in the nation — tied with Georgia Tech.
We saw what UCF did in a game it honestly should've won outright. The Golden Knights ran a collapsed zone, daring Duke to shoot from the perimeter. And it worked like a charm, as the 13-point underdogs were a layup away from pulling off the stunner.
Well, Virginia Tech doesn't need to do anything differently on the defensive end to get Duke to shoot 3s. It's already Va Tech's primary focus on defense.
The Hokies will go under every screen and aggressively help in order to prevent opponents from getting to the rim.
And Buzz Williams' teams have executed this scheme flawlessly, forcing opponents to shoot more 3s than 2s this season. Only Monmouth has a higher defensive 3-point rate (3PA/FGA) than Virginia Tech's 50.4%.
Their underlying metrics are so similar to a successful zone that KenPom shows Virginia Tech's defensive fingerprint as "mostly zone." When in reality, the Hokies run almost nothing but man (over 95%, per Synergy).
It's a man defense that gets zone results. A "mone," if you will. And a potential Monet against a Blue Devils team that simply can't shoot.
Other Angles to Consider
You can't talk about Virginia Tech without mentioning the return of guard Justin Robinson.
The four-year player is the catalyst of the offense, running the show with ease and finding VT's plethora of shooters on the perimeter. His presence will be especially critical against an elite defender in Tre Jones.
There won't be any intimidation factor, as the Hokies won't fear the stage or their familiar conference foe. The more experienced Hokies will also enjoy the luxury of being able to play looser. All of the pressure will be on the inexperienced Blue Devils.
There were questions about the status of Virginia Tech sharp-shooter Ty Outlaw, but he has been cleared to play after passing a drug test.
If you're itching to bet the over/under, I'd take a hard look at the under, which I have added myself. Va Tech is a snail that plays extremely slow, ranking 332nd in Adjusted Tempo, per KenPom. Duke does want to fly but Virginia Tech will grind it down when on offense and make Duke work deep into the shot clock on the other end. I think this ends with both teams in the high 60s.
What I Make This Line
Those who follow me in the app know I bet Virginia Tech earlier in the season as a small home dog when the Hokies won outright against a Zion-less Duke team. That line was simply off in my eyes and would be very different if played today with the same rosters.
I would personally now make VT a short 2.5-point home favorite if Zion and Robinson were both out again. This Duke team just isn't elite without Zion in the mix.
Well, this game is now on a neutral court, so let's remove 3.25 points for Virginia Tech's home-court advantage. That gets us to Duke -0.75 for this neutral site game.
But Robinson is now back, who I have as worth +2 points to the spread. Zion is also back and I make the Duke superstar worth an unprecedented +6.5 points. That's a net positive for Duke of 4.5 points, bringing my line for this Sweet 16 showdown to Duke -5.25.
And considering the matchup advantage the Hokies will enjoy as a result of their defensive scheme and a few other intangibles I mentioned, I'd shade it down toward Duke -4.5. I would personally bet Virginia Tech down to +6.
Look, Duke could shoot the lights out as it did against Virginia earlier this season. And if it does, Zion & Co. could roll. But I'll gladly put my money up against that happening by backing an extremely solid Hokies squad.
THE PICKS: Virginia Tech +7, Under 143.5
Our Projected Odds: Duke vs. Virginia Tech
These ratings were built by Sean Koerner, our Director of Predictive Analytics, a former oddsmaker and FantasyPros' most accurate in-season fantasy football ranker from 2015-2017.
Spread: Duke -8
Total: 142
Proj Score: Duke 75 | Virginia Tech 67
Win Probability: Duke 78.7% | Virginia Tech 21.3%
#2 Kentucky vs. #3 Houston
Spread: Kentucky -3
Over/Under: 134.5
Location: Kansas City, Mo.
Date: Friday, March 29
Time: 9:57 p.m. ET
TV: TBS
---
>> All odds as of Thursday night. Download The Action Network App to get real-time odds and live win probabilities on your bets.
---
The Wildcats (18-16-1 against the spread) have won three of their past four games ATS, including their last-second cover vs. Wofford (+5.5).
Meanwhile, the Cougars (22-12-2 ATS) have covered in four of their past six duels, as their most recent one pushed them into the Sweet 16 after falling short a season ago.
Where's the value in this Midwest Region matchup? Let's break it down.
Kentucky F PJ Washington's Status Crucial
The 6-foot-8 forward (14.8 points per game) has missed Kentucky's first two NCAA Tournament games with a left foot sprain. But he posted a video on Wednesday, in which he shed his walking boot.
It's unknown whether or not Washington will suit up against the Cougars, creating uncertainty for backers of either side. The sophomore isn't just valuable because of his three-level scoring prowess, but he's also tallied an above-average block rate (4.7%) among qualified players.
Even if the sophomore plays, I'd expect Wildcats coach John Calipari to keep him on a pitch clock, limiting his effectiveness against an underrated Houston frontcourt. Washington would still provide an impact, but don't let his status dominate your perception of this matchup.
Which Interior Attack Stands Pat?
With or without Washington, much of Kentucky's offense stems from inside the arc. Not only has it tallied a mere 14.9% 3-point scoring rate in its first two affairs in the big dance, but it's produced the 52nd-highest 2-point scoring rate across college basketball.
Nevertheless, the Cougars have surrendered the 50th-lowest 2-point scoring percentage (45.4%).
Kelvin Sampson's Houston team, guided by its tenacious backcourt of Corey Davis Jr. and Galen Robinson, delivers a handful of ball pressure to keep the opposition out of the paint. Houston's stout bigs — Breaon Brady and Fabian White — match up well against Wildcats 6-foot-8 bruiser Reid Travis (11.5 ppg), too.
The one area Houston could get exposed is at the line. It's allowed the 13th-highest scoring rate (23.4%) in that department, while the Wildcats have tallied the 15th-highest scoring percentage (22.8%).
The Cougars are in position to negate some of those concerns, though, with their 62nd-rated defensive rebounding rate (25.6%). The 'Cats thrive off second-chance opportunities to spark their free-throw surge, so Houston will need to continue to deliver its gang rebounding at a high-level.
Wildcats' Leaky Perimeter Defense
Houston's motion offense presents the 78th-highest perimeter scoring rate (35.8%), with a bevy 3-point gunners in Armoni Brooks, Davis, Dejon Jarreau and Robinson, who all shoot at least 35%. All four of them can handle the ball, creating mismatches off the dribble drive.
John Calipari's unit has been susceptible from behind the arc, yielding the 59th-highest 3-point scoring percentage (35.7%) in the nation. Even though Wildcats guards Ashton Hagans and Tyler Herro are sound on-ball defenders, they caught a break via Wofford's cold-shooting performance (29.6%) in the Round of 32.
Expect the Cougars' savvy unit to make the Wildcats pay from that vicinity, and their 21st-rated offensive rebounding rate (34.6%) should present a challenge for the opposition to control the pace (65.8 possessions per 40 minutes) as well.
THE PICK: Houston +3, and I'd be willing it bet it down to Houston PK
Our Projected Odds: Kentucky vs. Houston
These ratings were built by Sean Koerner, our Director of Predictive Analytics, a former oddsmaker and FantasyPros' most accurate in-season fantasy football ranker from 2015-2017.
Spread: Kentucky -4
Total: 132.5
Proj Score: Kentucky 68.5 | Houston 64.5
Win Probability: Kentucky 64% | Houston 36%
How would you rate this article?