Betting Louisville-Virginia, Plus a Quick Look at Houston-Cincinnati
Today, I will take an in-depth look at the matchup between Louisville and Virginia (-9.5). Can UVA back up their win at Cameron with another dominant defensive effort over Louisville? I will also look at the second most dominant defensive team in the country in Cincinnati (-9.5) against Houston.
Follow me on Twitter @jorcubsdan for in-game analysis and second half thoughts.
---
Louisville at Virginia (-9.5)
7:00 pm ET
Virginia's historically efficient defense returns to the floor after beating Duke in Cameron Indoor on Saturday. I took a fairly deep dive into UVA's vaunted Pack Line defense before that matchup. Does Louisville check off the criteria needed for success against the Pack Line? The answer is a resounding NO. However, the Cards have a few "intangibles" working in their favor tonight. Before we get to those, let's take a look at how Louisville has played under interim head coach David Padgett.
Historically, Rick Pitino has struggled immensely against Tony Bennett's Pack Line. After joining the ACC, Louisville went 1-5 against UVA under Pitino and averaged just .76 points per possession. Pitino dropped the last five against the Cavs before his scandal-ridden tenure came to a close. Pitino slowed down the pace after Louisville joined the ACC, even though he coached them as one of the more up-tempo teams in the Big East (and one season in the AAC). Since taking over, Padgett has increased the tempo at Louisville. The Cardinals play at 70.1 possessions per game, which ranks as the fastest Louisville team since 2002-03, when they resided in Conference USA. Louisville has an average possession length of just 15.3 seconds (18th quickest in the country), which spells disaster against a UVA defense that allows just .808 points per possession (best in the KenPom era).
Louisville's offense is predicated on quick shots off ball screens and early post feeds. That is precisely what UVA wants against the Pack Line. The best way to beat the Pack Line is with methodical off-ball motion that eventually exploits a slow rotation. Louisville executes on offense in almost the exact opposite manner. I am not knocking Padgett for this philosophy change, as he has the Cardinals sitting at 6-2 in the ACC, with both losses coming in OT on the road. But this matchup is simply not ideal.
Defensively, Padgett has increased the full-court pressure the past two games. UVA has faced full-court pressure three times, against West Virginia, NC State and UNC Greensboro. While those teams produced UVA's three highest turnover rates this season, they didn't effectively speed up the game. UVA played all three games between 59 and 62 possessions. A press will simply not speed up Virginia, which has four ball handlers and big guards. Although, I should note West Virginia handed UVA their only loss this season.
Yes, UVA's dominant defense limits transition opportunities by eschewing offensive rebounds and forcing teams to execute deep into the shot clock. However, the offense is the main reason why UVA is the only team in the country that averages fewer than 60 possessions per game. Bennett rarely uses ball screens or pick-and-roll sets. He prefers to run his long shooters Kyle Guy, Devon Hall and Ty Jerome off a series of screens in his Mover-Blocker motion offense. The basic concept of the Mover-Blocker offense is pretty simple. He has three players designated to shoot the ball and move off screens along the lane lines set by the two blockers (aka screeners).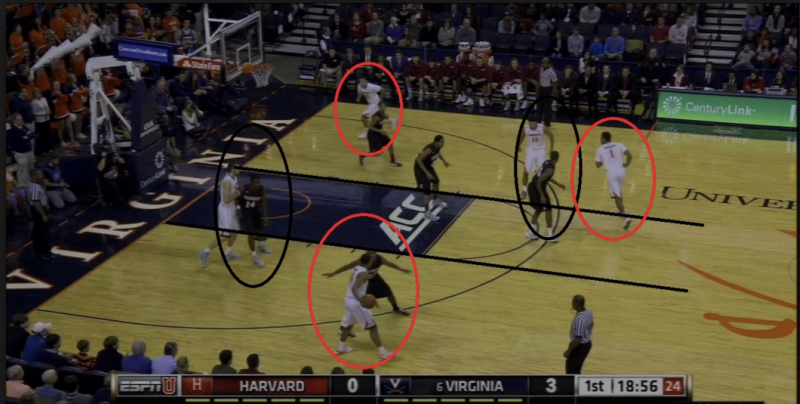 After setting the screen, the screeners immediately post up. It's not a patterned offense, which makes it deceptively tricky to defend. Take a look at the clip below to see it in action.
While Louisville hasn't faced a motion offense that screens as much as UVA, their athletic bigs (Ray Spalding, Anas Mahmoud, and Deng Adel) effectively defend motion. Per Synergy, the Cardinals allow just .766 points per possession off screens.
In terms of "intangibles," the Cardinals have a few advantages tonight. First, UVA will most likely not have the services of talented redshirt frosh De'Andre Hunter, who sprained an ankle late against Duke. I mentioned Hunter this past weekend, but his defensive value is worth mentioning again.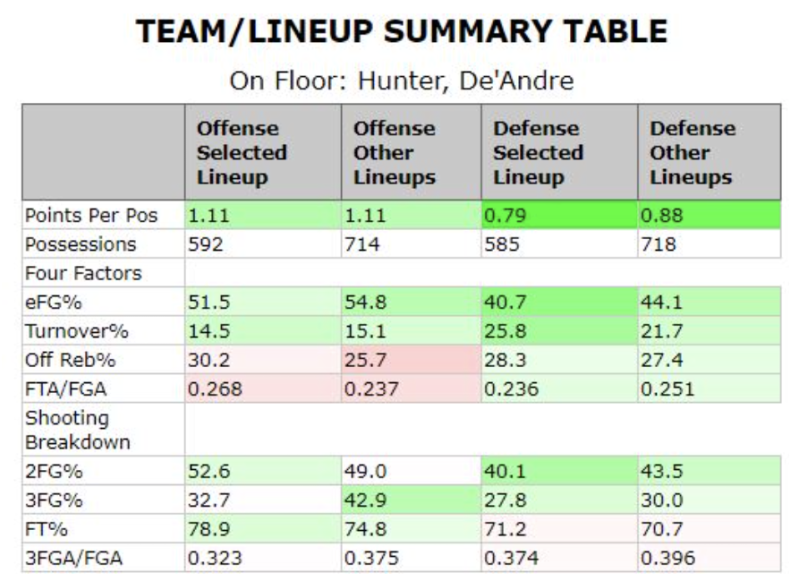 To quote Jon Rothstein, his impact is #OTC. When Virginia pairs Hunter with Isaiah Wilkins, the best frontcourt defender in the country and perhaps the best individual defender period, they allow an absurd .73 points per possession. However, the drop-off from Wilkins/Hunter to Wilkins/Mamadi Diakite is just .05 points per possession. UVA will miss Hunter, but they will still dominate defensively.
In addition to Hunter's doubtful status, Devon Hall and Diakite both missed practice time this week with the flu (although both should play). Additionally, Louisville can play with a "nothing to lose" mindset. After UVA's win at Cameron, the media circus has reached a fever pitch, as many talking heads have declared Virginia as the best team in the country. The Hoos could come out a little flat after that emotional win. That said, color me skeptical that a transition-heavy offense with a rookie head coach scheming  against perhaps the best defense EVER will muster more than 50 points tonight. This one should be ugly.
The PICK: Under 124.5
---
Houston at Cincinnati -9.5
7:00 pm ET
If not for Virginia, Cincinnati would be on pace to overtake 2014-15 Kentucky as the best defense of the KenPom era. Mick Cronin, who has implemented more full-court pressure this year, runs a hybrid Pack Line matchup zone halfcourt defense. Currently, the Bearcats limit teams to just 43.4% shooting at the rim. That ranks as the best mark in the country, per Hoop-math.com. Cincy also turns teams over at the 10th highest rate nationally. Per Synergy, Cincy ranks as the No. 1 defense in terms of points per possession in both halfcourt and transition.
Naturally, Cincinnati also has an elite ball screen defense. Jacob Evans, Jarron Cumberland, Justin Jenifer and Cane Broome combine to limit pick-and-roll ball handlers to a silly .553 points per possession. That's essential against Houston's Rob Gray, who grades out in the 90th percentile in ball screen efficiency out of Kelvin Sampson's 1-4 high offense. Additionally, Houston grades "below average" in press break offense, scoring just .77 points per possession against pressure.
Cincy potentially has their own problems offensively tonight. Sampson has shifted his scheme to blitz every ball screen (ask Arkansas). Although Cronin doesn't typically use a lot of ball screens in his paint touch heavy offense, Houston's Breaon Brady and Devin Davis have excelled in post defense. I don't expect a lot of points from either side tonight.
The Pick: Under 133