Monday's Sharp Report: Wiseguys See Value in Four Low-Key Matchups
Credit:
Jamie Rhodes-USA TODAY Sports
While public bettors are singularly focused on tonight's marquee UNC-Notre Dame and TCU-West Virginia matchups, the wiseguys have quietly gotten down on a handful of low-key showdowns in the MAAC and Southern Conferences.
After analyzing Monday night's odds, percentages and line movement, here are the four college hoops bets the professional players are focusing on tonight.
A few reminders:
A really high bet percentage is usually a clear indicator of who public bettors (aka the guys who don't do this for a living) are taking. And breaking news: The majority of public bettors aren't successful over the long haul.
To help locate which games the pros are on, focus on the money percentage metric. If a team is getting a much higher share of dollars compared to bets, that's a good sign that the wiseguys are on them.
Don't blindly bet games based on percentages. You also have to look at the line movement. One of the best sharp indicators is Reverse Line Movement: when the betting line moves in the opposite direction of the team the public is betting. Example: Duke is getting 75% of spread bets vs. North Carolina but you see the line move from Duke -1 to +1.5. That's a sure sign the wiseguys are on UNC. Another sharp indicator is a Line Freeze: when you see heavy lopsided betting but the line doesn't budge. This indicates liability and a reluctance to move the line and give sharps a better number.
Four wiseguys bets on Monday's college hoops slate
Fairfield (+6.5) at Canisius
7:00 p.m. ET
Public bettors largely ignore betting data. They're victims of recency bias, they bet with their gut and they tend to overvalue won-loss records. Fairfield is 10-14 while Canisuis is 17-9 and playing at home. But sharps like the road dog to cover the spread. Only 22% of bets are on Fairfield, but it accounts for half the money. Another sign of that the bigger wagers are on the Stags? The line moved from -7 to -6.5. After sharps hit Fairfield +7 at the Greek this morning, the entire market dropped the line.

Iona at Siena (+7.5)
7:00 p.m. ET
Siena has lost three in a row and has a putrid 7-19 record, but sharps are taking a shot on the home dog to lose by seven points or fewer tonight. While the Saints are only getting a third of the spread bets, the line has moved in their favor (+8 to +7.5), indicating sharp reverse line movement. Wiseguys at the Greek hit Siena first, causing market-wide movement in their favor.


East Tennessee State at NC Greensboro (-2)
7:00 p.m. ET
Public bettors are wowed by the fact that East Tennessee is 22-4 and getting points, but the sharps smell a rat. Despite more than 60% of bettors taking the road dog, the line has moved from NC Greensboro -1.5 to -2.5. Why would the books give another free point to public bettors who were already on East Tennessee to begin with? Because the wiseguys are fading the trendy dog, highlighted by two reverse line moves at Greek and ABC.

Mercer at Samford (+4.5)
8:00 p.m. ET
In a battle between two sub-.500 Southern teams, the public is loading up on road favorite Mercer (12-13) and fading home dog Samford. Why? Because Samford is 9-18. No worries, say the sharps. Samford is only getting 25% of bets but it accounts for 41% of dollars. Despite three-fourths of bettors taking Mercer, the line hasn't moved an inch since opening. This line freeze indicates liability on Samford, with the books wary of giving sharp contrarian bettors the +5.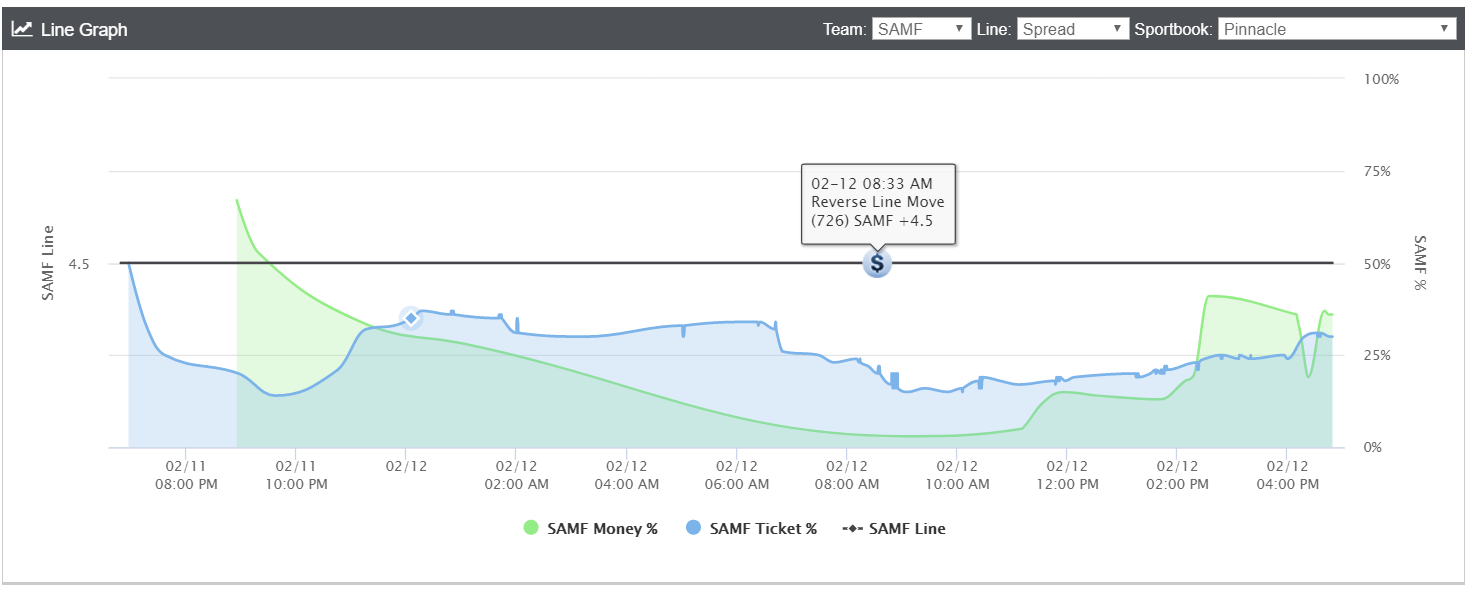 For a more in-depth analysis of tonight's card, sign up for a Sports Insights Pro trial and join our Live Betting Hangouts where we break down the entire board every weeknight 6:30-7 p.m. ET.
For more betting updates, be sure to follow us on twitter @ActionNetworkHQ 
Cover photo via Jamie Rhodes-USA TODAY Sports