Kansas-Kansas State Betting Preview, Plus Monday #MAACtion
Credit:
© Denny Medley-USA TODAY Sports
Today, I'll take a look at the Kansas-Kansas State rematch in Bramlage and a trio of MAAC games: Monmouth at Rider, St. Peter's at Siena, and Iona at Fairfield. Follow me on Twitter @jorcubsdan for in-game updates and second-half thoughts. I pull all lines from Pinnacle at the time of publication.
---
Kansas @ Kansas State (+2)
9:00 p.m. ET
The Big 12's best team meets the Big 12's hottest team in a heated rivalry that should have a little extra spice after the way the first game ended in Lawrence.
Here's the final shot of the KU/K-State game. Barry Brown misses at the buzzer & #kubball survives with a 73-72 win. pic.twitter.com/rP2y8uLFLE

— Matt Gasper (@MattGKSNT) January 13, 2018
Obviously, KSU wants redemption. And despite the poor finish, Bruce Weber had to take away many positives from that first game at Phog. Despite the botched final play and poor shooting, Brown had no issues penetrating past KU's perimeter defense to set up effective pick-and-pop situations for Dean Wade. Weber also had to be pleased with the play of sophomore Cartier Diarra, who has been a revelation since stepping in for the injured Kam Stokes. While Diarra doesn't defend at the same level, the offensive efficiency has increased significantly, per Hooplens.com. The below splits are especially remarkable given the  recent competition.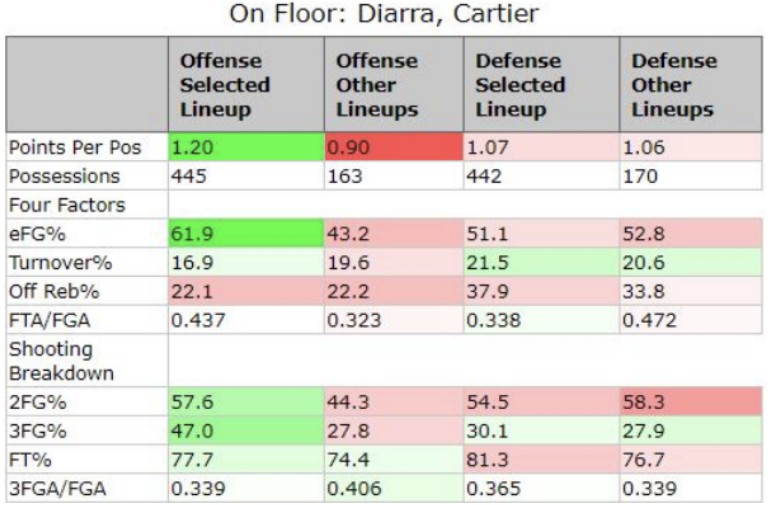 A lot went right for KSU in the first meeting, as they scored at 1.14 points per possession in an oppressively hostile environment. However, a lot went wrong defensively. They struggled to defend the dribble penetration of Devonte Graham and at the rim against Udoka Azubuike. Take a look at 16:22 in the clip below.
Azubuike, who finished 8-9 from the field, routinely sealed any KSU post defender with his powerful base. KU's excellent post entry offense, especially out of set plays, continued to feed him. Graham, meanwhile, was Graham. Without Stokes, KSU didn't have a perimeter defender to stay in front of him. Take a look at 1:04:36 in the clip above to see Graham creating offense off a dead weave.
The offensive outbursts by both teams in the first matchup led both coaches to express disappointment in their defenses. I suspect we will see more attention to defense tonight.
From KSU, I expect to see more quick doubles and guard digs on Azubuike as soon as he gets the ball on the block. His decision making in that regard is still developing, and if you foul him, so be it. That's a tough sell against a team that shoots the 3 like KU, but when a guy who shoots nearly 80% at the rim missed only one shot in the first meeting, something has to change schematically. Also, per Synergy, KU scores just .69 points per possession out of hard post doubles.
As for KU, their ball screen defense struggled, as Brown and Diarra exploited either Malik Newman or Lagerald Vick when Graham got switched off. I don't think Self has many options to limit Wade. Weber always finds a way to get him on a poor defender within his motion offense. He did this in the first meeting with Svi Mykhailiuk, who really struggled to stay with Wade. Plus, Wade is just a good contested jump shooter, which isn't really defensible.
Ultimately, I think KSU has a better path to making defensive adjustments, but Self is one of the game's best "second time around" adjusters
The PICK: Under 147
---
#MAACtion Notes
Monmouth at Rider -6 (7 pm ET) Rider comes off a comeback win over St. Peter's in a raucous nationally televised Friday night game, where the Broncs Zoo had a #CranOut (we've gone too far with these). Monmouth has won back-to-back games for the first time all season, but this is their third game in five days. Additionally, Monmouth might not have Micah Seaborn, who has added a hamstring injury on top of his existing knee and ankle injuries. However, judging by King Rice's comments after the Siena win, he kept him out in order to preserve him for tonight. Matchup wise, Monmouth offers a mixed bag against Rider's rim-attacking, transition-heavy offense. Monmouth grades out in just the 24th percentile nationally in transition defense, but they play the MAAC's best 2PT% defense. Monmouth knows they must keep this game in the halfcourt. Rice's coaching pedigree and inclination is to run, but their three fastest league games (Niagara, Iona, Canisius) have all produced losses and inefficient defensive performances. I expect them to slow this one down.
The PICK: Under 153.5
St. Peter's at Siena +2.5 (7 pm ET) An 0-2 road trip dropped Siena to 2-7 in league play. In addition to the losses, player defections and injuries continue to take their toll on Siena. The supposed "addition by subtraction" effect never materialized with the departure of Nico Clareth, whose offense has been missed. After Siena recently attempted 24 3-pointers against Monmouth, head coach Jimmy Pastos said this to Mark Singelais of the Times Union:
"My point is, let's see how good we can get as a group," Patsos said. "We're a unit. We're going to run the flex a little more, we're going to play a little more solid. We've taken too many 3s, again. That's on me as a coach. I let that slip away. We made some 3s, but all of a sudden we took 24 3s at Monmouth. I charted it and we should have taken 16."
That reads to me as utter nonsense. The one thing Siena does well, surprisingly, is shoot the 3. They currently have the league's 10th least efficient 2PT offense, but have hit the 3 at 39% in MAAC play. The few wins they scrapped together either came via the 3 or from offensive rebounding, not flex motion. It's particularly nonsensical to "return to the basics" against a John Dunne defense, as Siena hosts St. Peter's tonight. Dunne's defenses clog up the lane and dare you to beat them from the outside. Patsos has a 3-5 record vs Dunne at Siena (they also have history dating back to Patsos' days at Loyola MD). In those eight games, Siena has scored over 1 point per possession just once. The combination of Patsos running his offense into the teeth of Dunne's defense, the propensity of Siena to turn the ball over against the league's top turnover % defense, and the offensive struggles of SPU should make points hard to come by.
The PICK: Under 127.5
Iona at Fairfield +2.5 (7 pm ET) Iona rained 3-pointers (14-32) against Fairfield in the first meeting, which forced Sydney Johnson to go zone because his team couldn't stay in front of Iona in man. Fairfield shot 10 free throws while Iona shot 24. However,  a major difference for the Stags the second time around is that Johnson has fully installed Aidas Kavaliauskas at the point. With the exception of last game vs. Quinnipiac, he's been phenomenal. Fairfield defends poorly in transition, which can be a death sentence against the Gaels. However, they are now much more capable of handling Tim Cluess' matchup zone press, especially with Jerome Segura out of the PG role.
The PICK: Fairfield +2.5
---
Monday Top Picks
YTD: 341-323-6
2H: 29-18
SPU/Siena under 127.5
Fairfield +2.5
Monmouth/Rider under 153.5
KU/KSU under 147