Two Profitable Betting Systems for Monday's National Championship Game
Credit:
Bob Donnan-USA TODAY Sports
Two teams, one title. No. 1 Villanova and No. 3 Michigan will meet in the Alamodome tonight for the National Championship. In The Action Network's final betting guide of the season, we analyzed the matchups, looked at key trends and our college basketball experts gave out their favorite bets for the game.
With this in mind, I dove into the Bet Labs database to identify a winning spread system for tonight's championship game (9:20 p.m. ET). And as a bonus, I also found a betting strategy for the over/under as well.
Slow-Paced Dogs
Casual bettors overvalue elite offensive teams. Squares tend to wager on up-tempo offenses while ignoring slow-paced teams. Pace is measured by the number of team possessions per 40 minutes. The higher the number the faster the team's tempo. For example, the Oklahoma Sooners scored 84.9 points per game (5th best in the nation) and had one of the highest pace averages (78.8). Virginia scored 67.1 points per game (314th) and was the slowest-paced team in the country, averaging 62.1 possessions per 40 minutes.
Since 2010, when we started tracking pace data, teams with a pace of 70 or less have gone 259-235-18 (52.4%) ATS in March Madness. Slow-paced underdogs offer the most value.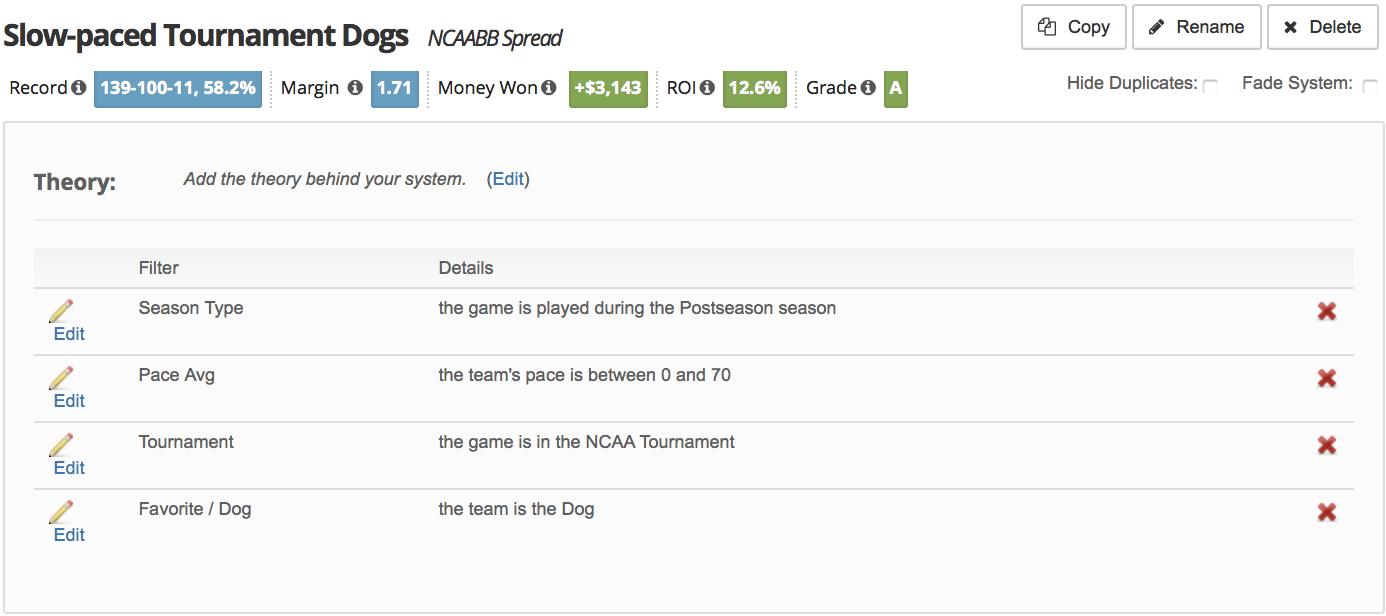 Underdogs with a pace of 70 or less have gone 139-100-11 (58%) ATS since 2010. Teams with slow and methodical offenses can shorten the game by milking the shot clock, which allows these underdogs to stay competitive and cover the spread.
After shooting 55.4% from the floor, including 18 of 40 from behind the arc, the public (64% of spread tickets) is on hot-shooting Villanova -6.5. Casual bettors are ignoring Michigan, which struggled to score against Loyola Chicago in the Final Four and averaged 63.5 possession per 40 minutes this season. Fade the public and take the slow-paced underdog.
Sharp Unders
Reverse Line Movement is line movement that goes against public betting. For example, if 64% of bets are on Villanova -6.5 tonight but the line drops to -6, that is a clear indication that sharp money is on Michigan. Reverse line movement doesn't just work for the spread, it is useful when betting totals too.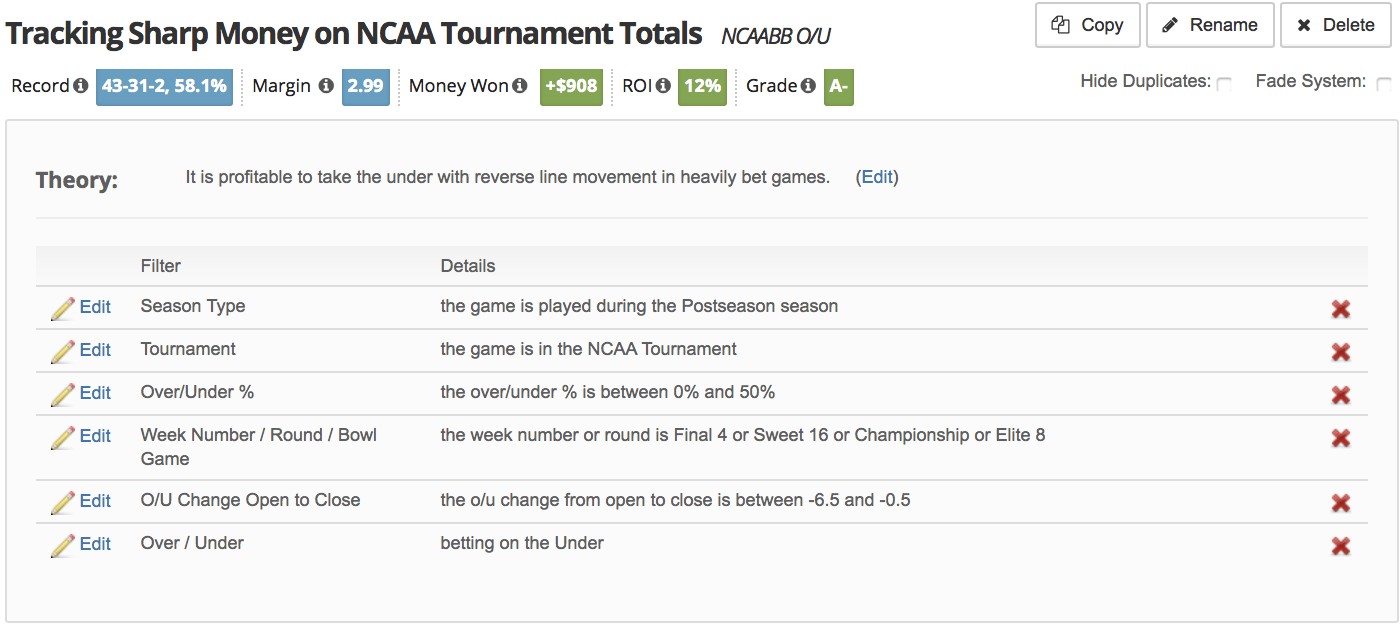 Late in the tournament (Sweet 16 to the title game), when 50% or less of tickets are on the under but the line decreases, under bettors have gone 43-31-2 (58%). The Villanova-Michigan total opened 145.5 at Pinnacle. Sixty-six percent of bets and 69% of money is on the over but the line has moved to 144.5. Follow this reverse line movement and bet the under with the sharps. ­­
Pictured: Michigan Wolverines forward Moritz Wagner