Best Final Four Futures Bets: Nebraska Primed for a Breakout Season
Credit:
Noah K. Murray-USA TODAY Sports. Pictured: Nebraska Cornhuskers forward Isaac Copeland (14).
Nebraska won 22 games last year and returns some underrated offensive firepower in 2018-19. Their 40-1 betting odds to make the Final Four are very enticing.
Three other teams -- ranging from 20-1 to 40-1 -- also look like candidates to make a surprise trip to Minneapolis.
In June, the Westgate Las Vegas Superbook released its first-ever Final Four odds — at the request of a Westgate executive rather than an oddsmaker.
Eyeing value is crucial in any future bet, but it's even more important when selecting wagering on teams to make the Final Four, as upper-echelon teams' value is all but diminished.
Case in point: Michigan isn't even pegged to win the Big Ten, and it lost three of its best players (Moe Wagner, Muhammad Ali Abdur-Rahkman and Duncan Robinson) from its runner-up appearance last season. Nevertheless, the Wolverines own 8-1 Final Four odds since the public loves to pin its money on blue bloods and last season's darlings.
Which programs have the most value in their quest for a trip to Minneapolis? Here are my four favorite Final Four bets.
*All odds courtesy of the Westgate Las Vegas Superbook
---
Mississippi State
Current Final Four odds: 20-1
Opening odds: 25-1
The Bulldogs haven't earned a bid to the NCAA tournament since 2009, but head coach Ben Howland is primed to change that. Mississippi State returns all of the starters from its NIT team, which advanced to the semifinals, and brings in the No. 18 recruiting class.
Senior Quinndary Weatherspoon returns as the Bulldogs' top scorer (14.4 PPG) and dynamic do-it-all guard, while his brother, Nick Weatherspoon, is one of Howland's more skilled secondary options (10.8 PPG).
If the duo and junior point guard Lamar Peters (9.6 PPG) can enhance their respective 3-point strokes, the Bulldogs' floor-spacing should improve significantly.
Peters finished with the 86th-highest Assist Rate (29.3%) in the nation, giving them an experienced and polished floor general.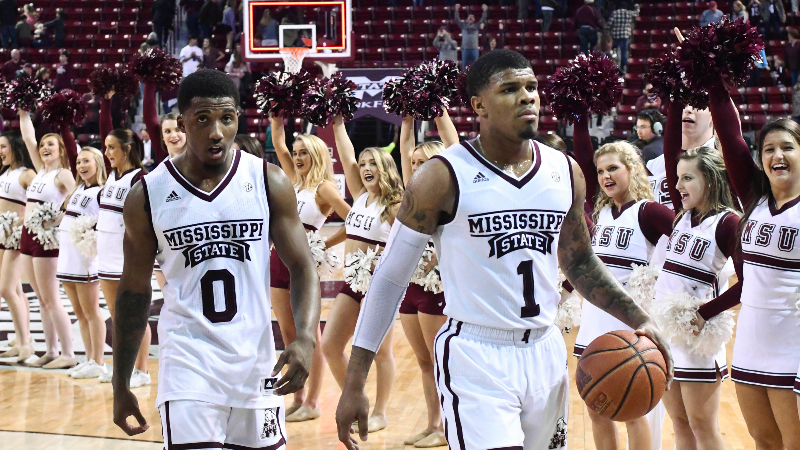 The 6-foot-10, 195-pound Aric Holman provides a dynamic inside-out threat after boosting his 3-point clip by 19.5 percentage points from his sophomore season, along with ranking No. 45 in the country in Block Rate (8.8%).
KenPom projects Mississippi's Adjusted Offensive Efficiency (a team's approximate offensive efficiency versus an average Division I defense) at No. 32 this season, yet its defense should lead the way (19th in Adjusted Defensive Efficiency).
The past 11 national champions have finished as a top-20 defense, and each of Howland's UCLA teams during his three consecutive Final Four runs (2006-08) finished in the top five.
Washington
Current Final Four odds: 20-1
Opening odds: 50-1
For a group expected to contend for the Pac-12 regular season title, the Huskies aren't receiving enough love from the general public, but the sharps have certainly taken note.
Washington head coach Mike Hopkins enters his second campaign with all of his starters back in the fold, led by breakout candidate Jaylen Nowell.
The 6-foot-4, 200-pound guard racked up 16.0 points per game last season shooting 45.5% from the field as a freshman. Nowell should improve on his 49.4 eFG%, as well as his 104.2 Offensive Rating, giving the Huskies a piece who can carry them come March.
Matthysse Thybulle, the Pac 12's reigning defensive player of the year, and senior David Crisp (11.6) also return to the Huskies' backcourt. Thybulle generated the fourth-highest steal rate in Division I last season, leading the unit's 51st ranked AdjD.
The 6-foot-8, 245-pound Noah Dickerson (15.5 PPG) will be a load to handle up front; he collected the 58th-highest defensive rebounding rate in the nation last season.
Positioned at No. 46 in AdjO, the Huskies have enough scoring for a deep run in the NCAA tournament. They proved it in a 91-73 charity exhibition win over Nevada, which ranks No. 7 in the preseason AP Top 25 poll.
Butler
Current Final Four odds: 40-1
Opening odds: 25-1
The Bulldogs haven't lost a NCAA tournament opener since 2009 — when current Boston Celtics' star Gordon Hayward nearly became college basketball's darling.
Nine seasons later, Butler coach LaVall Jordan begins his second campaign at the helm sans his offensive mainstay Kelan Martin and forward Tyler Wideman.
Jordan still boasts Big East Player of the Year candidate Kamar Baldwin (15.7 PPG), one of the most underrated two-way guards in country. He'll leap into the Bulldogs' alpha dog role alongside point guard Aaron Thompson, who is set up to make the freshman-to-sophomore leap.
The duo is surrounded by sharpshooters Sean McDermott (65.0 eFG%), Paul Jorgenson (51.5 eFG%) and Duke transfer Jordan Tucker (eligible in January), sustaining some continuity from last season.
The Bulldogs possess the third-highest AdjO in the Big East, while placing No. 35 in the country overall. Unlike Marquette, whom gamblers are flocking to because of its high offensive ceiling, this bunch actually defends (No. 35 AjD).
Forwards Nate Fowler and Joey Brunk must step up to replace Martin and Wideman in the front court, though. They'll each likely be infused into a small-ball lineup to make up for the team's lack of size.
That formula has carried programs to the Final Four, including last campaign with Villanova and Loyola-Chicago.
Nebraska
Current Final Four odds: 40-1
Opening odds: 75-1
Following a 22-win season without a trip to March Madness, the Cornhuskers are in position to reach the Big Dance this campaign, thanks to their underrated offensive firepower.
Nebraska ranks eighth among Big Ten programs in AdjO, yet the 6-foot-5, 200-pound James Palmer Jr. will likely see his 109.4 Offensive Rating rise after scoring 17.2 points per game and possessing room to grow within in his 49.6 EFG%.
The former Miami forward-turned-redshirt senior is joined by Isaac Copeland (12.9 PPG) and Glynn Watson (10.5 PPG), who gives the starting core an experienced point guard.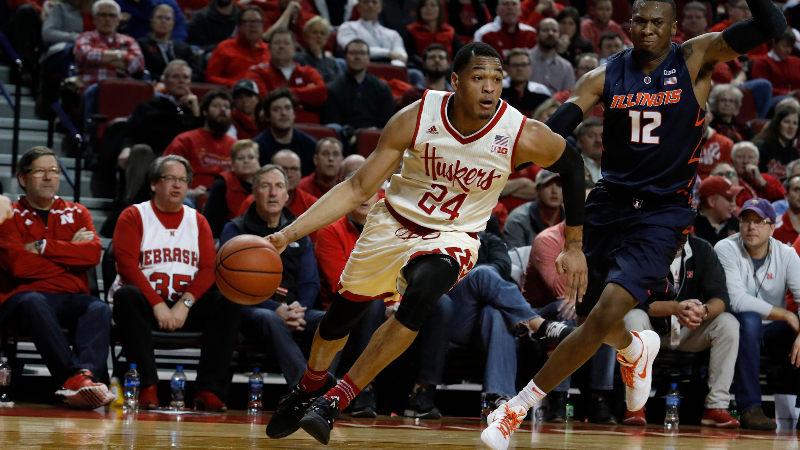 The Cornhuskers will be at their best playing small-ball and gang rebounding after yielding the 15th-highest offensive rebounding rate in the country.
They tip-off the campaign with the No. 44-ranked AjD. With the 6-foot-8, 225-pound Isaiah Roby (8.7 PPG) primed to showcase an elevated ceiling in their front court, amassing the 65th-best block rate in the nation last season, Nebraska coach Tim Miles presents the sharps some decent value.