5 College Basketball Teams Being Overrated, Underrated by Oddsmakers
Credit:
Kyle Terada-USA TODAY Sports. Pictured: Mike Krzyzewski
Below are the most overrated and underrated teams based on college basketball national championship odds for 2018-19.
The Duke Blue Devils and Indiana Hoosiers are both a bit overvalued in the market.
See the three teams that have enticing odds to win it all.
USC was one of college basketball's preseason darlings last season, checking in with 20-1 national title odds at the Westgate Las Vegas SuperBook in late October.
Fade to black.
The Trojans failed to earn a ticket to the NCAA tournament, then Andy Enfield's unit fell to Western Kentucky in the second round of the NIT.
On the flip side, Loyola-Chicago's then-lowly preseason odds can't even be found in our archives, but that didn't stop the Ramblers from becoming the first mid-major to make the Final Four since Wichita State in 2013. (The Shockers have has since joined the AAC.)
A handful of teams will follow either one of those paths this season, and there's value in zeroing in on them early.
Here are a few squads that fall on both ends of the spectrum.
*Odds via Westgate
Overrated College Basketball Teams
Duke Blue Devils
National championship odds: 4-1
Odds in June: 5-1
The Blue Devils brought in arguably the greatest recruiting class of all-time with R.J. Barrett, Cam Reddish, Zion Williamson and Tre Jones.
Nevertheless, throwing a crew elite prospects together — albeit one that's more defensively sound than last season's group — and expecting them to mesh within roughly a 39-game stretch is a tall task in college basketball.
Eight of the past 12 national champions possessed a top 190 ranking under KenPom's Experience Factor, including Louisville's vacated 2013 title. Four of them placed in the top 70, which included Duke in 2010 (No. 69).
Expect that trend to continue.
Indiana Hoosiers
National championship odds: 30-1
Odds in June: 200-1
With Romeo Langford — the Hoosiers' first five-star recruit since James Blackmon stuck around in-state — Indiana boasts a legitimate shot at finishing within the top three of the Big Ten standings.
Still, the Hoosiers will likely nab a middle-tier seed in the Big Dance, and their championship odds won't increase anytime soon, as they're faced with an unfavorable matchup at Duke on Nov. 27.
Tennessee (25-1), Villanova (25-1), Michigan State (25-1), Michigan (40-1) and Syracuse (40-1) all hold more value.
Even with an experienced tournament coach in Archie Miller, hold off until Indiana's odds sink a bit.
Underrated College Basketball Teams
Florida State Seminoles
National championship odds: 80-1
Odds in June: 80-1
The Seminoles represent one of 11 teams with national title odds that have held steady the past four months at Westgate.
Seven of their returning players averaged double-figure minutes during last season's unprecedented Elite Eight run. Those efforts were led by Phil Cofer (12.8 points per game, 5.1 rebounds per game) and Terance Mann (12.6 PPG, 5.4 RPG), both of whom are upperclassmen.
If either Trent Forrest or M.J. Walker evolve into consistent third options in the backcourt, Florida State should cash on its No. 11 ranking in Pomery's Adjusted Offensive Efficiency, which is a team's approximate offensive efficiency against an average Division I defense.
The Seminoles even finished 33rd in Adjusted Defensive Efficiency (AdjD) — a team's estimated defensive efficiency versus an average DI offense — a season ago.
UCF Golden Knights
National championship odds: 200-1
Odds in June: 500-1
Sharps evidently recognized the Knights' potential in a regressing American Athletic Conference, as the program increased its title odds by 60% since Westgate released its opening odds. That's tied for the biggest jump with the Saint Louis Billikens (200-1).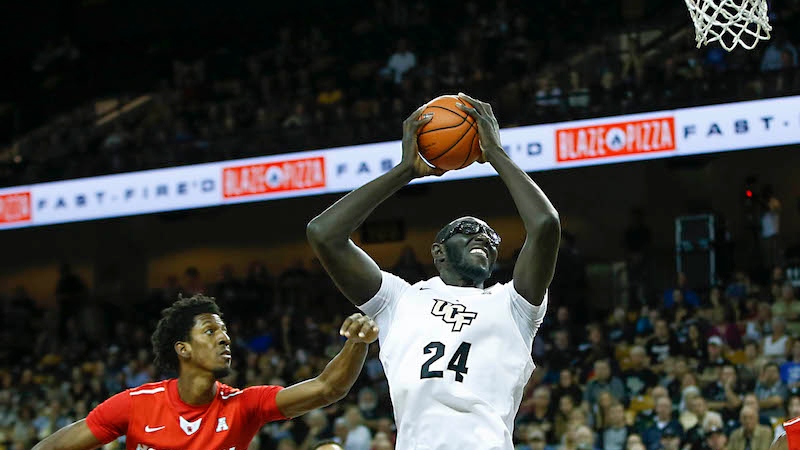 If coach Johnny Dawkins sees his core — which includes his son Aubrey, B.J. Taylor and the 7-foot-6, 310-pound Tacko Fall — stay healthy, his team will likely finish atop the conference's regular-season standings. The trio dealt with a season-ending torn labrum, broken foot and shoulder injury, respectively, last season.
UCF's AAC foe, Cincinnati, is known for its elite defense and owns the 25th-highest AdjD in the country for the coming campaign. But the Knights are only four spots below, showcasing their high ceiling.
Illinois State Redbirds
National championship odds: 300-1
Odds in June: 500-1
The Redbirds and their Missouri Valley Conference rival, Loyola-Chicago, have claimed the same odds before the season tips off. However, the Ramblers enter the season losing three of their most vital pieces in graduating seniors Donte Ingram, Aundre Jackson and Ben Richardson, the 2017-18 MVC Defensive Player of the Year.
Meanwhile, the Redbirds retain their top three scorers: Redshirt senior Milik Yarbrough (16.6 PPG, 6.6 RPG, 4.8 APG), Phil Fayne (15.6 PPG, 7.4 RPG) and Keyshawn Evans (15.2 PPG, 3.6 APG).
Following back-to-back losses in the Arch Madness title game, Illinois State coach Dan Muller should lead the program to its first NCAA tournament appearance in 21 seasons in what's likely a one-bid league.
Yarbrough, who notched the fourth-highest assist rate (42.1%) and sixth-highest possession rate (35.5%) a campaign ago, could very well carry this bunch on a run from there.