Tuesday College Basketball Odds & Picks: Our Staff's 7 Best Bets, Including Illinois vs. Michigan State, Villanova vs. St. John's & More (Feb. 23)
Credit:
Mitchell Leff/Getty Images. Pictured: Jeremiah Robinson-Earl.
Tuesday slates in college basketball are usually solid at worst, and tonight's has plenty of betting value all over the place.
Our college hoops staff broke down under-the-radar games like Prairie View A&M vs. Arkansas-Pine Bluff and high-profile games such as Illinois vs. Michigan State for their favorite bets of the night.
Check out each individual pick complete with betting analysis below.
Tuesdays are always big in the college basketball world, and today is no different.
Our staff broke down seven games as their favorite bets of the day, ranging from under-the-radar games like Texas Southern vs. Mississippi Valley State and Prairie View A&M vs. Arkansas-Pine Bluff to high-profile games such as Michigan State vs. Illinois and LSU vs. Georgia. 
Check out the full analysis and picks for all seven games, and feel free to navigate to any game by using the table below.
---
---
College Basketball Odds & Picks
---
All listed odds have been updated as of Tuesday morning. Specific bet recommendations at the end of each matchup breakdown come from the sportsbook offering preferred odds as of writing.
Always shop for the best price using our NCAAB Odds page, which automatically surfaces the best lines for every game.
---
Saint Louis vs. VCU
Pick

Saint Louis -2.5

Sportsbook

Tipoff

6 p.m. ET

TV

CBS Sports Network

(Photo by Keith Gillett/Icon Sportswire via Getty Images.)
---
Saint Louis faces VCU on Tuesday, with both teams looking to rebound off tough losses. 
The Billikens all but lost their chances at an at-large bid after suffering a 76-53 blowout loss to Dayton last week. The Rams also looked to be sitting comfortably in the NCAA Tournament before their overtime loss last week to George Mason, which now has them sitting on the bubble. 
The Billikens are still looking to get into their peak form after a 34-day layoff at the end of December derailed their season. Saint Louis is among the most talented in the Atlantic 10 and still favored to win the conference tournament at +200, with VCU just behind it at +275.
The Rams run full-court pressure and try to fluster the opposition, causing turnovers on 23.9% of their opponents' possessions, according to KenPom. Saint Louis ranks second in the conference in taking care of the basketball, turning it over just 15.8% of the time. 
The Billikens grab offensive rebounds on 33.1% of their misses, which is good for first in the conference. VCU ranks last in that same stat, allowing opponents to find second-chance opportunities 31.8% of the time. 
That said, this is a bad matchup for VCU. 
The Rams don't have a great half-court offense, while focusing on forcing turnovers to create transition opportunities. 
The Billikens won't turn the ball over and have a pair of senior guards in Jordan Goodwin and Javonte Perkins who can handle the pressure. 
This is a big bounce-back spot for the Billikens, who will want to avenge their 23-point defeat to Dayton and gain momentum leading up to the conference tournament.
---
---
» Return to the table of contents «
---
Georgia vs. LSU
By Stuckey
Pick

Georgia +5.5

Sportsbook

Tipoff

7 p.m. ET

TV

SEC Network

(Photo by Carmen Mandato/Getty Images.)
---
I think this is a good spot to sell LSU after three straight wins, especially since this is a great matchup for Georgia.
LSU doesn't play much defense and wants to get out and run. That's ideal for the Bulldogs, who thrive in transition under Tom Crean. 
For the season, opponents have gotten out in transition at the 16th-highest rate nationally against LSU, per Synergy. Meanwhile, Georgia gets out in transition with the third-highest frequency in the country, trailing only Bryant and Southern. And its offense is much more efficient when doing so. 
If you can make this Georgia offense work in the half-court, it can get very ugly, but that's not something LSU will do here. 
In the first meeting, LSU won a coin flip game at home by a final score of 94-92 in overtime. 
Both teams should find their points in transition and clean up a good chunk on the offensive glass in what projects to be one of the highest-scoring games of the night. 
Also, LSU's 3-point defense likely has some negative regression coming its way. Don't be surprised if UGA is hitting 3s in transition at a high clip tonight in Athens.
Give me +5.5 with the home dog Dogs in a favorable schematic matchup.
---
---
» Return to the table of contents «
---
Georgia vs. LSU
Pick

Over 165.5

Sportsbook

Tipoff

7 p.m. ET

TV

SEC Network

(Photo by Kevin C. Cox/Getty Images.)
---
Referring back to my love of college football, "Pac-12 After Dark" is a fun slogan that really tells the consumer this is 'defense optional' football. 
Tonight, LSU will travel to Athens to take on Georgia in what can only be called a 'defense optional' basketball game. 
LSU supports the highest adjusted offensive efficiency in the SEC, as evidenced by scoring at least 94 points in two of its last three games. It also owns one of the worst defensive ratings amongst its peers, only to be outdone by Vanderbilt. 
Next up on the list of worst defenses in the SEC? That would be the Georgia Bulldogs.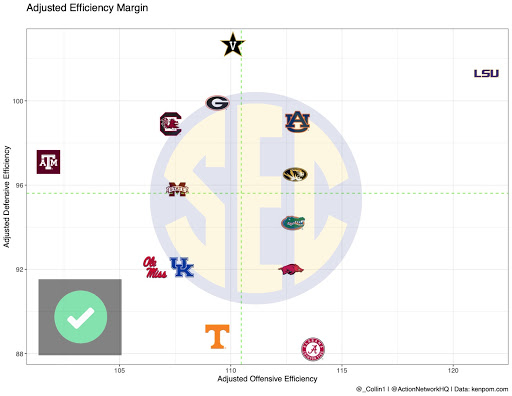 Tonight's game will have the pace of a speeding bullet, as LSU is 74th in tempo, only to be trumped by Georgia at 16th in the nation. 
Georgia has a ranking of 13th or worse in several defensive categories, including effective field goal percentage, rebounds and blocks. LSU should score on every possession and dominate the offensive glass. 
As for Georgia, the Bulldogs rank third in the conference in point distribution from inside the arc. Defending the paint is a weak point for the Tigers, ranking 11th in 2-point field goal defense and 13th in defensive rebounds. 
This high-paced "defense optional" game is projected at 167 per KenPom and 169 when measured with tempo over 100 possessions. 
---
---
» Return to the table of contents «
---
Illinois vs. Michigan State
Pick

Illinois -6.5

Sportsbook

Tipoff

7 p.m. ET

TV

FS1

(Photo by James Black/Icon Sportswire via Getty Images.)
---
You won't find a hotter team in the country than Illinois. 
The Fighting Illini have won seven straight games in the Big Ten with wins over Iowa, Indiana, and Wisconsin in that stretch. It has become the Ayo Dosunmu show in Champaign, as the sophomore guard is averaging 18.9 points during the win streak. 
Stopping this Illinois offense is almost impossible because it can hit teams from anywhere on the court. It shoots over 37% from 3-point range but only attempts them on 33.3% of its field goal attempts due to its stellar inside game. 
Kofi Cockburn is one of the most feared big men, standing at 7-foot-1 and 270 pounds and has been impossible to stop this season. He averages 17.6 points and 10.3 rebounds this season and has led Illinois to have the best inside game in the Big Ten. 
The Illini average over 55% from inside the arc and 66.9% on shot attempts at the rim (per Hoop-Math), which are the best marks in the Big Ten. Michigan State is going to have a tough time stopping Illinois because it has one of the worst paint defenses in the Big Ten, allowing 50.8% from 2-point range and 60% on shot attempts at rim. 
Everybody thinks Michigan State is back because it picked up a road win at Indiana, right? Well, are we forgetting the 30-point blowout loss to Iowa less than two weeks ago? 
The Spartans are one of the worst shooting teams in the Big Ten, ranking 12th in 3-point percentage and 13th in 2-point percentage. They also have the highest turnover rate in the conference, so I ask how are they going to keep up with Illinois' red-hot offense? 
Illinois is not only one of the best offenses in the country, but it also has a top-10 defense in terms of efficiency, per KenPom. So, I have a hard time seeing how Michigan State is going to find consistency on offense. 
I have Illinois projected as a -8.87 favorite on the road, so I think there's value on the Illini at -6.5 and would bet it up to -7.5.
---

Pick: Illinois -6.5 (Play to -7.5)
---
» Return to the table of contents «
---
Prairie View A&M vs. Arkansas-Pine Bluff
Pick

Prairie View A&M -16.5

Sportsbook

Tipoff

7 p.m. ET

TV

ESPNU

(Photo by Rich Schultz/Getty Images.)
---
The Panthers were headed toward their second straight NCAA Tournament appearance last spring before COVID-19 derailed their mini SWAC dynasty. 
The two-time defending regular-season SWAC champs got off to their typical slow start (1-4 SU) this year, fueled by a schedule that featured three games against Power Conference competition.
But as I've been trying to tell readers all season, even when they lose in the box score, PVAM is still a tremendous performer at the betting window. 
During that slow start, it went 4-1 ATS, and during their recent seven-game winning streak, the Panthers are a matching 7-0 against the spread. That places the pride of the Greater Houston Area in rarified gambling air. 
They have the nation's best winning percentage against the closing number (91%) and have covered by an average of 6.5 points by contest (3rd).
Then you have the Panthers' opponent tonight, Arkansas-Pine Bluff. The Golden Lions were once carried by  Martaveous McKnight, leading them to back-to-back winning seasons in the SWAC.
Since he exhausted his eligibility, APB is 5-24 in SWAC play. And against the top three teams in the conference (PVAM, Southern, Jackson State) they've lost by an average of 20 points per game this season. 
This game will come down to turnovers because Arkansas Pine Bluff doesn't shoot the ball well enough to overcome a sloppy performance against PVAM's pressure defense. 
The Golden Lions turn the ball over about 16 times per game (312th) and PVAM forces just over 18 turnovers per game (5th). That will be the deciding factor here, just as it was during the Panthers' 17-point road victory over APB last month. 
---
---
» Return to the table of contents «
---
St. John's vs. Villanova
Pick

St. John's +11

Sportsbook

Tipoff

8 p.m. ET

TV

CBS Sports Network

(Photo by Zach Bolinger/Icon Sportswire via Getty Images.)
---
Looking at tonight's slate, this line jumps off the page. 
The first time these two teams met, in St. John's home arena, the Red Storm not only upset Villanova but handily dispatched the Wildcats. The Johnnies' lead stretched as high as 17 points in the second half. 
There's no expectation for that performance to be repeated tonight on the Main Line, as Villanova shot just 8-of-30 from outside the arc in the first meeting. Wildcats star Collin Gillespie played the worst game of his collegiate career, missing all eight of his 3-point attempts and tying a career-high with six turnovers.
Villanova will be prepared for the rematch but has some structural disadvantages in this matchup. The Wildcats lead the nation in avoiding turnover rate, committing a turnover on just 13.4% of possessions, per KenPom. 
A lot of that is due to smart play by Villanova's veteran lineup, but some of it has been schedule luck. Villanova has faced only one team in the top 60 of Division I in forcing turnovers, which was, of course, St. John's. 
When these teams met in Queens, Villanova had its most turnover-prone game yet this season with 15 turnovers. Villanova hasn't played a game with a turnover rate over 19%, aside from topping 24% against the Red Storm. 
Villanova should take care of the ball better with the prior game available to study on film and should absolutely shoot the ball better this time around. St. John's, though, is capable of making this Villanova team uncomfortable and makes it play at a different pace. 
Jay Wright has a shallow bench and a team that plays best within its comfort zone. St. John's and its pressure defense can affect the game enough to steal a win or at least keep it close.
---
---
» Return to the table of contents «
---
Texas Southern vs. Mississippi Valley State
By Mike Randle
Pick

Texas Southern -28

Sportsbook

Tipoff

8:30 p.m. ET

TV

YouTube

(Photo by Kevin Abele/Icon Sportswire via Getty Images.)
---
We are not far removed from Mississippi Valley State being an automatic fade. The Delta Devils are still just 5-13 ATS and now play their first game in 10 days on the road at Texas Southern. 
The Tigers will be angry after coming off a tough two-point home loss to Southwestern Athletic Conference leader Prairie View A&M and are statistically superior to the Delta Devils in every way.
Texas Southern ranks first among all SWAC teams in both adjusted tempo and offensive rebounding. Mississippi State ranks at the bottom of the conference in almost every single statistical category. It's last in effective field goal percentage allowed and offensive/defensive turnover percentage. 
The Delta Devils earned their first SWAC win, 68-65 over Alabama State on Feb. 8. However, that was on the backs of junior Kam'ron Cunningham's 34 points, including an 8-of-14 performance from 3-point range. 
That was an extreme outlier to his 13.6 PPG seasonal average. Mississippi State has lost four of their conference road games by 35 points or more. 
Look for a fast-paced game between Texas Southern and a Mississippi Valley State team that also prefers to run (88th overall in adjusted tempo). I expect the Tigers to get up early and hang another 30-plus point loss on the lowest-ranked team in KenPom. 
---
Pick: Texas Southern -28
---
» Return to the table of contents «
---
How would you rate this article?