One Bettor Doesn't Remember Placing His $26K Parlay Winner
Credit:
Nate Mauer. Pictured: Derek Bergee
THE TICKET-TAKER BEHIND the counter stared at the bet and shook his head.
$100 to win $26,194.60.
"I can't imagine there have been many four-leg parlays that have paid out more than this," he said.
A minute later, another employee at the Planet Hollywood sportsbook handed the winner the money in cold, hard cash.
The bettor counted it out before screaming in the air what he had won. He held the money in his hands before, amazingly, putting it all on a ledge at the sportsbook to tie his shoe.
The collecting of the money was a wild end to a day appropriately reminiscent of the movie "The Hangover."
Bettor Derek Bergee not only didn't remember making the wager, but he also missed calls from friends telling him to hedge.
He slept through all three games.
---
THEY MET THAT MORNING. Nate Mauer, the 41-year-old cousin of former Minnesota Twins catcher Joe Mauer, and Bergee, also from Minnesota.
The two had found themselves in the same place as Planet Hollywood had become a destination for fans of KFAN's morning radio show called The Power Trip. The show, typically broadcast out of Minneapolis, set up shop in Vegas during the second weekend of March Madness. And several Minnesotans, including Mauer and Bergee, came to watch the gig live.
Thanks to the time difference, the show started at 3:30 a.m., but Bergee was there, listening, watching and drinking.
By the time the show ended at 7 a.m. local time, Bergee, between lack of sleep and doing shots, wasn't exactly his sharpest.
"What are you betting on?" Bergee asked Mauer.
"I've made the most money on college hockey," said Mauer, who played at Mankato State from 1999-2002. "That Saint Cloud game line today is absurd."
He was talking about the over/under: 6.5 goals stood out to Mauer as being a lot to score, even though analyzing the season would reveal that, to that point, 21 of the team's 40 games went over on that number.
Saint Cloud State's team is loaded with potential NHL players, including center Ryan Poehling, the Montreal Canadiens first-round pick in 2017, and defenseman Jimmy Schuldt, a finalist for the Hobey Baker Award, given to the best player in college hockey.
Saint Cloud State, the No. 1 seed in the NCAA Tournament, was playing American International on this Friday. Not American University. American International (AIC). A school of 2,000 students out of Braintree, Mass. It was AIC's first NCAA Tournament game.
So Bergee did as Mauer said and threw $200 on a parlay of Under 6.5 goals and Saint Cloud State, which was a massive favorite to win at -1400. (For comparison, Final Four team Texas Tech was a -1200 favorite in the first round of the NCAA Tournament.
If the bet cashed, Bergee and Mauer would profit $250. A little while later, as Bergee grew more confident, he threw another $200 on the identical bet.
Mauer wasn't done. And Bergee was listening.
This time a four-leg parlay.
Take the same two bets on Saint Cloud State, but add in a few other Minnesota bets for good measure — the Timberwolves, which had won only 5 of its last 15, to beat the Warriors, and the Minnesota Wild to beat the Vegas Golden Knights. Mauer's $100 bet would pay out about $2,300.
Bergee was ready to mimic Mauer's bet when the alcohol kicked in. "What happens if I do this ticket but I have American winning?"
The answer: $26,194.60.
He did it. A tired Bergee then left the sportsbook, with his tickets stuffed in his pocket, and headed back for the Holiday Inn off the strip where he was staying. Even though they had met that morning, Mauer made sure Bergee got back to his room.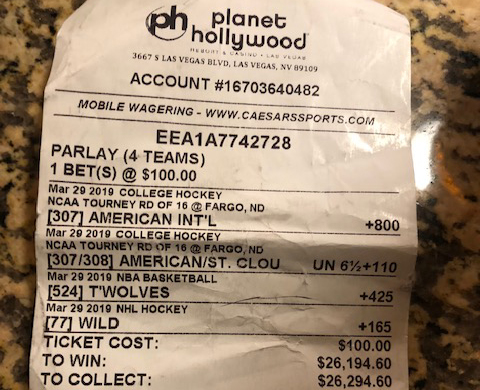 ---
BERGEE'S PHONE WAS BUZZING.
It was a panicked Mauer on the other line.
"The sportsbook obviously wasn't showing the Saint Cloud game, but I was watching on my phone," Mauer said. "I wanted to tell him to hedge."
Despite being outshot on goal 34-13, Little AIC had upset Saint Cloud State, 2-1.
Somehow the hardest part of the parlay was done. Bergee has to protect himself. But he wasn't answering.
Next up. Timberwolves against the Warriors.
"I thought the game was at 8 p.m. local, but it was in Minnesota," Mauer said. "So when I went on my phone to check the score it said that Minnesota won."
It was by one point. In overtime. With Karl Anthony-Towns hitting two free throws with 0.5 seconds left.
Mauer tried Bergee again.
Buzz. Buzz. Buzz.
No dice. He was out cold.
There was no going back now. Mauer endured the final leg of Bergee's parlay in person, attending Wild-Golden Knights in town.
---
AFTER THE GAME, Mauer went to the Cosmopolitan when Bergee's number showed up on his phone.
"Dude."
"Hey, where are you guys at?" Burgee asked.
"Dude."
"What?"
"You won that bet," Mauer responded. "You won $26,000. Bring your tickets."
Bergee made it to the Cosmopolitan, but without his tickets.
"I still didn't believe I won," Bergee said. "So I was going there for a couple of drinks."
It was then when the Planet Hollywood casino host who was with Mauer, said something.
"I checked everything," he said. "You won. You need to go back to your room and bring the ticket to the sportsbook."
The men went back to the Holiday Inn, where Mauer said the tickets were crumpled and scattered around the room. They found the most valuable piece of paper and hustled to Planet Hollywood to collect his cash.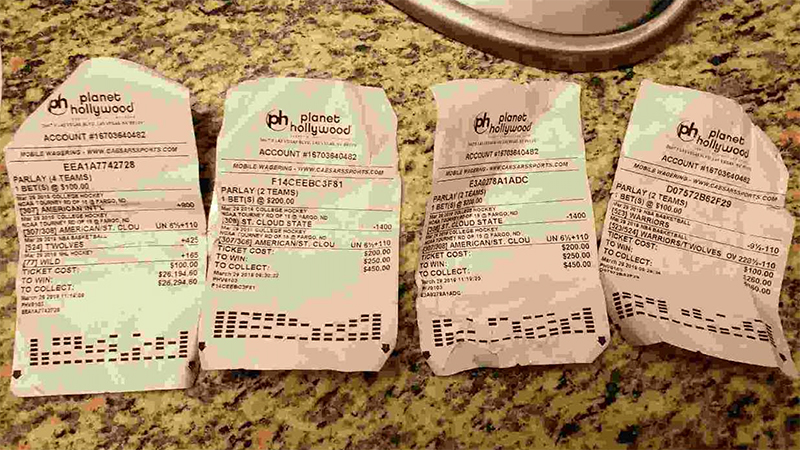 Bergee tipped Mauer $1,500 for his tip, but Mauer couldn't help think of the other one.
"When he made that bet there was woman in the sportsbook who said two or three times that she was going to do the same parlay," Mauer said. "I wonder if she did."
Bergee had the biggest return on his money of anyone who bet at Planet Hollywood that Friday.
And no, according to Bill Sattler, director of specialty games for Caesar's, which runs Planet Hollywood, there was not another bet made just like Bergee's.
On Sunday, Bergee flew back to Minnesota with about $20,000 cash in his carry-on. He blew more, but actually won two more parlays suggested by Mauer.
As he was going to the airport, Bergee threw $25 on 17 on the roulette wheel. With Mauer watching, it hit.
"I can't believe how it unfolded," Mauer said. "This is why Las Vegas is so crazy. You never know what can happen."
How would you rate this article?
This site contains commercial content. We may be compensated for the links provided on this page. The content on this page is for informational purposes only. Action Network makes no representation or warranty as to the accuracy of the information given or the outcome of any game or event.