Final Four Instant Betting Reaction: Virginia vs. Auburn and MSU vs. Texas Tech
Credit:
Amber Searls-USA TODAY Sports. Pictured: Cassius Winston
We officially have a Final Four, and it will feature four of KenPom's top 11 teams this season in terms of overall efficiency.
Translation: We're in for a treat.
Here's the lowdown on the schedule:
#1 Virginia vs. #5 Auburn — 6:09 p.m. ET on Saturday
#2 Michigan State vs. #3 Texas Tech — 8:49 p.m. ET on Saturday
It's early, and we'll have plenty of deeper analysis that follows in the coming day, but let's take an initial look at each of these games and see which teams have the best chance to advance and play for the national title.
Be sure to stay tuned to our college basketball page for complete coverage of the Final Four throughout the week.
---
>> All odds as of Sunday night. Download The Action Network App to get real-time odds and live win probabilities on your bets.
---
#1 Virginia vs. #5 Auburn Final Four Betting Odds
Spread: Virginia -5.5
Over/Under: 130
Date: April 6
Time: 6:09 p.m. ET
Location: Minneapolis, Minn.
TV: CBS
Virginia vs. Auburn Instant Betting Reaction
Can Auburn's Offense Stay This Hot?
Virginia's pack-line defense (No. 5 in Adjusted Defensive Efficiency) is geared towards limiting dribble penetration into the lane, but it's been susceptible from behind the arc, yielding the 104th-highest 3-point scoring rate. Purdue exposed that in the Elite Eight, shooting almost 44% from distance.
That's not a once-off, either. Auburn boasts a pair of explosive guards — similar to Carsen Edwards — in Jared Harper and Bryce Brown. The backcourt duo combined for 50 points in their win over Kentucky on Sunday.
They lead Bruce Pearl's perimeter attack, as the Tigers present the sixth-highest 3-point scoring rate (43.8%) in the country. This teams loves to run and shoot from anywhere.
Auburn has been more efficient with gang rebounding during the NCAA Tournament — it's hung with both North Carolina and Kentucky on the glass to prove it.
Look for a similar result in the Final Four, speeding Virginia up and creating open 3-point looks in the process. — Eli Hershkovich
ATS Pick: Auburn
Pick to Advance: Auburn
UVA Offense Has Struggled Against Athletic Teams
While the Cavaliers own the second best-adjusted offensive efficiency rating, they've had problems finding open shots in key moments throughout the tournament. Virginia boasts the eighth best overall 3P percentage but is only shooting 29.9% (32 of 107) in those four games.
When the Cavaliers initiate their offense against man-to-man defenses, they do so off a baseline double stack. Junior Kyle Guy (15.2 ppg) looks for this 3P shot but has struggled to get to the basket against quicker and more athletic guards. Both Guy and backcourt mate Ty Jerome (13.3 ppg) combined for 49 of Virginia's 80 points. Auburn's dynamic guard duo of Jared Harper and Bryce Brown will limit Guy and Jerome's ability to score.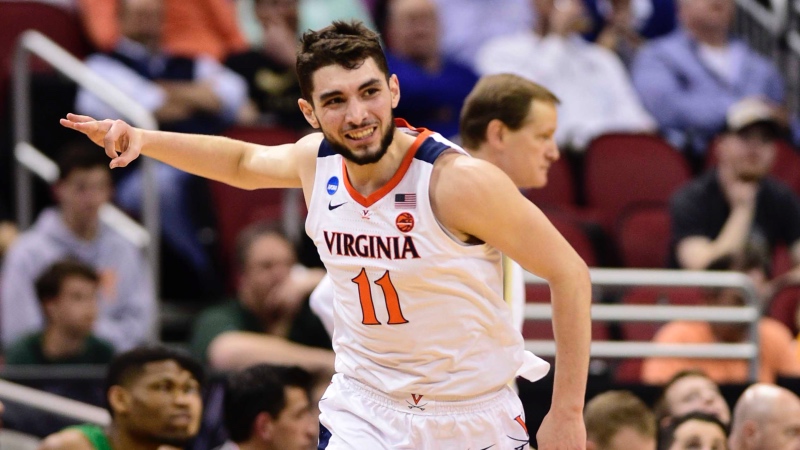 The key to Virginia's offense against Auburn will be forward De'Andre Hunter. The 6-foot-7 sophomore is a versatile scorer, averaging 14.9 points while shooting 42.4% from 3P. He will have a favorable matchup against Auburn, who will again be without 6-foot-8 Chuma Okeke after he tore his ACL. Hunter can drive to the basket against bigger defenders and post up smaller defenders.
Fellow big men Jack Salt (3.9 ppg) and Mamadi Diakite (7.5 ppg) are only effective on rebound putbacks and rolling to the basket off screens. The Cavaliers will also need bench production from Alabama transfer Braxton Key (5.8 ppg) who has played eight total points in the last two games but has the ability to provide instant offense. — Mike Randle
Over/Under Lean: Under 130
Pick to Advance: Auburn
---
#2 Michigan State vs. #3 Texas Tech Final Four Betting Odds
Spread: Michigan State -3
Over/Under: 133
Date: April 6
Time: 8:49 p.m. ET
Location: Minneapolis, Minn.
TV: CBS
Michigan State vs. Texas Tech Instant Betting Reaction
Can Texas Tech's Defense Thwart Sparty?
The Red Raiders' elite-level ball pressure was a critical factor in their Elite Eight win over Gonzaga. They forced 16 turnovers — and that was against a Bulldogs offense that entered the game with the 14th-lowest turnover rate (14.9%).
Simply put, Texas Tech has the top defense in college basketball, ranking No. 1 in Adjusted Defensive Efficiency (84.1 opponents' points per 100 possessions).
But the Spartans are well positioned to counter that strength.
Even though Michigan State racked up a below-average turnover rate (18.7%), it owns the highest assist rate (.674 A/FGM) in the country. Look for point guard Cassius Winston and the Spartans to dissect Texas Tech via their sound ball movement, exposing Chris Beard's unit near the rim.
Texas Tech has allowed the 26th-highest scoring rate (22.7%) from the line, and the Spartans (fifth-ranked Adjusted Offensive Efficiency) dominated via the free-throw line down the stretch, accruing the third-highest scoring (20.7%) in that department during Big Ten play.
That should open up the floor and help them find good looks from 3, where they shoot 38% (24th overall). — Eli Hershkovich
ATS lean: Michigan State -3
Pick to advance: Michigan State
Texas Tech's Versatility Will Pay Off
The beauty of the Texas Tech offense is that it is not reliant on the 3-pointer. In the NCAA Tournament, the Red Raiders have only shot 33.3% (25 of 75) from beyond the arc. In fact, they have only scored 29.5% of their points from long-range, ranking a minuscule 247th in the country.
Head coach Chris Beard emphasizes attacking the basket. Texas Tech was second in Big 12 play from the foul line, averaging 75.1%. That was a huge advantage against the stingy Gonzaga defense, which held the Red Raiders to only 43.9% from the field. They shot 84.2% (16 of 19) from the free throw line, including 9 of their last 10.
Matt Mooney (38.1%) and Davide Moretti (46.3%) provide driving lanes for leading-scorer Jarrett Culver (18.9 ppg) to attack. That dynamic trio has accounted for 63% of the Red Raiders' field goal attempts this season.
Texas Tech will have offensive rebounding opportunities against a Michigan State team that only ranks 102nd at limiting offensive rebounds.
Depth is not a problem for the Red Raiders, as they feature eight players who average 14 or more minutes per game. While Michigan State is a strong defensive team, they did allow Duke to shoot 53% (19 of 36) from inside the arc. Look for Texas Tech to generate offense and second-chance three-pointers off rebounds. — Mike Randle
Leans: Texas Tech +3, Over 132.5
Pick to Advance: Texas Tech
How would you rate this article?