Will the Houston Cougars Sustain Their Stellar Play into March?
Credit:
Credit: Thomas B. Shea-USA TODAY Sports. Pictured: Houston Cougars guard Galen Robinson Jr. (25) and guard Armoni Brooks (3).
The 17-1 Houston Cougars have stormed through their opponents this season.
With their title odds as low as 125-1 at some books, they present an interesting opportunity for futures bettors.
Not only was Michigan's Jordan Poole one of last season's March Madness heroes, but the then-freshman also sunk a dagger into Houston's tournament potential.
The Cougars were bounced from the Round of 32 via Poole's last-second 3-pointer and lost their top scorer in Rob Gray at the same moment, but they've returned with a vengeful 17-1 start while going 11-6-1 against the spread.
Kelvin Sampson's crew has seen its national title odds pick up steam in the process, going from 200-1 at the beginning of the season to as high as 66-1 in our consensus sportsbook on The Action Network App. But they also vary on offshore sites, dipping to 125-1.
Does Houston present enough value to invest in its long-term prospects a few weeks into its conference schedule?
---
>> Sign up for The Action Network's daily newsletter to get the smartest conversation delivered into your inbox.
---
CBS Sports bracketologist Jerry Palm projected the Cougars to slot into a No. 3 seed despite their road loss to Temple on Jan. 9, which came down to Corey Davis Jr.'s offensive foul in the final second.
Palm noted their win over LSU — a borderline top-25 team — and how they failed to deliver a letdown against the likes of Saint Louis, Utah State, Oregon and Oklahoma State.
"They've got eight wins in quadrants one and two and no bad losses," Palm told The Action Network. "Those four American [Athletic Conference] teams (Houston, Cincinnati, Temple and UCF) are all in play [for March Madness]. Whether it's two, three or four teams from that conference in the tournament, they're all going to be discussed.

"It's a stronger league than the A-10, and it's a stronger league than the Mountain West. It's the next strongest league once you get past the power-six [conferences]."
Houston would deliver a decent amount of return were it to earn that seed, and there's sound chance it will.
Similar to Texas Tech's NET (NCAA Evaluation Tool) ranking, which replaced RPI (Ratings Percentage Index) to include more factors like teams' efficiency, Sampson's squad would benefit greatly from its seventh-rated standing if there's extra emphasis on it come Selection Sunday.
Moreover, Cincinnati likely poses the lone threat to topping the Cougars in the AAC tournament.
But the Bearcats' typically elite defense is more susceptible to breakdowns than ever under Mick Cronin, dropping from KenPom's second-rated Adjusted Defensive Efficiency (86.8 opponents' points per 100 possessions) a campaign ago to the 36th-best.
A major part of that is their weakened perimeter defense, as they're allowing the 99th-highest opponents' 3-point percentage (35.9%).
Meanwhile, Sampson's bunch owns the 15th-ranked AdjD (91.9 opponents' points per 100 possessions), including an 42.3 opponents' Effective Field Goal percentage.
Houston's three-guard lineup of Davis, Armani Brooks and Galen Robinson Jr. has stifled opponents with their intense ball pressure, and it leads to instant production at the other end.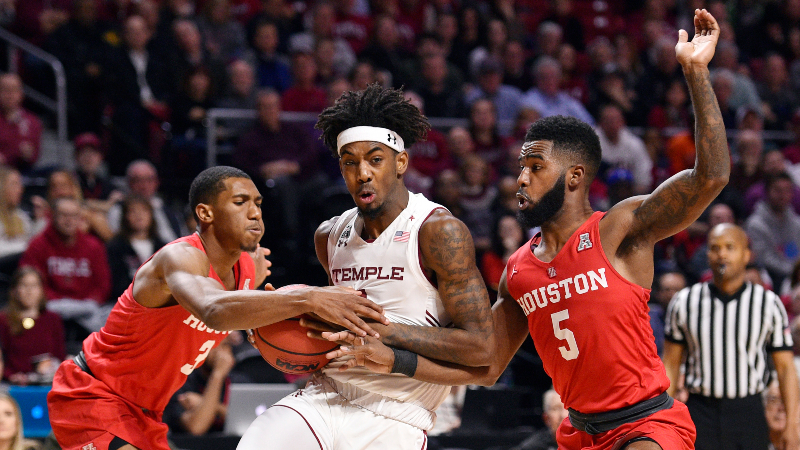 The Cougars' defense has also propelled them back into games on countless occasions, which is critical in the big dance. Their most impressive showing came in their non-conference win over the Tigers (22nd-rated AdjO) on Dec. 12, manufacturing stops on seven of LSU's nine possessions early on in the second half to help overcome a 15-point deficit.
They're also one of the most tenacious gang rebounding units in college basketball even with their below-average size, owning the 76th-highest defensive rebounding rate, and it'll generate a spike with forward Fabian White returning to the starting lineup, which allows them to matchup against most frontcourt-heavy offenses that they would face in March.
The 6-foot-7 sophomore saw his second consecutive start against SMU on Wednesday after working his way back from offseason foot surgery for much of the campaign. His increased presence gives them even more depth off the bench with freshman Cedric Alley in a reserve role.
Houston will boast one of the more underrated big men combos around come the big dance via White and the 6-foot-8 senior Breaon Brady. For a squad already amassing the 21-highest block rate in the country, that's a huge luxury.
At the other end, Houston's upperclassmen-led core of Davis (15.7 points per game), Brooks (14.5 ppg) and Robinson (8.6 ppg) presents two ball handlers and trio of floor spacers. While the adage of needing experienced guard play to go deep in March Madness is overdone, it's extremely critical in a tight situations when the opposition takes the ball out of the hands of a team's top option.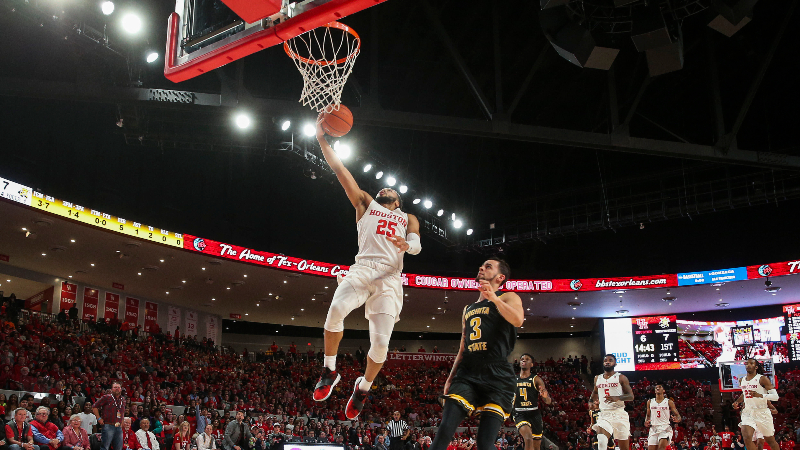 Robinson and Davis can both create offense at a high rate, averaging a 30.4% and 19.7% assist rate, respectively. The two are shooting at least 36.2% from behind the arc, too, and Brooks (38.8%) can hit from just about anywhere on the court. Although he's seen his 3-point clip dip 3.1 percentage points, he's also attempting 3.5 more per game.
In fact, 36.2% of the Cougars' scoring comes via the perimeter, playing inside-out through "spacing and relocation." In these sets, either Brady or White operate as a point-forward while the rest of their offense either cuts to the basket or spreads to the perimeter.
It's obviously not as effective as Jay Wright's motion offense at Villanova, but it's a similar system that's clearly been productive in the NCAA tournament.
Positioned in a conference where there are only two or three more losses left at a maximum, Houston's value will only lessen from here on out. Attack or pay the price.
How would you rate this article?