Our Simulations Reveal Early March Madness Sleepers, Busts and Most Likely Champion
Credit:
Matthew Visinsky/Icon Sportswire via Getty Images. Pictured: Kansas Jayhawks guard Devon Dotson
March Madness is just around the corner, meaning it's time to start analyzing teams for the 2020 NCAA Tournament.
Using The Action Network simulations we determined the early, sleepers and busts bettors need to know, plus the most likely champion.
Selection Sunday is on March 15 and the First Four will tip the following Tuesday. We are a month away from the start of the NCAA Tournament.
With many casual fans just getting into college basketball, here is an early March Madness primer with the Cinderellas, sleepers and busts you need to know.
Using Joe Lunardi's latest Bracketology to create the seedings, we simulated the NCAA Tournament 10,000 times using our Bracket Simulator, powered by Sean Koerner's projections, to determine the most likely champion, as well as the teams that can make or break your bracket.
Sweet 16 Hopefuls
When you think of a Cinderella run, Sister Jean and Loyola-Chicago come to mind. The Ramblers reached the Final Four as an 11-seed in 2019.
Which team will wear the glass slipper this year? These are Cinderella teams (double-digit seeds) with the best chance to reach the Sweet 16:
Purdue (14-12, 7-8 Big Ten): 27.5% chance
The Boilermakers have struggled to score this season, averaging 68.6 points per game (226th in the nation). But while Purdue has been inconsistent on offense, it's still No. 20 overall in our power ratings.
The Boilermakers force the most turnovers of any Big Ten team and could give opposing offenses fits in the tournament.
Utah State (21-7, 10-5 MW): 15.4% chance
Utah State will only go as far as senior guard Sam Merrill takes them. Merrill leads the team in scoring at 18.6 points per game.
The Aggies stumbled a bit in early January but have won seven of eight, with five of those coming by double digits.
Virginia (17-7, 9-5 ACC): 12.7% chance
The defending champions are averaging 56.8 points per game – only three other teams in the country score fewer points. While the offense is lacking, UVA still plays defense like a true title contender.
Tony Bennett's squad allows the second fewest points per game (52.0) and ranks fourth in defensive efficiency.
Final Four Sleepers
If you are going to win your bracket pool, you need to pick teams others are avoiding. Here are teams seeded fifth or worse with the best chance to reach the Final Four:
Michigan State (17-9, 9-6 Big Ten): 12.3% chance
Michigan State, the preseason No. 1 team in the country, has fallen out of the AP Top 25. The Spartans have lost four of their past five games.
This is bad, but context is important. All four of the losses were by less than 10 points, two of the games were on the road and two came against ranked opponents.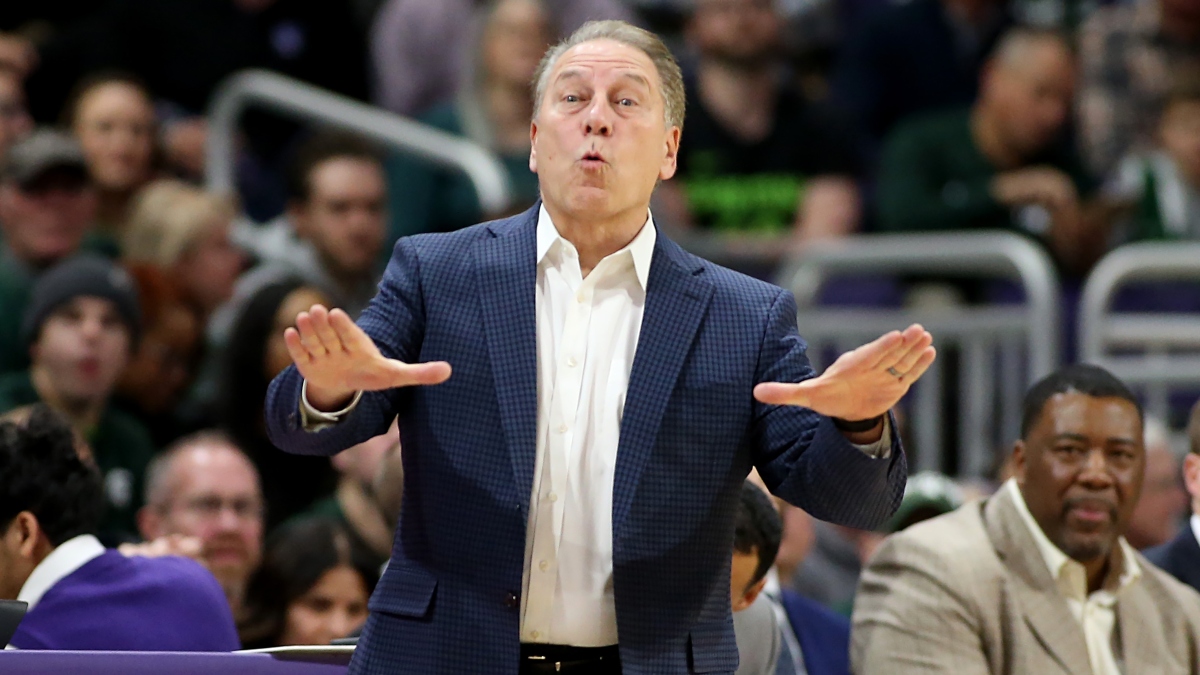 Tom Izzo's team might have fallen out of the Top 25 but is No. 6 in our power ratings. With Izzo, Cassius Winston and a solid defense, few should be surprised if Sparty makes a deep tourney run.
Arizona (18-7, 8-4 Pac-12): 7.8% chance
Generally, dark horse candidates to reach the Final Four boast an adjusted offensive efficiency of 114.0 or higher and an adjusted defensive efficiency score of 96.2 or less. Arizona is 17th in offensive efficiency (113.1) and 25th in defensive efficiency (91.9).
The Wildcats only meet one of these qualifications, but they're close. Zona is looked at as a fringe Top 25 team but the underlying metrics suggest a team capable of heading to Atlanta for the Final Four.
Ohio State (17-8, 7-7 Big Ten): 7.0% chance
Chris Holtmann's team has five Quad 1 victories this season, including three wins over ranked teams. And now Ohio State is playing some of its best basketball, winning five of six.
The Buckeyes have made 38.2% of their attempts from behind the arc this season — the best mark in the Big Ten. It is not hard to imagine a team getting hot from 3-point range to carry them into the third weekend of the tournament.
Busts
Watch out for these teams seeded No. 4 or better. They could bust your bracket as they have the worst odds to reach the Final Four.
Villanova (19-6, 8-4 Big East): 4.6% chance
Nova likes to chuck it from deep. The Wildcats have attempted 681 three-pointers this season. But the team is only making 35.7% of their attempts – tied 60th.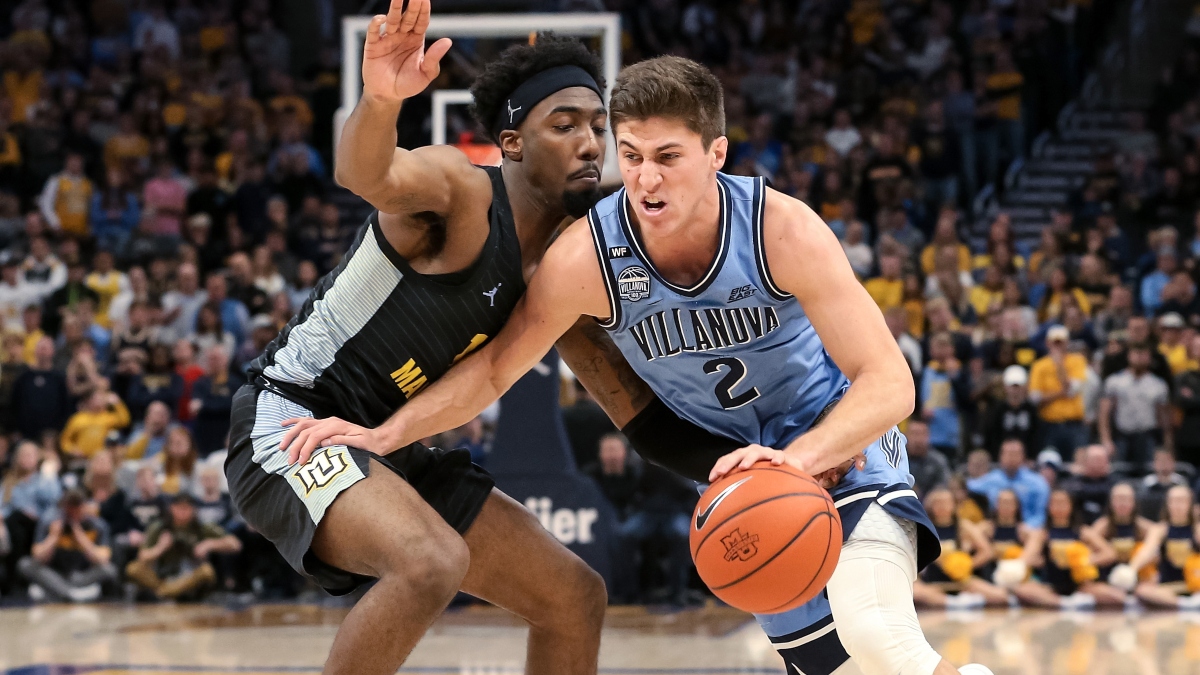 Live by the three, die by the three. Villanova still isn't a great shooting team, which increases the likelihood of a cold streak ending their tournament run early.
Florida State (21-4, 11-3 ACC): 6.1% chance
Patrick Williams scored 17 points and grabbed 7 rebounds in a Florida State victory over Syracuse on Saturday. Williams, a freshman, continues to improve and has been a key to the Seminoles success this season.
But in the Noles' four losses, Williams missed one game and averaged 6.3 points and 2.0 rebounds in the other three. Williams is a future star but could struggle when the pressure increases in March.
Auburn (22-3, 9-3 SEC): 6.7% chance
Auburn has only lost three times, but has had some good fortune in close games. Per KenPom's luck metric, the Tigers are the second-luckiest team in the country.
No. 1 Seed to Avoid
Baylor is the No. 1 team in the country. The Bears have only lost once, the second game of the season. They have since been victorious 22 straight times including 11-0 in Big 12 play.
Scott Drew's team is talented and on a massive run right now, but KenPom ranks Baylor No. 5 and our power ratings have the Bears at No. 4.
Casual fans often let AP rankings influence how they fill out their brackets. Baylor being the No. 1 team could make it the most picked to win it all, but the power ratings suggest they aren't as good.
Best Bets
Based on the difference between implied probability and projected chance, the team with the most value to win the national championship is Kansas. At +800 odds (bet now at PointsBet in NJ), the implied probability of the Jayhawks cutting down the nets is 11.1%.
The Action Network simulations give KU a 19.8% chance — the best odds to win it all.
Kansas is one of three teams that ranks in the top 10 in both offensive and defensive efficiency. With nearly a 20% chance to win March Madness Kansas' odds should be closer to +400.
How would you rate this article?