The $1,000 March Sadness Bracket Challenge: Championship Game Results
March Madness did not go on as planned this year, but that didn't stop us from throwing our own Bracket Challenge.
Our selection committee of one (Stuckey) set the bracket on Sunday and you all signed up in droves for what we're calling The $1,000 March Sadness Challenge.
At this point, you should've received an email that assigned one of the 64 teams to you. (If you didn't, reach out to feedback@actionnetwork.com.)
After simulating the Round of 64, Round of 32, Sweet 16, Elite 8 and Final 4, we're on to Championship Game between Maryland and Michigan!
Reminder: The team that covers the spread is the team that advances in the March Sadness bracket, but that actually won't come into play in the Championship game, as the spread is set at a pick'em.
If you have the team that wins it all, you'll be entered into a random drawing with all the other entrants who also have your same team. The winner of that random drawing, gets the $1,000 cash.
Below we'll detail the results for the Championship Game. If you want to see how the entire bracket played out, here's our printable bracket.
---
CHAMPIONSHIP GAME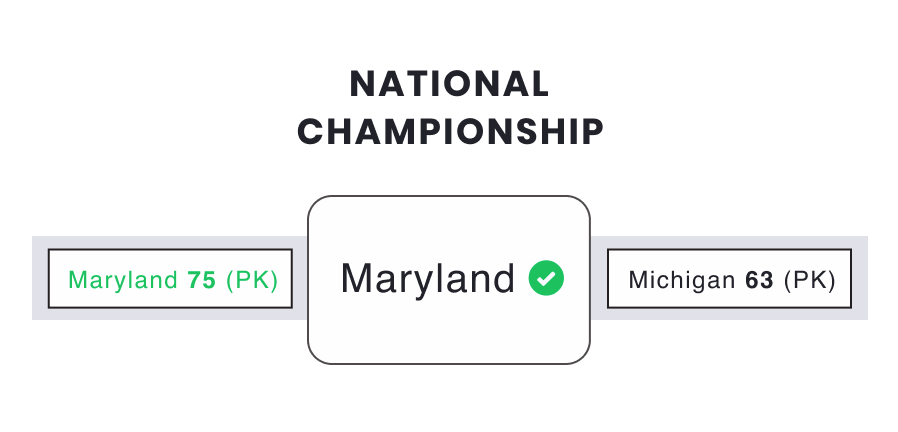 3. Maryland vs. 6. Michigan
Spread: Pick'em
Score: 75-63 (Maryland wins, Maryland covers)
It's ironic that in a bracket that's all about covering the spread, the line for the title game would be a pick'em, but here we are. This game was close for the first 30 minuets, as the Wolverines and Terps traded leads. But Maryland pulled away late, going on a 22-10 run in the final 10 minutes, as Anthony Cowan took over.
It was a fitting end: Cowan was the only reason Maryland made it this far in the first place. The Terps escaped the Sweet 16 thanks to the senior guard hitting a fade-away 3 at the bell to hand Maryland a one-point victory in a game that closed as a pick'em.
And now the Terps are your March Sadness champs!
Congrats, Maryland!
If you had the Terps, lucky you! You were entered into a random drawing with the other contestants who also got Maryland.
And the winner is …
Maryland took out Michigan in our $1,000 March Sadness Challenge & @Stuckey2 is here to award a 1st, 2nd and 3rd place prize among the lucky ones who had the Terps… pic.twitter.com/8MJPLMGgD4

— The Action Network (@ActionNetworkHQ) March 24, 2020
How would you rate this article?