Michigan State vs. Texas Tech Betting Guide: Elite Halfcourt Battle in Final Four 2019
Credit:
USA Today Sports. Pictured: Cassius Winston, Jarrett Culver
#2 Michigan State vs. #3 Texas Tech, Final Four 2019 Betting Odds
Odds: Michigan State -2
Over/Under: 132.5
Date: April 6
Time: 8:49 p.m. ET
Location: Minneapolis, Minn.
TV: CBS
---
>> All odds as of Friday evening. Download The Action Network App to get real-time odds and live win probabilities on your bets.
---
Texas Tech is bringing one of college basketball's best defenses of the last two decades to the Final Four to take on an elite offense led by arguably the best guard in the country.
With this short number, which will win out and cover? Our experts have dissected it from every angle.
Odds Moves for Michigan State vs. Texas Tech
It doesn't get much more boring than line movement in Texas Tech-Michigan State.
With betting percentages and money split right down the middle, the line has sat at Michigan State -2.5 for almost the whole week after opening -3 (see live odds here).
The total has also remained steady despite more support on the under. — Steve Petrella
Tech's Second-Half Dominance
Under Chris Beard, Texas Tech is 8-0 in the NCAA Tournament against the second-half spread, covering by 7.7 points per game. In his past two seasons in Lubbock, he's the most profitable coach against the second-half spread in the country.
Beard is 32-8-1 (80%) against the second-half spread when facing a non-conference opponent over his career, including 23-4 (85.2%) against the second-half spread when facing those opponents on the road or on a neutral court. — Evan Abrams
Trends to Know for Michigan State vs. Texas Tech
Texas Tech is making its first Final Four appearance. Since 1985, teams in their first Final Four have gone 4-10 straight up and only one team, UConn in 1999, has won the championship in its first appearance. — John Ewing
In the Final Four and championship game, the team with the better seed has gone 24-5 straight up and 19-9-1 against the spread since 2005. —Ewing
Texas Tech averages 69.4 possessions per game — the 260th slowest pace in college basketball. Since 2005, slow-paced (70 or fewer possessions per game) underdogs have gone 166-125-11 (57%) ATS in the tournament. — Ewing
When Michigan State Has the Ball
The Red Raiders' adjusted defensive efficiency at 84.0 opponents' points per 100 possessions is the best in the history of KenPom (since 2002).
The Spartans will have a difficult time attacking the lane like they love to do.
Michigan State thrives off the pick-and-roll with point guard Cassius Winston and its trio of bigs, but Texas Tech's ball pressure stymies that set. Although Tom Izzo's attack can win a lot of ways, its interior scoring (50.0%) will struggle to find a rhythm.
But the assumption that the Red Raiders will turn the Spartans' offense over consistently is a bit overblown.
The Spartans have faced havoc-driven defenses in Duke and LSU over the past two weeks, giving up 14 total turnovers, and Winston tallied just one against the Blue Devils while matching up with a sound on-ball defender in Tre Jones.
Now Izzo has just less than a week to prepare for the Red Raiders, so his unit should be ready for their tenacious style.
Michigan State is in position to take advantage of Texas Tech on the glass, too — especially with its 24th-ranked offensive rebounding rate (34.2%). Beard slots in the 6-foot-5 Jarrett Culver at the 4 spot 44% of the time, giving the Spartans a significant size advantage on a substantial amount of possessions. Expect that to wear down the Red Raiders' defense. — Eli Hershkovich
When Texas Tech Has the Ball
While always known for its stellar defense, it's the offense that's peaked during Texas Tech's NCAA Tournament run. The Red Raiders scored 40 second-half points in their Elite Eight win over a Gonzaga team that boasted some of the top defensive metrics in the country.
The Spartans have a clear advantage on the boards, as Texas Tech only ranks 188th in the country in offensive rebounding percentage. It is imperative for the Red Raiders that seniors Tariq Owens and Norense Odiase find a way to stay active on the offensive boards without getting into foul trouble.
Similar to Gonzaga, the Spartans' defense does not force turnovers, ranking 342nd in defensive turnover percentage. This should allow Texas Tech to attack methodically on offense and try to get open 3-pointers for Davide Moretti (46.3%) and Matt Mooney (38.1%).
But the Texas Tech offense will revolve around Culver, and Izzo will likely use a variety of options to try to slow the Red Raiders' All-American. Culver has been devastating when attacking the basket but just pedestrian from 3, shooting only 3-of-17 (17.6%) from beyond the arc in his past three tournament games.
However, the Spartans defense is incredibly solid, ranking ninth overall in adjusted defensive efficiency and second in 2-point shooting percentage while holding opponents to just 31.2% from 3.
This will be the ultimate chess match between two fantastic coaches. — Mike Randle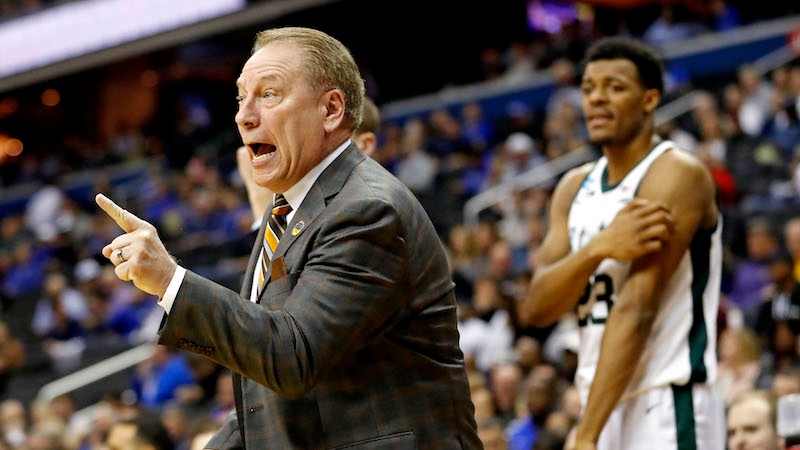 Stuckey: A Fascinating Half-Court Battle
This game is really tough to call, which isn't surprising to me since I make it a PK. I think it will be a thriller down to the wire, so I would obviously take the +2.5 points when I make it Michigan State -0.5.
Texas Tech has the best half-court defense in the country. You can either just watch how suffocating their aggressive, switch everything man-to-man defense plays, or look at the underlying metrics for confirmation.
Per Synergy, TTU only allows 0.73 points per possession in the half court, which leads the nation.
How good is that number? Only three teams had a single-season PPP lower since the 2013-14 year:
Meanwhile, Michigan State runs some of the best half court offense in the country — there's a reason Sparty leads the nation with a 26.6% assist per possession rate. They have a star point guard running the show in Winston, shooters on the perimeter and a plethora of bigs.
Izzo's bunch runs beautiful motion and always makes the extra (and usually right) pass. This is a veteran team that is mentally unflappable, as they've shown this tourney countless times and throughout the season.
Look no further than their three comeback wins against Michigan.
Something has to give between these two elite units. TTU's switching ability, length and lane-clogging tendencies should make it tough for MSU to run its offense, but MSU should get plenty of opportunities on the offensive glass.
The wild card here is what Beard can cook up. He is an absolute game planning wizard, both pregame and in-game via second half adjustments.
No matter what way you slice it, this should be an absolute war on both ends.
I keep coming back to this being a coin flip, which is right on my number. (I actually make Michigan State a very slight 0.5 point favorite). I'd love to get a +3, which is what I'm holding out hope for. But a 2.5 would also have value, per my numbers. — Stuckey
Barkley: Why I Like Michigan State
I really thought Gonzaga's 3-point shooting and balance would finally find a way to upset what Texas Tech wanted to do defensively, but the fact is Gonzaga just couldn't make any 3s at all. Whether you want to credit the Red Raider defense for that is up to you. Still, Gonzaga shot 7-for-26 from 3, and turned it over 16 times (which was a little more predictable).
Michigan State is just as lethal from distance — and from anywhere on the court, really — so it will be interesting to see if Texas Tech can raise their game that much further to stop this offense.
To me, this game hinges on is Michigan State's ability to force Texas Tech to hit jump shots and play outside.
The Spartans play excellent interior defense, and they're big and athletic. The Red Raiders hit timely 3s against Gonzaga when they needed them, but they're going to have to do the same here — and more often than not I think they won't be able to score enough doing that to win this game.
I like Michigan State in general in the game, but this number is interesting, too.
Texas Tech closed +4.5 against Gonzaga, won and Michigan State beat the No. 1 overall seed in Duke. You're telling me the gap between these teams closed enough where this should be 2.5, considering those results?
Unlikely.
I also think it's unlikely we ever rate Gonzaga properly since half (or really two-thirds) of its games are walkovers. If anything, the Spartans are just as good (if not better) than the Zags, and yet are getting less credit.
I'll take Michigan State here, because I like both the match-up and the number. — Ken Barkley
Ken's Pick: Michigan State -2.5
Wilson: Why I Like the Over
As we saw with Gonzaga, pick a tempo and Texas Tech will oblige.
The Red Raiders are 229th in adjusted tempo, leading any handicapper to believe this is a slow paced team. But when facing teams that push pace on either side of the floor, Texas Tech was more than happy to match its opponent's speed. February conference games against Kansas, Oklahoma State, Iowa State and West Virginia all had more than 150 points.
Texas Tech will be comfortable scoring points at any tempo.
Also worth consideration is shooting for both teams. Texas Tech has faced two great defenses in the tournament already, scoring 153 combined against Buffalo and Gonzaga. The Red Raiders also send their opponents to the line frequently, and their opponents rank 26th in point distribution from free throws.
That's great news for Spartan fans, as Michigan State is 33rd in the nation shooting just better than 75% from the charity stripe. Even if it's close at the end, that should push this game over.
As mentioned on the Action Network Colleges Podcast, look for Cassius Winston "over" props on free throws. He leads Michigan State with 188 attempts and is the 137th player in the nation making free throws at 83.5%. — Collin Wilson
Collin's Pick: Over 132.5
Sean Koerner's Michigan State-Texas Tech Projections
These ratings were built by Sean Koerner, our Director of Predictive Analytics, a former oddsmaker and FantasyPros' most accurate in-season fantasy football ranker from 2015-2017.
Spread: Michigan State -2.5
Over/Under: 131
Score: Michigan State 67 | Texas Tech 64.5
Win Probability: Michigan State 57.2% | Texas Tech 42.8%
---
Editor's note: The opinion on this game is from the individual writer and is based on his research, analysis and perspective. It is independent of, and may not always match with, the algorithm-driven Best Bets from Sports Insights.
How would you rate this article?