NCAA Tournament Friday Night Betting Guides
Credit:
Bob Donnan, USA Today Sports. Pictured: Coby White
Our experts analyze the eight Friday night games below, giving detailed matchup breakdowns, their favorite bets, and more.
#8 Utah State vs. #9 Washington
Spread: Utah State -3
Over/Under: 135
Date: Friday, Mar. 22
Time: 6:50 p.m. ET
TV: TNT
Location: Columbus, Ohio
Surprisingly, both of these teams are making their first NCAA Tournament appearance since 2011.
Utah State will look to end an ugly run in the tourney, as the Aggies have lost their past six first-round games and are just 1-16 in the tournament since making the Elite 8 in 1970.
This is a good opportunity for Utah State to end its losing streak, as the Aggies match up well against Washington. Let's take a closer look at this game, which I think may provide a nice live betting opportunity.
Utah State Can Beat Washington's Zone
Washington runs a zone on defense more than any team in the entire country. The Huskies have sat in the 2-3 zone that head coach Mike Hopkins brought out West from Syracuse in over 95% of its defensive possessions. It's essentially all they do.
That would cause problems for countless teams in this year's tourney field, but not for Utah State, which boasts an excellent zone offense. The Aggies have shooters, move the ball well and are an excellent rebounding team — all of which helps drive a pretty efficient zone offense.
If you look at the underlying metrics, Utah State scored 1.015 Points Per Possession against the zone this season, which ranks in the 82nd percentile, nationally. The Aggies have the ability to score on this zone and should dominate the glass on both ends.
Can Washington Shoot Well Enough to Win?
Utah State has a very stingy defense with pack-line principles. The Aggies just don't allow much at the rim, as they funnel everything toward center Neemias Queta. The 6-foot-11 Queta has helped anchor a defense that ranks fourth in the country in 2P%.
As a result of their scheme, the Aggies are vulnerable on the perimeter. They allowed Mountain West teams to shoot 38.8% from beyond the arc during league play.
However, this Washington team is not known for its 3-point prowess (unless Jaylen Nowell goes off from deep). Plus, Utah State ranks in the top five nationally in defensive rebounding percentage, so it will be able to limit Washington's second chance opportunities.
Washington will have a tough time scoring on this Utah State defense.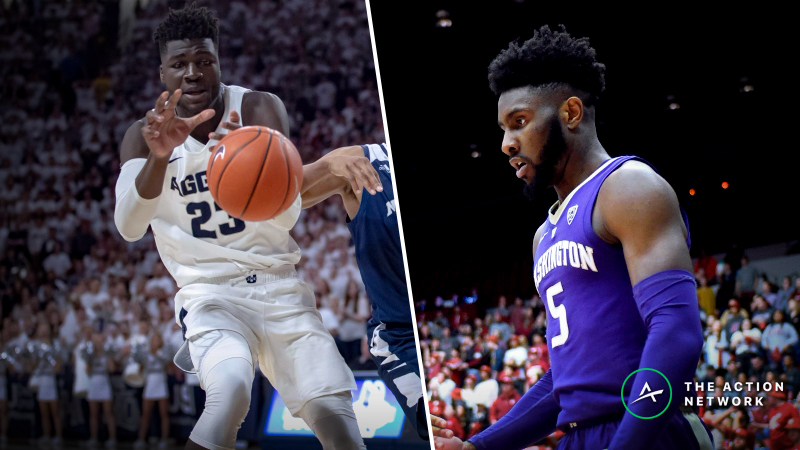 Other Factors to Consider
Washington won't have many schematic advantages, but it is the much more experienced team. This is essentially the same group from last year, and the Huskies have plenty of senior leadership. Just take a look at KenPom's Minutes Continuity metric (which compares minutes from last year to this). Washington ranks No. 1 in the nation, while Utah State is about average.
The Aggies lost some key pieces, which is one of the reasons they were picked ninth in the preseason Mountain West poll. They've proven all of the doubters wrong, but this team is significantly younger overall than Washington.
Utah State is the hotter team and comes into this game riding a 17-1 stretch which includes a victory in the Mountain West Championship.
Washington, on the other hand, stumbled down the stretch to a 4-3 record over its last seven, which includes a home overtime win over Oregon State and a bad loss to Cal.
As much as I'd like to see Washington move on for the national title future I placed mid-season, Utah State just has too many advantages on both ends of the floor.
That said, I'm actually going to wait to bet Utah State live or at the half because it could take the Aggies some time to figure out the very lengthy and effective Washington zone. But once they do, the offense should start flowing.
Stuckey's Pick: Wait for Utah State live and target better than -3.
Action Network Projected Odds
Get point spreads for this game and every possible tournament matchup with our bracket simulator built by Sean Koerner, our Director of Predictive Analytics, a former oddsmaker and FantasyPros' most accurate in-season fantasy football ranker from 2015-2017.
Spread: Utah State +0.5
Total: 133
Proj Score: Utah State 66.5 | Washington 67
Win Probability: Utah State 49.9% | Washington 50.1%
---
#1 Duke vs. #16 North Dakota State
Spread: Duke -26.5
Over/Under: 149
Time: Friday, 7:10 p.m. ET
TV: CBS
Location: Columbia, SC
North Dakota State already has a win in this year's NCAA Tournament, beating North Carolina Central 78-74 on Wednesday. The First Four game had both teams tied under two minutes before the Eagles missed a free throw and jumper to give the Bison the lead. The box scores were identical, and now the Summit League champ gets No. 1 seed Duke.
The Blue Devils begin their NCAA Tournament fresh off an ACC Tournament title beating Syracuse, North Carolina and Florida State. Duke saw the return of arguably the best player in college basketball with Zion Williamson. While injuries loom in the form of Jack White and Marques Bolden, the return of Williamson makes Duke the team to beat in the tournament.
North Dakota State's Strengths
There are positives in the advanced metrics for North Dakota State. The Bison rank 50th in effective field goal percentage, top 20 in free throws, and shoot a top-50 percentage from deep.
That last stat is important with North Dakota State relying on more than 40% of their points to come from 3-pointers. However, Duke ranks top 10 in defending the 3.
On the other side of the court, Duke ranks 338th in 3-point percentage, making the key to beating the Blue Devils to force them into a 3. North Dakota State ranks 199th in opponent point distribution from deep.
The Bison must focus on protecting everything short and forcing Duke to the arc to have a chance.
Will Duke overlook the Bison?
Duke may very well overlook this game in preparation for the round of 32 instead of focusing on the Bison. Much like North Dakota State, neither Central Florida nor VCU — Duke's two potential opponents — make its opponents shoot 3s.
The Knights and Rams lack a top-75 rebounding unit, thus giving Duke a comfortable advantage in the second round. While Duke shouldn't overlook the No. 16 seed flying in from Dayton, there isn't any dominating stat to give the Blue Devils issues in Columbia, thus limiting the chance Coack K's crew gets caught looking ahead.
The Pick
With a KenPom projection of 88-63 in favor of Duke, there would seem to be value in the +27 on the side of North Dakota State. The Bison had eight days to prepare for Duke, and should not show any signs of fatigue for playing their second game in three days.
When looking at double-digit seeds covering large spreads in the first round, it is important to note 3-point and free throw percentage.  The strength of North Dakota State is its top-50 three-point percentage and top-20 free throw percentage.
While this game will get out of hand quickly, the Bison should be able to shoot themselves into a cover.
Collin's Pick: North Dakota State +27 or better
Action Network Projected Spread
Spread: Duke-30.5
Total: 145.5
Proj Score: Duke 88 | North Dakota State 57.5
Win Probability:Duke 99.9% | North Dakota State 0.1%
---
Georgia State vs. Houston NCAA Tournament Betting Odds
Spread: Houston -12
Over/Under: 141.5
Time: Friday, 7:20 p.m. ET
TV: TBS
Location: Tulsa, Okla.
Younger fans may not know this, but Houston (20-12-2 against the spread) is not just another team from the AAC. The Cougars are college basketball royalty thanks to Clyde Drexler and Hakeem Olajuwon, who led Houston to the Final Four three years in a row in the 1980's.
This Houston team is good enough to make it to a Final Four, but the Cougars will need to get through Georgia State (17-14-1 ATS) first.
This isn't Georgia State's first rodeo. Head coach Ron Hunter famously led the Panthers to the Round of 32 in 2015, upsetting Baylor as a 14-seed. Is this team good enough to spring another surprise?
Georgia State uses a 2-3 matchup zone on defense and boasts a decent offense that has put up 90 points on five separate occasions this season. Georgia State has won nine of its past 10 games and brings a roster that ranks 31st in minutes continuity.
A Good Matchup for Houston
The last time we saw the Cougars, they were getting dusted by Cincinnati in the AAC Championship. Houston only shot 30% that night, though, and that is probably an outlier as the Cougars rank 23rd in adjusted efficiency on offense.
This could be a good matchup for Houston since the Cougs chuck a ton of 3-pointers. Houston attempted the 30th-most 3-point attempts in the nation in 2018-19 and will look to shoot over the Panthers' zone all night.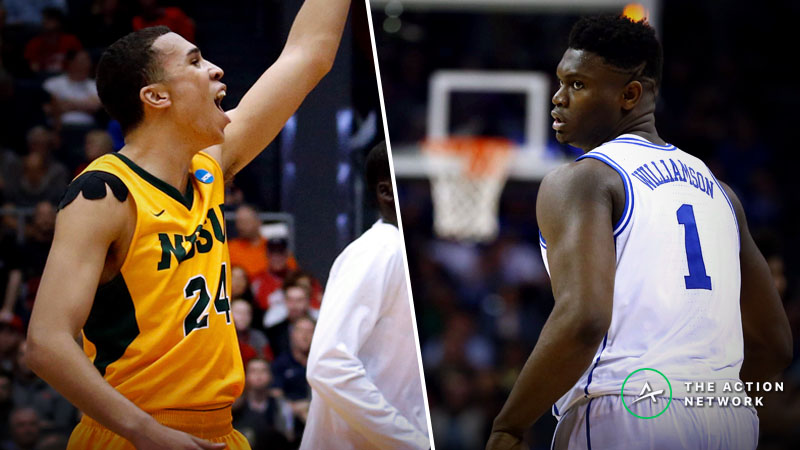 The other big edge Houston has is on the glass. The Cougars rank 19th in offensive rebounding percentage while Georgia State sits 337th in terms of defensive rebounding.
Houston should have the edge on defense, too, as it is the best team in the nation in effective field goal percentage. That means a lot of missed shots for Georgia State and the Panthers are not good at cleaning up their own mess, ranking 316th in offensive rebounding.
Can Georgia State Offense Keep it in This Game?
The Panthers may press the ball and try to create opportunities off turnovers as they rank 30th in defensive steal percentage.
On the other end, you can trust Georgia State to hold onto the ball as it is 53rd in offensive turnover percentage thanks to strong guard play. This is a pesky team that doesn't turn the ball over and can shoot from distance (16th nationally in 3-point percentage).
The Panthers take and make a lot of 3's.
The Pick
I don't think Georgia State's defense will be enough to quiet a Houston offense that can sink shots from anywhere on the court. The Cougars can also succeed by attacking the zone and getting Georgia State's starters in foul trouble since the Panthers rank 323rd in bench minutes and 12th in 2-foul participation (how often the team leaves in players on the court with two fouls in the first half).
These metrics point to a tough game for the Panthers, and I think they'll have a tough time keeping it close.
THE PICK: Houston -12
Action Network Projected Spread
Spread: Houston -12
Total: 140
Proj Score: Houston 76 | Georgia State 64
Win Probability: Houston 88.2% | Georgia State 11.8%
---
#5 Mississippi State vs. No. 12 Liberty
Spread: Mississippi State -6.5
Over/Under: 133
Date: Friday, March 21
Time: 7:27 p.m. ET
TV: truTV
Location: San Jose, Calif.
Ben Howland got a team back in the NCAA Tournament after Mississippi State had one of its more successful seasons in recent memory. Despite that level of success, the Bulldogs' opponent, Liberty, is taking lots of money in a potential 12-5 upset, as the spread is down from the opener of 8 to 6.5.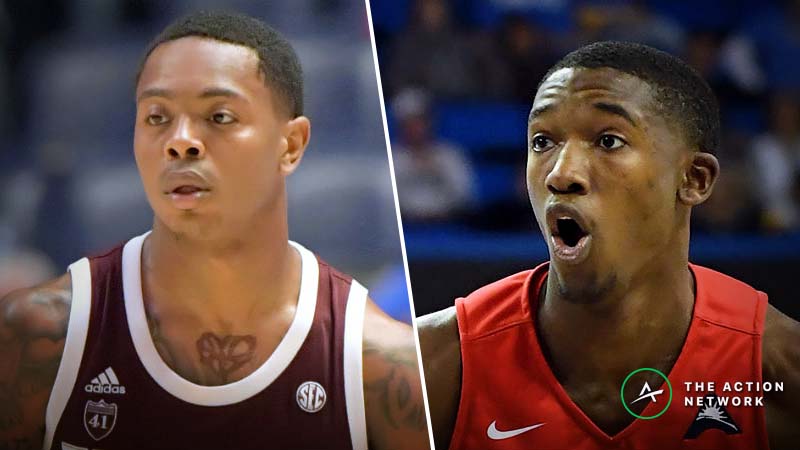 Is there an upset brewing? Or will the roughly 70% of bettors taking Liberty in this game be disappointed?
An Underrated Mississippi State Offense
This is a balanced attack for Mississippi State, led by Quinndary Weatherspoon, who averaged just over 18 points per game this season. All five starters are near double figures in points per game, meaning someone is going to get a quality look most of the time.
That's reflected in Mississippi State's shooting percentages and efficiencies, as the Bulldogs were top-3 in the SEC in both eFG% and 3-point percentage.
One place they should thrive is creating extra possessions off misses, as they were above-average in the SEC in offensive rebounding, and although Liberty is about 100th in offensive rebounds allowed, that's against FAR inferior competition and athleticism.
With SEC athletes, it'll be a different game, and I would expect the Bulldogs to be able to create extra possessions.
When Liberty Has The Ball …
… it's going to take a while. This team is extremely deliberate (349th in adjusted tempo), but it has one elite skill, which is helpful to any team trying to pull an upset. And that elite skill is their shooting.
The Flames rank 12th in the country in eFG% and shoot very well from both 2 and 3. Long possessions that end in quality shot attempts, with no threat of offensive rebounding, is a similar strategy to what you'll see a team like Wofford employ in the tournament, and teams like Davidson have succeeded with in the past.
When you play very slow, low-possession games and you can trade 3s for 2s, you can level the playing field real fast vs. your opponent. Helping matters is that Mississippi State isn't good at defending the 3 — 226th in the country, and 12th in SEC play.
It's also worth mentioning that Nick Weatherspoon, one of Mississippi State's most impactful defensive players, was suspended indefinitely about a month ago, and as of now, is not going to play (although there is a little uncertainty about that).
Without him, the team's defensive metrics have suffered, to put it nicely. In SEC play in general, they were just 8th in defensive efficiency, and 9th in effective field goal percentage allowed.
Bet to Watch
In a low-possession game like this, where the underdog's strengths are amplified because of its opponent's weakness, I think taking the points is a very good idea.
At a number like 6-7, you also need the Bulldogs to make their free throws in a lot of end-game situations to cover, and the team shot under 70% from the line in SEC play, just No. 9 in the conference.
It is not a strength. I think Liberty's strategy and shot selection can keep this within the number.
Ken's Pick: Liberty +6.5

Action Network Projected Spread
Spread: Mississippi State -9
Total: 136.5
Proj Score: Mississippi State 73 | Liberty 64
Win Probability: Mississippi State 82.8% | Liberty 17.2%
---
#1 North Carolina vs. #16 Iona
Spread: North Carolina -22.5 
Over/Under: 166
Date: Friday, March 22
Time: 9:20 p.m. ET
TV: TNT
Location: Columbus, OH
North Carolina (27-6) ended the season winning 14 of its past 15 games. The Tar Heels finished tied with Virginia for the ACC regular season title and were the only team to defeat Duke twice. They were 21-9-2 against the spread, including a masterful 11-2 on the road.
Iona (17-15) won its fourth straight MAAC Tournament Championship to earn the automatic NCAA Tournament bid. The Gaels had a weak non-conference schedule, ranking 200th in the country. They also did not have a win this season against a Quadrant I or Quadrant II opponent. The Gaels were just 13-16-1 ATS, including 5-10-1 on the road.
Which team offers the most value in this matchup of 1- vs. 16-seeds?
North Carolina's Explosive & Balanced Offense
The Tar Heels own the seventh-best adjusted offensive efficiency rating in the country. In ACC Conference play, they ranked third in effective field goal percentage and second in 3P percentage. They have perfect symmetry in their point distribution, relying on 30.5% 3P, 51.7% for 2P, and 17.8% on free throws.
North Carolina's scoring comes from its big trio of Cameron Johnson (16.9 ppg), Coby White (16.3 ppg) and Luke Maye (14.7 ppg). All three shoot 76% or better from the free throw line and attempted over 100 3Ps this year.  The Tar Heels offense is very difficult to stop.
But their best offensive skill is rebounding. North Carolina ranks 18th in the nation with 13.1 offensive rebounds per game. They pose a big challenge to an Iona team that ranks 261st in defensive rebounding percentage.
Iona Only Knows One Gear
The Gaels know only one speed, and that's high gear. Iona ranked first in the MAAC in points per game, adjusted offensive efficiency, 2P% and free throw percentage. Iona scored 73 points or more in each of its past five games. The Gaels are decent from 3P, shooting 36.5% in conference play, and they were second best in offensive turnover percentage.
Iona has balanced scoring, led by junior E.J. Crawford (17.9 ppg) and senior Rickey McGill (15.5 ppg). However, it is difficult to project any success for the Gaels against a team of North Carolina's caliber, especially with a 274th strength of schedule and 2-4 record against Quadrant III opponents.
Head coach Tim Cluess is a brilliant tactician, but the talent differential here is too great.
The Pick
The type of first-round opponent that could put a scare into North Carolina would be a team with a slow and methodical offense paired with a stout defense. The Tar Heels barely escaped Harvard in 2015 in that exact situation. Unfortunately for the Gaels, they don't play with that style.
Mike's Pick:  UNC -22.5, would bet up to UNC -24.5
Action Network Projected Spread
Spread: North Carolina -25
Over/Under: 158
Score: North Carolina 91.5 | Iona 66.5
Win Probability: North Carolina 99.3% | Iona 0.7%
---
#8 VCU vs. #9 UCF NCAA Tournament Betting Odds
Spread: UCF +1
Over/Under: 126.5
Date: Friday, March 21
Time: 9:40 p.m. ET
TV: CBS
Location: Columbia, S.C.
The Knights (18-12-1 against the spread) have dropped their past two games ATS after covering in each of their previous eight contests. On the flip side, the Rams (20-11-1 ATS) failed to cover in three of their past five affairs.
Which team presents the most value in this Round of 64 matchup? Let's breakdown the biggest factors.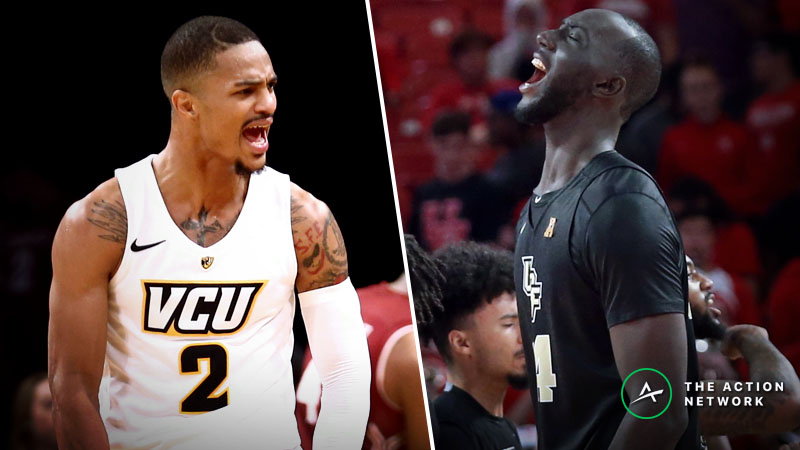 How Healthy is Marcus Evans?
The 6-foot-2 guard exited the Rams' Atlantic 10 tournament quarterfinals (knee injury) and failed to return. Evans isn't able to simulate game action in practice, but he's set to give it a go for their contest against the Knights.
Evans has notched the 23rd-highest steal rate (4.1%) in the country, but it's unknown how much lateral movement he'll have at that end of the court.
Will Tacko Fall 7 Co. Dominate Inside?
The Knights' 59th-ranked Adjusted Offensive Efficiency (110.6 points per 100 possessions) stems from their prowess for attacking the rim.
Not only has Johnny Dawkins' bunch produced the 79th-highest 2-point clip (52.5%) in college basketball — led by the 7-foot-6, 310-pound Tacko Fall (10.9 points per game) — but it has also generated the second-highest free-throw rate (46.4%) in the country.
UCF point guard B.J. Taylor (16.0 ppg) initiates it all, along with tallying the 31st-highest individual rate in that department.
VCU has struggled to stay out of foul trouble, especially in A-10 play, allowing the second-highest free-throw rate (37.6%). Overall, Mike Rhoades' squad has let up the 20th-highest scoring from that vicinity (20.9%).
The Rams still possess an advantage in the turnover department, though, even if Evans isn't as effective as usual. They've manufactured the ninth-highest opponents' turnover rate (23.4%) while the Knight accrued the fifth-highest rate in AAC play. Expect Rhoades' ball pressure to give UCF issues, particularly when it looks to feed Fall in the low-post.
Can VCU Succeed in Half-Court Sets?
The Rams' transition offense is electric when they turn their opponents over, utilizing the 40th-highest average possession length (16.1 seconds).
But their interior offense has been effective, too, totaling the 52nd-highest 2-point clip (53.7%) in the nation. The 6-foot-7 Marcus Santos-Silva (10.1 ppg) showcased his low-post prowess following Evans' departure on Friday, going off for a 26-point, 22-rebound performance.
UCF's 2-point defense regressed in conference play, yielding the fourth-highest scoring rate (49.4%) to league foes. That's a product of its inability to control the glass, and VCU owns the 88th-highest offensive rebounding rate (31.1%) in the country.
Expect the 6-foot-6 Isaac Vaas and the aforementioned Santos-Silva to have a major impact inside the arc, and anything Evans delivers off the dribble is a plus.
Eli's Pick: VCU +1, but don't bet it past VCU PK.
Our Projected Odds for #8 VCU vs. #9 UCF
Spread: VCU +2
Total: 125.5
Proj Score: VCU 62 | UCF 64
Win Probability: VCU 44.1% | UCF 55.9%
---
#6 Iowa State vs. #11 Ohio State
Spread: Iowa State -5.5
Over/Under: 140
Date: Friday, March 22
Time: 9:50 p.m. ET
TV: TBS
Location: Tulsa, Okla.
Iowa State (23-11) won the Big 12 Tournament Championship, defeating Kansas 78-66. The Cyclones finished just 9-9 in conference but battled through the 16th best strength of schedule with some ups and downs throughout the year, but ultimately put it together for that tourney run.
Ohio State (19-14) has finally returned to full strength after sophomore Kaleb Wesson missed three games due to a suspension for violation of team rules. The Buckeyes sputtered down the stretch of conference play with just an 8-12 Big Ten record. They were 14-16 ATS.
Which inconsistent group will show up Friday?
Who Is the Real Iowa State? 
As impressive as Iowa State looked in the conference tournament, the Cyclones also played that poorly at the end of the regular season. They lost their last three games of conference play, and five of their last six. There were reports of players-only meetings and turmoil in the locker room.
However, that all seemed to be forgotten in the Big 12 Tournament, where the Cyclones dominated. Their offense, ranked ninth in adjusted offensive efficiency, was perfectly balanced.
Senior guard Marial Shayok (18.6 ppg, 4.9) and sophomore guard Lindell Wigginton (13.5 ppg, 4.1 rpg) led the way for the Cyclones, who were second best in the Big 12 Conference in effective field goal percentage and offensive turnovers per game. That's a great recipe for offensive success.
Ohio State Needs Inside Production
The Buckeyes finally have their roster at full strength after struggling to find offensive consistency for much of the season. They ranked second worst in adjusted offensive efficiency and turnover percentage in the Big Ten. The Buckeyes also ranked 10th in 3P% and 11th in 2P%.
They will need a big game from the previously suspended Wesson to compete. The 6-foot-9, 270-pound forward averaged 14.4 points and 6.8 rebounds per game. When Wesson has grabbed double-digit rebounds this season, Ohio State is 5-0.
The closer the Buckeyes can keep this game early, the better their chances. They rank 88th in the country with a 73.4 percent team free throw percentage.
The Pick
If the Iowa State team we saw in the Big 12 Tournament arrives, this game won't be close. But if the Cyclones stumble, the Buckeyes' 26th best adjusted defensive efficiency ranking will suffocate their offense.
While this game will be close early, look for the Cyclones to keep their hot shooting on target for at least one more game.
Randle's Pick:  Iowa State -5.5, would bet up to -6
Action Network Projected Odds
Spread: Iowa State -5
Total: 137.5
Proj Score: Iowa State 71.5 | Ohio State 66.5
Win Probability: Iowa State 66.1% | Ohio State 33.9%
---
#4 Virginia Tech vs. #13 Saint Louis
Spread: Virginia Tech -10
Over/Under: 126
Date: Friday, March 22
Time: 9:57 p.m. ET
Location: San Jose, Calif.
TV: truTV
I keep hearing that Duke has an easy path to the Final Four. While the Blue Devils are clearly the favorites to win their region, don't sleep on the Hokies, who could cause major problems for Zion & Co. in a potential Sweet 16 showdown.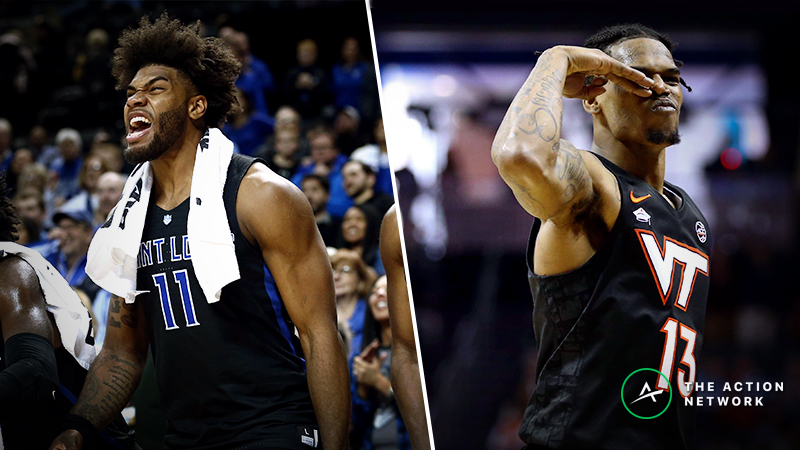 Don't forget that the Hokies started the season with a 14-1 record that included three wins over 2019 NCAA Tournament teams. With point guard Justin Robinson presumably back healthy, this is as scary of a No. 4 seed as you will see.
Before we get too far ahead of ourselves, the Hokies must first get by Saint Louis in the first round. Let's take a closer look at the matchup.
Key Matchup in Virginia Tech-Saint Louis
Saint Louis plays stingy defense and really gets after the glass on both ends, but the Billikens have a dreadful offense. They simply can't shoot.
The Billikens rank 322nd in the country in Effective FG%, per KenPom. And even more telling is they shoot just 30.8% from 3, which is the third-worst rate in the tourney field. It's not like they've been improving either, as Saint Louis shot just 29.8% from beyond the arc during conference play (13th in the Atlantic 10).
That's not ideal against a Virginia Tech defense designed to make you beat them from deep. Because Buzz Williams' team goes under screens, it really forces teams to jack up plenty of 3's.
In fact, opponents on the year have attempted more 3s than 2s against the Hokies. Their 50.1% opponent 3-point rate is the third highest in the country; only Longwood and Monmouth gave up a higher percentage.
That's what could make Virginia Tech so dangerous against Duke in a potential Sweet 16 matchup, as the Blue Devils are one of the only two other tourney teams that shoot worse than Saint Louis from 3.
This Game Could Get Ugly
This one could be ugly. Not only should Virginia Tech suffocate Saint Louis' offense, but the Hokies are absolute snails, ranking 337th in Adjusted Tempo, per KenPom. If you are interested in this total, I'd recommend looking at the full game or first-half under.
As I mentioned before, Saint Louis simply can't shoot. That also applies to the charity stripe, where it's not only the worst free-throw shooting team in the field, but it has the second-worst percentage in the entire country at 59.8%.
On the other hand, the Hokies shot 75.8% from the line during the season (24th in the country) and were a league-leading, pristine 78.2% during ACC play. They are also deadly from 3 at 39.4% for the season, ranking eighth-best nationally.
The Pick
Robinson, Virginia Tech's star senior point guard who has missed most of the last two months, is expected to make his long-awaited return for the Hokies. When healthy, everything runs through him on offense.
This is just a nightmare matchup for the Billikens. My only concern is if Robinson has to shake off some rust and/or Virginia Tech struggles a bit early assimilating him back into the lineup.
Still, given the matchup advantage, I think the Hokies eventually roll and cover the number even if this game is a grind.
Stuckey's Pick: Virginia Tech -10
Action Network Projected Spread
Spread: Virginia Tech -12
Total: 130
Proj Score: Virginia Tech 71 | Saint Louis 59
Win Probability: Virginia Tech 88.2% | Saint Louis 11.8%
---
Editor's note: The opinions on these games are from the individual writer and are based on his research, analysis and perspective. They are independent of, and may not always match with, the algorithm-driven Best Bets from Sports Insights.