Sweet 16 Betting: Early Thoughts, Picks on Duke-Virginia Tech, 6 Other Games
Credit:
Michael Thomas Shoyer-USA TODAY Sports. Pictured: Ahmed Hill
And just like that, the first weekend of the NCAA Tournament is in the books.
This year's tourney has been unusually chalky, with the No. 1, 2 and 3 seeds from each region advancing to the Sweet 16. That tampered the drama over the last few days, but has created some awesome matchups this weekend.
Our analysts have some early thoughts and picks for seven of the eight games at their current numbers.
No. 2 Tennessee vs. No. 3 Purdue
Line: Tennessee -1
Total: 146.5
Time: Thursday, 7: 29 p.m. ET
The Boilermakers thrive off their ball pressure vs. opponents' guards, and the Vols' lackadaisical ball-handling nearly cost them a trip to the Sweet 16, but they got past Iowa in overtime.
Nevertheless, I'd expect a cleaner effort from Rick Barnes' unit, which has the 27th-lowest turnover percentage (16.1%) nationally. That'll keep Purdue guard Carsen Edwards and Co. out of transition.
Expect the 6-foot-6 Admiral Schofield to have vengeance on his mind after sitting on the bench for the latter part of the second half and the entire OT session. The Boilermakers don't have a wing that can matchup with his physicality and ability to space the floor.
There's too much value in getting Barnes' squad as a 1-point favorite. Snag it while it's available. — Eli Hershkovich
ATS Pick: Tennessee -1
---
No. 1 Duke vs. No. 4 Virginia Tech
Line: Duke -7.5
Total: 144.5
Time: Friday, 9:39 p.m. ET
UCF showed the blueprint on how to beat Duke that I've been screaming about all year. The Knights changed their entire defense to zone against Duke, daring the Blue Devils to launch from the perimeter.
Well, VT won't have to change much at all. The Hokies defense is designed to make opponents shoot 3's since they go under screens. In fact, 50.4% of their opponents' shots were 3's, the second-highest rate in the entire country.
With point guard Justin Robinson now back in the fold and with two games under his belt, this VT team is a top 10 team. And their defense is built to beat a team a like Duke.
They also won't be intimidated by their conference foe. This line is simply way too high. I make it 4.5 or 5. — Stuckey
ATS Pick: Virginia Tech +7.5
No. 2 Michigan vs. No. 3 Texas Tech
Line: Michigan -2
Total: 126
Time: Thursday, 9:39 p.m. ET
This game will likely feature the best defensive matchup of the entire NCAA Tournament, with the Red Raiders and Wolverines ranked first and second in Adjusted Defensive Efficiency.
There's a weakness for Michigan on that end, which neither of its first two opponents could expose. John Beilein's bunch has let up the highest 2-point scoring rate (59.6%) in the nation, and Texas Tech's premier offensive action stems from the 6-foot-5 Jarrett Culver attacking off the dribble.
He'll likely be matched up against the Wolverines' top on-ball defender in Charles Matthews, so his elite vision will be critical while searching for the Red Raiders' bigs (Tariq Owens, Norense Odiase) around the rim.
The Wolverines would love nothing more than to utilize the same approach, but those Zavier Simpson hook shots won't be as effective against Tech's size and defense. — Eli Hershkovich
ATS Lean: Texas Tech +2
No. 1 North Carolina vs. No. 5 Auburn
Line: UNC -5
Total: 161
Time: Friday, 7:29 p.m. ET
If you are looking for tempo you have come to the right place. North Carolina and Auburn have the largest total offered on the board for the Sweet 16. The Tar Heels are sixth in adjusted tempo, which suites an Auburn team that thrives off havoc and 3-pointers. The Tigers are 64th in adjusted tempo offensively, complimented by point distribution rank of 7th from beyond the arc.
The key to beating Auburn is rebounding. Both New Mexico State and Florida have come within a combined four points of beating the Tigers this postseason by dominating on both sides of the glass.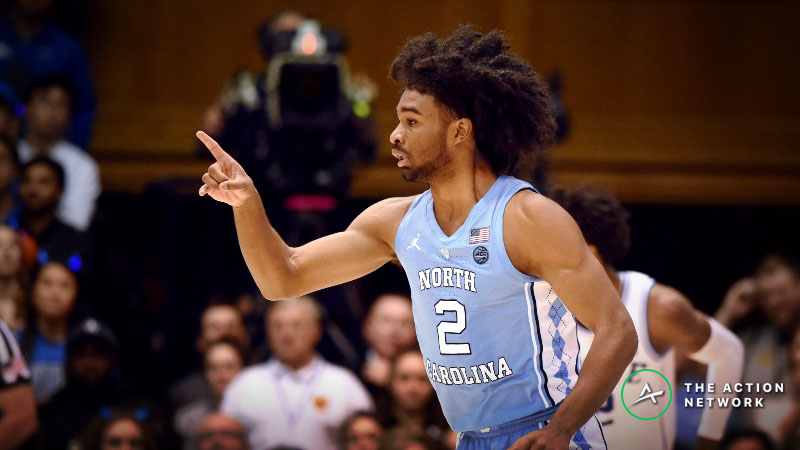 North Carolina may be that team to stop Auburn in its tracks, ranking No. 16 offensively and No. 7 defensively in rebounding percentage. The Tar Heels rank in the top 20 nationally in average height, giving North Carolina plenty of length for 3-point rebounds. Points will be scored at a expeditious pace, something North Carolina is comfortable with on both sides of the court.
The current point spread of -5 should not have much movement in the market. There will be an appetite for a red-hot dog with this many points, so we may see a dip to -4.5. UNC is still my pick at the current number. — Collin Wilson
ATS Lean: North Carolina -5
No. 2 Michigan State vs. No. 3 LSU
Line: Michigan State -6
Total: 149
Time: Friday, 7:09 p.m. ET
As someone that's had plenty of winning tickets on the Tigers, even I know LSU may be at the end of the road. Without their head coach, the Tigers failed to cover the first weekend of the tournament against Maryland and Yale. LSU shot under 30% from deep while allowing both the Bulldogs and Terrapins plenty of boards on the offensive glass.
After a first half scare from 15-seeded Bradley, Michigan State has been on cruise control for most of the tournament. The Spartans duplicated a domination of the Badgers in the second round, hoarding the boards and limiting the Gophers to 9% from 3-point range.
The key to this game is Michigan State's ability to limit and create turnovers, as it ranks 207th offensively and almost dead last in defensive turnover percentage. Plenty of LSU's scoring comes from ranking sixth in steal percentage translating into a high rate of 2-pointers per game.
If the Spartans protect the ball, they may roll as a top 10 team in adjusted efficiency, but LSU's ability to create havoc along with excellent free throw shooting will get the cover in this game. — Collin Wilson
ATS Pick: LSU +6
No. 1 Gonzaga vs. No. 4 Florida State
Line: Gonzaga -6.5
Total: 147
Time: Thursday, 7:09 p.m. ET
Gonzaga is thriving with one of the most efficient offenses in the past decade. The Bulldogs rank first overall in adjusted offensive efficiency, effective field goal percentage, and 2P%. Meanwhile, the Seminoles (16-16 ATS) counter that with an athletic and stifling defense that ranked first in the ACC in 2P% allowed.
The key matchup, however, will be Florida State's inconsistent offense against Gonzaga's untested defense. When the Seminoles make 3-pointers, they look the part of a Final Four team. They shot 41% (11 of 27) from beyond the arc in the win over a Murray State team that ranked third-best in limiting opponents from 3P.
Gonzaga's defense looks strong statistically, but hasn't faced a team with Florida State's size and athleticism since Tennessee and North Carolina back in December. The Bulldogs lost both games.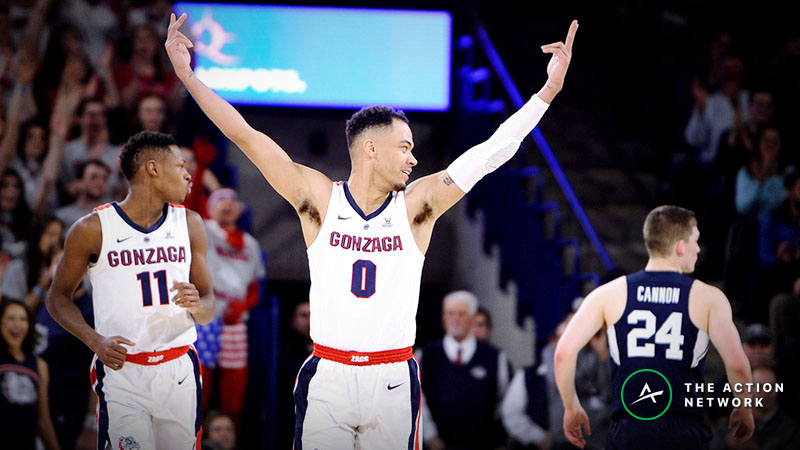 Gonzaga will want revenge against a Florida State team it lost to in the Sweet 16 last year. However, this is just a bad matchup.
Grab the Seminoles and the inflated 6.5 point spread in a close matchup. — Mike Randle
ATS Pick: Florida State +6.5
No. 2 Kentucky vs. No. 3 Houston
Line: Kentucky -2.5
Total: 135.5
Time: Thursday, 7:09 p.m. ET
This game very much depends on the health of Kentucky sophomore PJ Washington (14.8 ppg, 7.5 rpg). The Wildcats have survived without their leading scorer, but will need his size and scoring versatility to advance to the Elite Eight. The Cougars bring an tenacious defense, ranking top-10 in adjusted defensive efficiency and defensive 2P%. This game will be won on the boards, with both teams ranking Top-20 in offensive rebounding percentage.
Without Washington on the floor, Kentucky struggled to get by Wofford. This Houston team is too strong on defense to lose to a short-handed Wildcats' team that struggles from beyond the arc. Grab the healthy roster, and take the Cougars to advance to the Elite Eight. — Mike Randle
ATS Pick: Houston +2.5
How would you rate this article?