Southern Conference Tournament Betting Preview: Will Furman Dance For 1st Time Since 1980?
Credit:
Rich Schultz/Getty Images. Pictured: Alex Hunter
The Southern Conference Tournament will get underway on Friday in Asheville, North Carolina. This is almost undoubtedly a one-bid league for the NCAA Tournament, which is the prize all 10 teams in the league will be hoping to claim on Monday night.
This league was ultra-competitive from start to finish, as every team finished with at least five conferences losses.
First-Round Friday
Since the top six seeds get a bye, the bottom four will face off in the following first-round matchups on Friday:
(8) The Citadel (80-1) vs. (9) Western Carolina (80-1)
(7) Mercer (20-1) vs. (10) Samford (80-1)
Both matchups have plenty of uncertainty. The Citadel hasn't played since Feb. 24 with their season finale cancelled due to COVID-19 issues at Samford, which last saw action more than two weeks ago on Feb. 17.
If you're not familiar, those two teams each play extremely unique, fast-paced styles.
Samford has its "Bucky Ball" under first-year head coach Bucky McMillan, who has also used a zone defense on 25% of possessions and pressed at the second-highest rate in D-1, per Synergy. And The Citadel has its fun-n-gun, three-and-run style under long-time SoCon coach Duggar Baucom. Neither are known for their defense.
Mercer has a dangerous offense full of shooters, but I can't see the Bears winning four games in four days, especially since they'd likely have to beat Furman, Wofford and UNC Greensboro, all of which they went 0-6 against in the regular season. Mercer did win both meetings with its first opponent, Samford, although both came in overtime.
After picking up four non-conference wins in overtime, Western Carolina really struggled during league play. The Catamounts do have an excellent player in senior Mason Faulkner, who returned for their final two games after a three-game absence. After starting 2-13 in conference play — with two home victories by a combined three points over VMI and The Citadel — WCU did finish the season with two impressive wins with Faulkner back in the lineup:
A road win at top-seed UNC Greensboro (which it would face in the second-round)
25-point home win over Mercer
While the Catamounts seem to be trending up, I can't see them cutting down the nets in Asheville. Ultimately, I have no interest in any of the four longer shots futures playing on Day 1.
The True Contenders
That brings us to the top six seeds, which will all start play in the quarterfinals on Saturday:
(1) UNC Greensboro (+200) vs. winner of Citadel-WCU
(4) Chattanooga (+1200) vs. (5) East Tennessee State (+800)
(2) Wofford (+450) vs. winner of Mercer-Samford
(3) Furman (+160) vs. (6) VMI (+2500)
The Top Half
After getting upset at home by Western Carolina, UNCG escaped with an overtime win in the finale against ETSU to clinch the top seed. Interestingly, those could be its first two opponents.
UNCG certainly has a unique style. It plays an extremely aggressive pressing defense that usually forces opponents into a myriad of mistakes. On the season, the Spartans have pressed on 34.8% of possessions, the third-highest rate nationally. The defense — which is the best in the conference — is led by senior point guard Isaiah Miller, who is a superb on-ball defender.
While the defense is outstanding, the offense is hard to watch. Per Synergy, UNCG ranks in the 18th-percentile nationally in half court offense in terms of points per possession. When they aren't scoring in transition after forcing turnovers, their offense completely stalls. The Spartans at least don't turn it over, but they simply can't make an outside shot (29.2% from 3 on the season) and also aren't great from the charity stripe.
I want no part of UNCG's offense at a price of only +200. I wouldn't be shocked if it lost to the winner of Chattanooga-ETSU (or even Western Carolina first).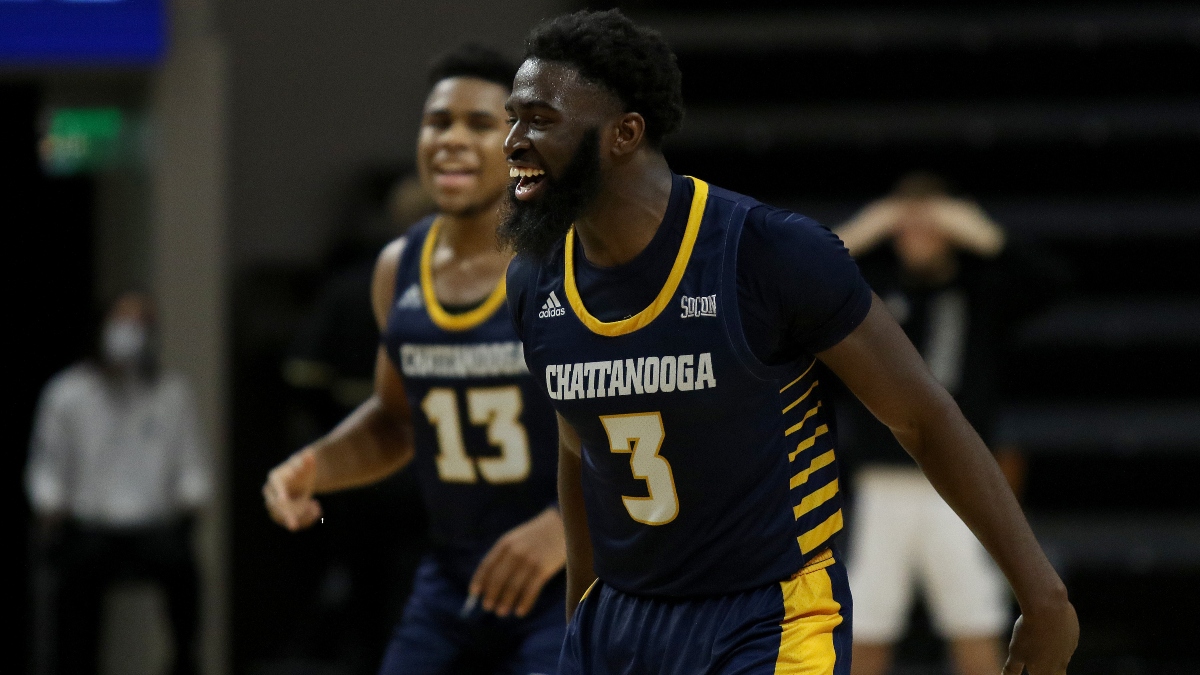 Chattanooga has a really intriguing swing offense with three lethal shooters in David Jean-Baptiste, Malachi Smith and Stefan Kenic. The Mocs also won't beat themselves as they don't foul, never turn it over and are excellent from the free throw line.
If their shots are falling, the Mocs are dangerous and could give No. 1 seed UNCG a scare in a potential semifinal matchup if they get past an ETSU team it swept — although the Bucs rallied late in a pair of two-point losses.
Speaking of ETSU, it's the defending tournament champions. However, the Bucs had to replace almost every key contributor from last year's squad in addition to head coach Steve Forbes, who left for Wake Forest. Given the circumstances, especially in this unique season when change wasn't ideal, new head coach Jason Shay has done a tremendous job. They did lose four of five to finish the year, but two of those losses came by a bucket and the other in overtime.
ETSU relies on a pair of transfers in the backcourt in David Sloan (Kansas State) and Ledarrius Brewer (SEMO), who are both tough shot makers. Freshman Damari Monsanto has also been outstanding in his first season. He not only leads the team in rebounds, but he can get scorching hot from 3-point range.
The methodical Bucs finished in the top-3 in both Adjusted Offensive and Defensive Efficiency during league play, per KenPom. However, they struggle at the rim on both ends. Plus, from almost every advanced metric, ETSU is a major regression candidate. ETSU did beat UNCG — its potential second-round opponent — and take them to overtime in the season finale, but I just don't trust the offense enough.
I do want to take on UNCG, but I have no real feel for which team will win the ETSU-Chattanooga battle. If you're looking for a long shot, I'd much rather choose Chattanooga at 12-1 over ETSU at 8-1 since I make that game a virtual coin flip.
The Bottom Half
Similar to The Citadel and Samford, VMI prefers to play an up-tempo style and shoot a high-frequency of 3-pointers. They actually attempt 3s at a top-25 rate nationally and also rank inside the top 25 in 3-point percentage.
However, out of those three schools, VMI has the most-efficient offense by far and it is absolutely deadly in transition.
Senior guard Greg Parham is a walking bucket and 6-foot-10 Jake Stephens, who will attempt his fair share of 3s, has been tremendous down low. They're also both surrounded by a handful of dead-eye shooters on the perimeter. Defensively, VMI will press a bit and utilize a variety of zone looks at a top-20 clip in the country.
That said, VMI is coming off a COVID shutdown of its own and hasn't played since Feb. 20, so who knows what kind of effort we will get and who will even be available for a team that severely lacks depth. As a result, despite regular season wins over Wofford and Furman (the two higher seeds in its half of the bracket) I simply can't even consider investing in VMI — even though it plays a high-variance style (intriguing for an underdog in a tournament setting) with an offense is extremely dangerous when clicking.
That leaves Furman and Wofford, who will match up for a third time in the semifinals if they can avoid an upset on Saturday.
Wofford has actually won three straight in this series, starting with last year's SoCon tournament. The Terriers also took both meetings this year, including a buzzer-beating win in the most recent affair. In the previous two, Furman actually led with 10 minutes to go before melting down.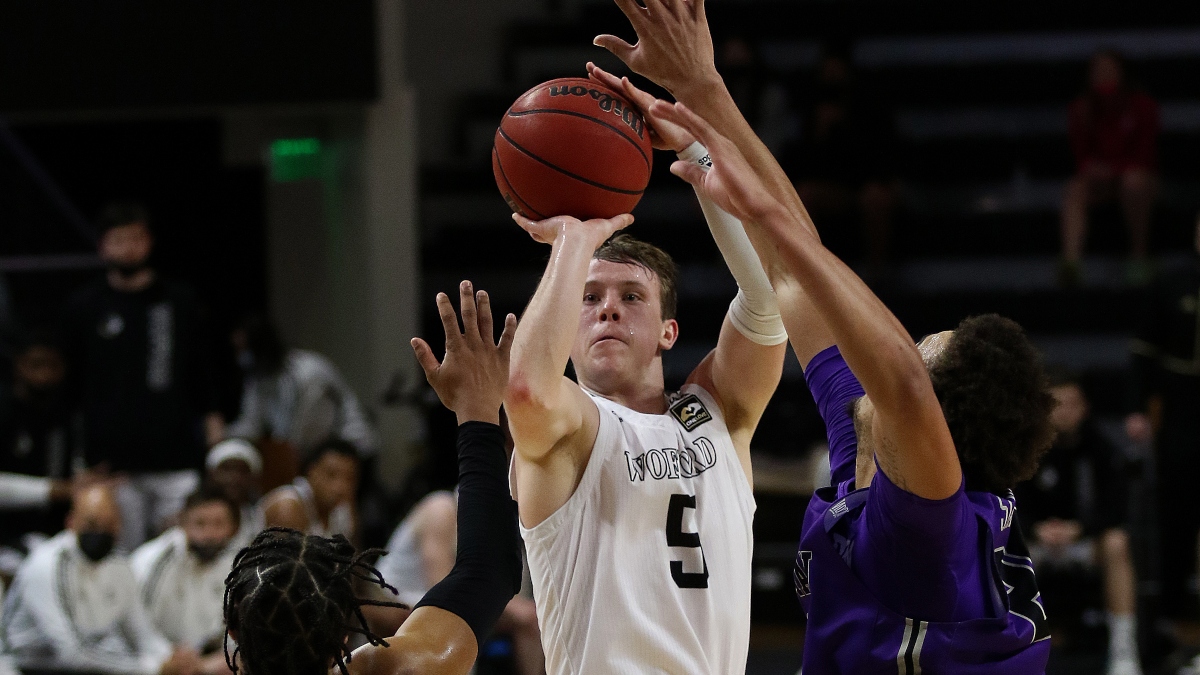 Wofford makes its living on the offensive end where it ranks 21st in Effective Field Goal %. The Terriers also are the most 3-point reliant team in the entire land, attempting 3s on 51.3% of their overall attempts. They are, however, extremely vulnerable on the defensive end and really lack overall size — usually playing with 6-foot-6 Messiah Jones at the "five." They have capable shooters all over, led by flame-throwing senior Storm Murphy.
Furman also earns its paycheck on the offensive end, actually ranking higher than Wofford in Effective FG% at No. 9 overall. It's an extremely experienced group that can all handle the rock and shoot the 3. When you talk about modern "3 and rim" offenses, Furman is the model. They're an extremely efficient four-out offense that looks to either get to the rim (they rank second in 2P% and ninth in FG% at the rim) or take a 3 (they rank 11th in 3-point attempt rate). From a Rim-And-Three rate, Furman ranks fifth overall, per ShotQuality. And they likely have positive shooting regression coming after a down shooting conference season.
I've been waiting for this rematch and I'm sure Furman has been, too. The Paladins shouldn't have any issues with VMI coming off of a COVID break and they should be able to exact their revenge on Sunday against Wofford. And if they face UNCG in the final, they are built to break presses with an abundance of ball handlers.
I'm much higher than the market on Furman, who could make noise on the first weekend of the tournament, and much lower on both Wofford and UNCG. Therefore, it's no surprise that I'm rolling with the tourney favorite here. The lack of depth is a bit concerning for three games in three days, but I'm going down with the Furman ship.
My Pick: Furman +160 (+150 or better)
How would you rate this article?