Stuckey: An Ode to Betting College Hoops and Saturday's 10 Best Situational Spots
Credit:
Jim Brown-USA TODAY Sports. Pictured: Saben Lee and Simisola Shittu
Mid-January is always a bittersweet time on the sports calendar for me.
Yes, college football has finished up and we only have three NFL games left. (I am already dreading those summer Saturday afternoons when we are all yearning for football.)
But the end of football also means we are entering the heart of the college basketball schedule.
The packed arenas, the rivalries, the top 10 showdowns, the barking home dogs … all of the things I fell in love with as a kid. And all of the things that I still love just as much today.
College basketball will perpetually remain one of my favorite sports to bet. It was my first love.
The first real bet I placed in my life was in high school on a college basketball game. (It was on La Salle in case you were wondering, which you probably weren't.) It was also the first sport that I started to handicap seriously.
The first two days of the tournament have always been holidays to me. My parents used to let me skip school on that Thursday and Friday, and those were the first days I put in for vacation every year when I worked in corporate America.
Well, all of that emotion is coming back, as in my world, today marks the official start of the college basketball stretch run — a glorious 2.5-month sprint through the national championship.
My football work is all done (outside of some prop analysis for the Super Bowl) but hoops will easily fill that void, starting today — the first Saturday without football since August.
And today has it all.
Packed arenas: Kentucky at Auburn should be electric
Rivalries: Indiana at Purdue works
Top 10 showdowns: Virginia at Duke interest anybody?
And as far as the barking home dogs, hopefully some of those come through for us throughout the day.
Starting today and every Saturday leading up to the tournament (in addition to other sporadic days during the week), I will do a piece on my favorite college basketball situational spots, which I think work better in college basketball than any other sport.
The four most popular situational angles include:
Letdowns: This works two ways: an emotional letdown after a huge win or the disappointment after a heartbreaking loss (see: Florida State laying an egg at Pitt as 5.5-point favorites after losing at the buzzer to Duke)
Lookaheads: Teams can get caught flat (and underprepared) as a result of looking ahead to a critical game on deck.
Sandwiches: The letdown/lookahead combo — aka when a team plays an inferior opponent after an emotional win (or heartbreaking loss) with a big game on deck.
Revenge: Playing the team that eliminated you from the tournament the year prior or that upset you on your home court earlier in the year? That could provide an extra spark for the team seeking revenge.
These are just factors to consider — and there are plenty of others that pop up.
I simply use this exercise to circle the best situational spots on the card, then I use my numbers and analyze the matchups to finalize my bets.
There is no science with situational spots; it's definitely more art than science, but you should at least be aware of the non-mathematical angles when capping college kids playing basketball.
Here are the best situational spots I had circled for today.
---
>> All odds as of Saturday at 10:30 a.m. ET. Download The Action Network App to get real-time NCAAB odds and track your bets.
---
Wisconsin +3 vs. Michigan
Noon ET on ESPN
The Kohl Center should be a zoo for this early tip against 17-0 Michigan. Not only is Wisconsin looking to avenge a home loss to the Wolverines last season, the Badgers are in pure desperation mode after losing their past two and four of five overall.

From a matchup perspective, Michigan doesn't have anybody to cover Ethan Happ down low. So John Beilein will either have to double him and risk leaving Wisconsin's solid perimeter shooters open or simply let Happ go off.
I think the Badgers find a way to end Michigan's insane 26-game regular season winning streak.
---
Georgia +4.5 vs. Florida
Noon ET on CBS
I expect Georgia's best effort at home after a blowout 20-point home loss to Kentucky.
Earlier this season, the Bulldogs bounced back with a 19-point win home win over Vanderbilt after they suffered an embarrassing 96-50 loss to Tennessee. That's a good sign, but this is more of a Florida situational fade on a number I think is simply too high.
This has emotional letdown written all over it for a Gators team that has to travel to Athens after falling just short against two ranked opponents in Tennessee and Mississippi State.
It's going to be tough for head coach Mike White to get his team up for this one.
---
West Virginia +4.5 vs. Kansas
2 p.m. ET on CBS
Whatever West Virginia has, you should get for this matchup with rival Kansas on Saturday afternoon.
The Mountaineers are 0-5 in January. They had shown signs of life in three close losses (vs. Texas Tech, at Texas and at Kansas State), before losing at home Oklahoma State and suffering a 31-point (!!!) loss at TCU.
Unless this team is just a corpse, head coach Bob Huggins will have his troops ready to go in front of a raucous crowd in what will be a quasi-Super Bowl for a WVU team that isn't going anywhere this season.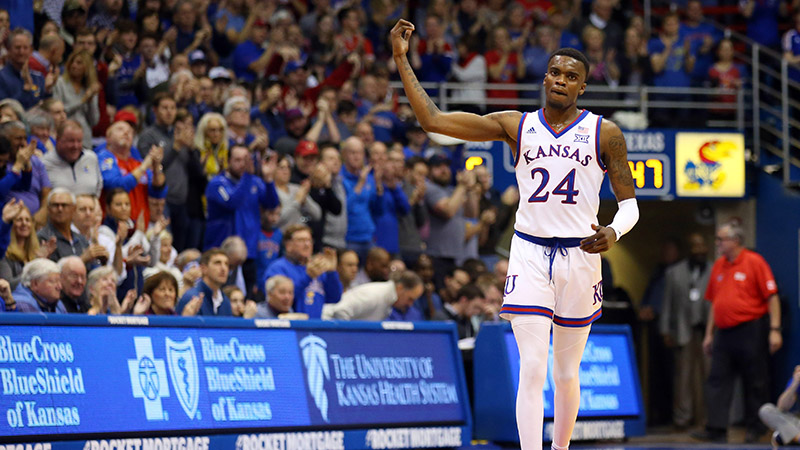 And as if it needed any extra motivation, West Virginia lost three times to this Kansas team last year.
This also isn't a great spot for Kansas, which comes off three hard-fought wins and has an absolutely brutal stretch of games coming up:
Revenge game vs. Iowa State on Monday
at Kentucky
at Texas
Texas Tech
at Kansas State
---
Wake Forest +18 at Virginia Tech
4 p.m. ET on ESPN3
This just a bad spot for Virginia Tech. The Hokies are coming off an embarrassing loss to in-state rival Virginia and have travel to UNC on Monday.
I don't see them having full focus for an 8-8 Wake Forest team, which actually should be able to carry some of the momentum over from its upset win against NC State, which I think will have more of a positive impact than anything for a team that had been searching for something on which to build.
It also helps that this line is just too high in a vacuum compared to my numbers.
---
Penn +7.5 at Temple
5 p.m. ET on CBSSN
This is a good opportunity to buy low on a Penn team that has lost four straight games — two of which came in hard-luck fashion in overtime.
The Quakers have had a full week off after losing back-to-back games against Princeton. They should come out with purpose against their Big 5 rival Temple.
While Penn has had plenty of misfortune over its past four games, Temple has not. The Owls have won four straight, including two in overtime and are probably a little inflated in the market at the moment.
I like grabbing the touchdown and the hook with a more-than-capable Penn team (wins over Miami and Villanova this year) that is now fully healthy (Max Rothschild and Michael Wang recently missed time) in a great spot.
Believe it or not, Penn can clinch at least a share of the Big 5 title with a win, as the Quakers already own wins over La Salle and Villanova.
---
Oklahoma State +12.5 at Iowa State
6 p.m. ET on ESPNU
This is your sandwich du jour with a side of revenge.
Iowa State comes off a massive road upset of Texas Tech and has a date with Kansas in Lawrence on Monday.
It would take some kind of Hilton Magic to get the Cyclones excited for an Oklahoma State team they just beat on the road a few weeks ago.
This line is simply too high — even after accounting for the three recent Oklahoma State suspensions, including guard Michael Weathers (9.2 ppg).
---
South Carolina +9 at LSU
6 p.m. ET on SECN
LSU is rolling. Winners of six straight, the Tigers come home after a pair of impressive road wins over Arkansas and Ole Miss. However, this game has major letdown potential for a very young LSU squad.

Look for the Baby Tigers come out a little flat vs. a very scrappy South Carolina bunch that is actually tied with Tennessee atop the SEC standings at 4-0.
This number is just a shade too high.
---
Southern -1 vs. Arkansas Pine Bluff
6 p.m. ET
I couldn't do my first college Saturday college basketball preview without a SWAC special!
Yes, I'm backing a 1-16 SWAC team as a favorite on Saturday. A team whose only win came against Wiley College. A team that lost at home to California Baptist. (Although, Cal Baptist is actually decent … I swear — it also won at Oral Roberts earlier this year.)
First off, Southern's record is very misleading. It had a vicious non-conference schedule (as usual) and has been competitive in SWAC play.
Also, the Jaguars will not only have motivation to get their first D-1 and SWAC win, they will also have revenge on their minds. Pine Bluff ended their season in the SWAC semis last year.
I think Southern moves to 2-16 on Saturday. Hold your nose!
---
South Florida +5.5 vs. Houston
8 p.m. ET on ESPNU
South Florida is playing good basketball right now. The Bulls can't buy a break, but they won't need a break to cover +5.5 against Houston.
USF has lost five games this year by a combined 19 points, including three of their last four — all on the road against respectable conference opponents in tight games.

This isn't necessarily a terrible spot for Houston, but I think it's a great spot to back a USF team that has the guards in David Collins and LaQuincy Rideau who can match up with Houston's excellent perimeter.
Expect maximum effort from the Bulls at home on Saturday night in a nationally televised game against a ranked conference opponent.
---
Vanderbilt +3 vs. Mississippi State
8:30 p.m. ET on SECN
I'm not sure you get an inspired effort from Mississippi State on Saturday night. The Bulldogs might be more concerned with what they have coming up after Vanderbilt: dates with Kentucky and Auburn.
Losers of four straight, this might be Vanderbilt's best shot at getting a win in the SEC this season … seriously.
You should get an A+ effort from the Commodores, who have an underrated home-court advantage, against a ranked team in primetime.
---
Editor's note: The opinions on these games are from the individual writer and are based on his research, analysis and perspective. They are independent of, and may not always match with, the algorithm-driven Best Bets from Sports Insights.
How would you rate this article?