Stuckey: The Four College Basketball National Title Future Bets I Added
Credit:
Casey Sapio-USA TODAY Sports. Pictured: Washington guard Matisse Thybulle
I revisit the preseason college basketball national title futures before making a case for the four additional ones I just bet.
That list does not include Duke, the most talented team, but it does include a team from the Pac 12 that I feel is dangerous.
On my quest to repeat last year's magical March capped off by Villanova 30-1, I bet a few preseason college basketball national championship futures back in early November. Well, after watching about three months of college hoops, I decided to add a few more as we approach March.
One team you will not find on my list is Duke. While clearly the most talented team, Duke +182 simply holds no value in my opinion.
Look, if the Blue Devils can shoot like they did against Virginia, you can crown them now. But this isn't the NBA. They don't play Best-of-7's in March. That's what makes the tourney so beautiful for fans and bettors alike. One-game variance can blow up a region and change tournament history.
Before we get into the futures I recently added, let's briefly revisit those aforementioned preseason bets.
2018-19 Preseason National Title Futures
Full units: Syracuse 30-1; Tennessee 35-1
Half units:

 Auburn 45-1; Cincinnati 80-1

Quarter units:

St. John's 125-1; Georgia State 2000-1
It's time to stock up on orange clothing for March. Tennessee is obviously our baby at 35-1.
The No. 1 ranked Vols — the only team in the country yet to lose a game in regulation — now sit around 10-1 to cut down the nets in 2019. They are clearly in the elite tier of about four to six teams that will be extremely tough to take out in March.
You can now get a better price on Syracuse if the Orange interest you. That play is all about their March pedigree and the matchup problems their zone consistently creates in the tournament.
Cincy has shown some promise — while St. John's and Georgia State are just two darts. I'm not expecting much from those three squads, but maybe one can catch fire and the draw can break right. (Ponds are wet.)
In that preseason piece, I mentioned that I would likely add to Auburn at some point during the season if I could get a better price. I anticipated some ups and downs for the Tigers as a result of many moving roster pieces over the first couple months of the season.
Well, after a close loss at LSU over the weekend, I think that time has come — especially with a favorable three-game stretch on deck. (The Tigers have home games against Ole Miss and Arkansas with a road trip to Vanderbilt in between.)
Auburn not only had to deal with early ineligibility issues, it also has dealt with a number of injuries during SEC play. However, the Tigers finally now have a full roster trending toward 100% health with Austin Wiley and Danjel Purifoy back in the mix.
The Tigers can now run 10 deep and are led by two outstanding veteran guards in Bryce Brown and Jared Harper, which is a recipe for success in March. And when Brown and Harper get hot, Auburn can beat anybody in the country.
Even with all of the roster turmoil, Bruce Pearl still has an offense that ranks in the top 10 in efficiency and a defense that leads the country in turnover percentage. But, again, it all starts with the backcourt.
Other 2018-19 National Title Futures Adds
In addition to Auburn, I bet three other futures on teams that I think have a shot to make a deep run in March. Each of the three have a lot in common: defense, experience, an x-factor and that intangible characteristic that I can't quantify (it's more instinctual than anything else).
Washington 80-1
I get it…the Pac 12 is bad. It may even be a one-bid league if Washington wins the conference tournament. But that doesn't take away from the damage this UW team can do in a bracket format — and it all starts with its extended 2-3 zone.
Head coach Mike Hopkins, who worked under Jim Boeheim for over 20 years, has turned Washington into Syracuse West in his second season in Seattle. The Huskies run the same 2-3 zone that Boeheim made famous and they have enough length and experience to run it as well as anybody.
Washington has one of the most disruptive defenses in college basketball, ranking fourth in both steal and block percentages — and it all starts with 6-5 senior (and likely repeat Pac 12 defensive player of the year) Mattise Thybulle, who mans the top of the zone to perfection and is putting up historic defensive numbers.
Thybulle averages 3.23 steals per game (0.01 off the national lead) and 2.09 blocks per game (tied for 30th nationally with Duke center Marques Bolden).
Thybulle is the only player in NCAA to average at least three steals and two blocks per game. And the only other player to average two or more in both categories is Zion Williamson.
Matisse Thybulle with 5 steals, 5 blocks last night, unsurprisingly on track to finish as only NCAA player in 25+ years to average at least 3 steals, 2 blocks and a 3PT.

— Jonathan Wasserman (@NBADraftWass) February 8, 2019
Many know one of my favorite college players of all time was guard Mike Gansey, who manned the top of another type of zone under John Beilein at West Virginia. Well, Thybulle has that same basketball IQ level but with much more athleticism. (If the Huskies make the Final Four, I may have to actually change my twitter avatar.)
The Washington zone doesn't just excel in forcing teams to take bad mid-range shots, it also creates havoc. They simply make opponents uncomfortable for 40 minutes. Like Syracuse, Washington naturally struggle on the defensive glass, but they still make it difficult to score on those second chance opportunities.
Washington also has a very experienced bunch, as it returned essentially every contributor from last season and ranks No. 1 in the country in minutes continuity, per KenPom.
Don't let the horrid Pac 12 fool you; Washington is a well-coached, experienced team with lots of length that will make its defensive scheme a nightmare to face come March. Don't forget that this Huskies team only lost to Gonzaga by two points on the road earlier this year. They can make a Syracuse-esque run.
Kansas State 80-1
I'm not sure why Kansas State doesn't get more respect nationally.
This is a Wildcats team that sits alone in first place atop the very deep Big 12 — and both conference losses came when their best player Dean Wade was out with an injury. Don't forget that Kansas State went to the Elite 8 last year and brought almost everybody back.
Wade is a matchup nightmare and the Wildcats have a top-5 defense to fall back on. And remember that minutes continuity metric I mentioned with Washington? Well, K State ranks second overall.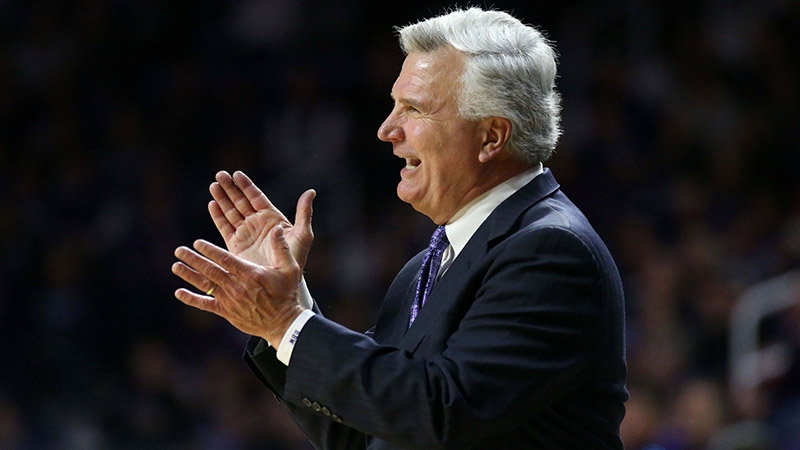 I think Bruce Weber has the best team in the Big 12, especially with all of Kansas' personnel problems. Yet, the Jayhawks are priced at 25-1 and Iowa State at 62-1. I just don't see the gap.
Free throws are certainly a concern with Kansas State when it inevitably gets into a close game in the tourney, but I can't pass up this price.
Marquette 80-1
I also think Marquette remains undervalued in the futures market.
Similar to what I mentioned with the Big 12, I have Marquette basically right on par with Villanova as the class of the Big East. However, I can get Marquette at 80-1, while Villanova sits at a much less generous 32-1.
The x-factor is the seemingly unguardable Markus Howard, who could go for 50 on any given night. Having a guard like Howard in March is invaluable — especially since the Golden Eagles have shooters all over. As a team, they shoot just under 40% from three (12th best nationally).
However, Marquette is more than just an elite offense, which you couldn't say last year. It actually play defense this season. Its defense ranks in the top 20 in effective FG% and the Golden Eagles do yeoman's work on the defensive glass.
And don't sleep on Marquette's free-throw shooting, which can always make or break a team come March. Marquette is top 10 in the nation in that category.
2018-19 National Title Futures Summary
Full units: Syracuse 30-1, Tennessee 35-1 and Auburn split between 45-1 and 54-1
Half units:

 Cincinnati 80-1, Marquette 80-1, Kansas State 80-1 and Washington 80-1

Quarter units:

St. John's 125-1 and Georgia State 2000-1
Tennessee has the best shot at becoming our 2018 Villanova and at a slightly better price. You can never doubt Syracuse in a tourney setting, but I actually think Auburn is more dangerous.
And maybe, just maybe, one of the four half-unit futures can make a run to the Final Four.
Go Vols.
How would you rate this article?