2019 NCAA Tournament Betting Picks: Our Staff's 6 Favorite Plays for Friday's Sweet 16
Credit:
Photo credit: Joshua S. Kelly-USA TODAY Sports. Pictured: Ahmed Hill
Thursday's Sweet 16 matchups ranged from dominating wins to heart-stopping losses with two No. 2 seeds coming up short in the regional semi-final round.
What will Friday have in store with so many marquee programs taking the country? Our experts dive in and give their favorite plays.
Friday NCAA Tournament Betting Picks
Eli Hershkovich: Virginia Tech +7.5 vs. Duke
This ACC rematch, in which the Hokies defeated the Blue Devils in their Zion Williamson and Justin Robinson-less duel, will come down to pace.
The Hokies went to a matchup zone in most recent meeting, forcing Duke to utilize the 25th-lowest 3-point clip (30.7%) in the country. Expect Buzz Williams' crew to create the same issues this time around, and its ball pressure should be even more effective with Robinson leading it from around the arc.
As athletic as the Blue Devils are, they showcased an inability to execute against UCF's zone in the Round of 32, and Va. Tech's rotations will be much quicker.
The Hokies rebounded fairly well out of their zone, too, as Duke notched a 29-28 advantage on the glass. They may aim to push the tempo a bit more with Robinson (13.4 points per game) pushing the controls, but they've tallied the 22nd-lowest Adjusted Tempo because of their effective half-court sets through the 6-foot-10 Kerry Blackshear Jr.
Blackshear torched the Blue Devils for 23 points (7-of-11 shooting) on Feb. 26. Williamson's presence won't be able to slow him down much, and he'll set things up for Va. Tech's ninth-ranked 3-point clip (39.5%). After tallying 1.22 points per possession in round one, expect Duke's third-rated Adjusted Defensive Efficiency to struggle again.
Stuckey: Virginia Tech +7.5 vs. Duke
I can't possibly write it anymore times — I love the Hokies. I bet them on open at +8.5 and down to +7.5. I'd play it down to +6, but try to grab +7 or better.
Virginia Tech's defense forces its opponents to shoot 3's because it goes under screens. Only Monmouth allowed a higher rate of 3-pointers this season. And that's the exact formula you need to beat the Blue Devils, whose primary weakness is shooting the long ball. They were the worst 3-point shooting team in the NCAA Tournament when it began, and still are.
With Justin Robinson now back in the mix, this is a top 10 Virginia Tech team with a ton of athletes and experience. The Hokies will not fear their ACC foe one bit — and all of the pressure will be on the other side.
Mike Randle: UNC -5 vs. Auburn
The news of Nassir Little's flu-like symptoms is a bit concerning, but Auburn still plays the wrong style to keep this game close. North Carolina is 8-1 against teams with an average possession length of fewer than 17 seconds. The Tigers are at 16.5 seconds per possession, meaning they will try to run with North Carolina. This is not the formula for defeating the Tar Heels.
Freshman Coby White (16.1 ppg, 3.6 rpg, 4.1 apg) has been sensational and will provide Auburn with one of its toughest challenges at point guard all season. When playing against a team with a star point guard, Auburn has struggled.
Against Duke, Murray State, Mississippi State, and LSU the Tigers are only 2-3. Look for North Carolina to take advantage of their huge mismatch on the offensive boards. The Tar Heels rank 16th best in offensive rebounding percentage while Auburn ranks 334th in defensive rebounding efficiency.
While Auburn likes to force their opponents into turnovers (fifth best in steal percentage), they ranked dead last in SEC play at 2-point percentage defense. North Carolina is simply better than Auburn in every phase of basketball. The spread would need to be close to double digits to get me to even consider taking the underdog.
John Ewing: UNC -3 (1H) vs. Auburn
As Mike said, UNC is the better team in every phase of basketball. The Tar Heels not only matchup well with the Tigers, but have some history on their side, which is why I'm not only betting Roy Williams team full game but in the 1st half as well.
Auburn is coming off a big offensive game, having scored 89 points against Kansas in the Round of 32. Since 2010, teams that scored 80 or more points in their previous tournament game have gone 52-84-1 (38%) ATS when listed as first half underdogs in their next game as their hot shooting likely cools off.
UNC scored 81 points in a win over Washington and while you might expect their shooting to regress as well, that hasn't been the case in the past. Since 2010, teams that scored 80 or more points in their previous tournament game and then are favored in the first half of their next contest have gone 76-51 (60%) ATS.
If a game features two teams that both scored 80 or more points in their previous game, like North Carolina and Auburn, the favorite has gone 21-10 (68%) ATS since 2010. Let's go Heels!
Ken Barkley: UNC -5 vs. Auburn
I make this line -7 with a healthy Nassir Little, and normally I wouldn't care as much, except I think he really could be impactful on the floor against Auburn's small lineups. Still, this is a mismatch in basically every way.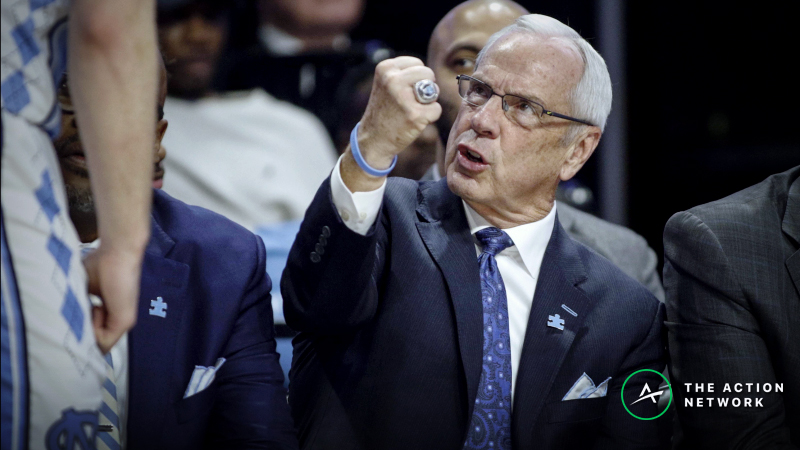 UNC will get every rebound at both ends of the floor and will score off of almost all Auburn makes. The Tigers' defense just isn't good enough here.
There is a way they can win because their 3-point variance is so high, so of course all outcomes are possible. But the most likely outcome is a comfortable win for the Tar Heels.
Steve Petrella: Houston +2.5
I don't think enough people are giving this Houston team credit.
The Cougars are a matchup nightmare, especially on defense. Their slightly undersized lineup is hyper-athletic and can match Kentucky's interior attack. They can also match the Cats on the glass and shoot the 3 on their own.
I also wanted to like the under here, but with how physical both teams are and how often they get to the free-throw line (and how often Houston fouls inside), it will get hairy down the stretch, so I'll pass there. I may be looking to play a live over in the second half.
How would you rate this article?