2021 MAC Betting Manifesto: Stuckey's Guide to MACtion Win Totals, Futures Odds & Predictions
Credit:
Justin Casterline/Getty Images. Pictured: Drew Plitt.
Well, it's what you've all been waiting for: the 2021 MAC Manifesto.
And by "you all," I mean the 30 degenerates who live and die with weekday MACtion. Last year, I was fortunate enough to predict the MAC Championship matchup and cash in on Ball State 9-1. No pressure this year, right?
Well, I do have another longshot future for 2021 and also bet on four win totals, which I will summarize at the end along with my predicted division order and championship matchup.
Determining what to do about last year's numbers is no easy task across college football after such a bizarre year. That's especially true in the MAC, which originally canceled the season then decided on a reduced conference-only regular season.
To make matters even more complicated, some teams only played a few games, and the degree of schedule difficulty widely varied.
Take Ohio, for example. The Bobcats only played three games in 2020 — two of which came against Bowling Green and Akron, two of the worst teams in the nation. It's hard to decipher much from their 1-2 campaign.
While very challenging, I personally think it makes handicapping the MAC much more fun. Without further ado, let's break down each of the 12 teams in the MAC — starting in the intriguing West Division.
MAC West
Let's start things off in the West, where Ball State looks to repeat after a surprise MAC Championship run in 2020.
However, even with an experienced roster, there's another team in the division that's favored to win the league in 2021. Let's start there, and then hit Ball State and the 10 remaining teams.
---
Click on any team's logo to skip to that team breakdown.
---
---
Win total: Over 8.5 (-115)
Offense
The only question facing this Toledo offense headed into the season is at quarterback after Eli Peters medically retired from college football.
That leaves Carter Bradley (who does have starting experience), Georgia Tech transfer Tucker Gleason and redshirt freshman Dequan Finn. All three will battle it out in a spirited competition leading up to Week 1.
If the quarterback position works out, the offense will be prolific, as star running back Bryant Koback returns in the backfield in addition to the entire offensive line two-deep and top six wide receivers.
As usual, Toledo will have no issues moving the ball.
Defense
While offense is usually humming in the Glass City, defense has been optional in many seasons.
However, there were some very positive signs last season in a new scheme (and position changes) under new defensive coordinator Vince Kehres, who came over after a successful stint as the head coach at D-III powerhouse Mount Union.
From a yards-per-play perspective, Toledo improved from 6.6 (120th) to 5.4 (38th) — the biggest positive jump in all of the FBS.
Now, as I previously mentioned, all numbers from last year have to be taken with a grain of salt — especially in the MAC — but one can't deny the positive signs for a defense that finished third nationally in third-down defense.
This unit returns all 11 starters (and every player in the two-deep), led by defensive tackle Desjuan Johnson, defensive end Jamal Hines, leading-tackler linebacker Dyontae Johnso, two All-MAC safeties and lockdown corner Samuel Womack, who has finished in the top five in the country in pass breakups each of the past two seasons.
Toledo also added Penn State transfer Judge Culpepper, who will immediately provide some much-needed bulk at nose tackle to pair with the quickness of Johnson, who is one of 90 players on the preseason watch list for the Nagurski Trophy, awarded to the nation's best defensive player.
The Rockets may potentially have the conference's best defense if progress continues under Kehres for an uber-experienced group.
Synopsis
Toledo returns more production than any other team in the country this season. However, I actually think that doesn't mean as much as in years prior since so many teams have an abundance of experience, particularly in the MAC.
That said, I do have this team rated as the top team in the conference. The Rockets went 4-2 last year but came agonizingly close to a perfect 6-0 season. They lost by two games by three points each:
One to Western Michigan in a game they led by 10 with two minutes remaining
And the other to Ball State after fumbling on the Cardinals' 40-yard line with just over a minute left
This is one of the most experienced teams in the country and the team with the most talent in the MAC for my money. The offense will hum as usual (and when it doesn't, it has a weapon at punter), and the defense is now title-worthy.
However, there really isn't any value in the futures market at +200 in the almost-always unpredictable wild-and-wacky MAC.
The Rockets could have a super successful season but still miss out on the MAC title if they drop a potential tiebreaker game on the road at Ball State. Conference road contests against Ohio and Central Michigan also won't be a walk in the park.
From a win total perspective, Toledo is projected to go 3-1 in non-conference play with home games against Colorado State and Norfolk State — and road games vs. UMass and Notre Dame. Fortunately, the second game of their two back-to-back road trips come against UMass and Bowling Green.
Also, keep in mind that Toledo has the highest attendance and best home-field advantage of any team in the MAC. With fans anticipated to be back in the stands, that gives Toledo a slight extra edge at home in the Glass Bowl.
I make this total closer to 9.2, so I'd look over here on a team that may have some positive regression coming after finishing with a -3 turnover margin (T-97th) and a 1-2 record in one-possession games.
---
---
Win total: Over 6 +100
Offense
If you like fireworks, take a trip to Kalamazoo to watch the Western Michigan offense this year. Kaleb Eleby might just be the most underrated quarterback in the entire nation.
The sophomore, who has a rocket arm, finished in the top three nationally in yards per play, adjusted net yards per attempt and QB rating after a season in which he threw for 18 touchdowns to just two interceptions with a sparkling 65% completion rate.
The running back room is also very strong with former Michigan State transfer La'Darius Jefferson back on campus for the 2021 season. The depth is also a strength with Jaxson Kincaide and Sean Tyler.
Those three backs will play behind a forceful offensive line that returns four starters, led by first-team All-MAC Mike Caliendo. They will need to replace left tackle Jaylon Moore, who went to the 49ers in the fifth round of the NFL Draft, but Wesley French is slotted to move from center into that position with Caliendo moving to center.
Left guard becomes the inexperienced position up front, assuming there are no continuity issues with the reshuffling. This unit has a very high ceiling.
Eleby will miss electric wide receiver D'Wayne Eskridge, who went in the second round of the NFL Draft. Nonetheless, there's plenty of talent returning on the outside with Skyy Moore (first-team All-MAC as a freshman in 2019) and Jaylen Hall. Former Chattanooga transfer Bryce Nunnelly can help fill some of the void left by Eskridge.
Defense
The strength of this defense lies up front with nose guard Ralph Holley and defensive end Ali Fayad. Western has no issues generating pressure with its defensive line.
The linebacker group has question marks if AJ Thomas moves back to fill one of the open safety spots opposite the steady first-team All-MAC Bricen Garner. Zaire Barnes does return from injury, but former 2019 MAC Defensive Player of the Year Treshaun Hayward transferred to Arizona.
Things get a little hairier on the back end, especially at cornerback after All-MAC cornerback Patrick Lupro decided to forego this season to focus on academics. Head coach Tim Lester hopes that Therran Coleman, who was set to start at corner last year before injury, is 100% healthy and can lock down one of the corner spots.
The other corner spot might have to be occupied by converted wide receiver DaShon Bussell. Illinois transfer Delano Ware could also help in the defensive backfield, but this unit appears to be the weakest on the team.
Synopsis
Since PJ Fleck left the program, Western Michigan has been consistent but not spectacular. The Broncos haven't fallen below .500 in seven straight seasons but haven't won eight games since Fleck left five years ago.
WMU will have one of the most dynamic offenses in the MAC, so putting up points won't be an issue. The question becomes can the defense (particularly on the backend) improve at all to avoid weekly high-variance, wild MACtion shootouts?
I have serious questions about the secondary, and I believe that position group is the key to WMU's season. If the pieces fall into place, the Broncos can win the MAC. If not, they're likely just an exciting team that wins 5-7 games.
The nonconference schedule isn't easy. The Broncos should beat Illinois State at home, but they have two tough road games at Pittsburgh and at Michigan. The swing game will likely come at home vs. San Jose State. It's certainly winnable, but I wouldn't be shocked by any result there.
The Broncos will then kick off a difficult four-game stretch to open up league play:
at Buffalo
Ball State
Kent State
at Toledo
Keep in mind that Ball State and Toledo are their two biggest threats in the West. The division could be decided by the end of October.
WMU will then get a much needed bye week before finishing up with a reasonable four-game close with home games against Central Michigan and Akron followed by road games at EMU and NIU to close out the regular season.
I'm close to 7 wins projected, so I bought some over 6 wins at +100. The Broncos should ultimately make it eight straight years of .500 ball or better at the bare minimum.
---
---
Win total: Over 7.5 (-115)
Offense
The defending MAC champions will return 10-of-11 starters on offense, led by senior quarterback Drew Plitt.
The third-year starter finds himself on the Preseason Manning Award Watch List and will have a dynamic duo of pass-catchers back in the mix in Justin Hall (active FBS receptions leader) and NFL Draft prospect Yo'Heinz Tyler.
The Cardinals do lose running back Caleb Huntley (now with the Falcons), but the same committee that made do for most of last year with Huntley injured returns. Plus, all five starters on the offensive line return, although pass protection needs to improve.
Defense
Just like the offense, the defense is filled with experience as 10 of the 11 starters from its bowl victory return this year.
The loss of second-team All-MAC cornerback Antonio Phillips does leave a big hole to fill opposite AJ Uzodinma. Ball State is at least set at safety with two returning seniors in team leader Bryce Cosby (35 career starts) and Brett Anderson.
The Cardinals are also loaded at linebacker with four starters back who received All-MAC honors, led by co-MAC DPOY Brandon Martin, in addition to a fifth who won the MAC Championship game MVP. This is the best linebacker group in the conference.
The defensive line won't wow anybody, but the entire unit does return intact.
The run defense is the strength as the linebackers clean up everything, but the defensive line needs to generate more pressure to take this unit to the next level.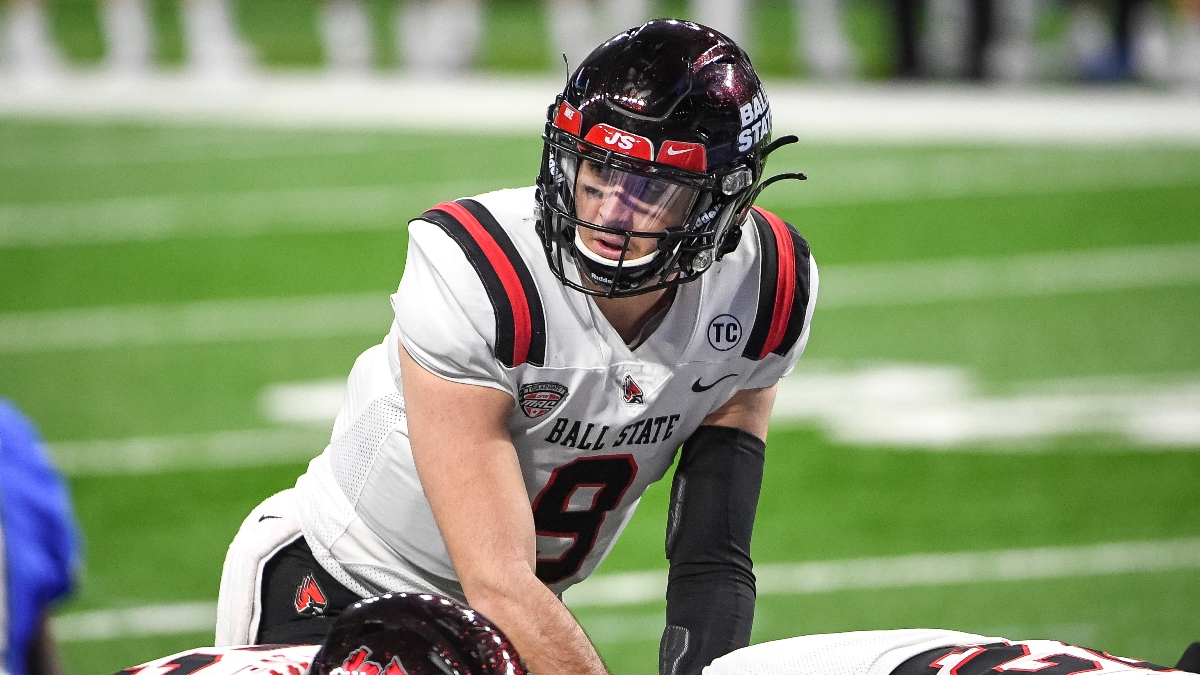 Synopsis
After years of disappointment under head coach Mike Neu, everything came together for the Cardinals last year en route to their first MAC Championship since 1996.
Now, with a target on their back after finishing in the AP Top 25, they will attempt to secure back-to-back winning seasons for the first time since 2013.
I benefited financially last year from Ball State's dream run, but there was definitely some good fortune involved. The Cardinals went 4-1 in one-possession games and finished with a +9 turnover margin (sixth nationally).
I'm just not sure they can count on the same timely forced turnovers and stops they got countless times in the fourth quarter last year. The regression monster looms.
From a scheduling perspective, they should start out with a home win over Western Illinois, but the other three nonconference games won't be easy:
at Penn State
at Wyoming
vs. Army
In conference play, the Cardinals avoid Ohio and Kent State from crossover games with the East and get to host Buffalo and Miami (OH) with a road game at Akron. That's good news for a team with a favorable road conference slate: at Western Michigan, at Eastern Michigan, at Akron, at Northern Illinois. They also host Toledo in a late September showdown that could determine the division.
The first six games will essentially make or break their season as they also travel to West contender Western Michigan in early October. Their bye week comes in the final weekend of October before a relatively easy four-game finish.
I actually wanted to fade Ball State this year, but the market prices on the Cardinals all look fairly reasonable across the board. Although, I'm partly fading them by going over on both WMU and Toledo.
---
---
Win total: Over 6 (-125)
Offense
As long as a starting quarterback emerges, this offense will have the chops to keep up with any team in the MAC.
It will come down to the winner of a QB competition between the returning Daniel Richardson — who has starting experience and knows the system — and Washington transfer Jacob Sirmon, who has more talent but is still learning the system.
The passing game actually clicked in the first four games last year before Richardson went down with injury, so this is one of the more intriguing preseason camp races.
The Chippewas arguably have the top running back duo in the conference in Lew Nichols and Kobe Lewis. Plus, they have two dynamic receivers on the outside in JaCorey Sullivan and the ultra-versatile swiss-army knife Kalil Pimpleton.
The offensive line also essentially returns five starters with 6-foot-5, 310-pound right tackle Luke Goedeke returning after missing last year due to injury. In fact, all seven players who started last year return in addition to Goedeke.
It all comes down to the quarterback and whether or not there are any growing pains under new offensive coordinator Kevin Barbay after Charlie Frye left for an NFL gig.
Defense
The defense was great against the run thanks to a very stout front seven that once again should pose major problems for opposing offenses.
Led by speedy co-MAC Defensive POY Troy Hairston at defensive end and two productive linebackers in Troy Brown (Nagurski Watch List) and George Douglas, the Chips arguably have the best front seven in the league. Hairston will also benefit from the return of 2019 starting defensive end LaQuan Johnson (injured last year) on the other side.
There's only one key departure up front in first-team All-MAC defensive tackle Mo Diallo, who went in the first round of the CFL Draft. Despite his loss, CMU still has some experience on the interior with the likes of Tico Brown and Jacques Bristol — although Robi Stuart was lost for the year after an injury in the spring.
Starting linebacker Chuck Jones also transferred, but Michigan State transfer Marcel Lewis should slide right in without much of a drop-off. There are also five total linebackers with starting experience on the roster, so this group is a towering strength.
The safeties are also rock solid with Willie Reid (first-team All-MAC) and Devonni Reed (third-team All-MAC) back in the mix.
The biggest question with this aggressive defense that returns its top eight tacklers is whether or not the cornerback group can figure it out.
CMU plays a very aggressive 4-3 defense under Robb Akey that can cause plenty of Havoc. The Chips finished No. 8 nationally in defensive turnover percentage last year and ranked second in the league in both tackled for loss and sacks.
But the cornerbacks got left in the dust way too often last year when opposing quarterbacks had time to throw. Dishon McNary has one corner spot locked down, but the other two spots remain up for grabs. If the secondary can figure it out, it could cause some midweek MACtion Havoc.
Synopsis
This is Year 3 for head coach Jim McElwain, who remarkably led CMU to a West title in his first season. Last year didn't go quite as smoothly as the Chips finished with 3-3, but they had to deal with COVID-19 and injuries throughout the shortened season.
Can they get back to Detroit this year?
They are certainly worthy enough to be in the discussion. It will likely come down to the development of the cornerback group and the productivity of whoever emerges as QB1, as the rest of the offense and defense are MAC title-worthy.
Also, keep in mind the Chips might have the best special teams group in a conference full of poor play on the often-forgotten-about third unit. CMU returns an All-MAC punter and kicker to go along with two dynamic returners in Pimpleton on punts and Lewis on kicks.
Unfortunately, the schedule is a bear. Central Michigan has two road nonconference games against SEC opponents LSU and Missouri. You can mark those as losses, but home games against FIU and Robert Morris are easily winnable. Let's call it 2-2 heading into conference play.
The Chips will start out their league slate with a very difficult cross-division two-game road trip against Ohio and Miami (OH). They don't get a break thereafter, as they will immediately come home for a showdown with division favorite Toledo. There's nothing easy about the three-game stretch that could make or break their season.
There are two more tough road games on the schedule at Western Michigan and at Ball State — sandwiched around a tricky home matchup with Kent State.
Home games against NIU and EMU appear to be the only breaks on a very tough MAC schedule that doesn't contain Akron or Bowling Green.
Drawing the top three teams out of the East is just bad luck, particularly this year.
All of the preseason prices on CMU look about right to me, but I could see how one could build a case to take a flier on the Chips. It's a pass across the board for me.
---
---
Win total: Over 6.5 (-110)
Offense
The severely underrated quarterback Preston Hutchinson returns under center for an offense that will bring back 10 starters. Ben Bryant also transferred in from Cincy to bolster the quarterback depth.
That returning production includes all five starting offensive linemen, led by center Mike Van Hoeven, left guard Sidy Sow and right tackle Brian Dooley.
Darius Boone returns after showing potential at running back, but the ground game was underwhelming in 2020 in large part due to an offensive line that failed to generate a major push up front. The Eagles hope this improves with more continuity this season.
EMU features one of the best tight ends in the conference in Thomas Odukoya. The wide receiver room also has experience, led by Hassan Beydoun, Tanner Knue and Quian Williams, but they are a bit undersized overall.
Defense
The defense is the biggest question mark on the team. The good news is all 11 starters are back for defensive coordinator Neal Netherly's unique 4-2-5 scheme.
The defense has some talent at all three levels, including top tackler linebacker Terry Myrick, leading pass rushers at defensive end Turan Rush and Jose Ramirez, and star defensive back Alvinoski LaFleur.
The run defense was horrifying last year, as the Eagles allowed opponents to rush for 241 yards per game at a clip of 5.3 yards a pop. Can the experience lead to better results?
That remains to be seen, but it's hard to imagine a complete 180. Opponents should still have plenty of success gashing the Eagles on the ground.
I'm a little more optimistic about the secondary, which simply couldn't stay healthy last year — including LaFleur. As a result, the Eagles ended up using 10 different starting defensive backs across six games. Safety Blake Bogan returns after missing 2020 due to injury, and a few transfers could contribute this season.
With Bogan and nine of those 10 who made starts returning this year, the secondary should perform much better if it can avoid a repeat injury-plagued season.
All-in-all, the top 11 defensive linemen, top six linebackers and 10 of top 11 defensive backs return. The experience is not a concern.
Now, can it lead to improved results to complement an offense that should put up points? That's the million-dollar question surrounding the Eagles in 2021.
Synopsis
Head coach Chris Creighton has done an admirable job in Ypsilanti taking over a program that was once left for dead. Maybe he can finally flip some of the annual close losses into wins this year, but this looks like another 6-7 win team.
There's a decent chance EMU could start the season with a 3-1 record with the following nonconference slate:
vs. St. Francis (PA)
at Wisconsin
at UMass
vs. Texas State
The Eagles have two other very winnable road games in conference at Bowling Green and at Northern Illinois.
If all of the above goes according to plan, that puts them at five wins with the following six games rounding out the rest of their schedule:
vs. Miami
vs. Ball State
at Toledo
vs. Ohio
vs. Western Michigan
at Central Michigan
They'd need to win two of those games to reach seven wins. The good news is four of the six are at home. The bad news is none will be easy. I personally project 6.6 wins, so I see no value in the win total and don't think the roster is quite good enough to win the MAC.
EMU, which has lost 24 one-possession games since 2016, will likely be a live underdog in certain spots as usual. The Eagles even have one of the most reliable special teams units in the MAC, which can only help.
That said, I have no interest in any preseason investments and will simply be looking for the best weeks to get in on the Eagles. I'm also a bit concerned we could see some red-zone regression after EMU completed dominated inside the 20 on both sides of the ball last year.
---
---
Win total: Under 4 (-125)
Offense
There's a new quarterback in town after Ross Bowers moved on. After flaming out at Michigan State, Rocky Lombardi should get the nod as QB1.
Fortunately, the rest of the offense remains almost entirely intact, led by senior wideout Tyrice Richie.
The Huskies will only need to replace a left guard and second-team All-MAC tight end Daniel Crawford. They hope Youngstown State transfer Miles Joiner can fill Crawford's void without much of a drop-off.
The offensive line brings back four players who started all six games last year, but four of the five projected starters are still underclassmen.
Defense
Stud nose tackle Weston Kramer transferred to Indiana, but everybody else on the two-deep returns on the defensive line. That said, it's still an extremely youthful group with four potential freshman starters.
The Huskies hope that senior Lance Deveaux can provide a boost at middle linebacker after missing the past two seasons due to injury.
Unfortunately for Northern Illinois, projected starting outside linebacker Kyle Pugh suffered an injury in the spring and will not play in 2021, which would've been his seventh season. That likely leaves two freshmen to start on the outside.
Sensing a theme here? This team has experience but is still super young.
Speaking of young, the secondary started two true freshmen last year. On the plus side, the entire two-deep returns, led by sophomore cornerback Jordan Gandy.
This unit really struggled last year and may start three freshmen, but there should at least be some improvement after most got thrown into the fire last year without much of an offseason for preparation.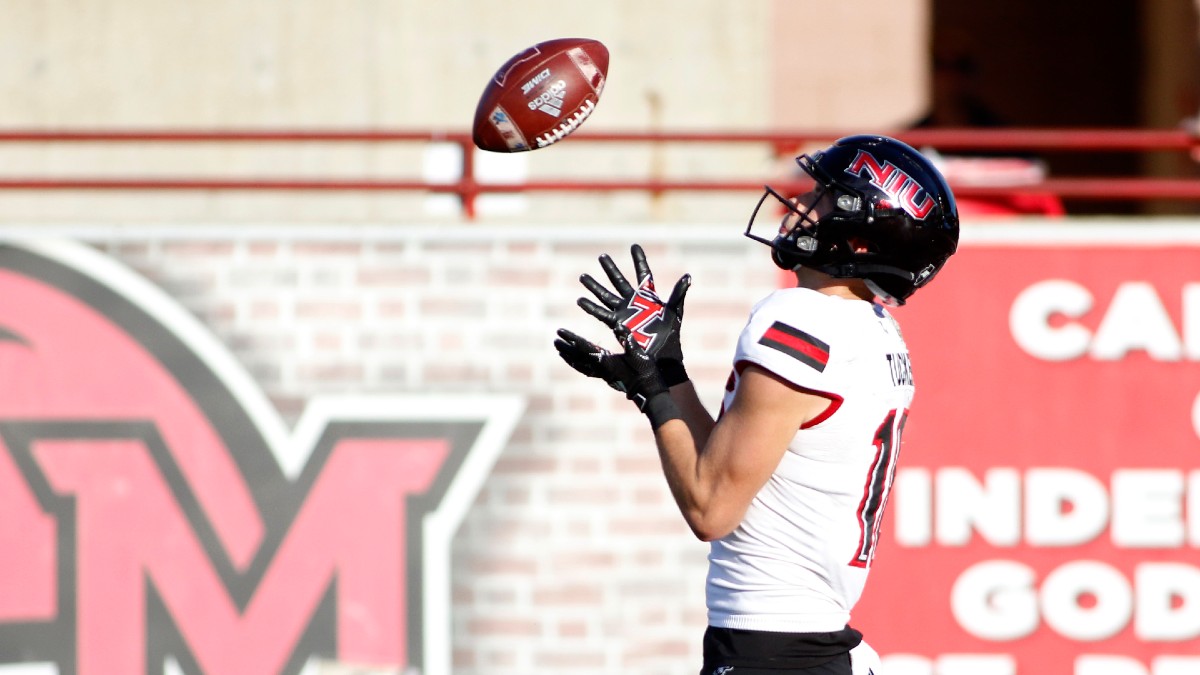 Synopsis
Head coach Thomas Hammock heads into his third year in DeKalb, but things don't look as hopeful as he probably hoped for when he left the Baltimore Ravens.
There's returning experience all over the roster with eight starters back on offense and 10 on defense, but the past results aren't too promising. I'm not a Rocky Lombardi guy, so I can't see this offense improving too much from an abysmal 2020.
This is still a very young team with almost no starting seniors. I want no part of NIU this year, but if Lombardi somehow works out at quarterback, the Huskies could be an underrated team headed into 2022.
For what it's worth, they did have three one-possession losses in an 0-6 season last year, but they just never passed the eye-test for me. I still think the Huskies are a year away from potentially reaching bowl eligibility.
With a win total set at four, let's look at the schedule and hunt for potential wins. NIU has four nonconference games in September:
at Georgia Tech
vs. Wyoming
at Michigan
Maine
That looks like 1-3 to me. The Huskies also have a difficult road schedule with away dates against Toledo, Central Michigan, Kent State and Buffalo. The MAC is very unpredictable, but it's tough to see any wins there.
That leaves four league home games against Eastern Michigan, Bowling Green, Ball State and Western Michigan. It's tough to see NIU sweeping those games to get to five wins.
From a mathematical standpoint, I'm right around three wins, so I have no issues going under four wins at a price of -125.
---
---
MAC East
The East features two teams in Akron and Bowling Green that have absolutely no chance of making any real noise.
So, who will come out of this division? That should come down to a wide-open race between four teams: Kent State, Miami (OH), Buffalo, and Ohio.
The latter two dealt with sudden head coaching changes this offseason. Miami (OH) needs to rebuild its offensive line, and Kent State will try to find any semblance of a defense.
It should be a fascinating competition to watch play out.
Win total: Over 5.5 (+115)
Offense
It all starts with the quarterback. Kent State has the best one in the MAC in Dustin Crum, who many NFL teams will take a long look at next season as a prospect.
Crum will have the luxury of an experienced offensive line that many rank as the top unit in the conference. Plus, his top three backs return from last year.
There was some attrition at wideout. First-team All-MAC receiver Isaiah McKoy left early for the NFL, and third-leading receiver Isaac Vance went down with an injury in the spring.
The Golden Flashes do bring in two Syracuse transfers who should contribute right away in wide receiver Nykeim Johnson and tight end Aaron Hackett. Those two had 20 and 18 career starts with the Orange, respectively.
Having someone emerge as a reliable third receiver will be something to watch, but I expect the up-tempo "FlashFAST" offense to keep humming in head coach Sean Lewis' fourth year.
Defense
The defense has left a lot to be desired at Kent State in recent years, but at least eight of the top nine tacklers return. That's a start for a unit that can really get after the quarterback, but the lack of size up front leaves them vulnerable against the run.
You may recall Buffalo hanging 70 points on the Golden Flashes last year by running it right down their throat. Even Akron and Bowling Green had backs that ran for at least 160 yards.
There is at least experience at linebacker, but the three-man defensive line of Kent State's 3-4 base defense just lacks bulk. And Buddha Jones deciding to transfer didn't help in that department.
There's also experience in the front seven, which has plenty of quickness and ability to get after opposing quarterbacks. We will see if that experience and/or scheme changes can lead to improvement in stopping the run, as it could ultimately be Kent's downfall against the upper echelon of the MAC.
On the back end, the underrated Elvin Hines has one cornerback spot locked down as a fourth-year starter. K.J. Sherald, who opted out of 2020 after starting the previous two seasons, will return at safety.
I also like some of the transfers Kent State brought in to boost the defensive backfield. It's hard to project how those will work out, but this secondary has talent.
Plus, if the run defense doesn't improve, the secondary production won't even matter much.
Synopsis
How much can you really take from what Kent State did last season? The Golden Flashes played only four games with two coming against lowly Akron and Bowling Green.
As a result, some of their national statistic rankings are very skewed. For example, Kent State finished with the top offense in the country and the third-best pass defense. Again, it helps to beat up on Akron and Bowling Green in 50% of your games.
However, there's zero doubt Lewis has this program headed in the right direction. After only two winning seasons from 1987-2019, Kent State will now try for its third straight winning season for the first time since 1973 after finishing with back-to-back winning seasons for the first time since 1977.
You can almost write in a nonconference record of 1-3 with three brutal Power 5 road trips to Texas A&M, Iowa and Maryland.
The Golden Flashes will beat VMI at home, but the goal will be to get through those three tough away games with full health, as teams in this conference aren't necessarily known for their depth.
If they can avoid injury issues early on, I think those three games will pay off later in the season in regards to team growth and development.
Kicker is a question after Matthew Trickett transferred to Minnesota. Kent State really needs freshman Casey Magyar to succeed in that role, or there could be major issues.
Kent State is certainly in the discussion for a MAC Championship — which would be its first in 49 years.
The Golden Flashes do benefit from a weaker East division this year, especially when you consider two of the primary contenders (Ohio and Buffalo) had to deal with late, unexpected head coaching changes. They also host the third primary division contender (Miami OH) in the season finale, which could end up deciding which team goes to the MAC title game.
With Crum and arguably the top offensive line in the league, Kent State's aggressive, fast-paced offense will put up numbers. I expect Lewis to have his best defense yet with a few key transfers who could find their way into the starting lineup.
In a division there for the taking, the Golden Flashes are worth a flier at 14-1.
---
---
Win total: Over 7 (-115)
Offense
Ohio still needs to identify a quarterback between the two who competed last year. Nathan Rourke, who did undergo offseason shoulder surgery, is the more traditional pocket passer. Former UNLV transfer Armani Rogers offers more of a dual-threat.
Early reports are Rourke has the edge, but the staff wants to rotate both, which I'm never a fan of, especially in this case with two players who have vastly different styles.
Regardless of who wins the job, the offense will run through returning back De'Montre Tuggle. He'll run behind a very experienced offensive line that features three super seniors and added massive Virginia Tech transfer TJ Jackson (6-foot-7, 375 pounds), who should start at left tackle.
Sixth-year senior Nick Sink will move to center (where he has played before), so there is some reshuffling here. The questions will be with the youth at right tackle and left guard, but this is still a group that can move mountains in the MAC.
If the quarterback position pans out, Ohio has enough talent at wide receiver and tight end to serve as a viable enough complement to the rushing attack.
However, the Bobcats will miss deep threat Shane Hooks (transferred to Jackson State), but Isiah Cox and Cam Odom do return for a team that uses a high frequency of two-tight end sets.
Defense
The defense lost plenty of production from last year with only four starters returning.
The Bobcats will need to replace their top two defenders from last year in middle linebacker Jared Dorsa and top pass-rusher defensive end Austin Conrad.
Ohio has struggled to defend the run in recent seasons, even allowing 4.8 yards per carry last year in a three-game schedule that featured Akron and Bowling Green.
Kai Caesar is a force at defensive tackle, but there are questions at defensive end. The linebacker group does return a lot of production, but the question will be who steps up in the middle.
The secondary has adequate experience, but the cornerback position did take a hit in the depth department with the loss of the Motley brothers. Ohio has some intriguing young talent at corner, including highly-touted recruit Shakari Denson.
The kicking and punting games are also suspect based on what we saw last season.
Synopsis
It's hard to take a lot from last year's shortened season for the entire MAC, but that's especially true for Ohio.
The Bobcats played only three games with two coming against two of the worst teams in the country (Akron and Bowling Green). They dropped their only other game in a closely contested defeat at Central Michigan, 30-27.
The biggest offseason story with Ohio occurred this summer when long-time head coach Frank Solich suddenly left the program for health reasons. How much of an impact will that have on the team?
That remains to be seen, but it certainly left the remaining staff scrambling a bit after losing the winningest coach in MAC history after 16 years as the head man in Athens.
Solich will at least be replaced by long-time offensive coordinator Tim Albin, who has been with the program since 2005. Still, he hasn't held a head coaching position since the late 1990s at Northwestern Oklahoma State.
The schedule is at least favorable outside of back-to-back nonconference road games at Louisiana and at Northwestern. The Bobcats actually have a third straight roadie after those two contests, but it fortunately comes against Akron.
The conference road slate is manageable with Akron, Bowling Green, Eastern Michigan and Buffalo. Their toughest MAC opponents will have to travel to Athens, including their two biggest challengers in the East in Kent State and Miami (OH) in back-to-back games with a bye in between.
They start out with two winnable home nonconference games against Syracuse and Duquesne. That Syracuse game is essentially a toss-up and could easily decide whether Ohio goes over or under its win total.
With uncertainty at quarterback and the potential fallout from Solich's departure, I want no part of Ohio in the futures market. From a win total perspective, I really think it comes down to the opener against Syracuse.
So, I wouldn't tie up my money all season for a fairly reasonable win total.
---
---
Win Total: Under 5.5 (-140)
Offense
Brett Gabbert returns fully healthy at quarterback after an injury-riddled shortened season that followed a brilliant freshman campaign in 2019 when he led Miami (OH) to the MAC Championship.
The RedHawks have no issues when it comes to QB depth as AJ Mayer also returns after filling in admirably when Gabbert couldn't go last year.
Gabbert will have one of the conference's strongest receiver groups, led by pass-catching machine Jack Sorenson. Overall, the top-nine targets from 2020 return, and Miami will also add 2019 tight end starter Andrew Homer, who missed last season.
Look for a breakout campaign from Penn State transfer Mac Hippenhammer, who has one of the best names in all of college football. Hippenhammer, Sorenson, Jalen Walker and James Burns make up one of the strongest wide receiver units in the MAC.
The rushing attack was almost nonexistent last year with the running backs averaging an abysmal 3.0 yards per carry.
However, the backfield will get an infusion of talent with the top two backs from 2019 returning after missing last year in Jaylon Bester and Tyre Shelton. That pair combined for 1,328 yards (4.8 ypc) and 16 touchdowns two seasons ago.
While the skill positions look promising for Chuck Martin's group in 2021, the offensive line has major holes to fill.
This group, which has been a towering strength over the past few seasons, now has serious questions after the departures of star 6-foot-8 left tackle Tommy Doyle to the NFL (fifth round, Bills) and stud center Danny Godlevske (transfer, Oklahoma State).
How this unit, in which has no player with more than 10 career starts, comes together will go a long way in determining how much success the RedHawks find in 2021.
Defense
The defense returns 10 starters from last year, so experience is not a concern.
The RedHawks have one of the top linebacker units in the conference, led by Ryan McWood and Ivan Pace. Overall, the front seven looks strong for a group that can get after the quarterback and hold its own against the run (21st in 2020) as demonstrated against Buffalo's potent ground game last year.
There are some questions on the interior of the defensive line, but the front seven is strong overall.
The biggest question mark on the team lies in the secondary.
First off, the RedHawks must replace their top cornerback in Manny Rugamba, who earned All-MAC honors in each of the past two seasons after transferring from Iowa. There aren't many worries at safety with upperclassmen Sterling Weatherford and Mike Brown, but the defense will be severely limited if it can't find cornerbacks to step up in man coverage on the outside.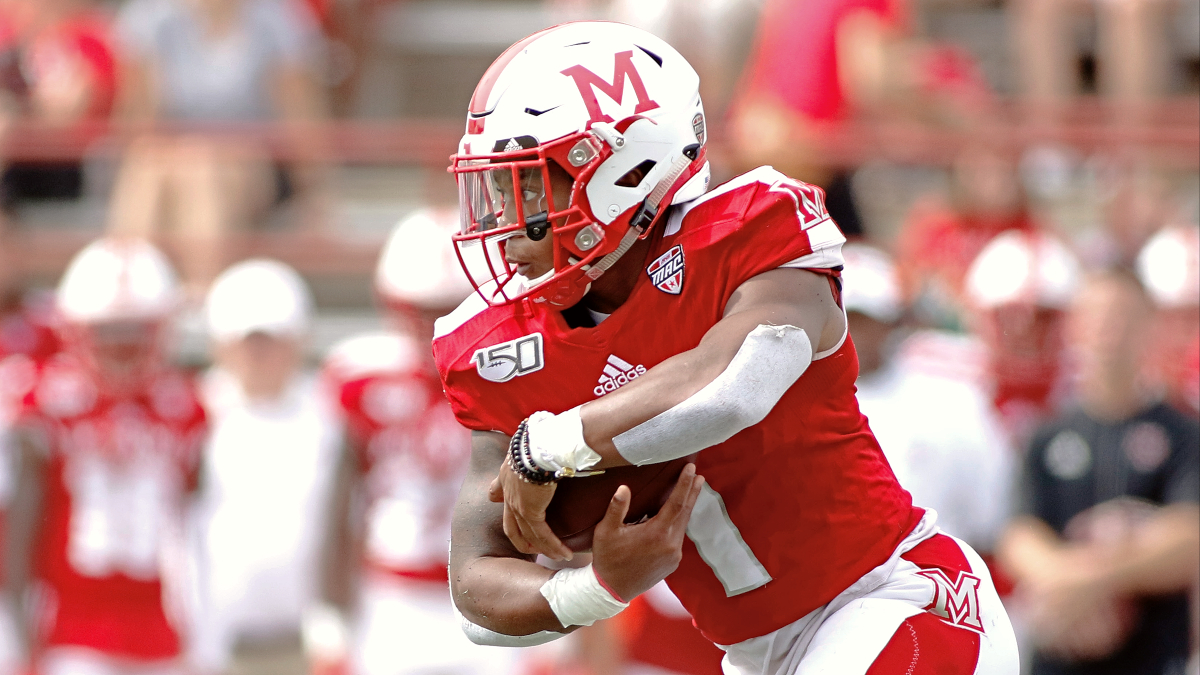 Synopsis
Similar to Ohio, Miami played only three games last year with one essential throwaway at home against Akron. The RedHawks split their other two with a home win over eventual MAC champion Ball State and a road loss at eventual MAC runner-up Buffalo.
The linebackers and skill positions are rock solid, but there are serious gaps along the offensive line and at cornerback. Those are the two groups that will make or break Miami's season. If both come together, this team could win the MAC. If not, it could finish under .500.
The schedule is vicious.
Miami will likely start out 1-3 with a home win over Long Island and three road losses against Cincinnati, Minnesota and Army. The road schedule doesn't get much easier in conference play with away games against Ball State, Kent State, Ohio and Eastern Michigan.
The RedHawks' best path to six wins is to win one of those road games and sweep at home (Akron, Bowling Green, Central Michigan and Buffalo off of a bye). It won't be easy.
Their win total is priced fairly compared to my projections. And the questions with the offensive line and secondary, along with an unforgiving schedule, kept me away from considering Miami for a possible MAC Championship future.
---
---
Win total: Under 7.5 (-105)
Offense
Kyle Vantrease returns at quarterback. He isn't the most skilled quarterback in the league, but he can make all of the throws and rarely makes mistakes.
While Buffalo did lose star running back Jaret Patterson to the NFL (UFA, Washington) after three successive 1,000 seasons, Kevin Marks is no slouch. The new RB1 actually averaged over 100 yards on the ground as the primary backup last year.
However, the rushing attack will still certainly miss Patterson, and the losses on the offensive line may lead to a steep drop in production. Buffalo returns only two starters up front and will sorely miss first-team All-MAC center Mike Novitsky — one of many to transfer to Kansas this past offseason.
This is a unit that already lost star left tackle Kayode Awosika to the NFL (UFA, Eagles) and saw third-team All-MAC guard Jacob Gall transfer to Baylor. Plus, depth tackle/guard Ray Thomas-Ishman and offensive line coach Scott Fuchs also headed out the door.
This unit returns the third-fewest starts of any offensive line in the country and should take a major step back in 2021, potentially plaguing the offense all year long.
On top of all of that, Buffalo loses three of its top four receivers from last year, including second-team All-MAC wideout Antonio Nunn and third-team All-MAC tight end Zac Lefebvre.
Defense
Buffalo lost three key cogs to transfers in the interior of its 4-3 defense in Eddie Wilson, Ronald McGee and Tyrece Woods. Additionally, they lost defensive end Malcolm Koonce. The ferocious pass rusher, who went in the third round of the NFL draft, lived in opponent backfields as Buffalo's primary havoc creator.
However, the Bulls should still be set at defensive end with the return of 2019 first-team All-MAC DE Taylor Riggins (injured last year), along with 2020 breakout star Eric Black.
The defensive line, as a whole, will still take a step back unless someone really emerges along the interior to pair with George Wolo. Depth is certainly also a concern.
James Patterson, who shined against the run last year after moving inside, returns to lead a rock-solid linebacker group with Kadofi Wright at Rover and Tim Terry Jr. on the outside. The Bulls did lose inside linebacker Tyree Thompson, but this group is the least of Buffalo's worries in 2021.
In the secondary, Buffalo will sorely miss stud safety Tyrone Hill, who jetted for Washington State in the offseason. Fortunately, fellow starting safety Cory Gross Jr. withdrew his name from the transfer portal and will return on the back end for 2021.
Roy Baker Jr. must be replaced at cornerback after also transferring, but Aapri Washington and Isaiah King do come back.
Buffalo also hopes a few key transfers it brought in can help fill some of the gaps in the secondary, but I expect an overall decline here.
Synopsis
In a year when most teams in the MAC can rely on an abundance of returning production, Buffalo cannot.
After a successful 6-1 season capped off with a bowl victory, head coach Lance Leipold suddenly bolted for the same position at Kansas in the spring. He not only took seven assistant coaches but a plethora of key players as well.
There's a lot of change to deal with, especially considering the Bulls went outside the program for new head coach Maurice Linguist, who brought in a new offensive coordinator from James Madison and defensive coordinator from Houston.
A brand new staff that started in May will have to implement brand new schemes after losing a number of key contributors to the transfer portal after Leipold left. That's no easy task.
It's safe to assume a 2-2 nonconference finish in September with losses to Nebraska and Coastal Carolina sandwiched in between wins over Wagner and Old Dominion.
They then face three MAC contenders (vs. Western Michigan, at Kent State and vs. Ohio) before getting a major breather with back-to-back games against Akron and Bowling Green before a bye week. The Bulls will then close the regular season with two tough road games at Miami Ohio and at Ball State with a likely home win over Northern Illinois in between.
In my opinion, you can only sell this Buffalo team given the circumstances and roster attrition. I didn't even mention the special teams, which are annually one of the worst in the nation.
Basically, the schedule features five easy wins (which helps) and two likely nonconference losses. In order to go over 7.5 wins, you have to believe the Bulls will win three of the following five games:
Western Michigan
at Kent State
Ohio
at Miami Ohio
at Ball State

I personally don't believe they will. While my number isn't too far below 7.5, I have enough reasons to sell and bet an under here.
---
---
Win total: Over 2 (-110)
Offense
It's all about the status of Teon Dollard, who shined last year at running back.
He's currently suspended as a result of a gun charge, and his status for the future remains unclear. There's a chance the charge could be dropped if he completes a diversion program, but the timing on that (and Akron's response) still remains a mystery.
The quarterback room has two returning starters in Kato Nelson, who missed last year due to shoulder surgery, and Zach Gibson. JUCO transfer DJ Irons could also be in the mix for QB1.
Whoever wins the job will have six of Akron's top seven pass targets back, but that one loss is a big one, as leading receiver Nate Stewart transferred to Montana State.
The offensive line has been very poor the past two seasons, but there is at least plenty of experience this year. Yes, four redshirt freshmen will likely surround senior center Bryce Petersen, but all five projected starters do at least have prior starting experience.
Defense
The defensive line is undersized and a major area of concern after losing three starters from last year's team. They can be pushed around.
At least Akron boasts a strong linebacker unit, led by first-team All-MAC players Bubba Arslanian and Brandon Bischof. That duo will pile up the tackling numbers and be relied upon to compensate for a very underwhelming defensive line.
Meanwhile, the secondary should be improved based solely on returning production.
Still, overall, this defense will get torched by any competent offense it faces.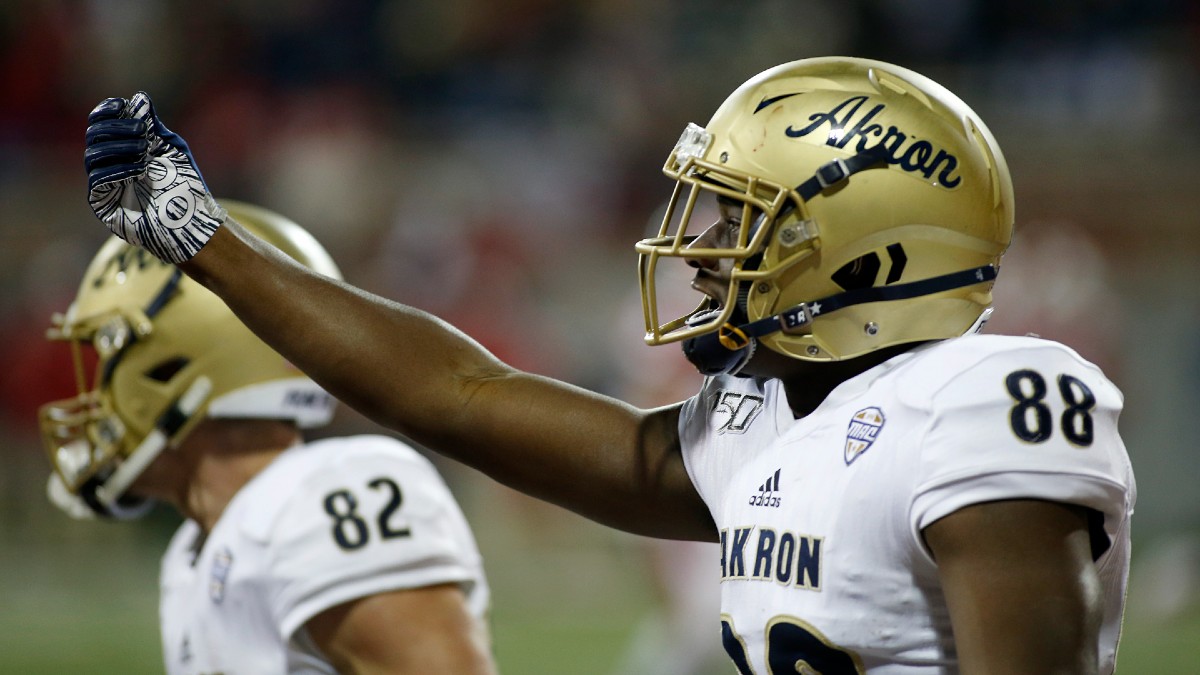 Synopsis
We can potentially expect some improvement in the third year of head coach Tom Arth and his two coordinators, but dreams of even dreaming of a bowl are still years away.
The Zips are the team I love to hate and hate to love. So, can we find three wins on the schedule and torture ourselves with an over? Well, here are their only realistic shots in my opinion:
vs. Bryant
at Bowling Green
Sadly, the answer is no.
Akron should undoubtedly beat Bryant, but a game at Bowling Green could go either way. Winning that and stealing a game as a home underdog against Temple, Buffalo, Ohio, Ball State or Kent State is the only path to three wins.
Lose that game at Bowling Green, which will be out for major revenge after last year's embarrassing loss, and I don't see any path to three wins.
I project 2.0 wins on the dot, so save your money for that Oct. 9 toilet bowl showdown between the Zips and Falcons.
---
---
Win total: Over 1.5 (+110)
Offense
Former Boston College transfer Matt McDonald returns under center after an absolutely horrific season in which he rated as the worst quarterback in the nation by almost every metric.
Maybe he wasn't healthy, as his throwing motion just looked off all year. He did have offseason shoulder surgery, so maybe we see improvement in the passing game.
If we are going to see any improvement on offense, it will have to be with a number of new faces, as the offense returns only three other starters in addition to McDonald.
The Falcons lost their top two pass-catchers in first-team All-MAC tight end Quintin Morris and wide receiver Julian Ortega-Jones. Only two players who caught passes last year remain on the roster.
The running back room is probably the strength of the team.
The offensive line was also depleted by three transfers and a medical retirement. Bowling Green returns only 14 career starts on the offensive line with four projected freshman starters. And 10 of those 14 starts are occupied by right guard Sam Neverov. In fact, the entire offense could have seven freshmen, two sophomores and two juniors.
For what it's worth, McDonald missed the spring (which ended early due to COVID-19), as did the two freshman quarterbacks behind him on the depth chart. That's not ideal for a team in complete rebuild mode.
Don't expect much at all from this group.
Defense
BG couldn't stop a nose bleed last year. It will return seven starters, but I'm not sure how much improvement we can expect from a unit that allowed 45 points per game in 2020.
The rush defense was historically bad. Maybe that can change with a coaching and scheme change with defensive backs coach Eric Lewis replacing defensive coordinator Brian VanGorder. Lewis will transition the team from a 4-3 to a 3-4 defense.
I do think VanGorder is truly awful, so this can only be a positive change. I mean, how much worse can things really get?
Well, the Falcons need to replace their two best linebackers and top cornerback — all transfers. Maybe it can get worse before it gets better.
Synopsis
The 2020 season proved to be a disaster for Bowling Green, which had one of the most inexperienced rosters I've ever seen and didn't hold a lead for a single second, even getting blown out 31-3 by Akron. That's still the case with freshmen and redshirt freshmen making up 75% of the roster after the team saw a mass exodus of players following last year.
I do think head coach Scot Loeffler will eventually get this turned around with some promising recruiting classes but not for another 2-3 years.
We don't need to spend much time on this continued rebuilding effort. For what it's worth, Bowling Green does have three home games it could potentially pull out wins:
vs. Murray State
vs. South Alabama
vs. Akron
Maybe that's enough to get you to bite on the over 1.5 at slight plus money, but I won't put my money near the team I have rated as the second-worst in FBS — ahead of only New Mexico State.
I personally project the Falcons to win 1.35 games, so the win total is a hard pass for me.
---
---
MAC Predictions
I actually previewed each division in the order I think the teams will finish.
MAC West
Toledo
Western Michigan
Ball State
Central Michigan
Eastern Michigan
Northern Illinois
MAC East
Kent State
Ohio
Miami (OH)
Buffalo
Akron
Bowling Green
Championship: Kent State over Toledo
Futures
Kent State to win MAC (14-1)
Toledo Over 8.5 Wins (-115)
Buffalo Under 7.5 Wins (-110)
Northern Illinois Under 4 Wins (-125)
Western Michigan Over 6 (+100)
How would you rate this article?
This site contains commercial content. We may be compensated for the links provided on this page. The content on this page is for informational purposes only. Action Network makes no representation or warranty as to the accuracy of the information given or the outcome of any game or event.