Wilson: How a Big Ten-Only Schedule Affects the League's Landscape
Credit:
Aaron J. Thornton/Getty Images. Pictured: Justin Fields
The Big Ten will play a conference-only schedule in the fall of 2020, pending any changes to the current COVID-19 pandemic.
This was not entirely unexpected, as I wrote in March that Oregon would benefit the most from missing the Ohio State game. There are plenty of questions for all FBS teams in the wake of the Big Ten's decision.
Notre Dame loses a centerpiece of their schedule in Wisconsin. Virginia Tech and Oregon dodge Penn State and Ohio State, respectively.
The news is financially crushing for Group of 5 schools as many teams depend on the Power 5 for a payday. Central Michigan loses two early games against Northwestern and Nebraska, for example.
The Big Ten is expected to announce today that it will go with a conference-only football schedule for this fall, a person with direct knowledge situation tells @TheAthleticCFB.

— Nicole Auerbach 😷 (@NicoleAuerbach) July 9, 2020
---
Bet college football futures now at DraftKings. Get up to a $1,000 sign-up bonus at DraftKings today or see more offers and reviews for the best online sportsbooks.
---
As all FBS teams are sure to have a schedule shakeup, the Big Ten is reportedly open to changing the current conference schedule. Long gone are the days of the Leaders and Legends division, as proximity may determine the schedule.
Nebraska at Rutgers or Minnesota at Maryland may be replaced with local restrictions in place. Currently, the state of New Jersey suggests travelers quarantine for 14 days upon entry.
With their current conference schedules, here are my projected win totals.
And with a flood of news to come, I'll take a look below at a few of the individual teams returning production, success rate and strength of schedule for the upcoming season to determine who stands to benefit from the shortened season.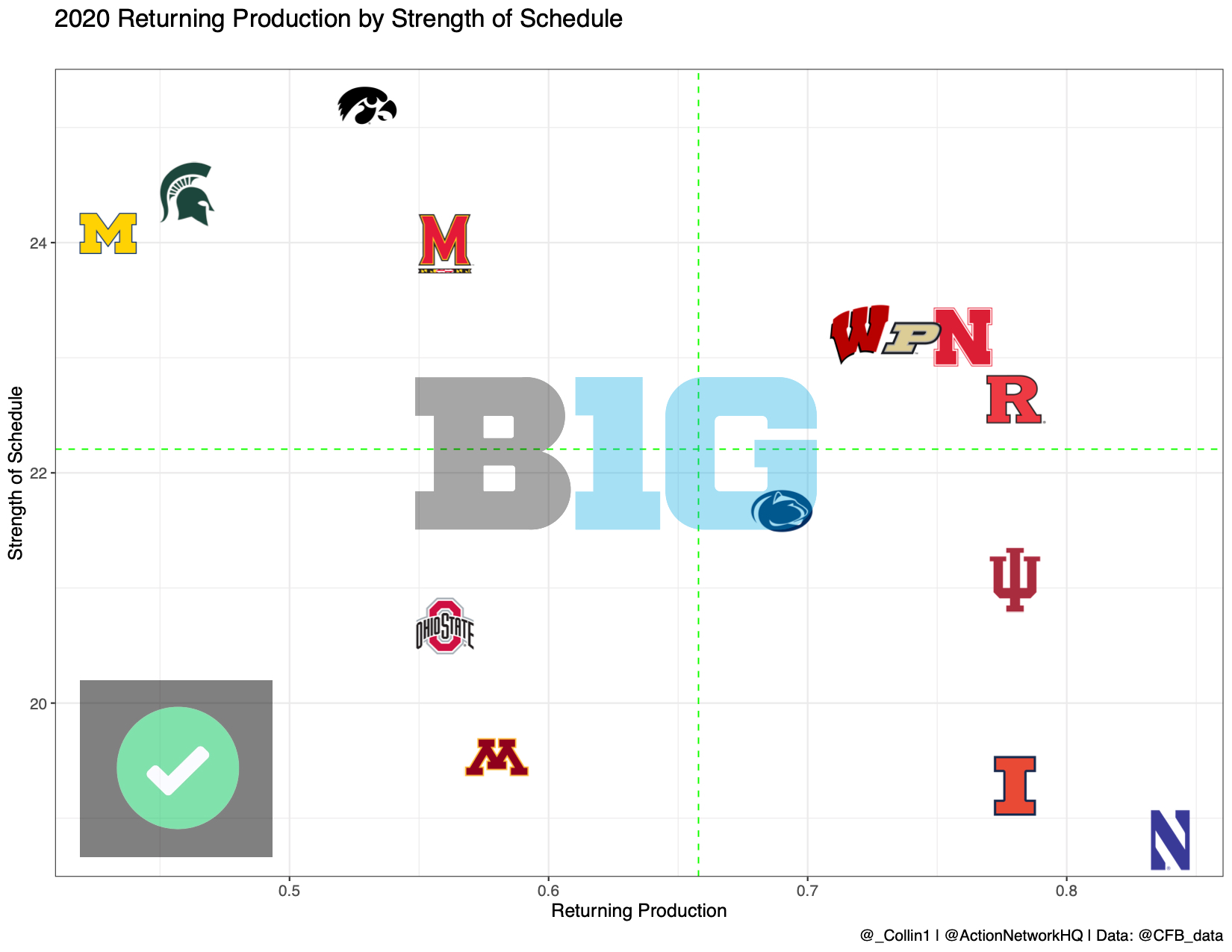 Iowa
The Hawkeyes do not get much relief from the cancelation of non-conference games.
Matt Campbell has yet to beat the Hawkeyes as head coach at Iowa State. Games against Northern Iowa and Northern Illinois served as prep for a conference slate that included road trips to Ohio State and Penn State.
But if the Big Ten decided to shuffle the conference schedule, Iowa will be the biggest benefactor, as it may avoid some of the powerhouses from the East.
Michigan
There may not have been a bigger Week 1 discrepancy in returning production when the new-look Wolverines offense faced the defense of Washington.
That travel is off, but Harbaugh's shot to beat the Buckeyes still looms at the end of the season. Ann Arbor is expected to host Wisconsin and Penn State, making this one of the Big Ten's toughest schedules for an inexperienced roster.
Wisconsin
The Badgers trip to Lambeau against Notre Dame was sure to draw the College Gameday set.
Now Wisconsin's road schedule is Michigan, Maryland, Northwestern, Iowa and Purdue. If Success Rate is any indicator, pencil the Badgers at 50-1 odds (FanDuel) to win the national championship, as a Big Ten title game appearance will serve as a national quarterfinal.
---
Success Rate (defined at Football Outsiders) is an advanced statistic used to measure efficiency by determining whether every play of a given game was successful or not. The terms of success in college football: 50% of necessary yardage on first down, 70% on second down, and 100% on third and fourth down.
---
Ohio State
The loss of Oregon from Ohio State's schedule is the biggest story in the conference, as that game served as a platform for both the Big Ten and Pac-12.
A potential Justin Fields Heisman showcase will have to wait for Penn State and Michigan later in the year. Any odds at +400 or better for the national title should be considered for Ohio State.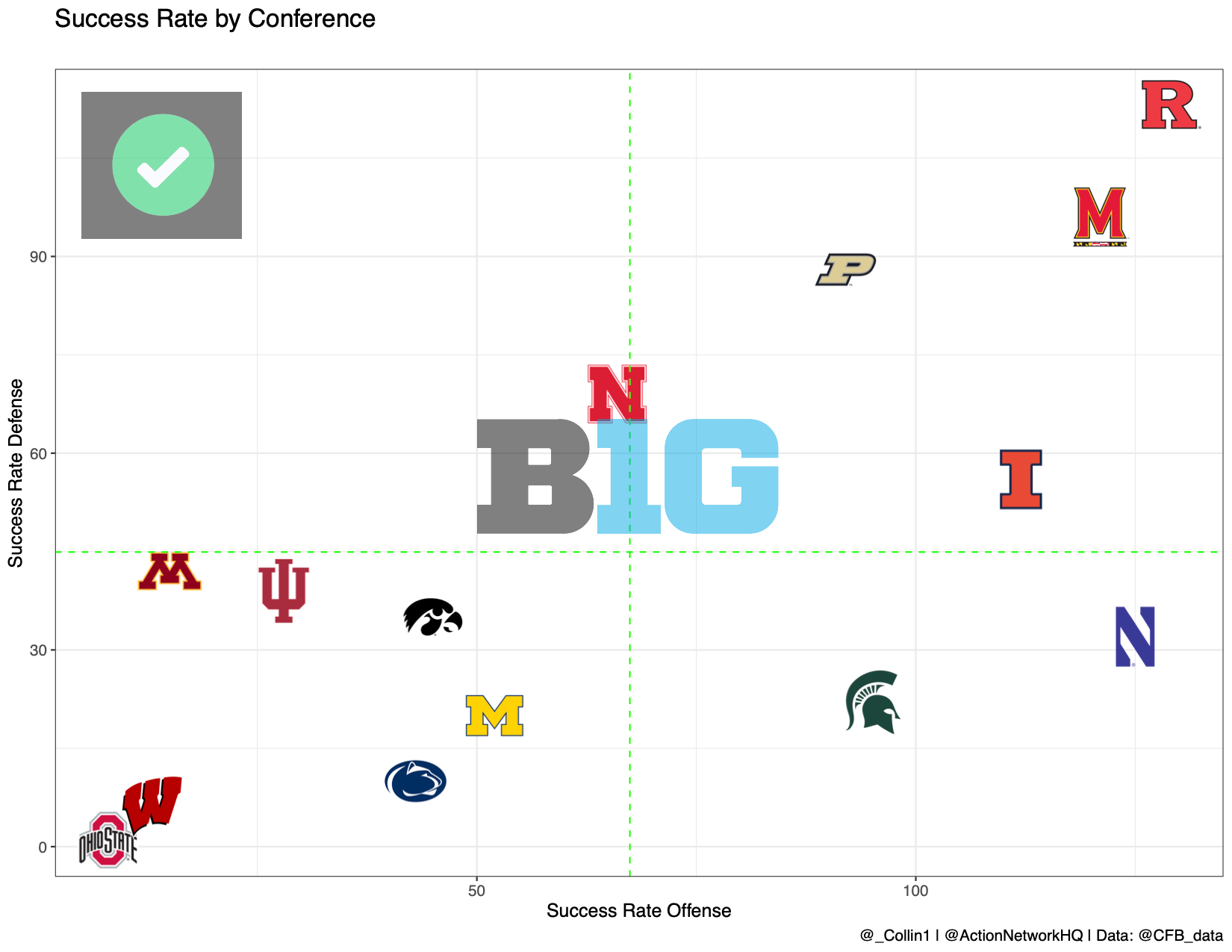 Penn State
New offensive coordinator Kirk Ciarrocca will bypass an early test against Virginia Tech. Ciarrocca is credited for Minnesota's explosive offense in 2019, with an FBS rank of 23rd in 20-plus yard plays from scrimmage.
Penn State also returns 64% of a defense that ranked 10th in success rate from 2019. Only a visit from Ohio State may stand in the way of the Nittany Lions making it to Indianapolis.
Michigan State
Mel Tucker takes over a Spartans team that returns less than 50% of production on both sides of the ball. Circa Sports listed Michigan State as a dog in their opener to Northwestern, a team with just one conference victory in 2019.
Tucker loses Toledo, BYU and Miami (FL) off the non-conference schedule. Michigan State's new coaching staff and roster will have no warm-up for Ohio State, Michigan and Iowa, their first three league games after three non-con games.
How would you rate this article?