Stuckey: 10 College Football Teams I'm Betting and Fading Early in 2018
Credit:
Jay Biggerstaff-USA TODAY Sports. Pictured: Kansas defensive tackle Daniel Wise and safety Tyrone Miller Jr.
Ahead of college football's first full Saturday, I thought I'd share five teams I'm looking to bet early and five teams I'm looking to fade.
I analyzed my numbers compared to the market, returning production, coaches, injuries and many other factors.
By comparing my college football numbers to those on the market, I can tell which teams I am higher and lower on than oddsmakers are early on in the season.
Now, this could all change after getting to see a few weeks of action, but here are the top five teams on my "fade" and "ride" list that I derive based on the discrepancy between the market and my numbers, returning production, coaching/scheme changes and various other factors.
Teams I'm Looking to Ride
BAYLOR
My love for Baylor is no secret. I think head coach Matt Rhule has this program headed in the right direction. I expect a significant win total jump after a 1-11 season, which wasn't as bad as it looked.
The young 2017 Bears didn't really get many bounces (0-4 in games decided by eight points or fewer) and dealt with injuries throughout the year.
Baylor's offense brings back 93% of its offensive returning production — second-most in the country. Quarterback Charlie Brewer is poised to have a huge year with all of the explosive talent on the outside returning to Waco — in addition to Tennessee transfer Jalen Hurd. He and wide receiver Denzel Mims should put up gaudy receiving numbers.
The Baylor defense also should improve; that unit returns 21 players who started at least one game last season.
When current Baylor DC Phil Snow was Temple's defensive coordinator,  his complex 4-3 defense drastically improved in his second year. I expect a similar turnaround as those returning players will benefit immensely from a full year of familiarity with Snow's thick defensive bible.
KANSAS
Wait, is this a basketball list?
Believe it or not, I'm looking to bet Kansas in a few spots over the first month. Yes, the same team that has won three total games over the past three seasons.
The Jayhawks bring back the nation's second-most returning production (trailing only Michigan State).
The offense has questions, but, like the defense, it returns more than 90% of its 2017 production. That experience should lead to better results and the Jayhawks do have two talented receiving options with wideout Steven Sims Jr. and tight end Mavin Saunders.
I really like the potential of the Kansas defense, led by two star seniors: linebacker Joe Dineen Jr. and defensive tackle Daniel Wise. The two Bednarik Award watch list members (for the nation's best defensive player) will cause havoc in opposing backfields all year. The Jayhawks will have one of the best defenses in the Big 12.
And you know I have to mention special teams. Kansas will return senior Gabriel Rui at kicker. Rui finished 17 of 20 last year (with a long of 50) and is one of the nation's most reliable returning kickers.
UTAH
After ending the 2017 season as the only Pac-12 team to win a bowl game, the Utes kicked off their season with an expected win (and cover) against Weber State last night.
Even though Utah lost a decent amount of talent, I expect this offense to take a big step forward. Quarterback Tyler Huntley should be much better after getting thrown into the fire as a freshman, and he will benefit from the return of 1,000-yard rusher Zack Moss.
More importantly, the offensive line should be much steadier. That unit really struggled last season, allowing 38 sacks (one of the highest totals in the nation).
However, that was somewhat expected after losing four offensive linemen to the NFL the year before. Expect a much more productive year out of the big guys up front.
Utah finished with a 2-4 record in one-possession games — the Utes' first losing record in that category in more than 10 years. I fully expect that trend to revert back to its historical norm — partly due to elite special teams.
The Utes could potentially have a first-team All-American punter (Mitch Wishnowsky) and kicker (Matt Gay). The former has won the Ray Guy award and the latter has earned the Lou Groza award.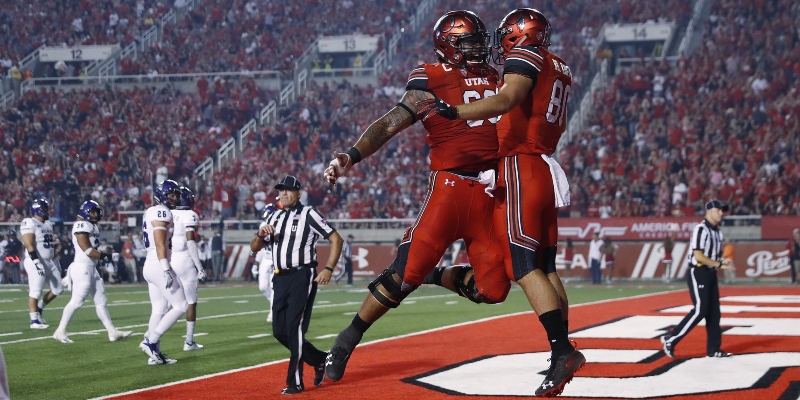 NORTH CAROLINA
I initially had UNC (which returns a ton) circled as a team to potentially play on early in the season. Then, the suspensions were announced. When everyone started to panic about the Heels, I became even more excited about the prospect of backing them.
Not only are the suspensions staggered, but UNC won't lose any one player who should impact the spread of any game. Yet, the UNC line for Week 1 in a revenge spot at Cal jumped up to 7.5.
I will gladly take North Carolina there and hope the suspension news gets me a few extra points throughout the rest of September, as I have the Tar Heels circled for their home opener against UCF.
LIBERTY
This is Liberty's first official year in the FBS. Don't forget that this Flames team won at Baylor by a score of 48-45 last year.
Well, that same team ranks seventh overall in returning production. The Flames will be a scrappy team with a bona fide passing attack — that can either keep them in games or sneak them in backdoors.
I'll get things started with the Flames this weekend, backing them as home underdogs in their FBS debut against Old Dominion. I will then likely go right back to the well with Liberty next week against an Army team it should have success throwing against.
Honorable Mention: Miami Ohio, Utah State
---
Teams I'm Looking to Fade
WASHINGTON STATE
A Mike Leach Air Raid offense without a clear-cut answer at quarterback spells disaster (especially early). While many think East Carolina transfer Gardner Minshew will get the nod, Washington State still hasn't named a starting QB.
The defense should actually be solid again, but I expect some growing pains with a new defensive coordinator and the need to replace star defensive tackle Hercules Mata'afa.
I already locked in Wyoming +3.5 in the Action App for Saturday and still like +1. I think the Pokes defense shuts down the Cougars to hand them their eighth consecutive season-opening loss on the road.
Overall, Washington State is just 2-11 ATS in its last 13 season openers — including 1-6 ATS on the road. I think the Cougars start slowly again.
PENN STATE
Most will talk about the loss of running back Saquon Barkley, but I think  the departure of offensive coordinator Joe Moorhead to Starkville will hurt even more.
The new Mississippi State coach did so much from a scheme perspective to make that offense go. The Nittany Lions also lost their top receiver and star tight end to the NFL.
PSU will also need to replace a number of key defensive leaders, including four to the pros. In fact, Penn State ranks outside the top 100 in S&P returning production on both sides of the ball.
And don't forget about special teams — a strength for the Nittany Lions last year. They will not only rely on two true freshman kickers to handle field goals and kickoffs, but will somehow need to replace Barkley's production in the return game.
Penn State has the talent to make real noise, but I think they'll be overvalued early in the season, as I expect growing pains in all three phases.
NEW MEXICO
You might ask why I'm looking to fade a team that nobody probably has interest in betting. Well, the Lobos should actually be favorites in three of their first four games. And judging by the projected lines, I'm lower on this bunch than the market is.
In the offseason, head coach Bob Davie received a 30-day suspension for conduct detrimental to the team, and the football program suffered budget cuts. I've also heard a number of rumors about turmoil in the locker room.
Add in a complete scheme change on offense and some key defensive injuries (DE Trent Sellers), I think this team will be a nice September fade — even against Incarnate Word on Saturday. Hold your nose for that one and take the +35.5.
TROY
Troy had a magical 2017 season, highlighted by an upset win at LSU. However, almost everything went right for the Trojans. Not only did they finish 5-0 in one-possession games, but they had a historically great red-zone defense. That unit led the nation with a ridiculous 61.4% red-zone scoring rate.
You obviously have to give credit to that defense, but an extreme number such as that one comes partly from good fortune. I expect some regression from a defense that loses so much.
The Trojans also lost a ton on offense as well, including four-year senior quarterback Brandon Silvers.
LOUISVILLE
Obviously losing Lamar Jackson hurts, but so does losing almost an entire defense (127th in defensive returning production). I think it's going to be a long year for football in the state of Kentucky.
Honorable mention: UTEP, UTSA
How would you rate this article?