Friday College Football Betting Odds & Picks: How To Bet La Tech-Marshall, Fresno State-SDSU
Credit:
Cary Edmondson, USA Today Sports. Pictured: Jorge Reyna
Get updated odds and our betting picks for Friday night's college football slate, which features Louisiana Tech at Marshall and Fresno State at San Diego State.
Louisiana Tech at Marshall Odds
Spread: Marshall -6.5
Over/Under: 54.5
Time: Friday, 7 p.m. ET
TV: CBS Sports Network
Update: Louisiana Tech confirms that quarterback J'Mar Smith, WR Adrian Hardy and LB James Jackson are unavailable pursuant for Friday's game because of athletic department policy.
Smith is the team's starting quarterback, and Hardy is second on the team in receptions and first in receiving yards per game.
Collin Wilson: How To Handle Louisiana Tech's Suspension
A lot of times when suspensions are handed out to a "trio of players," it's fair to question how big of an impact those players have on the team's power rating. In this case, the answer is very important.
J'Mar Smith may be one of the more important quarterbacks in the group of 5. Smith accounted for 99.2% of Louisiana Tech's passing yards in 2017, 97.3% in 2018 and 94.4% this season. Smith is also the Bulldogs' second-leading rusher this season.
Freshman Aaron Allen is set to take over under center and he will be going up against a defensive line that ranks sixth in sack rate. For a player with just 15 career passing attempts to his name, that is not good news.
If the loss of Smith was not enough, Hardy leads the team in receiving yards. The Bulldogs do have depth at wide receiver, though, as Hardy accounts for just 18% of Louisiana Tech's receiving yards and receptions.
As for Jackson, he ranks fourth on the team in tackles but has forced a team-best three fumbles this season.
In short, this "trio of suspensions" is enormous for a Group of 5 team that does not have the depth to overcome the losses of key players.
A line increase from Marshall -3 to Marshall -6.5 is justified considering the percentage of production lost and the value over replacement player, and I think Marshall should be a play on through 6.5 and at 7.
---
Editor's note: The text below was published prior to Louisiana Tech's confirmation of the suspensions to Smith, Hardy and Jackson.
Louisiana Tech vs. Marshall Line Movement
The spread has changed significantly from its opening number here, especially considering the numbers it's passed through. After opening inside of a field goal (Marshall -2.5), this number has gone through both the key number of 3 and 4, sending the Herd up to 5-point favorites currently. They were even up to -5.5 for a short time.
By this point, betting activity has evened out, with 51% of bets accounting for 55% of money landing on Marshall since the line opened.
The total has seen significant moves in both directions, initially jumping from 56 to 59 only to fall back inside its opener to a current line of 55. The latter move came despite a solid majority of bets (64%) and dollars (80%) landing on the over. — Danny Donahue
All market information current as of Thursday afternoon and via Sports Insights.
Collin Wilson: The Bulldogs Haven't Been Tested
This could be a preview of the Conference USA Championship game.
Both the Thundering Herd and Bulldogs lead their respective divisions, but it is Marshall that truly needs to win this game. The Herd own the tiebreaker over division rival Florida Atlantic, but a loss here would put the Owls in the driver's seat.
Meanwhile, Louisiana Tech is undefeated in conference play and would have to take two losses for Southern Miss to win the division.
Marshall's best asset is its explosive passing offense. The Herd rank just 103rd in passing success rate but 19th in passing explosiveness. They can break off big chunks, they just need to make the play first. Marshall will be up against it on Friday night, though, as Louisiana Tech ranks third in preventing explosive plays through the air.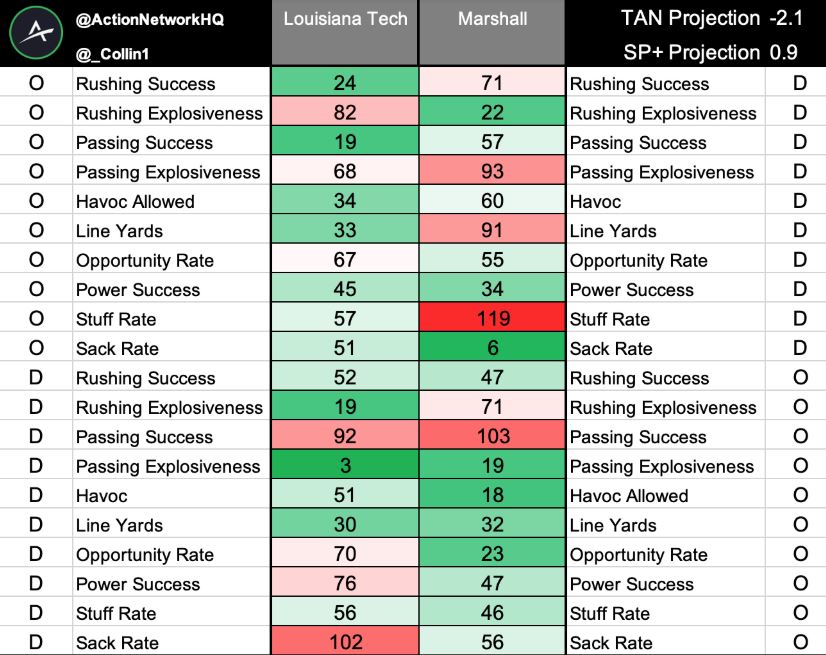 Louisiana Tech has had the much easier schedule this season. The Bulldogs lost to Texas in their season opener, but they still rank 125th in terms of strength of schedule.
You can only beat the team that is put in front of you, and Louisiana Tech is doing that thanks to a defense that throws cold water on drives in the red zone. The 'Dogs rank 10th in red zone touchdown scoring on defense, suggesting we could see a lot of field goal attempts from the Herd, who rank outside the top 100 in red zone points per attempt.
Our projected spread for this game is Marshall -2.1, so this line is too close for an investment. It's the same story for the total, which we make 59.5.
I think the Marshall moneyline makes a decent parlay piece, but I will also be looking to bet this game live. I'll need plus-money on either side before I get involved, though.
Stuckey: A Good Situational Spot for Marshall
Louisiana Tech is the quietest 8-1 team in the country. And there's a reason for that: the Bulldogs haven't beat anybody.
Per Sagarin Ratings, which rates all FBS and FCS teams together, Louisiana Tech has had the 146th-toughest schedule in the nation. Remember that there are only 130 FBS teams.
An eight-game winning streak always looks impressive, but here's who the Bulldogs have defeated:
Grambling
at Bowling Green
Florida International
at Rice (in OT)
UMass
Southern Miss
at UTEP
North Texas
The luck doesn't stop there — Louisiana Tech has also benefited from 19 forced turnovers this year, which ranks 10th in the nation.
It's an opportunistic Tech defense but a lot of that has to do with variance and poor competition. Not only are the Bulldogs stepping up in class here, they're facing a team that has only turned it over nine times on the season (top 20).
Statistically, these teams are very similar. They each average 5.1 yards per rush and the Bulldogs allow 0.1 fewer yards per rush (3.7 to 3.8) on the year.
Louisiana Tech is a little more pass heavy and quarterback J'Mar Smith should have more success throwing the ball than his counterpart, Isaiah Green. However, I expect Marshall's running game, led by Brenden Knox, to move the chains with more regularity.
The X-factor in this game could be Marshall's superiority at getting to the quarterback. Both teams have solid offensive lines, but the Herd are much more adept at getting pressure, ranking sixth in sack rate. Louisiana Tech is outside the top-100 in that same category.
From a situational perspective, this is a great spot for Marshall.
Winners of four straight themselves, the Herd are coming off a bye before this conference showdown. That means Doc Holliday will have 13 days to prepare for this matchup, and his team as close to full health as its been all season.
Conversely, this will be a short week for Louisiana Tech. Skip Holtz will only have six days to prepare his troops for battle in Huntington. And not only are the Bulldogs at a preparation disadvantage from a pure number of days perspective, they have exams this week and won't be traveling from Ruston until late Thursday.
Louisiana Tech's lack of preparation is even more worrisome against a team like Marshall since the Herd run such a unique offense, utilizing heavy two and sometimes three tight end sets. Tech's defensive coordinator Bob Diaco hinted at switching from his base 3-3-5 to more 3-4 this week to deal with the heavier personnel but that's not an easy thing to do on a short week.
The change in strategy could make the Bulldogs susceptible to the explosive play in the passing game. Louisiana Tech has been terrific at stopping big plays, but that was with five defensive backs on the field. And that's basically what the Marshall passing offense consists of; it's not efficient but it's very explosive as Collin alluded to above.
Lastly, the forecast calls for temperatures in the low-40's, which isn't terrible but Louisiana Tech is a warm-weather team and has played every game in
I think Louisiana Tech was a little inflated in the early market, which is why I bought Marshall -2.5. I do rate the Thundering Herd slightly better than the Bulldogs and that's before considering this very favorable situational spot for the Herd. That said, there's not really much value left at -4.5, so you may want to wait for some buyback and grab Marshall at -4 or better or you could play Marshall live at -3 or better.
Kyle Miller: Has This Number Drifted Too Much?
Editor's note: With the suspensions to Smith and Hardy, the suggested bet below is no longer actionable.
I'm entering dangerous territory with this pick as I've faded Louisiana Tech unsuccessfully multiple times this year and now, I'll be backing them. Louisiana Tech has plenty of advantages in this matchup from a football perspective.
The Bulldogs' offense is one of the best in the Group of Five and they've been humming recently, averaging 52-points over their last four games. Pass-heavy Louisiana Tech ranks 21st in yards per play and 16th in passing success rate. When they are forced to go to the ground, they're quite efficient there as well behind an excellent offensive line.
Marshall isn't going to be able to force Louisiana Tech to go to their Plan B of running the ball. Marshall's defense ranks 63rd in yards per play and 84th in passing success rate so the Bulldogs will be able to have their way through the air. J'Mar Smith is one of the better signal callers in the conference, completing 65 percent of his passes with a 14-4 touchdown to interception ratio. He'll be able to hit some big pass plays against the 89th ranked passing explosiveness defense.
Louisiana Tech's defense has been solid all season but they're vulnerable to the pass. The good news is that the Thundering Herd lean on the run much more than the pass and for good reason; they rank just 111th in passing success rate. Marshall excels in the run game with a big, physical offensive line but Louisiana Tech will be able to limit big runs.
This line has taken off as the week has gone on as big money has come in on Marshall. I'm confused by the move as I make the game Marshall -2 and Tech seems to have quite a few advantages. Marshall is coming off a bye and Doc Holliday's team is 9-7 ATS in that spot since he took the job in 2010, but they've failed to cover their last three matchups in this situation. I'll take Louisiana Tech at +5 or better.
Fresno State at San Diego State Odds
Spread: Fresno State -1
Over/Under: 42.5
Time: 9:30 p.m. ET
TV: ESPN 2
Fresno State at San Diego State Line Movement
Only 39% of bettors (making up just 30% of money) like Fresno State's chances on the road, but this line has jumped the fence, making the Bulldogs 1-point favorites after opening as high as +2.5/3.
The total has also seen a move against the popular side, dropping from 45 to 42.5 on just 38% of under bets. In this case, those bets have accounted for an impressive 82% of money, revealing how bigger bettors are seeing this total. — Danny Donahue
Collin Wilson: Is This Total Too Low?
Despite a 2-3 conference record, Fresno State can put itself in a great position in the West Division of the Mountain West with a win over San Diego State on Friday night. The Bulldogs have a win over Hawai'i, so a win over the Aztecs would mean Fresno controls its own destiny for a shot at the conference championship.
If the numbers hold true in this game, it figures to be an ugly contest.
The Aztecs are struggling on offense, ranking 92nd in passing success rate and 113th in rushing success rate. In six conference games, San Diego State has scored just eight touchdowns on drives that started in its own territory.
The burden may not be too heavy on San Diego State's offense because its defense has not allowed more than 20 points in its last seven games. The Aztecs rank second in opponent rushing success rate and 15th in opponent rush explosiveness, so it could be a long night for Fresno running back Ronnie Rivers.
Rivers has been fantastic this season, but he may be of more use to the Bulldogs in the passing game.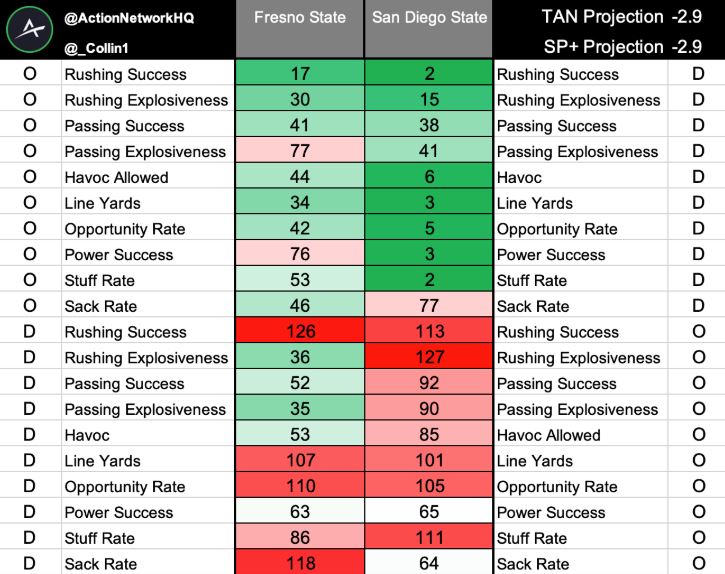 Special Teams could also play a role in this game as the Aztecs rank fifth in special teams efficiency and fourth in kickoff return efficiency this season.
As you'd imagine in a game featuring struggling offenses and good defenses, bettors are happy to hit the Under. Our Action Network projections make the Over/Under 47.5, so I am interested in backing the over it gets to 41.5. If it doesn't get there, I'll keep an eye out for a live over.
Stuckey: Strength on Strength, Weakness on Weakness
This is strength on strength when Fresno State has the ball and weakness on weakness when San Diego State has the rock. The Aztecs are averaging just 4.5 yards per play (125th in the nation) while allowing only 4.6 (13th). Everything that San Diego State does well up front on the defensive side of the ball, it does just as poorly on the offensive side.
After offseason rumblings about changes on the offensive side of the ball, it looks like the same old slow, rush-heavy offensive attack for Rocky Long's Aztecs — except with worse productivity in the running game. They're running it about 60% of the time but only averaging 3.4 yards per rush (119th).
Meanwhile, Fresno is averaging 6.4 yards per rush (top 30) but allowing 5.7 (76th). After adjusting for opponent, you could argue we have a top-30 offense facing a top-30 defense when Fresno has the ball and a bottom-20 offense facing a bottom-20 defense when SDSU has it.
So, what gives?
Well, one thing to keep an eye on is the status of Fresno State's two offensive linemen, right tackle Syrus Tuitele and right guard Quireo Woodley, who Jeff Tedford said are day-to-day. Without those two, San Diego State's defensive line could be the difference.
But it will ultimately either come down to turnovers or special teams. And if it's the latter, you'd have to favor San Diego State. Per S&P, San Diego State's special teams rank 6th in the nation while Fresno ranks 94th.
In a game of two equally matched teams, home-field and special teams may do the trick. I see some value on the Aztecs but boy is that offense tough to stomach with your hard-earned money. I may just wait for a potential live opportunity, instead.
Kyle Miller: Can San Diego State Expose a Weak Fresno Secondary?
When I saw this line on Sunday evening, I got very excited to take Fresno State plus the field goal. Unfortunately for me, it never got to Fresno +3 and immediately shot in the opposite direction. I'm still seeing a good reason to back the Bulldogs in this matchup though.
It's well documented that San Diego State has a bad offense, but a deep dive into the numbers shows just how bad they've been. The Aztecs ranks 125th in yards per play, 117th in rushing success rate, 128th in explosive play percentage, and 125th in offensive efficiency. This offense is almost as bad as Northwestern, and that's saying something.
Fresno's offense and San Diego State's defense are good on good. There isn't a big advantage to be found between these two units so I'm going looking into the other side of the ball. San Diego State runs the ball almost exclusively but as mentioned above, they're horribly inefficient and have no explosiveness.
Fresno State's defense hasn't looked good, but they rank 16th in rushing success rate. Aztecs' quarterback Ryan Agnew is one of the worst passers in the country and won't be able to take advantage of a leaky Fresno pass defense.
I've been a little lower on San Diego State than the market and I agree with the line move in this game. I'm looking to back Fresno State on the money line as this should be a very low scoring affair.
How would you rate this article?