College Football Betting Picks & Predictions: Our Staff's 5 Favorite Bets for Week 13
Credit:
Casey Sapio-USA TODAY Sports. Pictured: Jake Luton
You may look at the college football Week 13 card and see teams and matchups riddled with failure, ineptitude and frustration.
But we see opportunity.
Our college football experts worked through this card that lacks marquee matchups to find betting value on everything from UMass and BYU to Duke and Wake Forest.
Let's get to it.
College Football Betting Picks
Picks and odds as of Friday afternoon. For live odds and to track your bets, download The Action Network app.
Wilson: UMass-BYU 1H Under 40
Game: BYU -40 at UMass
Total: 69
Time: 12 p.m. ET
TV: Flo Sports
UMass has officially broken the model for projecting totals, as it's 8-3 to the over and has given up at least 44 points in all but one game.
We use yards per play, plays per game, run rate and a host of other data to make projections on totals. Mathematically the Minutemen are expected to produce between 7 to 10 points a week on offense.
Defense is a different story. Who knew the Minutemen were actually a mascot that reflects how long it takes the opponent to score — not 1700's militia?
In the case with BYU, there might be a slower scoring pace. The Cougars, off a 42-10 defeat of Idaho State, have one of the best defensive fronts in terms of limiting explosiveness.
UMass will be hard pressed to get chunk yards or convert in opponent territory into points. Last week, the Minutemen crossed the Northwestern 25-yard line four separate times, resulting in 6 total points.
BYU has scoring issues of their own and the Cougars have been slow to start on three trips East this season.
BYU is 111th in points per red zone trip, which should play a factor against a historically bad defense.
Zack Wilson is expected to return at quarterback for the Cougars, but how much will the oft-injured starter play with San Diego State on deck? Backup quarterbacks Baylor Romney and Jaren Hall are injured for this game, while fourth-stringer Joe Critchlow should get plenty of snaps.
Running back Lopini Katoa didnt play against Idaho State with a concussion and is expected to sit against UMass. Wide receiver Aleva Hifo had a "freak accident" in pregame warmups before Idaho State as his status is unknown. BYU coaches indicated that three true freshman will play on the offensive line now that a redshirt cannot be burned.
In summary, BYU may be fielding a team full of players that were never meant to get much playing time this season.
UMass has had some success defensively at home in the early going. Southern Illinois scored zero first quarter points before routing the Minutemen with 45 total. Northwestern had was held to zero points in the first quarter last week.
Call it inefficiency, 10 a.m. local kicks for the circadian rhythm or injury-based — this game should have a slow start before BYU piles the points on.
Even in that case, the Cougars scored just 42 at home last week against Idaho State.
Collin's Pick: BYU-UMass First Half Under 40 [In New Jersey? Bet now at PointsBet]
Danny Donahue: Pitt +4
Game: Pitt +4 at Virginia Tech
Total: 45
Time: 3:30 p.m. ET
TV: ESPN2
A near-perfect storm of unrelated angles all happen to be landing on Pitt this weekend.
For starters, Virginia Tech's new No. 25 ranking in the AP Poll (which obviously doesn't mean much of anything at this point in the year) gives public bettors a reason to overrate the Hokies a bit, especially when compared with Pitt, which has no sign of a little number next to its name.
Historically it's been profitable to attack the bottom of the AP Poll, specifically numbers 20 through 25, when given a decent team (above .500) and a contrarian side (less than 45% of bets). Such spots have produced a 58% win rate since 2005.
On top of that, we've got a road dog in a conference game with a low total (defined as 48 or less) — a spot that returns its own 60% win rate.
And with the 30% of bettors taking Pitt generating 39% of actual money, we've got bigger bettors on our side, as well as sportsbooks, a pairing I'm happy to join. Give me the points.
Danny's Pick: Pitt +4 [In New Jersey? Bet now at PointsBet]
Stuckey: Duke +7.5
Game: Wake Forest -7.5 vs. Duke
Total: 49.5
Time: 7:30 p.m. ET
TV: ACC Network
Like the Duke players, I've had this game circled.
In Daniel Jones' final home game, the Blue Devils lost to Wake Forest in embarrassing fashion last year by a score of 59-7, which they haven't forgotten about, according to defensive end Chris Rumph.
I also expect a bounceback effort from the Duke defense after getting embarrassed again by Syracuse last week.
From a motivational perspective, Duke holds all of the edge here. Wake Forest is sitting at 7-3 with a bowl locked up and nothing really to play for. Meanwhile, not only is Duke looking to avenge that loss from last year, it needs to win out to get to six wins and a shot at a bowl. David Cutcliffe should have his troops ready to roll.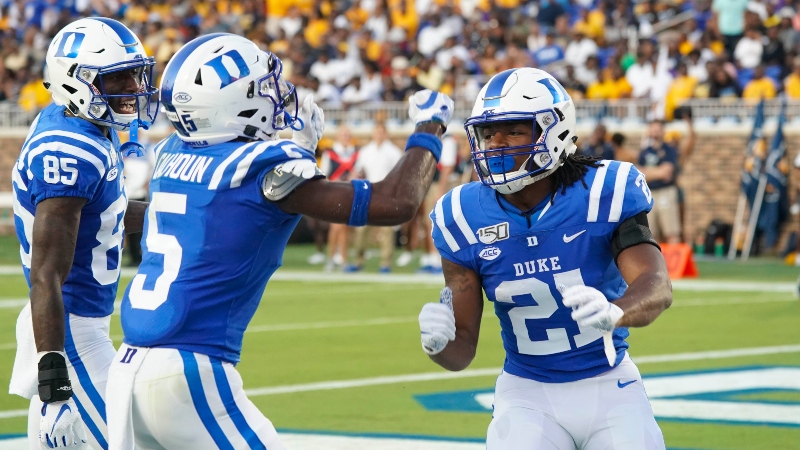 From a matchup perspective, Wake Forest's offense has gone in the tank after losing its two top receivers, Sage Surratt and Scotty Washington. Since the Demon Deacons can't really run the ball (116th in rushing success rate), their entire offense has now gone off the rails without quarterback Jamie Newman's top two targets.
Duke ranks 20th in passing success rate, so it should be able to contain a Wake Forest passing attack that now lacks the explosiveness through the air it had before losing Surratt and Washington. This is a really good matchup for the Duke defense, which should dominate in the trenches.
On the other side of the ball, Duke's offense has been very poor all season. Don't expect that to change suddenly especially with recent offensive line injuries. That said, I do think Quentin Harris can do enough against a below average Wake Forest defense.
With Washington and Surratt out, I make this line closer to 3 than 7, so will gladly take the 7.5, especially with the great situational spot for the Blue Devils.
Stuckey's Pick: Duke +7.5 [In New Jersey? Bet now at PointsBet]
Kyle Miller: Temple +10.5
Game: Cincinnati -10 vs. Temple
Total: 45
Time: 7:30 p.m. ET
TV: Flo Sports
Luke Fickell deserves a ton of credit for the job he's done in Cincinnati. He's taken the Bearcats from 4-8 in his first year, to 11-2 a season ago, and now 9-1, ranked 19th in the College Football Playoff Rankings in 2019.
He's done it with a great defense, solid running game, and a reliable quarterback in Desmond Ridder.
While they're 9-1 on the year and in contention for a New Year's 6 bowl game, something has been off for the Bearcats recently. In the five games since their monster win against UCF in Week 6, they have been outgained in all but one. They've been living on the edge against lesser competition and this week they take a step up against Temple.
I've been really impressed with how Temple has bounced back after blowout losses to SMU and UCF, particularly last week's win against Tulane as nearly a touchdown home underdog.
The advanced metrics show that Temple's defense is actually better than Cincinnati's on the season. That's likely skewed by the Bearcats' horrific defensive performance against ECU, but it still shows how good this Temple defense really is.
Their defensive line, with the AAC's leader in sacks Quincy Roche, should dominate the line of scrimmage for a unit that also ranks 16th in passing success rate. That's a great combination against the kind of one-dimensional offense they'll face on Saturday.
My power number on this game makes the line Cincinnati -9 so there isn't a ton of line value with this pick. Instead I'll lean on the advanced metrics and my eyes, which show that Cincinnati is a team that's looked ripe for an upset in recent weeks.
Kyle's Pick: Temple +10.5 [In New Jersey? Bet now at PointsBet]
Petrella: Oregon State 1H ML (+240)
Game: Washington State -10.5 vs. Oregon State
Total: 76.5
Time: 9 p.m. ET
TV: Pac-12 Network
Time for everyone's favorite weekly staple from this piece — betting Oregon State in the first half so we can all go quietly into the good night just a little earlier.
I've been harping on this idea in this very space for several weeks now — games with high totals are subject to more variance, and it's worth taking a shot on underdogs taking the lead over a shorter time frame than the full game.
When the over/under is at least 60 and the spread is within two touchdowns, first half moneyline underdogs have been quite profitable. It's even more profitable the higher the total.
There are usually 8-12 matches for this system per week, but I don't like to blindly tail some systems, so I'll cut it down to just a handful based on what I know about each team.
Oregon State checks the boxes this week:
Road team (home teams are overvalued, especially on the moneyline)
At least +150 on the 1H ML
Good quarterback
Bad opposing pass defense
The Beavers' season-long offensive numbers are weighed down by abysmal performances against Utah, Cal and Washington — all top 40 defenses — when they averaged under 3.9 yards per play.
But against pedestrian defenses or worse (like Wazzu's, which ranks 122th in yards per play), Oregon State has been much better.
I realize Washington State has an elite passing offense and will be going up against Oregon State's porous passing defense.
But that's the beauty of grabbing +240 here. These offenses should trade scores in the first half and hopefully the Beavers get the last blow.
How would you rate this article?