College Football Expert Betting Picks: Our Staff's 10 Favorite Bowl Bets
Credit:
Kelley L Cox-USA TODAY Sports.
Our 10 college football experts give their favorite betting picks for the 2018 college football bowl season.
You'll find a number of intriguing bowl angles, including historical trends, motivation and matchup analysis.
Bowl season has arrived! Make sure you cherish every second of it — because before you know it, we will be restarting our countdowns to college football. And that eight month void will drag on at times.
But let's not get ahead of ourselves. We have 39 bowl games — 40 if you want to count the Celebration Bowl (yes, that's a thing) — plus a national championship to cover. We have plenty of fascinating matchups, many of which involve key players sitting and/or coaches transitioning.
To help you navigate where to put your money, we asked 10 of our staffers for their one favorite bet during bowl season. Hopefully, the supporting information can help guide you to a winner or two that wasn't on your radar.
We will get things started with a few wagers on the first Saturday of bowl season — and eventually finish up with a few bets on New Year's Day, including Washington vs. Ohio State (-7) and Kentucky vs. Penn State (-6.5). You'll also find two moneyline underdogs, which can be a very profitable investment during bowl season.

Oh, and don't forget to sign up for our bowl confidence contest — we're giving away $500 and it's free to enter! Stay tuned for more pools and giveaways throughout bowl season.
We hope you at least pick up one key nugget of information  that can help you make a more informed wagering decision. I think you'll find plenty. Let's jump in.
*YTD: 85-84-2 -0.25 units
---
Matt Mitchell: Florida International +190 (vs. Toledo)
Nassau, Bahamas — Friday, Dec. 21 at 12:30 p.m. ET on ESPN
I consider the Bahamas Bowl to be the pick of the superfluous bowl game litter. It has everything I'm looking for.
A festive atmosphere.
It kicks off way too early on a weekday.
A small crowd still brimming with holidaying MAC fans drunk from brunch at the Atlantis resort.
A yearly low-budget welcome video from the Bahamian Minister of Tourism.
And the very sloppiest in gameday operations.
Just last year, both the stadium scoreboard and the game clock stopped working early in the second quarter. And everybody just rolled with it, because bowls like this should always run on island time.
This year, I love tasty 'dog FIU to pull the upset. Because while taking the points is tempting, Steve Petrella made a very persuasive moneyline argument this week.
The Toledo Rockets proved resilient after losing their quarterback in September, but they were dreadful against even mediocre competition. They lost to five of the seven bowl teams they faced by an average margin of 17 points. And their coach Jason Candle hasn't won a bowl since 2015, just a few weeks after taking over for the departed Matt Campbell.
FIU deserves "live 'dog" status based on three factors.
It boasts a defense that's allowed nearly seven points less per game than Toledo.
This is the ninth bowl game for coach Butch Davis, who's eager to avenge last year's embarrassing loss to Temple in the Gasparilla Bowl.
Most speculatively, while a quick trip to Nassau is terrific, it won't be nearly as distracting to a team from Miami as it will be to a team from Toledo.
Tucson, AZ — Saturday, Dec. 29 at 1:15  p.m. ET on CBSSN
This bowl features two teams going in opposite directions.
Nevada ended the season with a non-cover against San Jose State and a straight-up loss to UNLV. The Wolfpack also didn't look great in a game they were outgained by San Diego State before their bye week — and simply didn't look the same throughout the month of November. Nevada's recent box scores have been filled with inefficiencies in rushing, passing downs and especially the third quarter, oddly enough.
Meanwhile, Arkansas State has won and covered each of its past four games, flashing an offense that ranks 25th overall Success Rate, per S&P+. The Red Wolves should pressure Nevada quarterback Ty Gangi with a defense that ranks 17th overall in Havoc Rate.
Third-down conversion rates favor Arkansas State, which ranks 40th in the nation to Nevada's 116th. The 'Pack also have issues protecting the ball, as they gave the ball away 26 times this season, which contributed to a -7 turnover margin.
Both defenses rank fairly low in finishing drives, so expect plenty of points. But ultimately Arkansas State's defense will just make more plays. I also give the nod to the Red Wolves in the motivation department, as they should really want this win for their head coach Blake Anderson, whose wife is currently battling cancer.
Orlando, FL — Tuesday, Jan. 1 at 1 p.m. ET on ABC
This is currently one of the most lopsided bet games of bowl season with 76% of bets on Penn State. Lopsided betting during bowl season is a primary component of many of our Pro Bet Labs systems. Currently, three of these systems all point to a play on Kentucky.
I also get the added benefit of betting on a team from the SEC, which has been the best conference to bet in bowl games by far in our database.
I'm going to be patient and hope that the public continues to jump on the Nittany Lions, so that I can get the key number of +7. That said, I still like Kentucky getting 6.5 points.
Stuckey: Washington-Ohio State Under 58
Pasadena, CA — Tuesday, Jan. 1 at 5 p.m. ET on ESPN
I normally would stay far away from any Ohio State under, but I think the matchup is right here — and more importantly, the number is too high. Plus, Washington unders are my favorite unders, so why not bring in the New Year with a Huskies under in their season finale.
You might point to games against TCU and Michigan as reasons why one should never trust an Ohio State under, which is a fair point. However, the one primary weakness of both defenses is stopping passing explosiveness. Even Michigan's elite defense ranked 69th in defending pass explosiveness, per S&P+.
Well, Washington's elite secondary does not have that issue, as the Huskies's defense ranks No. 1 in the nation in defending pass explosiveness. That's huge against Heisman finalist Dwayne Haskins and the Buckeye offense.
On the other side of the ball, Washington does not possess the offense necessary to exploit Ohio State's primary weakness: defending explosiveness — especially in the running game where the Buckeyes rank 125th nationally. I also think Ohio State can generate pressure on Jake Browning against an offensive line that ranks 92nd in Adjusted Sack Rate on Passing Downs.
I will close with three other factors to consider in favor of the under:
The Huskies are a snail, ranking 109th in Adjusted Pace.
Ohio State has one of the nation's best punters in Drue Chrisman, who is a wizard when it comes to pinning teams deep. That will make it even tougher for the methodical Washington offense.
This game will feature two unreliable kickers, so you could see a few drives end in missed field goals…or turnovers on downs.
---
Quick Grabs
---
Peter Jennings: North Texas +270
Sean Koerner: Miami -3.5
---
Completed Games
John Ewing: North Texas +7.5 (vs. Utah State)
LOSS (Utah State 45, North Texas 13)
Teams with bad ATS records (33% or less) have historically been good bets in bowl games, as those teams have gone 35-23-1 (60%) against the spread since 2005. Well, North Texas fits this criterium, as the Mean Green finished the regular season 4-8 ATS (33%).
Additionally, if the opponent has a winning ATS record, the poor ATS teams have gone 18-9-1 (67%) ATS during that same period. Well, Utah State covered nine of 12 games it played this season.
History is on North Texas' side, as well as potential motivation. Utah State lost its head coach Matt Wells and a number of other key coaches to Texas Tech. It's also worth mentioning that S&P+ favors Utah State by only 2.7 points in this particular matchup, which means there is nearly a touchdown of value.
Danny Donahue: Arizona State +5 (vs. Fresno State)
LOSS (Fresno State 31, Arizona State 20)
Bowl season is arguably my favorite time of year to bet, but it's also the most boring season for me from an analysis perspective.
When it comes to bowls, I pretty much let the public do the work for me; I tend to bet against the popular sides. Teams seeing less than a third of bets have gone 74-41-2 (64%) ATS in bowls in our Bet Labs database (since 2005). And teams receiving just 40% or less  have gone 152-100-3 (60.3%) ATS over that same span.
In this particular game, Arizona State sits right in the middle, currently drawing only 36% of bets.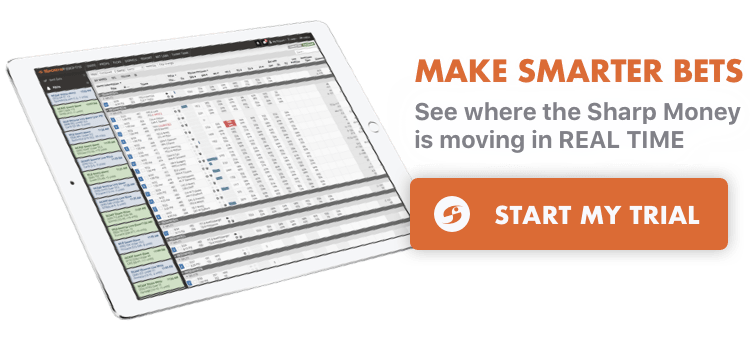 Of all the potential contrarian sides, I picked Arizona State after looking at ticket counts, as the Las Vegas Bowl is on pace to be the most heavily bet of the weekend. As a result, I assume that sportsbooks are a little more comfortable with liability on Fresno State.
I'm also a fan of taking underdogs in this situation when the over/under is fairly is low. Restricting the above system of teams under 40% to only dogs with totals under 55 slightly improves the ATS record to 70-40-1 (63.6%).
Ken Barkley: UAB -2.5 (vs. Northern Illinois)
Boca Raton, FL — Tuesday, Dec. 18 at 7 p.m. ET on ESPN
I love this UAB team. How can you not? Its story is remarkable, and the success they've displayed on the field the last two seasons is inspiring.
The Blazers handled almost their entire conference schedule this season, with the one blip coming in the season finale in an odd situational spot at Middle Tennessee. (The Blazers turned around and beat the Blue Raiders on the road in the conference title game). Their only other loss since mid-September came against Texas A&M in a game that had a misleading final score, as UAB actually held its own.
The defenses will star in this game, as both teams should have a LOT of trouble scoring. UAB does have a reasonable advantage in special teams, which should help in a low-scoring game.
But mostly, I trust the UAB coaching staff much more than NIU head coach Rod Carey, who is 0-5 ATS in bowl games. That poor record has to raise questions about what NIU actually does to prepare in these longer layoffs.
Meanwhile, UAB did get blasted in its bowl game last year against another MAC team in Ohio, but that game had one of the wildest box score-to-final score contrasts I've ever seen. The Blazers were only outgained by about 100 total yards but lost by 35. The reason? UAB got into Ohio territory on six of its 12 drives and either turned it over on downs or settled for a field goal. The Blazers weren't that bad, I swear.
I think UAB will play much better here, as it seeks the program's first ever bowl victory.
Steve Petrella: Marshall -2.5 (vs. South Florida)
Tampa, FL — Thursday, Dec. 20 at 8 p.m. ET on ESPN
Backing Marshall coach Doc Holliday during bowl season has been a winning proposition in the past. Holliday is 5-0 ATS in bowl games, covering by an average of 10.5 points per game. The Herd laid an egg in a weird season finale against Virginia Tech on championship weekend, but other than that, finished the season strong with postgame win expectancies of at least 68% in its previous six games.
On the other hand, after losing five straight games to end the season, USF will play a bowl game in its home stadium. It might be hard for the Bulls to get up for that. They were awfully fraudulent before their current losing streak, and while the market probably corrected itself some on USF, getting Holliday at less than a field goal in bowl season is too appetizing to pass up.
---
Editor's note: The opinions on these games are from the individual writers and are based on their research, analysis and perspective. They are independent of, and may not always match with, the algorithm-driven Best Bets from Sports Insights.