Clemson vs. Ohio State Prop Bets & Picks: Trevor Lawrence Rushing & 5 Other College Football Playoff Bets
Credit:
Joshua S. Kelly-USA TODAY Sports. Pictured: Trevor Lawrence
Clemson will play Ohio State in the second College Football Playoff game on Saturday (8 p.m. ET).
Sportsbooks around the country have posted a variety of player prop odds for both CFP Semifinal games, including a rushing yardage over/under for Clemson QB Trevor Lawrence.
Our college football betting experts pick our their favorite prop bets on the board.
The College Football Playoff brings us more betting markets than your average game.
Player props are being offered at pretty much every legal U.S. sportsbook, including yardage over/unders, first touchdowns and more.
Here are six props we're eyeing.
Collin Wilson
Trevor Lawrence over 29.5 rushing yards (FanDuel)
When this semifinal was first announced my immediate thought was 'Give me all the Trevor Lawrence rushing props.' Lawrence had five rushing touchdowns through the first six games of the season, ending with 407 total rushing yards on the season.
There is no doubt that Clemson will implement a double team on Ohio State star defensive end Chase Young, adding a tight end chip block much like what Michigan and Wisconsin used to limit the defensive end.
Young was held without a sack in his final two games, laying down the template for Clemson to stop the Bednarik Award winner.
Per SportsSource Analytics, Clemson has the best offensive line efficiency metric in the nation and averages just a sack per game. Most sacks against Clemson have come from the edge and catching Lawrence in time before stepping up in the pocket.
Because of the pressure from the edge, expect Trevor Lawrence to have one of his biggest days rushing the ball from stepping up in the pocket or running the RPO. Two statistics indicate Clemson is in line for a big offensive day.
Clemson-Ohio State longest TD over 54.5 yards (FanDuel)
Justin Fields will have some downfield success when reading the Clemson defense correctly, but he will have plenty of negative plays when he holds onto the ball too long. So I'll take longest touchdown over 54.5 yards.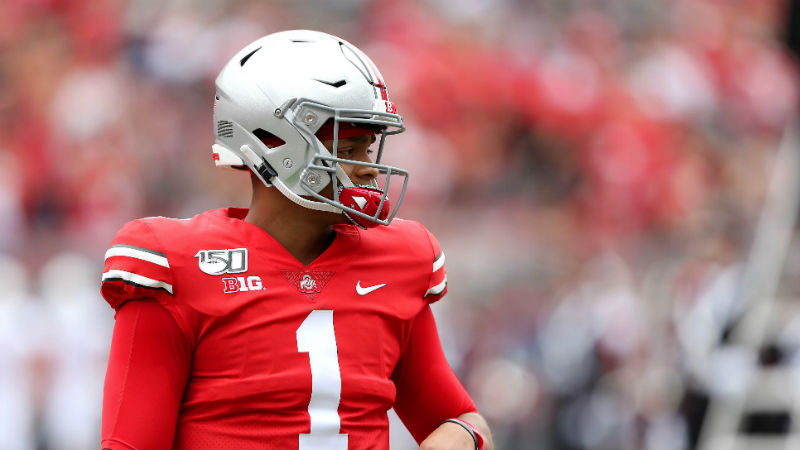 This isn't available anywhere yet, but depending on the number, I'm interested for the reasons I outlined above with Lawrence,
PointsBet is offering Young to have 2+ sacks at +125, which I would recommend staying far away from.
Steve Petrella
Ohio State is still susceptible to big plays on the ground, ranking outside the top 100 in rushing explosiveness against, and Travis Etienne is the perfect running back to exploit that.
He's got the speed to break off a big play or two and should see an uptick in carries from the 14 he averages per game. Etienne is rarely still on the field in the second half, especially in the fourth quarter.
Even if Clemson is winning this game handily, the Tigers will rely on Etienne more than normal and he'll get closer to 20 touches. If he averages 5.0 yards per carry, down 3.2 from his season average, he'll top 95.5.
Joe Burrow under 35.5 passing attempts
This may not be the most fun to root for. But 35.5 passing attempts is a lot, and based on how I think Oklahoma wants to play this game, Joe Burrow won't get there.
Burrow averages 33.7 pass attempts per game, and hit 38 last game simply because Georgia's offense couldn't stay on the field.
I expect Oklahoma to play at a slow pace (it ranks outside the top 100 in seconds per play this season) and try to keep the Tigers off the field.
Clyde Edwards-Helaire under 70.5 yards (FanDuel)
Clyde Edwards-Helaire is questionable, and it doesn't sound like he'll play a whole complement of snaps.
That's baked into his rushing yards total at FanDuel, but you have so many more outs with an under. He does need to play at least one snap for this bet to have action.
How would you rate this article?