10 Under-the-Radar College Football Quarterbacks to Bet in 2018
Credit:
USA TODAY Sports. Pictured: Jawon Pass, Jordan Ta'amu and Jonathan Banks
Quarterbacks are essential for handicapping college football, but with so many changes year-to-year, it's hard to keep up.
Our staff compiled 10 quarterbacks you may not know about, but will want to bet in 2018.
JUCO transfer Jordan Ta'amu gives Ole Miss the kind of explosiveness the Rebels will need if they want to compete against Alabama in Week 3.
Transcendent quarterback play can elevate a team's against-the-spread performance from average to great, and even beyond that. And if you start betting on them at the right times, your bankroll will feel the effects, too.
Just ask anyone who consistently backed these guys:
Florida State's Jameis Winston, 2013 (11-3 ATS)
Texas A&M's Johnny Manziel, 2012 (8-5 ATS)
Penn State's Trace McSorley, 2016 (10-3-1 ATS)
The Action Network's crack college football team has assembled a list of 10 quarterbacks you might not know much about but should be placing faith in this fall.
They may not be Winston or Manziel, but they can make you money.
1. Jordan Ta'amu, Ole Miss
By Steve Petrella
Ole Miss lost Shea Patterson to injury midway through 2017, and its offense got better. Credit JUCO transfer Jordan Ta'amu for a lot of that, and expect him to build on that success with Patterson now at Michigan.
Ta'amu is one of three returning FBS quarterbacks to complete 65% of his passes and throw for 9+ yards per attempt in 2017 (min. 100 attempts). He had the best adjusted completion percentage (which accounts for drops, throwaways and more) in the SEC, per Pro Football Focus.
A.J. Brown and D.K. Metcalf make up maybe the best receiving duo in the country, and they'll certainly help elevate Ta'amu again this season.
Ole Miss should have at minimum a top-10 passing attack by any metric you want to use — which is why we like the Rebels at +22.5 against Alabama in Week 3.
Not including sacks, Ta'amu also ran for 278 yards and four scores on 44 carries, and might not have shown his full potential as a runner.
2. Jonathan Banks, Tulane
By Stuckey
No, not the actor Jonathan Banks who plays Mike Ehrmantraut in both Breaking Bad and Better Call Saul, but the senior who returns under center for Tulane. The dual-threat QB finished extremely strong in 2017 against Houston and SMU.
I expect Tulane's option offense, which returns eight starters, to build on that momentum from the end of last season.
Banks will get almost 100% off his receiving production back from last year in an offense he is now much more familiar with (last year was his first in New Orleans, as he played at community college after redshirting at Kansas State).
Tulane will go as Banks goes, and I think the experienced offense can help the Wave turn some of their unfortunate close losses last season into wins. Four of their seven defeats came by a combined 12 points last season.
3. Jawon Pass, Louisville
By Steve Petrella
There's no reason to think Lamar Jackson's departure will completely cripple Louisville's offense.
Jawon "Puma" Pass, the No. 5 dual-threat QB in the Class of 2016, will take over. He went 23 of 33 for 238 yards and two scores in mop-up duty in 2017, although the bulk of that came against Murray State.
His biggest question mark is that he doesn't go by his nickname "Puma" all the time. Puma Pass. Seriously, man?
A bet on Pass' upside is made a little safer by the presence of coach Bobby Petrino. He's developed quarterbacks everywhere, from Brian Brohm at Louisville to Ryan Mallett and Tyler Wilson at Arkansas.
Pass fits Petrino's pro-style mold well and is more of a pocket passer. He's drawn comparisons to Cam Newton and Ohio State's Cardale Jones.
Pass returns his top three receiving targets, four offensive linemen and three backup running backs who averaged more than six yards per carry.
Expect Pass to test Alabama's brand new secondary in Saturday's opener (Alabama -24.5, over/under 60). I'm on the over in that game.
4. Adrian Martinez, Nebraska
By Collin Wilson
Martinez will be the first true freshman in Nebraska history to start the season opener, so coach Scott Frost must really think he's a great fit for his offense.
Frost flipped him from Tennessee in December almost immediately after he accepted the Huskers job.
The No. 7 dual-threat QB in this class will bring a powerful combination of running and passing after sitting out his senior year of high school with a shoulder injury.
Nebraska quarterbacks coach Mario Verduzco has described Martinez in the same light as Marcus Mariota.
Nebraska opens with Akron, Colorado, and Troy, which are all susceptible to giving up explosive chunks to a dual-threat quarterback.
5. Charlie Brewer, Baylor
By Steve Petrella
Our love for Baylor in 2018 is no secret. Positive regression is a big reason. So is stability under center.
Brewer took over as the Bears' starter midway through last season and turned in quality efforts against Texas, Iowa State and TCU, which all had top-35 defenses, per FootballOutsiders.
He averaged 7.7 yards per attempt with an 11-4 TD-INT ratio and 68.1% completion percentage, which ranked No. 4 nationally.
Baylor has the second-most returning production in the country on offense, meaning Brewer has all of his top receiving targets, running backs and offensive line back.
Improvement is baked into Baylor's win total (5.5), but the Bears will be much, much better.
6. Daniel Jones, Duke
By Stuckey
Jones, a redshirt junior, returns to start at quarterback for the third straight year.
But he's flying under the radar after somewhat of a sophomore slump, throwing for just 14 TDs and 11 INTs last season with a scant 56.7 completion percentage.
But it's important to remember that Jones dealt with some nagging injuries in the first half of the season, when he was also adjusting to a new scheme under new offensive coordinator Zac Roper.
Jones ended up finishing strong, highlighted by an outstanding MVP performance in the Quick Lane Bowl. He went 27 of 40 for 252 yards and two TDs.
He also rushed for 86 yards with another score in a blowout win over a very good Northern Illinois defense. I expect Jones to carry that momentum over into this season.
Remember, this is the same kid who threw for more than 2,800 yards with a 62% completion percentage and 16 TDs to 9 INTs two seasons ago. (He also rushed for just under 500 yards in 2016 with his Roper as his position coach).
With two years of experience in Roper's system, the presumably healthy Jones should have a big year in Durham.
7. Frank Nutile, Temple
By Ken Barkley
First off, I'm a sucker for a good nickname, and Louisville's "Puma" Pass was already taken in this collection by Steve. So give me "Frankie Juice!"
Last season, something happened to Temple against Army that changed their trajectory midseason, and possibly, their 2018 campaign.
In a loss, Nutile started in place of Logan Marchi and thrived, throwing for 290 yards on 20-of-29 passing. Following that OT defeat, Temple won four of its last five, including its bowl game and a win over Navy.
Nutile had a 10-2 TD-INT ratio in games not against UCF, although his turnovers were almost the sole reason for their loss to the undefeated Golden Knights.
Coach Geoff Collins gave Nutile the nickname "Juice" because of the way teammates gravitate toward him, which doesn't really make sense. But too late, it's his nickname now.
Temple returns 71% of its offensive production from last year per S&P+, and Nutile is a big reason why many (including our own Collin Wilson) think the Owls are a sneaky pick to win the AAC.
8. Shawn Robinson, TCU
By Ken Barkley
The Kenny Hill era is mercifully over in Fort Worth, and Robinson is TCU's starting quarterback in Week 1.
It can be really tough to form an impression of a quarterback in his first year, because often times he's thrust into game action without any familiarity of the playbook and maybe isn't in ideal game shape.
Robinson started against Texas Tech as a freshman late in the year and struggled, going just 6 for 17, but that game also featured 40-mph wind gusts.
So you know, maybe let's throw that one out, OK?
He still managed to do well on the ground, rushing 10 times for 84 yards in that game.
His potential is pretty limitless. He's the highest-rated quarterback recruit TCU has ever had, and had offers from basically everyone (he chose the Horned Frogs not just because he's a local and his family can watch him play, but also because of TCU QBs coach Sonny Cumbie).
With good skill position players surrounding Robinson, TCU's offensive ceiling remains very high yet again.
9. Malcolm Perry, Navy
By Ken Barkley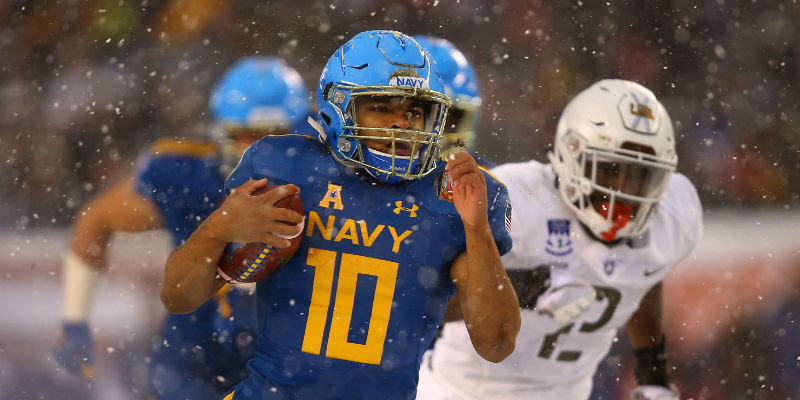 I originally chose to write about Perry not only because of his skills, but also because it's an excuse to show his touchdown run against Army, which produced one of the most memorable snow football photos of the last decade.
I mean … THAT is beautiful.
Only at Navy could someone be the slot-back for part of the season, and then the team decides, "well actually, you should just play quarterback."
At midseason, Perry switched to quarterback, and in his first start against SMU, he rushed for "only" 282 yards and four touchdowns.
Head coach Ken Niumatalolo calls Perry the most dynamic runner he's ever had, and he's had quite a few (including multiple FBS record-holder Keenan Reynolds).
Now we'll see what Perry can do with a full season of reps under center.
10. Manny Wilkins, Arizona State
By Stuckey
Returning for his third year as a starter under center, Wilkins might be the nation's most underrated power conference quarterback. He also happens to play on one of the most underrated offenses in the country.
He completed more than 63% of his passes in each off his first two years and threw for 3,270 yards and 20 TDs with only eight picks last season (despite a poor offensive line).
The 2018 offense will go as Manny goes, which new coach Herm Edwards seems to understand.
The Sun Devils must replace last year's productive starting backfield (Demario Richard and Kalen Ballage), but I have a lot of faith in the uber-talented Eno Benjamin. He should be able to step in and balance what should be an explosive passing attack.
The featured wide receiver in that passing attack is junior N'Keal Harry, who you'll eventually see on Sundays. The preseason AP All American had 82 catches for 1,142 yards in 2017.
It's not a one-man show either, as ASU has depth on the outside. Don't sleep on Kyle Williams, the Sun Devils' second-leading receiver (66 catches) from a season ago, who returns alongside Harry.
Arizona State does have a new offensive coordinator in Rob Likens, but he served as the co-OC last season, so don't expect any transition pains.
Now, the biggest boost Wilkins will receive is on the offensive line, which finished 123rd in the nation with a horrid 41 sacks allowed last season.
This unit not only returns a decent amount of production but will add the services of Casey Tucker, a key grad transfer from Stanford.
Tucker will slide into the starting left tackle spot of what now is a very experienced offensive front.
Expect Wilkins to stay upright much more this year, which should lead to a huge season for the senior QB.
The offense in Tempe should be elite. The defense? Not so much.
Authors of this article include The Action Network's own: Collin Wilson, Ken Barkley, Steve Petrella and Stuckey.
How would you rate this article?