The Sucker Ratings: College Football's Worst Bets Since 2015
Credit:
Kim Klement-USA TODAY Sports.
Have you ever wondered which college football teams are REALLY the biggest sucker bets? We ran the numbers over the past three seasons to find out.
TCU made the list due to a dreadful 2016 campaign, which saw the Horned Frogs win just six games and cover only three.
Four of the 12 schools to make the list hail from the Pac-12, including the three biggest sucker bets of them all.
There's nothing like college football fans.
They're passionate. They're dedicated. They're loyal. They're also really stupid.
Too far? Maybe.
But, man, they can make some bad bets sometimes.
Betting college football isn't easy, I get it. There are 129 FBS teams to keep up with every week — 130 if you count Kansas — and in the world of making money, information is king.
How can you possibly stay on top of every injury, position change, staff shake-up, weather report and more from week to week? If you're not careful, you'll get suckered.
---
>> Sign up for The Action Network's daily newsletter to get the smartest college football conversation delivered into your inbox each morning.
---
Which brings us to … The Sucker Ratings. These are the college football teams that take your money faster than a five-star prospect on a recruiting trip to Miami.
How do we calculate The Sucker Ratings? We locked five guys from BetLabs in a room for six months, and wouldn't let them out until they came up with a formula to show which teams cost people the most since 2015.
Three key numbers to know:
Total Bets: Simple. The total number of bets placed on that team since 2015.
ATS %: Team's win percentage against the spread since 2015.
Net Losses: The difference between the number of bets won and number of bets lost on that team since … you guessed it, 2015.
Essentially, what The Sucker Ratings set out to do is note the teams that see the most bets placed on them to beat the spread, yet lose the most often.
Which schools made the list?
Have at it …
12. Florida
Florida's one of those bad teams that just doesn't make sense. Jim McElwain had it rolling his first year at Florida in 2015 until Will Grier got caught using PEDs and everything went south, despite being loaded with talent elsewhere.
After seeing the Gators on this list, I'm starting to think those rather unfortunate death threats last season were just from all you angry bettors out there losing money backing Feleipe Franks every week.
11. Texas A&M
I have a feeling I know what's happening here. No team in America is better in September and worse the other two months of the season than Texas A&M.
The Aggies are 17-1 straight-up during the first month, since 2014, and 14-20 the rest of the season.
Kevin Sumlin's boys probably cost more Texans money than an oil spill. It'd be a real shame if his new team ended up on this list.
10. TCU
This one legitimately surprises me. Gary Patterson is one of the top coaches in the country. But don't forget: People bought high on the Frogs in 2016 coming off an 11-win season, only for them to fall to 6-7.
That translated to a 3-9 record against the spread.
And while the Purple Turtles bounced back to win 11 games again in 2017, they only covered seven times in 13 chances.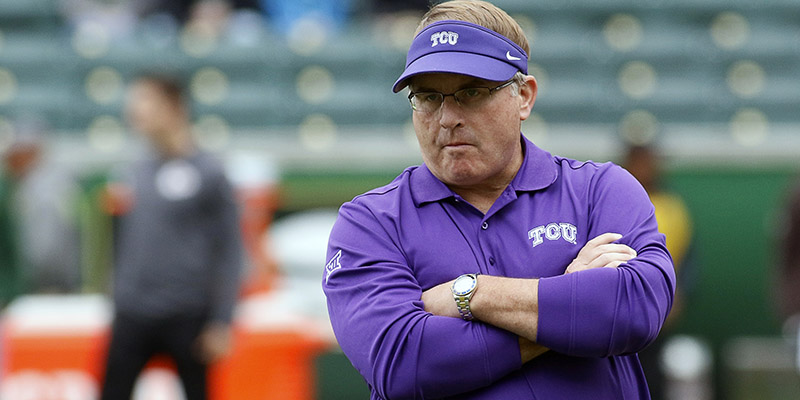 9. Cincinnati
Today I learned people bet on Cincinnati football. Y'all need Jesus.
8. Arizona
OH, HEY, KEVIN SUMLIN! DIDN'T SEE YA THERE. The Wildcats were a sucker bet under Rich Rodriguez, and they just hired the coach from the No. 11 team on this list.
If this doesn't tell you to fade the hell out of Arizona this year, I don't know what else will.
7. Kentucky
Mark Stoops has built Kentucky into a semi-respectable program over the past few years, but not in the eyes of bettors.
The Wildcats have covered 36.8% of their games over the past three years, tied for the second-worst rate of any team on this list.
My buddy Peter Burns told me on this week's College Football Country podcast he was a believer in Kentucky this season. After looking at these numbers, I should probably start cleaning out my guest room for him to move into shortly.
6. Michigan State
In 2015 and 2016, Michigan State went 10-16-1 ATS combined. The Spartans bounced back in 2017 to finish 8-5, but the damage was done.
Sparty actually has the best ATS win percentage of any team on this list, but we're going by net losses here, meaning a lot of people bet on Mark Dantonio's club each week, and a lot of those bets didn't cash.
Dantonio might be one of the best coaches in the country, but he hasn't beaten the number as much as you'd think over the past few years.
5. Baylor
The Art Briles era of Baylor football was the perfect trap for sucker bets.
People fell in love with that offense and assumed the Bears were just going to walk in, hang half a hundred on whomever they faced and cover even the gaudiest of spreads. That's exactly how Vegas gets ya.
Teams like that kill you because they cover the spread by halftime, only to let Johnny Walk-On come in and kick the backdoor wide the open for 30 minutes.
I wouldn't count on this trend lasting with Matt Rhule establishing himself in Waco. Different system, and that dude can coach.
4. West Virginia
The Mountaineers aren't all that different from Baylor. They've got an offense you'll fall in love with when you see the numbers, but Dana Holgorsen has a funny way of underwhelming bettors week after week.
West Virginia covered less than 40% of its games since 2015. That's roughly 39% higher than the amount of couch-burning jokes that are still funny in 2018.
3. Oregon
Shoutout to Mark Helfrich for taking college football's version of a Lamborghini and driving it off a cliff in three years.
Post-Marcus Mariota Oregon was a complete disaster. Fans saw Helfrich on the sideline while Mariota led the Ducks to the national title game in 2014 and assumed Helfrich had the program right on track.
It took fans a few years to realize Chip Kelly's offense ain't walking through that door.
Can Mario Cristobal bring back the magic in 2018? I'm not counting on it.
2. USC
The Trojans are one of those name brands that suckers you into thinking they're going to be good, and they just never are.
When was the last time USC exceeded the hype? 2005? Ever since Vince Young took a dagger to their soul in the Rose Bowl, the Trojans almost always disappoint.
Sam Darnold was supposed to bring the glory back to the Coliseum last year, but it didn't happen. Narrow wins against Western Michigan, Texas, Utah and UCLA, coupled with losses to Washington State, Notre Dame and Ohio State, weren't what Trojan fans (and Trojan backers) had in mind.
1. UCLA
So I guess the takeaway here is don't bet on anyone in the 90210 zip code.
The Bruins have covered a miserable 36.8% of the time over the past three seasons.
The biggest question around them now is how quickly Kelly can get the program back to where he had Oregon a half-decade ago.
When he was with the Ducks, they beat the spread by more than a field goal on average, which is insanely good.
It might not be long before the Bruins are off this list.
---
The 2018 College Football Preseason Sucker Ratings
For those of you who want the nitty gritty numbers…
---
If you have any questions, tweet me at @JoshParcell and I'll slip a note under the door to the guys at BetLabs.