Fresno State at San Diego State Betting Odds, Picks: Strength vs. Strength, Weakness vs. Weakness
Credit:
Jake Roth, USA Today Sports.
Fresno State at San Diego State Odds
Spread: Fresno State -1
Over/Under: 42.5
Time: 9:30 p.m. ET
TV: ESPN 2
Fresno State at San Diego State Line Movement
Only 39% of bettors (making up just 30% of money) like Fresno State's chances on the road, but this line has jumped the fence, making the Bulldogs 1-point favorites after opening as high as +2.5/3.
The total has also seen a move against the popular side, dropping from 45 to 42.5 on just 38% of under bets. In this case, those bets have accounted for an impressive 82% of money, revealing how bigger bettors are seeing this total. — Danny Donahue
Collin Wilson: Is This Total Too Low?
Despite a 2-3 conference record, Fresno State can put itself in a great position in the West Division of the Mountain West with a win over San Diego State on Friday night. The Bulldogs have a win over Hawai'i, so a win over the Aztecs would mean Fresno controls its own destiny for a shot at the conference championship.
If the numbers hold true in this game, it figures to be an ugly contest.
The Aztecs are struggling on offense, ranking 92nd in passing success rate and 113th in rushing success rate. In six conference games, San Diego State has scored just eight touchdowns on drives that started in its own territory.
The burden may not be too heavy on San Diego State's offense because its defense has not allowed more than 20 points in its last seven games. The Aztecs rank second in opponent rushing success rate and 15th in opponent rush explosiveness, so it could be a long night for Fresno running back Ronnie Rivers.
Rivers has been fantastic this season, but he may be of more use to the Bulldogs in the passing game.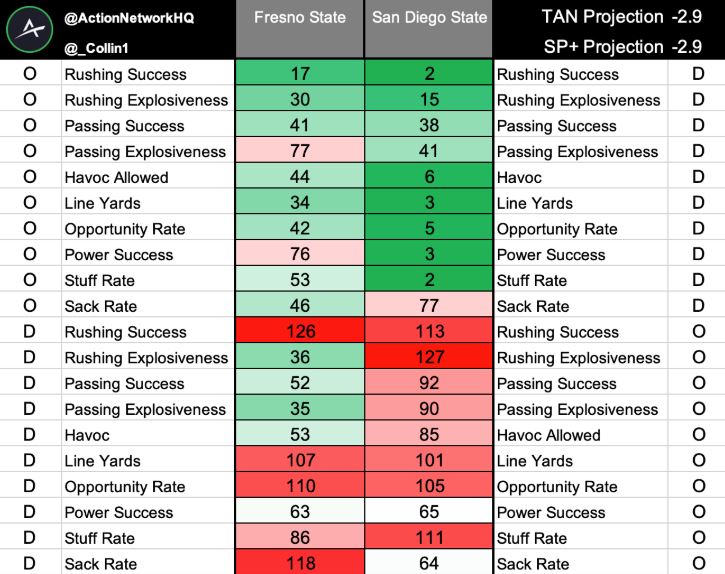 Special Teams could also play a role in this game as the Aztecs rank fifth in special teams efficiency and fourth in kickoff return efficiency this season.
As you'd imagine in a game featuring struggling offenses and good defenses, bettors are happy to hit the Under. Our Action Network projections make the Over/Under 47.5, so I am interested in backing the over it gets to 41.5. If it doesn't get there, I'll keep an eye out for a live over.
Stuckey: Strength on Strength, Weakness on Weakness
This is strength on strength when Fresno State has the ball and weakness on weakness when San Diego State has the rock. The Aztecs are averaging just 4.5 yards per play (125th in the nation) while allowing only 4.6 (13th). Everything that San Diego State does well up front on the defensive side of the ball, it does just as poorly on the offensive side.
After offseason rumblings about changes on the offensive side of the ball, it looks like the same old slow, rush-heavy offensive attack for Rocky Long's Aztecs — except with worse productivity in the running game. They're running it about 60% of the time but only averaging 3.4 yards per rush (119th).
Meanwhile, Fresno is averaging 6.4 yards per rush (top 30) but allowing 5.7 (76th). After adjusting for opponent, you could argue we have a top-30 offense facing a top-30 defense when Fresno has the ball and a bottom-20 offense facing a bottom-20 defense when SDSU has it.
So, what gives?
Well, one thing to keep an eye on is the status of Fresno State's two offensive linemen, right tackle Syrus Tuitele and right guard Quireo Woodley, who Jeff Tedford said are day-to-day. Without those two, San Diego State's defensive line could be the difference.
But it will ultimately either come down to turnovers or special teams. And if it's the latter, you'd have to favor San Diego State. Per S&P, San Diego State's special teams rank 6th in the nation while Fresno ranks 94th.
In a game of two equally matched teams, home-field and special teams may do the trick. I see some value on the Aztecs but boy is that offense tough to stomach with your hard-earned money. I may just wait for a potential live opportunity, instead.
Kyle Miller: Can San Diego State Expose a Weak Fresno Secondary?
When I saw this line on Sunday evening, I got very excited to take Fresno State plus the field goal. Unfortunately for me, it never got to Fresno +3 and immediately shot in the opposite direction. I'm still seeing a good reason to back the Bulldogs in this matchup though.
It's well documented that San Diego State has a bad offense, but a deep dive into the numbers shows just how bad they've been. The Aztecs ranks 125th in yards per play, 117th in rushing success rate, 128th in explosive play percentage, and 125th in offensive efficiency. This offense is almost as bad as Northwestern, and that's saying something.
Fresno's offense and San Diego State's defense are good on good. There isn't a big advantage to be found between these two units so I'm going looking into the other side of the ball. San Diego State runs the ball almost exclusively but as mentioned above, they're horribly inefficient and have no explosiveness.
Fresno State's defense hasn't looked good, but they rank 16th in rushing success rate. Aztecs' quarterback Ryan Agnew is one of the worst passers in the country and won't be able to take advantage of a leaky Fresno pass defense.
I've been a little lower on San Diego State than the market and I agree with the line move in this game. I'm looking to back Fresno State on the money line as this should be a very low scoring affair.
How would you rate this article?