Can Kyle Pitts Make An Immediate Impact In the NFL? Cases For vs. Against the TE
Credit:
Courtney Culbreath/Collegiate Images/Getty Images. Pictured: Kyle Pitts.
Kyle Pitts is an elite tight end prospect.
Coming out of Florida, Pitts wowed fans on the field week in and week out alongside quarterback Kyle Trask. Then, he impressed even more at the Gators' Pro Day. He even made it up to No. 2 on Matthew Freedman's board of top-100 prospects.
Pitts oozes with potential. There's no debating that. But there is one thing worth debating: Can he make an immediate impact in the NFL?
There's a longstanding history of tight ends taking time to settle in at the next level. But then again, Pitts isn't your average tight end prospect. Below, Samantha Previte and Mike Randle debate whether or not Pitts will make a big impact from Day 1.
---
More NFL Draft Debates: Who should be the third QB drafted? | Is Ja'Marr Chase, DeVonta Smith, or Jaylen Waddle the best WR available? | Could Zach Wilson be considered the No. 1 QB? | Is Travis Etienne or Najee Harris the better RB?
---
---
The Case for Kyle Pitts Making an Immediate Impact In the NFL

Pitts is the consensus top tight end in this year's draft class, and I believe he could make an immediate impact in 2021. 
The 20-year-old has been described as a "unicorn" by Gators head coach Dan Mullen and has drawn lofty parallels to six-time Pro Bowler Travis Kelce. 
At Florida's Pro Day on March 31, he measured an impressive 6-foot-5 5/8, 245 pounds with 10 5/8 inch hands, 33 1/2 inch arms and an off-the-charts wingspan of 83 3/8 inches — the longest of any receiver or tight end in the NFL in the last 20 years, per PFF. 
He also put on a show athletically and recorded a 4.40 40-yard dash, 129-inch broad jump, 33.5-inch vertical jump and 22 bench press reps. Both his 40-yard dash time and broad jump would have ranked top-10 among wide receivers this year. 
Kelce — who was three years older than Pitts at the time he was drafted — measured 6-foot-6 7/8, 255 pounds with 9 5/8 inch hands, 33 3/4 inch arms and a wingspan of 80 inches at Cincinnati's Pro Day in 2013. He clocked a 4.63 40-yard dash at the 2013 NFL Combine and recorded a 124-inch broad jump and 35-inch vertical leap. 
Kelce was selected in the third round of the 2013 NFL Draft and spent all but one game in his rookie season on injured reserve after undergoing knee surgery. 
In his first full season for the Chiefs, Kelce reeled in an impressive 67 catches for 862 yards and five touchdowns. For reference, Detroit's T.J. Hockenson caught 67 passes for 723 yards and six touchdowns in 2020 and finished as a top-four tight end. 
Pitts' best college season to date came in 2020, which was abbreviated due to the COVID-19 pandemic. He reeled in 43 passes for 770 yards and 12 touchdowns through just eight games for the Gators. 
Pitts brings a potent combination of size and speed, which will be a mismatch for many NFL defenses and is expected to frequently line up detached like Kelce. 
Next Gen Stats rated Pitts near-perfect in production (99), athleticism (98) and draft score (98). Only 12 prospects since 2003 have scored a 98 or higher in all three of these categories, and 10 of them have made a Pro Bowl appearance during their careers. 
Pitts is a true unicorn, physically and athletically, and is a multi-dimensional offensive weapon who brings much more than just extra blocking abilities. He is essentially an oversized wide receiver with the potential to be many teams' top target right out of the gate.
Photo Credit: Andy Lyons/Getty Images.
The Case Against Pitts Making an Immediate Impact
By Mike Randle

Let's not confuse "generational talent" with "immediate impact."
Pitts' athletic measurables are incredible. His 4.49 speed at 6-foot-6 and 245 pounds translates to a 123.1 (98th percentile) speed score on PlayerProfiler. His burst, agility, and SPARQ-x score are all impressive as well.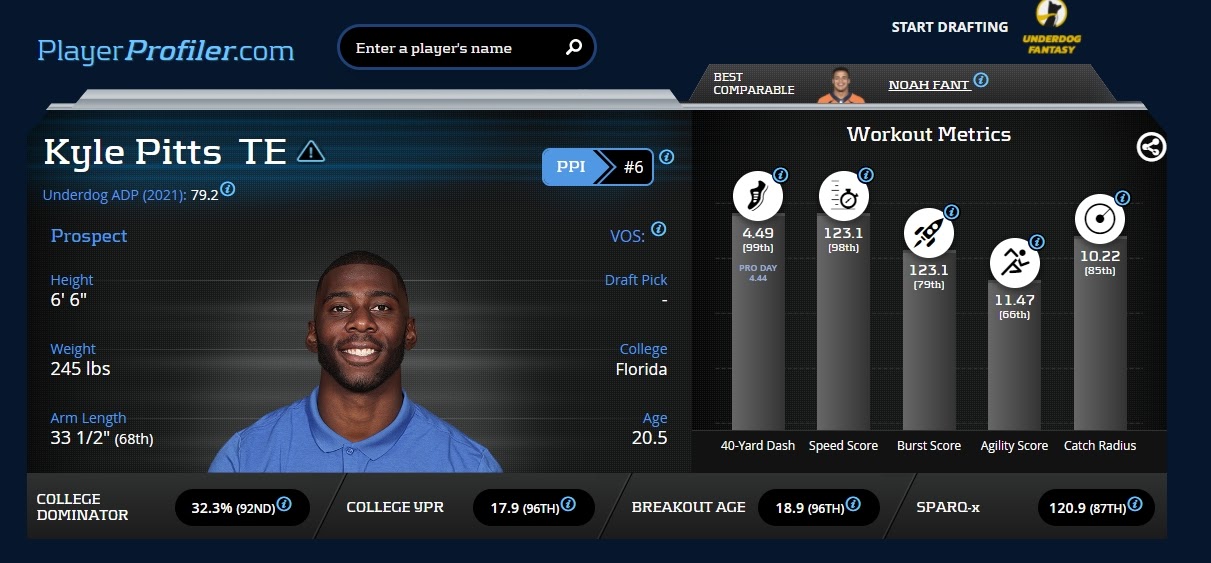 However, we are so desperate to find the next Travis Kelce and George Kittle that we vastly exaggerate the impact of first-year tight ends. Let's examine the first year performances of several comparable tight end profiles:
Vernon Davis (2006):  42 receptions, 265 receiving yards, 3 touchdowns
OJ Howard (2017): 26 receptions, 432 receiving yards, 6 touchdowns
David Njoku (2017):  3 receptions, 386 receiving yards, 4 touchdowns
T.J. Hockenson (2019):  32 receptions, 367 receiving yards, 2 touchdowns
Noah Fant (2019):  40 receptions, 562 receiving yards, 3 touchdowns
All of the players above were selected in the first round of their respective year's draft, and all can rival Pitts in athleticism. This idea that we haven't seen a tight end like Pitts is completely false. Is he a great athlete?  Absolutely. Is he a once-in-a-lifetime tight end specimen? Not exactly.
The most critical aspect of a tight end making an immediate impact as a rookie is blocking ability. This is a necessary area for growth with Pitts, as illuminated by Lance Zierlein of NFL.com.
The argument here is not that Pitts will make an impact in the NFL during his career. The discussion centers around "immediate" impact.
Regardless of where he lands, history has shown us that tight ends do not make a huge impact in their initial NFL season. That will be the same with Pitts.
Photo Credit: Evan Lepak/Collegiate Images/Getty Images.
Previte Rebuttal
All very fair points made, and while Pitts is exceptionally athletic, I don't think that he necessarily has to be a "once-in-a-lifetime specimen" to make an immediate impact. His measurables are similar to those of Kelce, who was an immediate impact player after missing the majority of his rookie season with a knee injury. 
The Chiefs tight end also holds the NFL records for most 1,000-receiving yard seasons (5), most receiving yards in a season (1,416) and most 100-reception seasons for a tight end (2). 
Even draft experts like NFL Network's Daniel Jeremiah have drawn parallels to Kelce: At just 20 years old, Pitts already rivals the three-time first-team All-Pro's physical stature and eclipses him in some of the agility drills. 
If blocking ability is how you define success, I would probably agree that it may take him time to progress to the next level. However, as the position has evolved over time, some of the elite tight ends, such as Kelce, Kittle, Hockenson and Darren Waller are more like extra-large wide receivers who also block. All four are top targets for their respective teams. 
I think that's more akin to the role Pitts will play, and I believe that's where he'll make an immediate impact in 2021.
Randle Rebuttal
Even the extra-large tight ends who block struggle to make an immediate impact. 
We all remember Hockenson's incredible first game in 2019: six receptions, 131 yards, and one touchdown en route to the overall TE2 performance. Fantasy drafters ran to the waiver wire to get their claims in for Week 2. 
The next time Hockenson reached 131 receiving yards? 
In Week 9, if you combined all of his receiving yards over the next six games. 
In order to make that immediate impact he would need to achieve two rare things for a rookie tight end. First, his blocking would need to dramatically improve to both protect the quarterback and support the running game. That will be a struggle, a concession even the most ardent Pitts supporters acknowledge. Second, he would need to land on a team that would treat him as one of the top receiving options on their depth chart. 
He is currently favored to land with Atlanta with the fourth overall pick. How many targets will Pitts receive as a rookie who is clearly behind Julio Jones, Calvin Ridley, and possibly Russell Gage on the depth chart. Not to mention he would be competing with a former first-round starting tight end in Hayden Hurst. 
The four tight ends Samantha mentioned all compare favorably to Pitts, especially Darren Waller, However, they all needed time to grow into their role, and the 245 pounds will certainly need the same. 
Can an "oversized wide receiver" make an immediate impact in the NFL? I remain skeptical.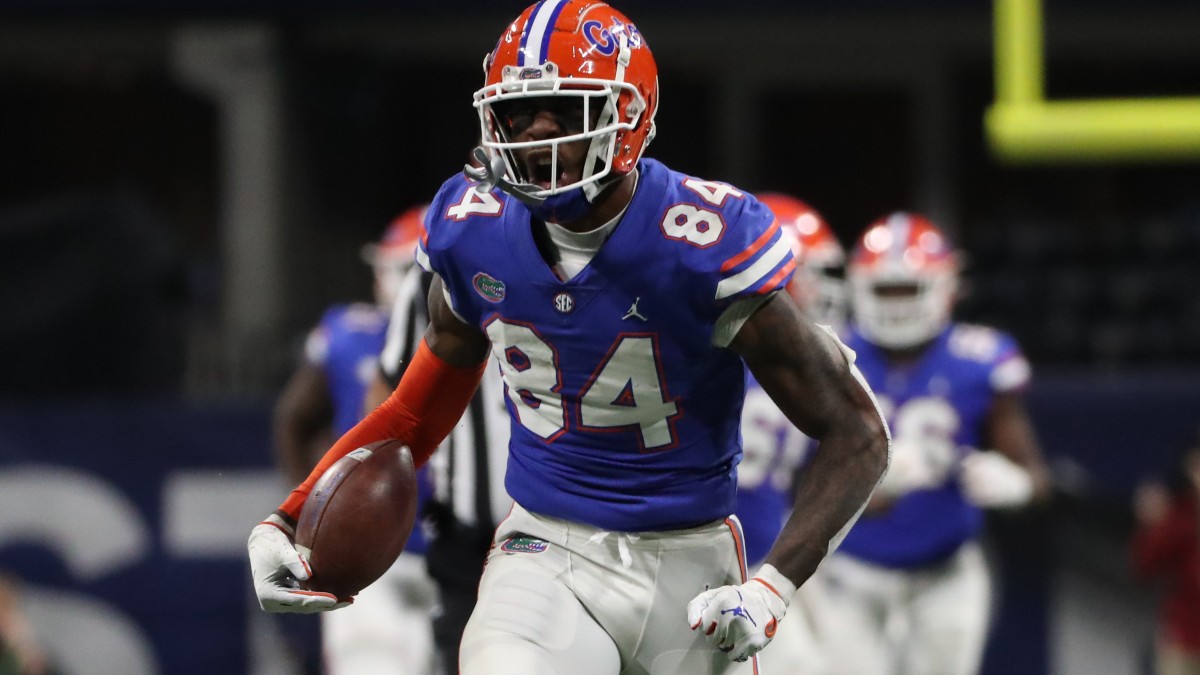 Previte's Final Thoughts
I agree with Mike's points that an unfavorable landing spot could negatively impact Pitts' value and that his blocking could use improvement. 
That said, I think his blocking, as it stands now, isn't going to be a liability to teams and merely seems worse because he's freakishly off-the-charts in all of the other areas. I also think if a coach or coordinator is deploying him primarily as a blocker, they're criminally misusing him. 
I'm sticking with my original thesis that whichever team he ends up on will utilize him as a hybrid pass-catcher outside and in the slot frequently. His size will overpower opposing secondaries, and his speed and elite route running will allow him to easily outmaneuver linebackers. 
His presence might be enough to prompt defenses to double-team him, which in turn, could limit his production. This scenario would create an imbalance in other areas of the defense, however, which in my opinion, still qualifies as making an immediate impact.
Randle's Final Thoughts
Pitts' talent is unquestioned. He has the athletic ability of a wide receiver in the frame of a tight end. He is a special athlete. 
But he needs to go to a team that will use him as a primary offensive weapon. It takes time to grow into a Travis Kelce role. 
The two main reasons Rob Gronkowski developed into one of the most accomplished tight ends in NFL history was his superior blocking ability and incredible red-zone prowess. Pitts doesn't have the first and probably won't have the second for at least a year, if not longer. 
I've seen Pitts mocked to a team like Atlanta, where he would live substantially down the target share hierarchy. And he would still have to share time with a veteran like Hurst.
Pitts has a chance for a strong NFL career of sustained success. But making an immediate and in many ways historical impact? I just don't see it. 
How would you rate this article?