Monday Bowl Game Betting Odds, Picks, Predictions: Our Best Bets for 4 Games (December 30, 2019)
Credit:
Jamie Rhodes-USA TODAY Sports. Pictured: Micale Cunningham
After the rush that was Clemson-Ohio State and Week 17 in the NFL, there's still so much more bowl action. You're not off the hook just yet.
Monday's bowl slate offers four games, starting with Western Michigan vs. Western Kentucky at 12 p.m. ET and Virginia vs. Florida in the Orange Bowl at 8 p.m. ET.
Here's how we're betting each.
Monday Bowl Game Odds & Picks
---
Bowl game odds via FanDuel, where Action Network users get a risk-free bet up to $500.
---
Western Michigan vs. Western Kentucky Odds
Odds: Western Kentucky -3.5
Over/Under: 54.5
Time: Monday, 12:30 p.m. ET
TV: ESPN
Location: Dallas
Western Michigan head coach Tim Lester said that his team is "angry" heading into the First Responders Bowl. Lester's third season in Kalamazoo ended on a sour note when the Broncos squandered the opportunity to play in the MAC Championship.
I do expect Lester to have his team fired up, as Western Michigan's senior class is 0-3 in bowl games and Lester noted his team wants to give the outgoing players a win in their final game.
Western Kentucky enjoyed plenty of success this season, culminating with Tyson Helton being named Conference USA coach of the year. Quarterback Ty Storey transferred from Arkansas and led the Hilltoppers to a win over his former team on the road.
Despite a solid season, Western Kentucky's offense did struggle for the most part in 2019. The Hilltoppers rank 101st in passing explosiveness, 103rd in rushing explosiveness and 110th in finishing drives.
Western Michigan is by no means a power house on defense, but the Broncos get after the quarterback well and will get Corvin Moment back for this game after he was forced to sit out the 2019 regular season.
The Broncos boast some strong numbers on offense, but Western Kentucky's defense grades out well and should be able to slow down quarterback Jon Wassink. The Hilltoppers own the eighth-bast passing success rate on defense and they are ranked 18th in finishing drives. Western Michigan is the fourth-most explosive rushing team in the country, but Western Kentucky does a good job limiting big plays on the ground.
Our projected spread for this game is Western Kentucky -2.5, so there isn't much value on either side, but the total looks an edge may pop up on the under. Western Kentucky is the 99th-slowest team in the country — in terms of seconds per play — and Western Michigan struggles in the red zone, which could set up for a play on the under.
Pick: Under 55 or better
Illinois vs. Cal Odds
Odds: Cal -6.5
Total: 43.5
Time: 4 p.m. ET
TV: FOX
Location: Santa Clara, Calif.
Illinois had one of the more amazing statistical seasons in 2019, winning just enough to eclipse a season win total of 4.5 and reach the postseason.
The Fighting Illini had postgame win expectancies less than 50% in victories over Wisconsin and Michigan State. Against the Spartans, Illinois had a 14% postgame win expectancy in a game they trailed 31-10 entering the 4th quarter.
Cal started the season off with a bang in victories at Washington and Ole Miss and finished with a defense rank of 45th in SP+, a downfall from the 2018 rank of 13th.
While the defensive efficiency was down slightly from 2018 rates, quarterback Chase Garbers averaged 8.1 yards per attempt with just two interceptions after four games.
Then things fell apart.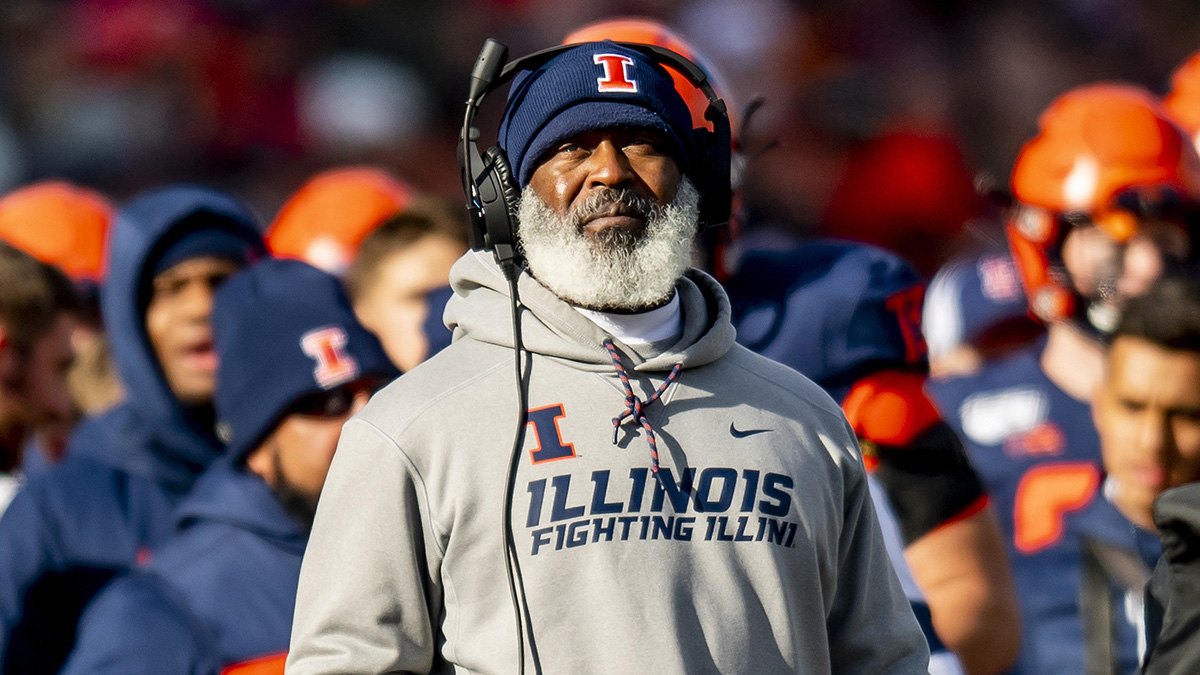 Garbers suffered an injury in what would start a four-game losing streak for the Bears. They averaged just 14 points per game without him.
When asked about the Cheez-It Bowl performance last season — quite possibly the worst offensive bowl game in modern college football history — Garbers was motivated to have his best day in the Redbox Bowl.
Cal looked to have its healthiest roster of the year for this game until suspensions were passed down before Christmas. Wide Receiver Jordan Duncan, second on the team in receptions and receiving yards, was among the handful of players named out for the Redbox Bowl.
On defense, Trey Turner III and Teven Paul will be suspended against Illinois. Safety Ashtyn Davis will also miss the bowl game after a surgical procedure.
Those three starters accounted for 10 passes defensed, two interceptions and three forced fumbles. Quarterback Brandon Peters is likely to target the Cal secondary early and often considering the Illini have a rank in the top 40 in pass explosiveness.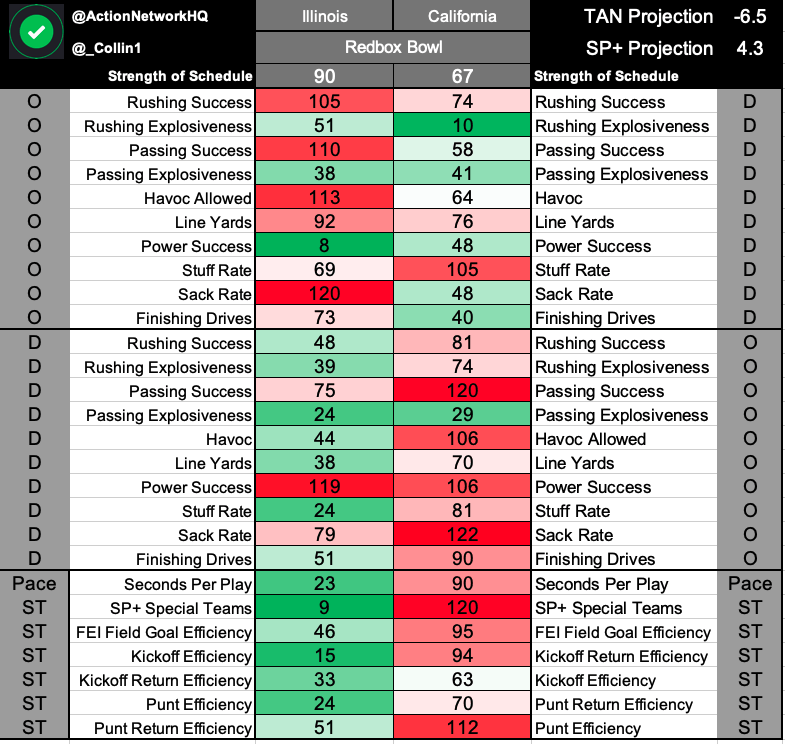 Illinois ranks top 25 in pace of play, and with injuries in the secondary, the Illini are expected to go deep early. The Cal defense was most vulnerable to pass-first offenses in losses to Washington State and USC. The Fighting Illini also rank 14th in the nation in red zone touchdown scoring percentage.
As for the Cal offense, Garbers will have a healthy offense against an Illinois defense that was 75th in passing success rate.
Illinois gave up 44 passing plays over 20-plus yards for a rank of 93rd in the country.
Unlike last year's Cheez-It Bowl, this game may open up early.
Pick: Over 43 or better
Louisville vs. Mississippi State Odds and Pick
Odds: Mississippi State -4.5
Over/Under: 63.5
Time: Monday, 4 p.m. ET
TV: ESPN
Location: Nashville
---
Louisville vs. Mississippi State odds via FanDuel, where Action Network users get a risk-free bet up to $500.
---
Collin Wilson: Mississippi State Will Own the Trenches
The Music City Bowl has an abundance of moving parts, which is a perfect metaphor for Louisville and Mississippi State over the past two seasons. Scott Satterfield and Joe Moorhead are both in the midst of trying to rebuild programs that have seen a lot of turnover these past two seasons.
Mississippi State will have close to a full roster, which is a rarity for the Bulldogs in 2019. Cornerback Cameron Dantzler will sit out ahead of the NFL Draft, but a handful of players are returning from suspension. Most importantly, the Bulldogs will have soon-to-be-drafted running back Kylin Hill, who has a chance to set the single-season rushing record at Mississippi State.
Hill's decision to play gives the Bulldogs a big boost against a Louisville defense that just surrendered over 500 yards against Kentucky.
Louisville will also be without a key cog, as left tackle Mekhi Becton will sit out in preparation for the NFL Draft. Becton's absence looms large as the Cardinals rank 11th in run rate and seventh in rushing explosiveness.
Becton's absence should deflate Louisville's biggest weapon and give Mississippi State the advantage in the trenches. Look for Hill to have success behind an offensive line that ranks sixth in line yards and 10th in stuff rate.
Pick: Mississippi State -3.5
Stuckey: Will Mississippi State Be Motivated?
There are a few games each bowl season where motivation either puts me over the edge or keeps me off a game entirely.
This looks like one of those instances.
On the surface, Hill and a very efficient and explosive Mississippi State ground attack should be able to run it right down the throats of a Louisville defense that allows 5.5 yards per carry, which ranks 123rd in the country.
And yes, some of the troubling Mississippi State defensive underlying metrics are probably not as ugly as they appear considering they dealt with the repercussions of a plethora of suspensions early on in the year.
But it's still not an elite defense and it's a unit that has struggled to contain explosiveness all season, which isn't ideal against a Louisville offense that ranks in the top 10 in both passing and rush explosiveness. And now, the Bulldogs won't have their top corner for this one.
Those are some of the X's and O's but this one could come down to motivation. How much will Mississippi State care about playing Louisville on a Dec. 30 Monday bowl? It's hard to know for sure, but hearing about fights in practice that caused a quarterback switch could hint at signs of trouble for a team that has looked lifeless for long stretches this season.
Also, while I don't think the difference between Garrett Shrader and Tommy Stevens is anything significant, Shrader has more ability with his legs, which could have given Louisville more issues on defense.
Meanwhile, I feel much more confident that Louisville will care about this game. This is a team that won just two games last year, so beating an SEC opponent in a bowl would be a meaningful step in the right direction for this program. I'm also a huge fan of head coach Scott Satterfield, who usually has his teams well prepared after extended time off.
Some of my motivation concerns will keep me off Mississippi State for sure and I may even hop in on Louisville pregame or live, especially if this line steams to 6 or higher.
Florida vs. Virginia Odds, Pick
Odds: Florida -14.5
Over/Under: 54.5
Time: Monday, 8 p.m. ET
TV: ESPN
Location: Miami, Fla.
---
Florida vs. Virginia odds via FanDuel, where Action Network users get a risk-free bet up to $500.
---
Virginia had a fourth-year breakout under coach Bronco Mendenhall, going 9-3 and winning the ACC Coastal before losing to Clemson in the ACC title game.
Florida continued its ascension under Dan Mullen, losing only at LSU and to Georgia in a 10-2 campaign.
Will the Gators cover this big spread against a banged up Cavaliers team? Let's dive in.
Orange Bowl Line Moves
Bettors have been lining up non-stop to back the Gators, who are getting nearly 70% of the bets. That makes them one of the most popular teams this bowl season, though the line hasn't moved much — just from -14 to -14.5.
Nearly 70% of money on the total is on the over, moving it from 54 to 54.5. — Steve Petrella
UVA Needs Monster Effort from Perkins
Virginia struggled on both sides of the ball against Clemson in the ACC Championship. That's not anything new for teams facing the Tigers, but the Cavs have looked especially vulnerable on defense since losing star cornerback Bryce Hall.
Without Hall anchoring their secondary, the Cavaliers will need a monster game out of do-it-all quarterback Bryce Perkins to keep close to the Gators. The problem is that Virginia is at its best when Perkins has time and space to create, but Florida has excelled at limiting those things on defense this season.
The Gators rank fifth in havoc and seventh in sack rate on defense, so keeping Perkins upright will be an uphill challenge for Virginia's offensive line.
And even if the Cavs do piece together some plays, Florida's defense ranks sixth in finishing drives, so points shouldn't be easy to come by for Virginia.
Kyle Trask, the Best Quarterback You Don't Know Much About
The Gators' offense is a one-sided attack. Florida has struggled to find any success on the ground, ranking 113th in rushing success rate and 102nd in line yards. With no run game to speak of, the burden will fall on quarterback Kyle Trask's shoulders and the junior quarterback has answered the bell since taking over for the injured Feleipe Franks.
The Gators boast the ninth-best passing success rate in the country this season, so expect to see a lot of Trask in the Orange Bowl.
Virginia's defense does a good job getting to the quarterback, ranking sixth in sack rate and 29th in havoc, but the injuries in the secondary should open up a defense that has otherwise been strong against the pass in 2019.
Our projected line for this game is Florida -16.5, so I'm looking for Gators -14 or better to get involved in this one. — Collin Wilson
How would you rate this article?