Who Should Be the No. 3 NFL Draft Pick? Debating Which QB the 49ers Should Take
Credit:
Getty Images. Illustration by Katie Richcreek. Pictured: Justin Fields (left), Mac Jones (center), and Trey Lance (right).
The biggest storyline heading into the 2021 NFL Draft is who the San Francisco 49ers will draft at third overall.
Will reports from draft insiders be right? Will Mac Jones be the No. 3 pick? What about Justin Fields or Trey Lance?
A trio of our analysts debate which quarterback should be the third off the board when Round 1 kicks off Thursday night.
The No. 1 pick of the 2021 NFL Draft is almost guaranteed to be Trevor Lawrence while the No. 2 pick is widely expected to be Zach Wilson — the two quarterbacks are -10000 favorites to go first and second overall, respectively, at DraftKings.
But who's after that? Should it be Alabama's Mac Jones? What about Ohio State's Justin Fields? And you can't forget about North Dakota State's Trey Lance.
While the betting odds suggest Jones will be third overall pick and reports indicate the 49ers' choice is down to Jones vs. Lance, there's less agreement about which player should be the third quarterback taken off the board.
That's where the Action Network crew comes in. Chris Raybon, Samantha Previte and Mike Calabrese debate that very topic below.
---
More NFL Draft Debates: Could Zach Wilson be considered the No. 1 QB? | Is Ja'Marr Chase, DeVonta Smith, or Jaylen Waddle the best WR available? | Is Travis Etienne or Najee Harris the better RB? | Can Kyle Pitts make a big impact in Year 1?
---
The Case for Justin Fields

The 49ers should take Justin Fields over Mac Jones or Trey Lance at No. 3 overall, and an argument could be made for Fields over Wilson at No. 2. 
Fields is undervalued for a variety of reasons: There are narratives regarding his work ethic and that he may not care about the game as much as the other QB prospects in this draft class, there is Ohio State's besmirched track record with quarterbacks, and there are more recent concerns about his recent epilepsy diagnosis, which was revealed this week. 
The narratives are exactly that — narratives — and Fields shouldn't have to suffer for Dwayne Haskins' shortcomings or the failures of his predecessors. Based on the information we have about his condition, it sounds like his epilepsy has been manageable up to this point and will decrease in severity over time. 
Fields is a complete prospect with talent, significantly more athleticism than Jones and more experience and pedigree behind him than Lance. The 2019 Heisman Trophy finalist was near-perfect during the COVID-shortened 2020 season. He led the Buckeyes to a 7-1 record with their lone loss coming in the championship game and completed 70.2% of his passes for 2,100 yards and 22 touchdowns. He also tacked on 383 rushing yards and five rushing touchdowns. 
Fields' dual-threat abilities on the ground and through the air have led some to draw parallels to former No. 1 overall pick Kyler Murray. One NFC East coordinator went so far as to call him "a more pure quarterback" than the Cardinals' signal-caller, according to NFL.com. 
He shined at Ohio State's Pro Day on March 30 and measured 6-foot-2 6/8 and 227 pounds. He also clocked a speedy, unofficial 4.44-second 40-yard-dash — the fastest such time recorded by a quarterback since Robert Griffin III at the 2012 NFL Combine. For reference, Murray measured 5-foot-10 1/8 and 207 pounds (he opted not to run an official 40-yard-dash in front of scouts).
Fields was the co-favorite to be selected third as recently as Monday, but his stock has plummeted over the last week. His odds have dropped to +700 (a 12.5% implied probability) behind Jones (-305, 75.31%) and Lance (+225, 30.77%). He will be a steal if he falls farther than third in this year's draft.
Photo Credit: Kevin C. Cox/Getty Images.
The Case for Trey Lance

The term "project" gets thrown around far too liberally when discussing Trey Lance. 
The Marshall, Minnesota, native may have only started 17 games during his college career, but within that body of work, he's demonstrated near-limitless upside and quantifiable excellence. And it's the latter that gives me confidence labeling him the third-best quarterback in the 2021 NFL Draft. 
Lance will enter an NFL training camp this summer already possessing two qualities that every NFL team covets. He'll be a top-five running quarterback in the league from Day 1, and he'll be able to protect the football without sacrificing explosiveness through the air or on the ground. 
During Lance's Walter Payton Award-winning season in 2019, he accounted for 42 total touchdowns and zero interceptions. Drilling deeper, he only put four "turnover-worthy" plays on tape, and the air yardage of his average pass attempt checked in at 11.5 yards. 
Yes, he was protected by a run-heavy offense, but when given the opportunity to put the ball into orbit, he shied away from easy check-downs and routinely completed NFL-caliber throws that required him to layer passes behind linebackers and in front of defensive backs. His electric arm and effortless delivery will catch your eye first, but it's his touch and ability to throw people open that will most readily translate to the next level. 
Based on his tape, his rushing prowess also checked every possible box that a modern NFL offense could ask for. He regularly extended plays with his legs, while keeping his eyes downfield.
He made plays on designed roll-outs, executed RPOs to perfection and provided the North Dakota State offense with a red-zone rushing option that made the run-game blocking math work in the Bison's favor. He proved capable of running through, around and by defenders with ease. For that reason, I'd say that the only two current NFL starters with more running upside would be Lamar Jackson and Kyler Murray. 
And finally, for a direct comparison to Fields and Jones, I'd prefer to frame the conversation in terms of a Freaky Friday hypothetical.
If Lance had been afforded the nation's top offensive line, a pair of top-15 NFL wide receivers and a do-it-all back like Najee Harris, I have the utmost confidence that he would have matched Jones gaudy numbers in Tuscaloosa. I'm not sure I could say the same had Jones been thrust into the NDSU program, which for all of its FCS advantages, would have required him to use his legs considerably more to achieve high-end success. 
As for a Fields-Lance swap, I would have expected similar results on both ends of the transaction. In a hypothetical dead heat, I lean Lance because of his ability to create as a runner. Fields, for all of his immense physical talents, never struck fear into opponents as a runner, failing to break four yards per carry as an Ohio State Buckeye. 
For perspective, Lance toted the rock 167 times in his redshirt freshman campaign, racking up 1,100 yards and 14 scores. One has the potential to be a great runner, while the other has already proven he is. Advantage, Lance.
Photo Credit: Justin Tafoya/NCAA Photos via Getty Images.
The Case for Mac Jones
By Chris Raybon

Compared to Jones and Fields, Lance has limited experience (only 298 attempts overall and one game played in 2020) and is a notch below in competition level playing at North Dakota State, making him more of a true project/prospect and narrowing it down to Jones vs. Fields for me.
While Fields has more rushing ability than Jones, which is always alluring, Jones is the much better passer. Jones threw for 4,494 yards, 41 touchdowns and four interceptions last year at Alabama while averaging 11.1 yards per attempt. Fields posted a 22-to-6 touchdown-to-interception ratio while averaging 9.3 yards per attempt at Ohio State in 2020. Fields' accuracy was impressive, as he finished second in PFF Adjusted Completion Percentage (80.8%), but Jones led the nation at 84.2%. 
But here's where the true difference lies: decision-making and processing time (AKA mental ability). Forget the epilepsy concerns and the work ethic concerns for Fields and just judge him versus Jones based on what happened on the field: Jones' average time to throw was 2.51 seconds last year and is 2.45 for his career, while Fields' was 3.11 last year and 3.14 for his career. When pressured, Jones' sack rate was 12..3% last year and 11.4% for his career, while Fields' was a whopping 25.0% last year and 23.8% for his career. 
Where Jones really stands out — and this will be of utmost importance in the NFL — is as a thrower under pressure. Jones' 126.5 passer rating under pressure last season ranked third of 140 qualified quarterbacks while Fields' 54.1 ranked 84th. 
Lance is a true prospect, and Fields, while more advanced and proven, still needs to improve upon aspects of his game. Jones is ready now.
Photo Credit: Jamie Schwaberow/Getty Images.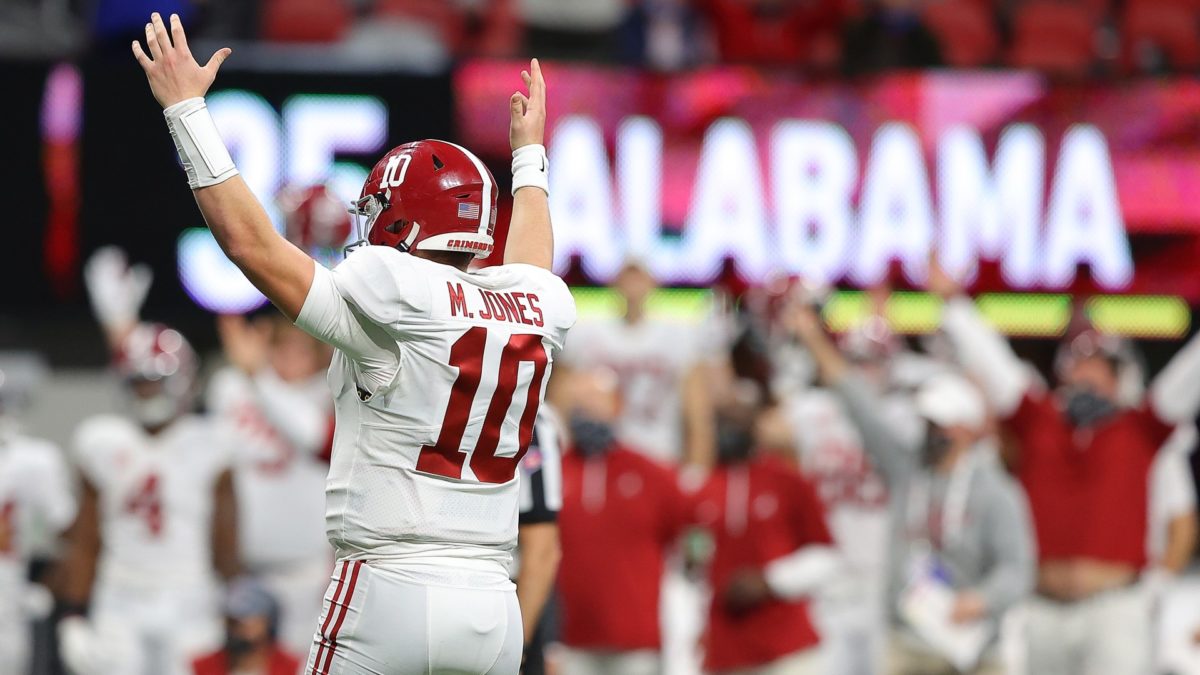 Fields Rebuttal
Previte: Unlike Lance, who has just 17 career starts for North Dakota State and has not faced Power Five teams, Fields has faced and overcome tough competition. 
He is a two-time Big Ten champion and led the Buckeyes to a 49-28 win over the Lawrence and the Tigers in the 2021 Sugar Bowl despite suffering an injury in the second quarter. Fields was named the game's Offensive MVP and helped the team advance to the 2021 CFP National Championship game.
Ohio State has NFL-caliber players, but it would be criminal to compare Fields' surrounding cast to Alabama's all-star team, which consisted of Jones, receivers Jaylen Waddle and DeVonta Smith, cornerback Patrick Surtain II, defensive lineman Christian Barmore and offensive lineman Alex Leatherwood — all of whom are projected first-round picks.
Lance Rebuttal
Calabrese: Critiques of Lance's level of competition have been leveled against him since he appeared in NFL mock drafts in the fall of 2019. And I think there's generally a healthy level of skepticism that he can maintain an elite level of play through a transition from FCS football to the NFL. 
But where are the concerns related to Mac Jones' embarrassment of riches? At the very least, he'll have to learn how the other half lives from a pressure perspective. Yes, he displayed mastery of the Alabama offense, was extremely accurate and balanced the "smart throw" with the push-the-envelope bomb to a T. 
But he did it all with ample time. He wasn't rattled because his offensive line provided Secret Service levels of protection. At the next level, he won't be so lucky, and he doesn't have the athleticism or the extensive reps under pressure for any evaluator to feel highly confident that NFL pass rushes won't chew him up like it has to countless standout quarterbacks who marshaled national champion-caliber offenses (Ken Dorsey, Matt Leinart, Sam Bradford, Marcus Mariota, Jameis Winston).
Jones Rebuttal
Raybon: All things being equal, you're going to take the quarterback with more rushing ability every time. But this is not a case of all things being equal — Jones has superior mental ability and superior accuracy to Fields and Lance. 
If you look at how Jones graded out as an overall passer, which takes into account his passing and rushing, Jones earned a mark of 95.8, the top quarterback in the nation, while Fields was a 93.8 (third) and Lance earned a 90.7 grade in 2019.
We also have to remember why quarterbacks run. It's not just because they can, it's also because they aren't necessarily processing as fast or seeing the field as well. Because of how quick and accurately Jones gets the ball out, he rarely had to run. 
On scrambles in his career, Jones didn't average an otherworldly 10.7 yards per attempt like Lance or 8.7 like Fields, but he still clocked in at a respectable 7.4. And his PFF rushing grade of 82.2 last season was still fourth in the nation.
Final Thoughts for Fields
Previte: We have yet to see Jones perform without an all-star cast around him — most notably, the best offensive line in college football. 
His pocket presence is average, as is his arm strength and mechanics. His improvisation and poise could use help and could absolutely suffer behind San Francisco's subpar pass protection that allowed the 12th-most sacks in the NFL last season. 
FOX Sports' Emmanuel Acho referred to Jones as "Jimmy Garoppolo reincarnate, a beneficiary of elite talent around him and elite scheme." If they want more of the same, they should opt for Jones. 
We have yet to see Lance perform at all against the same competition Jones and Fields have faced. He's a true wildcard with high upside going into this draft.
The 49ers don't need another Garoppolo. I personally view Fields as the safest choice of the three in spite of having the longest odds to be selected No. 3 overall.
I would agree that he may not be as prepared in Year 1 as Jones, but I do think his ideal situation would be to sit behind another QB for at least a handful of games as he develops more of the mental processing aspects of his game. That situation could easily be in San Francisco behind Garoppolo.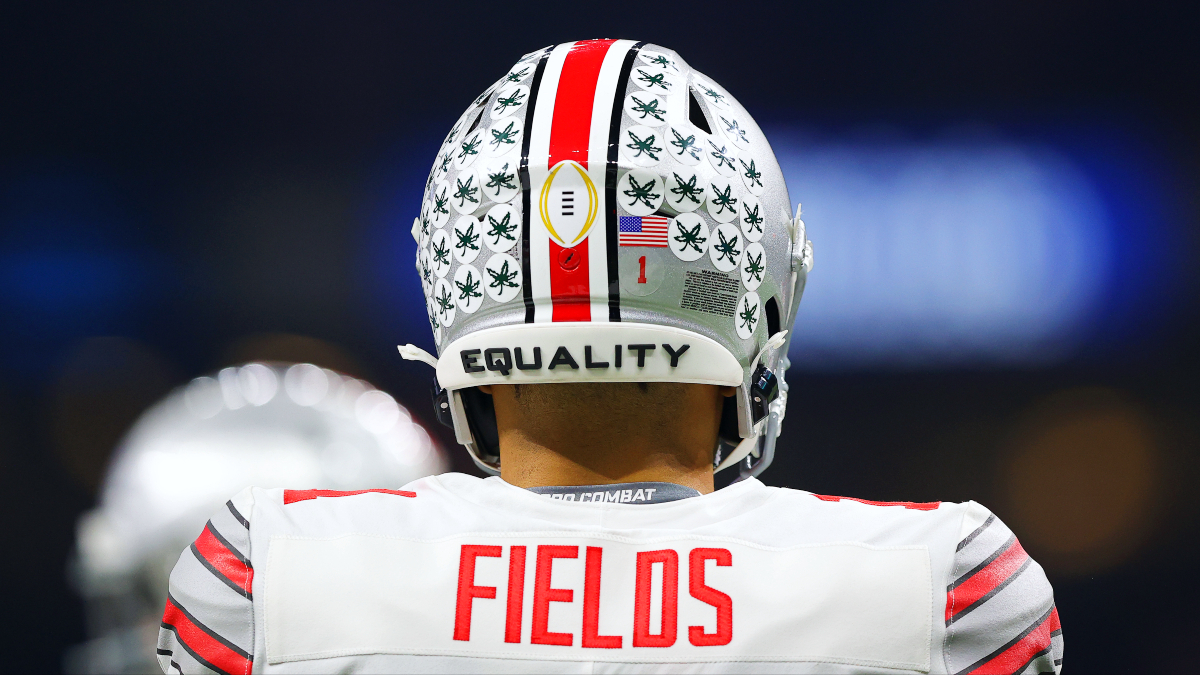 Final Thoughts for Lance
Calabrese: Division I was divided into I-A and I-AA in 1978, and since then, five quarterbacks from the 1-AA/FCS level have been selected in the first round of the NFL Draft: Phil Simms, Ken O'Brien, Steve McNair, Joe Flacco and Carson Wentz. 
Four of the five appeared in at least one Pro Bowl, and three reached the Super Bowl as a starting quarterback. Breaking through from the lower level takes a special quarterback and I believe history will repeat itself with Lance this time around. 
He has the prototypical frame, a dynamic arm, the ability to improvise and the instincts of a game-breaking running back. If the recruiting world and P.J. Fleck had not let him down, he would have starred at Minnesota and been in the running for the top overall selection in this draft. Instead, the football world is again doubting this late bloomer. 
In my opinion, one of the strangest gripes against Lance is his lack of starting experience, vis-a-vis Fields and Jones. Justin Fields started 21 games at Ohio State, and Jones and Lance are tied at 17 apiece. Not exactly a stark difference. 
When most people hear that piece of information, they pivot to the caliber of competition, and I'd like to point out, once again, that while Lance did not face star-studded defenses, he was also working with FCS talent and not five-star recruits and Heisman Trophy winners. 
There's a reason that the NFL is filled with FCS and lower-level talent at nearly every position. If you can play, you can play. 
So, I'm going with the young FCS superstar who will make enough plays and protect the ball well enough to help the 49ers return to the playoffs next January.
Final Thoughts for Jones
Raybon: It's understandable that the draft community would be enamored with Fields and Lance. They're sexier players because they have rushing ability. It's easy to watch a few highlights and see what the hype is. 
But the quarterback position in the NFL is a mental game, and it's about consistency. Play after play, Jones reads the defense, quickly makes the correct decision, and delivers the ball with pinpoint accuracy. His lack of rushing is held against him but should really be considered a strength in that he's so on-point mentally that he rarely lets it come to that. 
And when he has been under pressure, he hasn't faltered or become a sack machine. He has the potential to sustain longevity long after Fields and Lance have faded away due to declining athleticism.
How would you rate this article?