Oregon vs. Iowa State College Football Betting Odds & Pick: Back the Quack in Fiesta Bowl Showdown
Credit:
Cody Glenn/Icon Sportswire via Getty Images. Pictured: Jaylon Redd.
Oregon vs. Iowa State Odds
Oregon secured a Pac-12 Championship over USC after COVID-19 knocked away Washington's chances at a conference title.
Head coach Mario Cristobal's team cashed in on house money, defeating the Trojans in their own house and claiming the conference for the first time since 2014.
Before Oregon can turn its attention to a 2021 national championship run, both the Fiesta Bowl and the status of defensive coordinator Andy Avalos must be sorted.
The Iowa State loss to Oklahoma was much more than just the Big 12 Championship. The Cyclones have never won 10 games in a season since the program took the field in 1892.
Matt Campbell has the chance to win the school's first-ever New Years Six bowl while joining just two other teams in Iowa State history that have achieved nine wins.
Oregon Ducks
In the case of Joe Moorhead, one program's yesterday can be another team's future. After two tumultuous seasons as head coach at Mississippi State, Moorhead returned to the offensive coordinator role at Oregon with big dividends.
The Ducks are top-15 in Offensive Success Rate with an explosive passing attack. Sophomore quarterback Tyler Shough finished with a top-30 NFL rating in the category of deep passing despite a limited sample of just six games.
Moorhead moved on from previous coordinator Marcus Arroyo's scheme of integrating plenty of two-tight end sets and never going to the pass in standard downs.
Oregon is now heavy in 11 personnel with an even distribution of run and pass and a mix of empty-back sets in passing downs.
The Ducks rank fourth in passing downs explosiveness and eighth in standard downs efficiency. This offense is one to watch in 2021.
Avalos had to be optimistic entering 2020 in his second season as defensive coordinator. The Ducks had a complete turnaround in the Havoc and Success Rate department and returned almost every piece before the pandemic set in.
Avalos may have had his best coaching job yet with a clean slate of players finishing top-40 in pass coverage. Boise State is now in heavy pursuit for its old coordinator to be the head coach.
---
Iowa State Cyclones
Multiple turnovers in the Big 12 Championship game and a loss to Louisiana may have been all that stood in front of Campbell getting the Cyclones to the College Football Playoff.
The offense has changed a bit from 2019, with the focus of 11 and 12 personnel changing to more 13 personnel in passing downs. The results have been a huge increase in third-down conversion percentage, with both tight ends Charlie Kolar and Chase Allen accounting for 33 targets.
Brock Purdy still struggles under pressure, holding an adjusted completion percentage drop of more than 20%, but the use of three tight ends has created better Success Rate percentages.
The 3-3-5 scheme on defense continues to keep Iowa State a contender in a Big 12 full of Air Raid wrinkle attacks. The Cyclones defense ranks top-20 in pass coverage, Havoc and Finishing Drives.
If there's an area to attack the Iowa State defense, it's the deep ball. Campbell's defense ranks outside the top 100 in number of opponent passes over 30-plus yards.
In a loss to Oklahoma for the conference title, Sooners quarterback Spencer Rattler connected on eight passes for over 15 yards.
Betting Analysis & Pick
The handicap starts with the Ducks' defense and its ability to stop Iowa State in standard downs, particularly when running back Breece Hall carries the rock.
The underclassman has avoided 59 tackles this season and averages 3.5 yards after contact. Oregon has been vanilla in a conference that does not feature workhorse running backs. A mid-range rank in Line Yards and Defensive Rushing Success rate suggests Hall will get Iowa State into third-and-short territory.
---
Oregon vs. Iowa State Matchup Matrix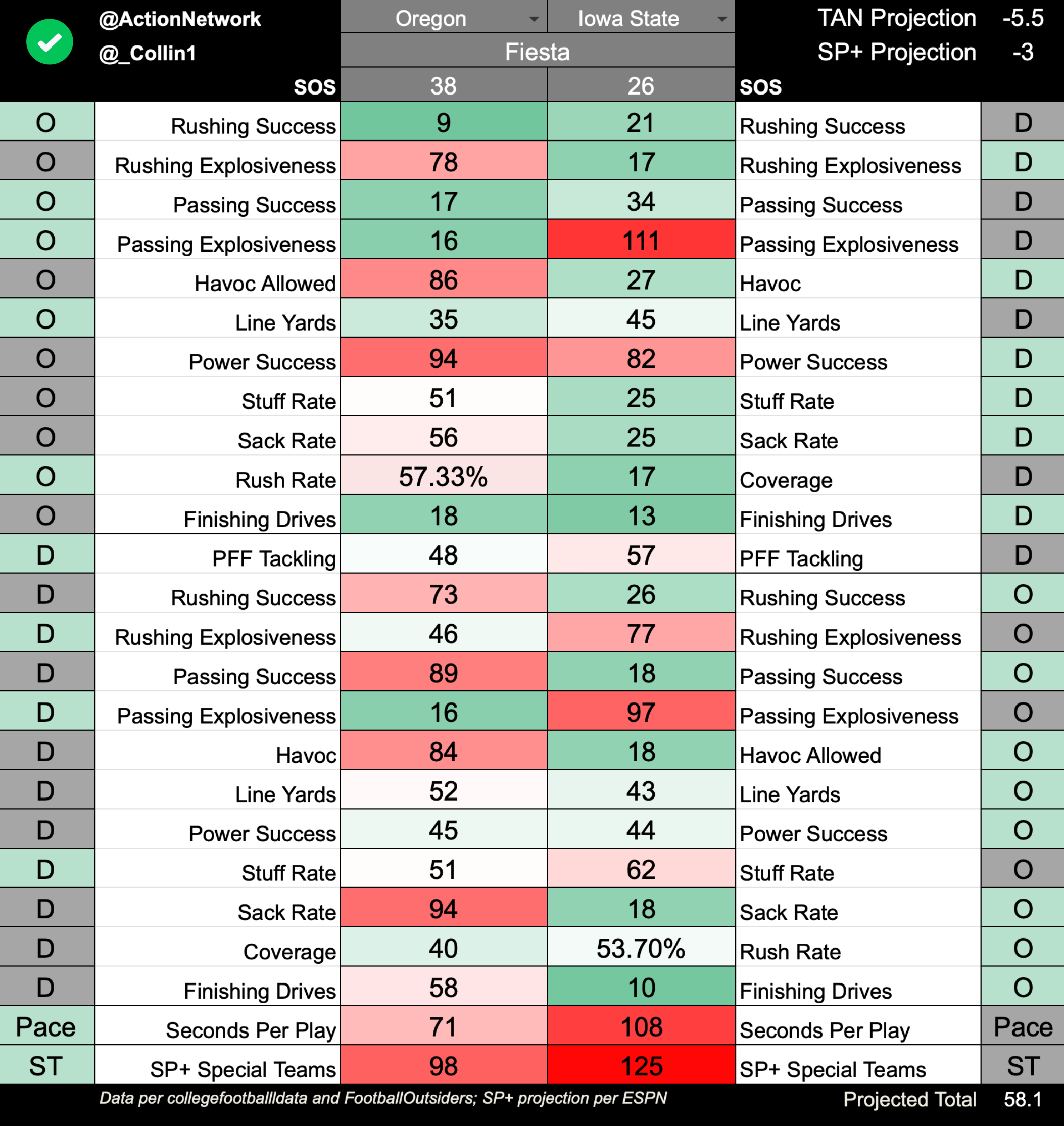 ---
As mentioned above, a pressured Purdy will make for the best opportunity to cause Havoc. With 22 hurries on the season and fresh off a harassing performance against USC, Kayvon Thibodeaux presents the best chance for Oregon to get stops against an efficient Iowa State offense.
As for the Moorhead game plan and the Ducks offense, deep passing early and often should be on the schedule for Oregon. Iowa State does hold high marks in coverage, but there are plenty of busted plays.
Safeties Lawrence White and Greg Eisworth have combined for 26 missed tackles. At least 10 defensive players for the Cyclones have allowed a pass of at least 30 yards, while White, DJ Miller, O'Rien Vance, Datrone Young and Tayvonn Kyle have all been burned by at least one 50-yard pass.
Both the side and total are spot on with Action Network projections, but a young Oregon squad has the trump card in this game with the explosive pass.
Look for Iowa State to be highly successful in moving the chains and finishing drives, while Shough keeps pace getting behind the Cyclones' secondary.
Another Mario Cristobal one-point bowl victory could be in the works.
Pick: Oregon +4.5 | Over 57 or better.
How would you rate this article?