Tua Tagovailoa Has No Protection Against Possible Multi-Million-Dollar NFL Draft Fall
Credit:
Matt Bush-USA TODAY Sports. Pictured: Tua Tagovailoa
Tua Tagovailoa's season-ending hip injury may have cost him upwards of $10 million. Why? Unlike other high-profile NFL prospects, the insurance provided to him by the University of Alabama did not include a loss-of-value policy.
That means he will not be able to recoup millions of dollars in potential losses if he falls from the possible No. 1 overall pick in the 2020 NFL draft to, say, the mid-first round, which some prognosticators are expecting.
Tagovailoa, sources said, decided to only take the coverage that Alabama gave to him. Tua's coverage entitles him to collect if doctors rule he can never play again, as the school purchased permanent total disability insurance for the QB. It's important to note that Tagovailoa opting to take the school's policy did not prohibit him to taking out loss-of-value insurance on his own dime.
"Players who are projected to go in the top-five or 10 picks should absolutely have loss-of-value insurance," said insurance broker Keith Lerner of Total Planning in Gainesville, Fla., who has sold policies to players and schools over the past two decades and used to work with Alabama. "That's whether the school is paying or not."
Tagovailoa had no choice but to return to Alabama this season, since NFL rules require players to be at least three years removed from high school before being eligible to declare for the draft. Tua, who graduated from high school in 2017 as the consensus No. 1 QB recruit, entered this college football season projected by NFL Draft pundits to be in the running for the No. 1 overall pick in the 2020 draft.
In last Saturday's game against Mississippi State, Tagovailoa dislocated and fractured his hip when the Tide held a 35-7 lead in the second quarter. He had surgery on Monday. His reported recovery timeline would not have him participating in athletic activity until at least the conclusion of the NFL Combine in late February and early March.
"I could not imagine a better partner than The university of Alabama throughout this situation," said Galu Tagovailoa in statement to The Action Network. "They have communicated with us every step of the way during Tua's time at Alabama, both on and off the football field. We had numerous discussions regarding insurance coverage, and we have been very comfortable with how Alabama has worked with our family at every turn. The most important thing for us right now is getting Tua healthy, and his focus is getting back with his teammates."
If Tagovailoa enters the draft, he could possibly still go in the top five based on faith alone, but it's likely he falls behind both LSU quarterback Joe Burrow and Oregon quarterback Justin Herbert. A drop from, say, the No. 4 pick to the No. 11 pick equates to a loss of about $13 million in signing bonus money. A drop from the No. 4 pick to No. 19 is $23 million.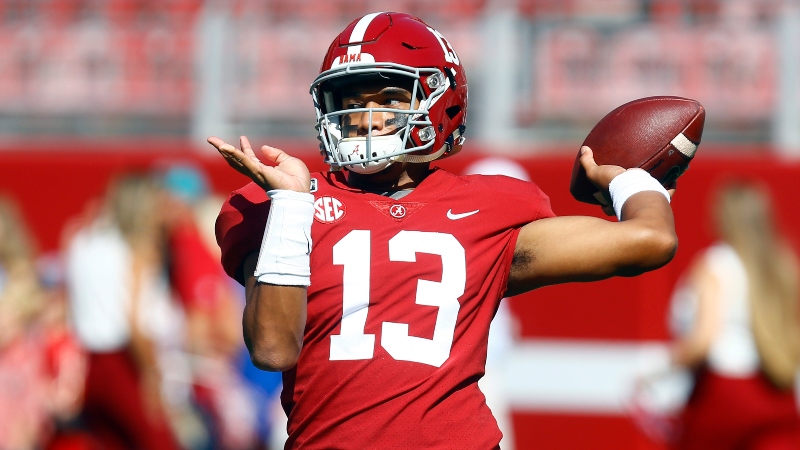 A loss-of-value policy entitles the player to collect a certain percentage of the dollar amount lost based on where the player was projected to be drafted. (The draft projections themselves are clearly laid out in the policy and the value of the fall is determined by how big the policy is.)
Sources said Alabama has not, in recent memory, agreed to pay for loss of value for any of its players due to the policy's cost compared to the percentage of players who actually collect.
Alabama athletic director Greg Byrne told The Action Network the school currently has 16 football players for which it pays permanent total disability premiums.
The money Alabama spends on those premiums took up 68% of the school's allocation of its Student Assistance Fund this year. (The NCAA stipulates that the only way schools can pay for insurance premiums for players is through this fund, which is a pool of hundreds of millions of dollars that is split among institutions.)
Schools have to always leave some money available in their fund to pay for approved use of giving student athletes benefits in case of emergencies (death in the family, natural disaster, etc).
"In consultation with industry experts, loss of value has not been shown to consistently benefit student-athletes who file a claim," Byrne said. "If you have loss of value, you still have the opportunity to have a successful professional career. One of the reasons we go with permanent total disability is to protect the student-athletes should they not be able to play again, in which case they have no ability to make any future earnings through their sport professionally. In the event of injury, we utilize our resources through health care and rehab to help them increase their draft value."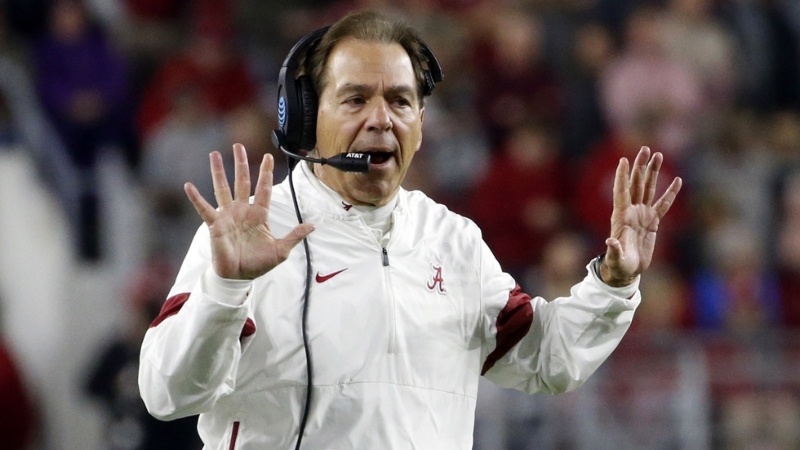 The program leans on the advice of Robert McLeod at the school's Culverhouse School of Business, who is an expert in the insurance field, to guide it.
"I work with 60 schools across the country from all different conferences, and I can confidently say that no one takes a more proactive approach in covering its student-athletes than Alabama," said Eric Chenowith, the former University of Kansas and NBA center, who currently is responsible for brokering Alabama's policies and heads up Leverage Disability and Life Insurance Services. "In addition to the level at which they cover, they also insure more individuals."
Schools started paying insurance premiums for their high profile athletes after Texas A&M in 2014 discovered that the NCAA would not object to its paying of insurance premiums from the Student Athlete Assistance Fund. The Aggies used money to pay for the premiums of offensive tackle Cedric Ogbuehi, an inducement to come back for his senior year with the Aggies. Florida State then followed with insurance for Jameis Winston, including loss of value, and Oregon reimbursed players who paid for insurance on their own, including Marcus Mariota and Efo Ekpre-Olomu.
What happened to Olomu forever changed loss-of-value insurance, which to that point wasn't commonplace. Oregon took out a total permanent disability policy with a loss-of-value rider on Olomu before the 2015 season. Two weeks before the college football playoff, Olomu — who was projected to be a top-12 pick — tore his ACL. In the draft, he dropped to the seventh round. Because of his loss-of-value insurance, he was able to make up some of the difference in lost money and collected $3 million off the policy.
At least five players have collected from loss of value, either purchasing it on their own or having the school pay for the premium. They include three players from USC — Marqise Lee, Silas Redd and Morgan Breslin — as well as Michigan's Jake Butt.
The truth is not many choose to collect permanent total disability, either, hoping to rehab and give themselves a shot.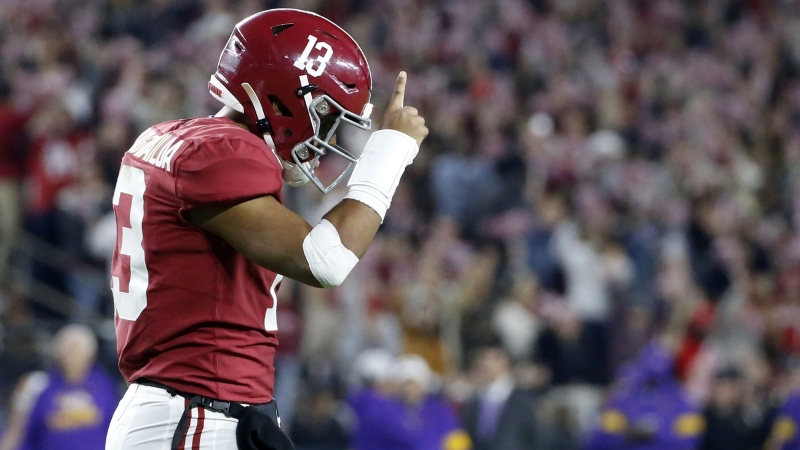 Most famously, University of Miami running back Willis McGahee, who paid for his own loss-of-value policy, could have cashed in to the tune of $2.5 million to never play again after tearing up his knee in the Fiesta Bowl in 2002. But instead, he decided to takes his chances.
McGahee got drafted by the Buffalo Bills at No. 23 and went on to earn more than $35 million over his NFL career.
If any school should consider having loss of value policies for its players, one could argue it's Alabama, which has had 10 players selected in the top-20 of the past six NFL drafts.
Alabama players who had loss of value — including defensive tackle Isaiah Buggs, who came back for his senior year in 2018, and Dylan Moses, who suffered a major knee injury in practice before the season — paid for it themselves.
While Alabama doesn't do loss of value for its players, other schools do. Sources say high-profile underclassmen at other schools have been presented and taken loss of value coverage with the school paying the premium. Schools that have done this include Clemson, LSU, Ohio State and Michigan.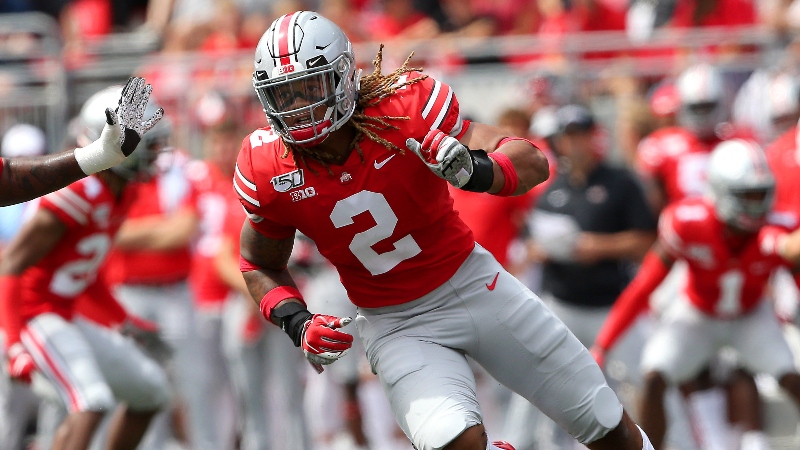 Sources say Ohio State paid for both the disability and loss of value policies for Chase Young, though the amount of those policies is not known.
"We cannot comment on a specific student-athlete's policy, but it is accurate that we use the student assistance fund to pay for the premiums on permanent total disability policies, some of which contain loss of value insurance and or critical injury/illness riders," said Ohio State sports information director Jerry Emig. "We do the same in other sports, such as men's and women's basketball, baseball and hockey."
In 2016, Clemson paid for a $5 million permanent total disability policy with $5 million in loss of value for Deshaun Watson. Watson didn't end up needing it. He stayed healthy and got drafted No. 12 overall by the Houston Texans.
"Clemson offers to pay the permanent total disability and of value premium for student-athletes eligible to receive the policies," said Jeff Kallin, Clemson's associate athletic director of communications and strategic initiatives.
How would you rate this article?
This site contains commercial content. We may be compensated for the links provided on this page. The content on this page is for informational purposes only. Action Network makes no representation or warranty as to the accuracy of the information given or the outcome of any game or event.